Clashing at Temple Mount: The Bloody Version of Groundhog Day
Seasonal rituals of cathartic violence, like Rosh Hashanah riots in Jerusalem, achieve nothing. But in lieu of solutions, it's something to do.
Police raid Temple Mount compound on eve of Rosh Hashanah. September 13, 2015.
Credit: Israel Police
On the eve of Rosh Hashanah, a familiar headline popped up: "Clashes Between Palestinians, Police Rock Temple Mount". Palestinians pelted police with rocks and barricaded themselves within the Al-Aqsa Mosque in Jerusalem, the police responding with tear gas and stun grenades. As riots entered their second and third day, an Israeli was killed, apparently after stones were thrown at his vehicle. The United States called for restraint on both sides, and Jordan's King Abdullah warned that further Israeli "provocations" at Al-Aqsa would damage relations between the two countries. The whole thing sounded very familiar.
As it should have. That's because violence at Temple Mount erupted last year on Rosh Hashanah, too, and in November, and on Tisha B'av, in July.
To the casual viewer, the situation surrounding the powder keg of Temple Mount might seem unstable. In truth, there's a strong element of predictability to it. You can usually rely on violence to break out every time there's a religious observance, when the perpetual tensions over control of the holy site tend to flare up.
The events surrounding the Mount may appear chaotic. Actually, they tend to follow the exact same script: rocks, stun grenades, Palestinians barricading themselves in Al-Aqsa, vows by officials to crack down so it doesn't happen again. Like a demented theater, the "actors" go through the exact same motions, with the same tragic outcomes, every time.
In fact, the riots at Temple Mount perfectly encapsulate where the Israeli-Palestinian conflict stands. Israel and Palestine are trapped in a Groundhog Day of their own design.
Theater of the demented
In the 1993 classic, a TV weatherman named Phil (Bill Murray) finds himself trapped in a time loop, reliving the exact same day over and over again. In growing despair, Phil resorts to increasingly drastic means to escape his predicament: committing suicide by hanging, self-immolation, crashing his car into a wall. Whatever he does, every morning he wakes up and finds out – to his horror – that life reset and nothing had changed.
Likewise, the Israeli-Palestinian conflict has become locked in a repetitive loop of quasi-theatrical violence that has no evident purpose and does nothing to change the general status quo. Yet in recent years, Israelis and Palestinians alike seem to have grown eerily inured to the exasperating routine of war every two or three years, followed by a round or two of unserious "peace negotiations," with countless violent, seemingly isolated incidents in-between.
Neither politicians, left nor right, Israeli nor Palestinian, are offering ways to break the circle. Nor are their constituents demanding any: Benjamin Netanyahu won a sound reelection in March without offering any plan (some might even say he won on the basis of not having a plan). His rival, Isaac Herzog, didn't present any concrete proposals either.
Israeli leaders have become frighteningly comfortable admitting that Israel is probably doomed to repeat the same war every two years, with similar, limited success.
One can feel for the politicians: visions are divisive, and there is no easy solution at hand. They are trapped in their own self-perpetuating Groundhog Day equivalents, with the right-wing fanning flames it knows it can't put out, and the left perplexed, spouting nonsense about a two-state solution that for political and demographical reasons can no longer come to pass.
Like weatherman Phil, Israel and Palestine have become slaves to a status quo that keeps resetting itself, no matter what they do. And, like Phil, though despairing of resolution, both peoples have resorted to extreme measures in attempts to break the hopeless monotony of a conflict that has no end: During last year's Operation Protective Edge in Gaza, over 2,000 Palestinians died, many of them citizens, and Hamas rockets fell everywhere from Eilat to Haifa – yet still the only winner of that war was the status quo.
Last year, the world was shocked by the murder of the three Jewish teens Naftali Fraenkel, Eyal Yifrach and Gilad Shaar, and the murder of Mohammed Abu Khdeir, a Palestinian boy who was burnt alive by Israeli settlers. These horrific events culminated in that summer's battle in Gaza, but were, along with the fighting itself, almost instantly put out of Israel's collective mind.
The uncrossable line
Like Bill Murray's Phil, whenever something this extreme happens, there are those who believe this time it's going to be different. That an uncrossable line has been crossed; that things have taken a startling turn, after which nothing can ever be the same again. These voices were heard after the murder of Abu Khdeir as well.
Yet two months ago, 18-month old Palestinian infant Ali Saad Dawabsheh was burned alive by Jewish extremists. Despite global outrage and official promises to bring the murderers to justice, they continue to walk free, and the hate and incitement that led to the murder revived even before the bodies were in the ground.
Lacking actual ways to move things forward, both Israelis and Palestinians have been left with nothing but seasonal rituals of cathartic violence, like the Rosh Hashanah riots in Jerusalem.
Yes, they achieve very little to further anyone's interest, but (in lieu of meaningful solutions) it's something to do.
The problem is, Israel is not really stuck in a "Groundhog Day"-like scenario. It just thinks it is.
While Israel and the Palestinians repeat history, the world keeps turning. And seeing those familiar headlines, watching news reports that sound dated even as they are broadcast live, watching politicians make the same mistakes as if they're expecting different results, more and more people are catching on.
The world, it seems, is finally ready to come to terms with the fact that the repetition of senseless violence in the region is voluntary, the product of two peoples unwilling to make the hard choices that facing reality demands.
And when the world finally reaches that conclusion, it will rapidly lose interest, leaving Israelis and Palestinians to collectively recreate their worst years. Wars will come and go, children might burn, politicians will still either choose to fan the flames or cower behind slogans, American diplomats will still talk about a two-state solution. Blather, lynch, repeat.
There is another way, though. In "Groundhog Day," weatherman Phil learned that the only way to get out of his temporal imprisonment is to truly change himself. He understood, in short, that in order to move forward, you can't just be the same person. You yourself have to change for the better. Otherwise, you might wake up again, a year from now, to find out everything is still very much the same.
ICYMI
Ken Burns' Brilliant 'The U.S. and the Holocaust' Has Only One Problem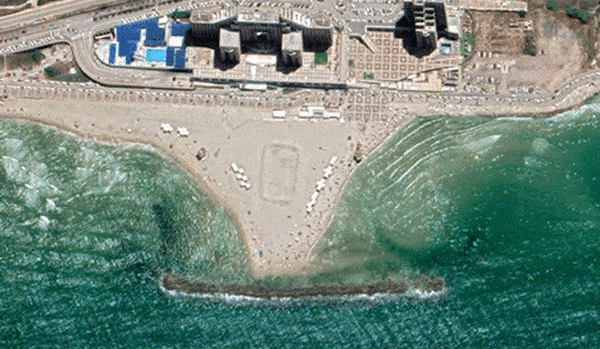 Facing Rapid Rise in Sea Levels, Israel Could Lose Large Parts of Its Coastline by 2050
Lapid to Haaretz: 'I Have Learned to Respect the Left'
The Mossad's Fateful 48 Hours Before the Yom Kippur War
As Israel Reins in Its Cyberarms Industry, an Ex-intel Officer Is Building a New Empire
How the Queen's Death Changes British Jewry's Most Distinctive Prayer