Israel's 'Eric Garner Moment' Entrenches Its Habit of Victim-blaming
Even when arresting children, Israel insists it has the moral upper hand: In the Nabi Saleh incident, Israel's 'Eric Garner moment' cast the soldier, not the kids, as the innocent victim.
An Israeli soldier detains a Palestinian boy during a protest against Jewish settlements in the West Bank village of Nabi Saleh, near Ramallah August 28, 2015.
Credit: Reuters
Wanted: Dangerous terrorist.
Suspect name: Ahed Tamimi, aka "Shirley Temper."
Physical appearance: Slight.
Accused of: Assault with intent (biting an Israeli soldier), manipulation of the world media.
Age: 14.
Known accomplices: Mohammad Tamimi, 12 years old, brother, walks around with cast on left hand.
Be advised: Suspects may appear childlike, but they are in fact cunning and experienced. They are petite and unarmed but considered extremely dangerous.
Last seen: Under and on top of an armed IDF soldier, one of them howling in pain.
This weekend's damning images from the Palestinian village of Nabi Saleh, in which a masked IDF soldier is seen trying to arrest Mohammad Tamimi (whose left arm had been broken in a separate incident), putting him in a chokehold and being interrupted by a group of women and girls, caused a worldwide media frenzy. In Vox, it was called "Israel's Eric Garner moment".
In Israel, however, it was the soldier who was cast in the role of Eric Garner, who died in Staten Island after a police officer put him in what has been described as a "chokehold" - not the boy.
Bite back?
Judging from the responses in Israeli media, politics and social networks, the true culprit in Nabi Saleh was not (as the brainwashed world media would have you believe) the soldier using excessive force against a 12 year-old with a broken arm. It was the boy himself (who may or may not have thrown rocks at the soldiers, depending on who you ask) and his slightly-older sister who, as right-wing bloggers were quick to point out, were known "troublemakers." Meaning: they had attended other demonstrations in the past, and were therefore more enemy combatants than preteens.
Channel 2 News, Israel's premier TV news broadcast, cast the event as "Palestinians documented beating IDF soldier in Nabi Saleh." Ynet, Israel's most popular news site, proclaimed in the headline, "Little girl bites soldier."
Right-wing politicians were quick to proclaim the soldier, who looked bewildered and scared in the video, the true victim, calling him a sad product of an army that has become too restrained for its own good. Culture Minister Miri Regev suggested that in the future, soldiers should be "permitted to return fire" during similar events.
The girl strikes again!
Israelis, of course, are not monsters. A soldier choke-holding a crying 12 year-old looks just as bad in Israel as it does everywhere else. Outside of a few extremists, Israelis have no desire to see children hurt, rock-throwers or otherwise.
Israelis do, however, have a longstanding and well-documented national obsession with convincing the world that they're right. When faced with evidence of their country's moral culpability, the cognitive dissonance that allows Israelis to maintain their moral superiority, even when the actions of their country are clearly immoral, goes into manic overdrive.
Sometimes, an event attracts so much negative international attention that it gets the public mobilized. Israelis analyze videos and photos, obsess over details, and generally act as self-appointed public defenders whose job is to exonerate Israel of blame and put the world (especially the media) on trial. The 2010 Gaza flotilla, during which nine activists were killed by Israeli soldiers, was such an event. Nabi Saleh is turning out to be another.
Right-wing bloggers and activists have been poring over photos and videos, scrutinizing every detail of the Tamimi children's resumes, and formulating theories to explain how and why a soldier with a headlock on a child was the innocent victim of a global smear campaign.
Ahed Tamimi, who is seen biting the soldier's hand, is not just any other Palestinian teenager, the bloggers discovered. She is quite the "professional provocateur." Videos and images have surfaced in which Tamimi is seen taunting and confronting Israeli soldiers. In some, she is only 10 years old.
Moreover, Tamimi, they also discovered, comes from activist stock, her parents being two well-known Palestinian activists. That was enough to brand her a "Pallywood star," a term coined by historian Richard Landes to describe anti-Israel propaganda disguised as news, and accuse her of "ambushing the soldier for publicity." In blogs and in the media, she was portrayed as violent and dangerous and was given the nickname "Shirley Temper", as if she and her brother were the Mary-Kate and Ashley Olsen of Pallyhood Hills.
As for Mohammad Tamimi himself, the army said the soldiers did not know he was a minor, an argument that seems ludicrous to anyone with at least one working eye.
And thus the bloggers, right-wingers and most of the Israeli media dismissed the images from Nabi Saleh as a deliberate Palestinian attempt to manipulate the media and present IDF soldiers as thugs. "The girl honored by Erdogan strikes again!" proclaimed Channel 20 in reference to a "courage award" given to her by the president of Turkey.
The fact that whether or not provoked, the soldier did resort to violence, is immaterial to Israel's defenders. What's important is that an innocent Israeli soldier fell victim to a shrewd, manipulative plot. Israel retains its moral edge.
Mental gymnastics
Instead of shattering Israelis' feeling of moral righteousness, events like Nabi Saleh have a curious effect: they entrench it.
Israelis often have to perform mental gymnastics in order to align their perception of Israel with what the images and testimonies show. With the demonization of two minors, though, this habit has reached a rather comedic point.
How did Israel reach the point where the brutal arrest of a 12 year-old makes it feel more just, not less?
First and foremost, through denial of Israel's own strength. Most of the world sees Israel as a powerful country with a powerful army and even more powerful allies. Israelis view their country as tiny, feeble, threatened, and its soldiers, while heavily armed, are still vulnerable kids.
This denial has historical, cultural roots. It is also extremely convenient.
Acknowledgement of power leads to acknowledgement of responsibility. That leads to tough questions Israel has to ask itself over its conduct in the West Bank. It's much easier to imagine worldwide conspiracies headed by teens.
And mostly, by blaming the victims, Israelis avoid blaming the soldiers - their sons and daughters. But nor do they blame the ones truly responsible: not the soldiers stuck in an impossible situation, petrified in a hostile environment with contradicting guidelines that don't really make much sense, but the politicians who sent them there, who keep the machinery of the occupation alive, who send teens to brutalize kids not much younger than themselves.
Click the alert icon to follow topics:
ICYMI
Ken Burns' Brilliant 'The U.S. and the Holocaust' Has Only One Problem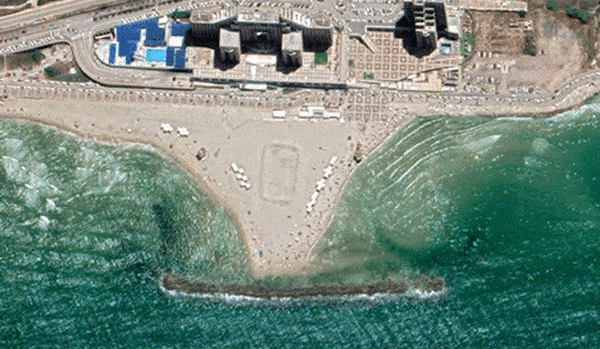 Facing Rapid Rise in Sea Levels, Israel Could Lose Large Parts of Its Coastline by 2050
As Israel Reins in Its Cyberarms Industry, an Ex-intel Officer Is Building a New Empire
How the Queen's Death Changes British Jewry's Most Distinctive Prayer
Chile Community Leaders 'Horrified' by Treatment of Israeli Envoy
Over 120 Countries, but Never Israel: Queen Elizabeth II's Unofficial Boycott