How to Waste Time Squabbling About 'Apartheid' Rather Than Taking Action
With the real problems they have, the last thing Israel and the Palestinians need is a sterile argument over a word in Afrikaans.
Union of Jewish Students organized events to counter "Israeli Apartheid Week", March 3, 2015.
Credit: UJS
Have you heard the good news? Israel is not an Apartheid state, announced South African author Benjamin Pogrund, in response to Haaretz's Bradley Burston, who wrote last week how he finally came around to recognize that Israeli policies in the West Bank are, in fact, apartheid.
Following the West Bank firebombing that claimed the life of Palestinian infant Ali Saad Dawabsheh and his father Sa'ad Dawabsheh, the escalation of settler violence and Jewish terror, and the appointment of right-wing firecracker Danny Danon as Israel's ambassador to the UN, Burston wrote a deeply personal column about his coming to terms with the fact that contrary to what he previously believed, Israeli policy does fit the label of apartheid. Contrasting the vague language of the Justice Minister Ayelet Shaked's bill to jail stone-throwers for up to 20 years with Israel's clear policy of rewarding Jewish stone-throwers, Burston writes, "This is what has become of the rule of law. Two sets of books. One for Us, and one to throw at Them".
Pogrund, conversely, believes the label "apartheid" is "both factually wrong and politically naive", a product of growing despair among the Israeli left, an insult to all those who lived through and suffered under South African Apartheid.
He doesn't deny the harsh reality of the occupation, or the inequality of Jews and Palestinians before the law. Quite the opposite. But, he says, all that doesn't add up to apartheid - just to a right-wing government being right-wing. Apartheid, he writes, was "a vile system of racial discrimination driven into every nook and cranny of South African society to subjugate the black majority," that is in no way related to the vile system of discrimination driven into every nook and cranny of Israeli society today.
The analogy between Israel's treatment of the Palestinians and South African apartheid, and the furious debate about this analogy, is at least as old as the occupation of the West Bank and Gaza, and is just as complicated. Over the years, it has become such a flashpoint that it has its own, book-length Wikipedia entry, and every few months, someone feels the need to relight the fire.
A lively, if predictable, furor ensues: the far-left claims the apartheid analogy is accurate, the right claims that this is blood libel. Within the majority of the left, the consensus is Israeli policy is not apartheid, but is nevertheless cause for concern. Then there are those on the fringes, like Noam Chomsky, who in 2014 said that "what Israel is doing is much worse than apartheid", so much in fact that "to call it apartheid is a gift to Israel".
Is Israel truly an apartheid state, is it even worse than apartheid, or is the comparison morally and factually offensive? The truth is, in this debate, it makes absolutely no difference who's right.
Death to semantics
It's time to put an end to the semantics war over the Israel=apartheid analogy. The whole debate is silly. It's distracting. It somehow manages to diminish both the South African apartheid and the occupation of the West Bank at the same time. But most importantly, it's just hugely beside the point.
Whether or not the apartheid comparison is correct is debatable, but the everyday reality of Israeli policies, in the West Bank and within Israel itself, is not. Like it or not, Israel does control the lives of over 2.5 million Palestinians, and they are subjected to systemic discrimination that denies them basic human rights.
Jews and Palestinians in the West Bank and in Israel are not equal before the law, and Jewish violence, not to mention Jewish terrorism, is treated much more forgivingly.
Like it or not, Israel does have a system of institutionalized ethnic and religious discrimination. Its political system is rife with prejudice, militarism and bigotry. It violates human rights and international law left and right, whether by protecting illegal settlements, killing civilians during military operations, or lengthy "administrative detentions" without trial.
And with all that going on, it's a shame to waste vast amounts of energy and resources on arguing about the merits and accuracy of a historical analogy. Given all that we know about Israel's conduct and its treatment of Palestinians in the West Bank, does it really matter if there's a word for what it does in Afrikaans?
In essence, the apartheid brouhaha is a debate over Israel's moral culpability. Are its violations of human rights the result of a deliberate, systemic design or unintended developments of a hugely complicated situation?
The thing is, without the apartheid comparison and inevitable ensuing melee, it's easier to see things clearly. Are Israeli policies apartheid? Perhaps not. Doesn't matter. Given their durability, and their escalation, it is clear that they are deliberate. All this preoccupation with historical abstractions serves only those who wish to avoid discussing the reality on the ground.
So let us now put an end to the apartheid debate once and for all. Let us acknowledge the historical uniqueness of the Israeli occupation of the West Bank, and let us find new words to describe it. Israelism, perhaps. Or West Bankism. Or simply the old standard, Occupation.
But let's please be done with the hairsplitting. It is not constructive. Historical analogies didn't bring about the end of South African Apartheid, focusing on the unique horrors of Apartheid did. The debate over Israel-Palestine, likewise, needs to move forward, so that in 50 years the occupation might be history, and somewhere in the world, people will be able to argue whether some conflict or another reminds them of the West Bank.
ICYMI
Ken Burns' Brilliant 'The U.S. and the Holocaust' Has Only One Problem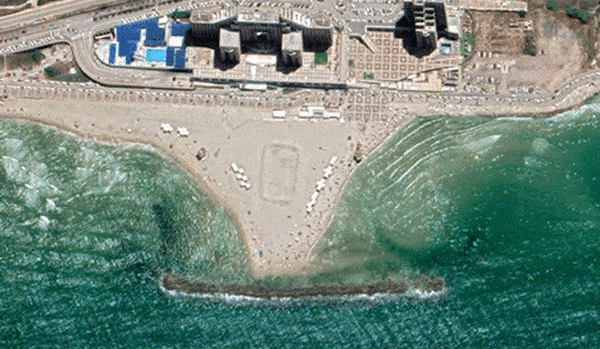 Facing Rapid Rise in Sea Levels, Israel Could Lose Large Parts of Its Coastline by 2050
Lapid to Haaretz: 'I Have Learned to Respect the Left'
The Mossad's Fateful 48 Hours Before the Yom Kippur War
As Israel Reins in Its Cyberarms Industry, an Ex-intel Officer Is Building a New Empire
How the Queen's Death Changes British Jewry's Most Distinctive Prayer