Who Are You to Call Me a Goy? The Dawn of Judaism as a Personal Choice
After a millennium and a half as the gatekeepers to being Jewish, the rabbis and their conversion courts are in danger of becoming quaint throwbacks.
File photo: Chief Rabbinate-run conversion court in Jerusalem, May 23, 2004.
Credit: Eyal Warshavsky
Let's say your parents aren't Jewish, but you feel Jewish and want to be a Jew. Who could stop you? The rabbis, the bureaucrats? How could they deny something that you know to be true, with every fiber of your being? They tell you that if you want to be Jewish, you must convert, but that makes no sense to you, because you are sure that you're already Jewish.
To many Jews, whatever their level of belief or observance, the argument may sound absurd: You can't just be Jewish. Either you are born Jewish, or you have to go through some official process to be recognized as Jewish.
But in an age where society is gradually coming to accept that a person's gender is not necessarily defined by the circumstances of his or her physiology at birth, and that steps can be taken to increase physical congruence if desired, the idea that external validation is needed for one's choice of religion seems increasingly anachronistic.
I'm not aware of any research or surveys on the subject, but I have no doubt that a growing number of people consider themselves Jews without having undergone any kind of conversion. What's more, most of their friends, relatives and neighbors regard them as Jews as well.
Over the years I've met many such Jews: immigrants to Israel and their children, who are not recognized by any rabbinate but are convinced that by living in the Jewish state, paying taxes and above all by putting their lives in danger serving in its army, they have earned the right not to have their Judaism questioned.
There are people, mainly outside of Israel, who chose to identify as Jews after they researched their genealogy and discovered a Jewish ancestor. Others married a Jew and accepted their spouse's faith. Still others became captivated by the beauty of the Torah, the Talmud, the Hebrew language (or Yiddish or Ladino) — by chance, or destiny — and adopted this knowledge and culture. As one such student told me, in perfect Hebrew, "Torah is my life, I don't need a rabbi to tell me I'm Jewish. I just know I am."
The civil war that broke out this week within Jewish orthodoxy after a group of Israeli rabbis broke with the Chief Rabbinate and established an alternative, "friendlier" conversion court, could catalyze forces that are already pulling the oldest stream of Judaism — the most dominant one in Israel — in opposite directions.
Either side in this religious, but also very much political, conflict could still back down so as to reestablish an uneasy status quo. In any event, the conversion issue is only one of the ticking time bombs under the fissure that will ultimately tear apart Orthodox Jewry, if the movement is not irrevocably split already.
It is not only this current round of bickering and power plays among the rabbis. The six decades-plus of theological, political and legal arguments fought between the Orthodox movement on one hand and the Reform and Conservative movements on the other, in the Knesset, the Supreme Court and the Israeli and Jewish Diaspora media over "who is a Jew" are growing increasingly irrelevant. As long as the religious parties have the power to dictate the state's recognition of Jewish identity, its subsidization of religious education and its control of marriage, divorce, burial, much of the food industry through kashrut restrictions and so many other parts of civic life, this debate will matter. But as more and more alternatives become available and individuals become more self-aware and confident in making their own cultural and religious decisions, the rabbis will be scrabbling for a rapidly devaluating currency.
The rebel Orthodox rabbis realize this. Connected as they are to a much wider cross-section of Israeli society than their ultra-Orthodox rivals, they are fully aware that the great majority of the approximately 350,000 Israelis and their children who emigrated from the former Soviet Union under the Law of Return, only to be told on arrival that they weren't considered Jewish enough to get married in Israel, are not particularly motivated to go through a long and arduous conversion process.
For years these rabbis hoped that a clamor from this "Russian" community would force the rabbinate to liberalize its hidebound religious courts, and now they're trying to do it themselves.
They may be fighting a battle which for all purposes is over. Most of those "Russians" simply don't care anymore. Many of them have lived in Israel now for nearly a quarter of a century, or were born here. As far as they are concerned, they are Israeli and Jewish and no rabbi can tell them otherwise. Nor have more than a few opted for the more user-friendly Reform and Conservative conversion programs.
The Jewish Agency has come out in support of the rebel rabbis. Naturally the organization is anxious that prospective Jews and Israelis will not be deterred because of the obstinate Chief Rabbinate. But their endorsement played only a tiny role, if any, in this saga. The rabbis didn't need the blessing of the Jewish Agency, and would have gone ahead even if it had expressed its disapproval.
Writing in Haaretz this week, Or Kashti revealed how the organization was totally sidelined by the grandiose Initiative for the Future of the Jewish People of Diaspora Affairs Minister Naftali Bennett, which will receive 190 million shekels ($50 million) in state funding. The Jewish Agency, once Israel's government-in-waiting, is now increasingly marginalized in every field of operations, pushed out by more dynamic, efficient, well-funded and often ruthless outfits such as Chabad, Nefesh b'Nefesh, Birthright Israel and Rabbi Yechiel Eckstein's International Fellowship of Christians and Jews.
Never before in Jewish history has there been so much competition, and so much money spent, on trying to connect Jews to each other. Ironically, this hyperactivity is becoming increasingly obsolete, as just about every Jew in the world today is free to emigrate, to practice whatever faith they choose and to learn and communicate about any form of Judaism they like, using the Internet.
Judaism began as an aggressively proselytizing religion, and remained so until Christian and Muslim persecution forced the rabbis to change tack and to set up barriers. As it was, few wanted to join the ranks of a persecuted minority. Now, after a millennium and a half as the gatekeepers to being Jewish, the rabbis and their conversion courts are in danger of becoming quaint throwbacks. For better or worse, we are entering an era where being Jewish is matter of individual choice.
Click the alert icon to follow topics:
ICYMI
Ken Burns' Brilliant 'The U.S. and the Holocaust' Has Only One Problem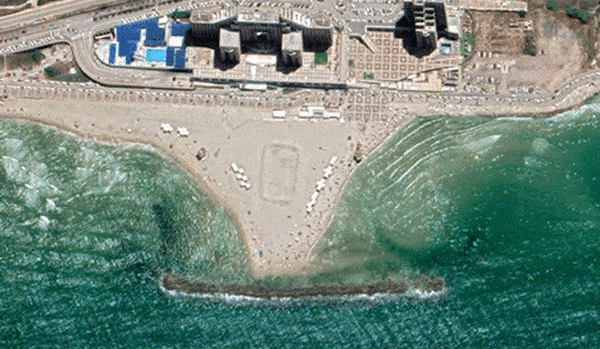 Facing Rapid Rise in Sea Levels, Israel Could Lose Large Parts of Its Coastline by 2050
As Israel Reins in Its Cyberarms Industry, an Ex-intel Officer Is Building a New Empire
How the Queen's Death Changes British Jewry's Most Distinctive Prayer
Chile Community Leaders 'Horrified' by Treatment of Israeli Envoy
Over 120 Countries, but Never Israel: Queen Elizabeth II's Unofficial Boycott