'Anyone Who Belongs to B'Tselem or Breaking the Silence Is Also a Rotten Apple'
Haaretz gets a hold of MK Makhlouf Miki Zohar, who said 'The fool who burned the house of that Arab had no intention' of murdering anyone.
MK Miki Zohar.
Credit: Olivier Fitoussi
Hello to Likud MK Makhlouf Miki Zohar, an alternate member of the Foreign Affairs and Defense Committee. Nir Gontarz from Haaretz here. You said this week, "The fool who burned the house of that Arab had no intention, and I say this with authority, of murdering anyone." I'd like to talk to you about that.
Gladly.
You're a jurist, right?
Absolutely. I have a master's degree in law.
Then you certainly know that to say that a murderer didn't intend to commit murder is a meaningful remark. What's your authority for saying so?
The agenda of Price Tag, the delusionary group that causes damage, is not the murder of infants.
How do you know that?
Look at their patterns of activity.
I looked. They murdered an infant. A manual seized by the Shin Bet security service contains specific instructions on how to burn a house, and for the more advanced there's an explanation of how to burn a house with the occupants inside, explicitly. This was seized among right-wing activists like those.
I reiterate and say that not even you, heaven forbid, will take my comments out of their context.
Oh, you can trust me on that score. I will quote you word for word.
It's a bad group, but it does not have the murder of infants on its agenda.
Not so. It was clear that people were living in that house. Are you personally acquainted with them that you're so sure?
I absolutely do not know them, I have no connection with them and I have contempt for that group.
You wrote in Facebook, "The Jewish people is a merciful people that acts according to the principles of Judaism, which do not permit murder of any sort."
Correct. The Jewish people is a merciful people. We are not murderers.
Then who are all the murderers who are in jail in this country? Swedes?
You mean those who murdered on a criminal basis and whatever?
Them, too. Or Yigal Amir, let's say. Is he a Swede?
Every society has its rotten apples. What sets us apart from the Arab society, for example
Never mind Arabs for the moment. We are talking about the distinctions you make about the Jewish society and its "rotten apples."
For me it's always important to be in a situation of [being] better than others. You have to understand: The Jewish people is divided into factions, into factions of factions.
So we can agree that there are Jewish factions that produce murderers?
That's what you people on the left are trying to do!
"You people"? I'm alone here.
That is the goal of the left: to present those of us on the right as benighted murderers!
I did not say that, and of course the right wing is not "benighted murderers." But it's a fact that all the murderers for ideological and religious reasons came from the right wing. Yigal Amir, Yona Avrushmi, Ami Popper, Baruch Goldstein. The Price Tag group was hatched on the right, the Jewish Underground came from the right. Not everyone on the right is a murderer, but all the ideological murderers are from the right.
Look, there is no doubt that our role as the country's leaders is to prevent such things from recurring in the future and to combat the phenomenon.
How will you combat it if you deny that Jews commit murder and that the Jewish murderers come from the right?
I wrote in Facebook that the Jewish people is a merciful people that acts according to Jewish principles that do not permit any murder of any kind. I insist that the Jewish people is merciful. I will tell you this: There are rotten apples in all kinds of segments of the population, including the left, and I will explain to you why.
Really? What murderer has come from the left?
In my eyes – he may not be a murderer – but in my eyes anyone who belongs to B'Tselem or to Breaking the Silence is also a rotten apple.
Seriously? I don't believe you're making that comparison. I myself support Breaking the Silence and B'Tselem.
Do you know why they are rotten apples? Because the damage that they can cause to the State of Israel
They are documenting the reality in the territories. They are not inventing it.
That's your opinion. In my opinion, they are trying to damage the legitimacy of the State of Israel and the Israel Defense Forces.
On the contrary: They are the gatekeepers of morality in the IDF and in the state. Those organizations are actually safeguarding us as a society.
That's not correct: The IDF is capable of drawing conclusions on its own itself.
It isn't, actually. But hold on – so from your point of view I am the rotten apple from the left who is the equivalent of the "rotten apples" from the right like Yigal Amir?
I didn't say yet that you are a murderer. Heaven forbid.
You drew the comparison.
The rotten apples don't represent everyone on the right. They have right-wing views, but they don't represent the right.
How do you explain the fact that all the Jewish murderers and terrorists have come from the right?
I don't What do you mean, explain? It's impossible to explain the fact. You won't find anyone among the right-wing leaders who thinks that murder is necessary Those people are mentally ill.
No. Yigal Amir, Ami Popper, Goldstein and the Jewish Underground are not mentally ill. Maybe it's convenient for you to see them like that, but they're not. Neither medically nor legally.
They are mentally ill.
They are not. They are right-wing ideologues.
They are mentally ill. I was glad that the court did not find them to be mentally ill, so they can spend many years in jail.
There, you see? They are not mentally ill. They are part of what's springing up in the gardens of the right. Accept the fact.
Here, look, I grew up in that garden and I am a law-abiding person who condemns them.
You both condemn them and deny affiliation with them.
As I do on the right, you on the left must eradicate your rotten apples. That way we will have an orderly society.
Okay, I'm in a loop here. According to you, I have to eradicate myself.
You sound like a likable guy, you sound perfectly alright. It's unacceptable to take the right wing and present it as being dark, which it's not. The absolute majority on the right [lead lives] based on the tradition, and the tradition does not lend a hand to murder in any form. That is the essence of the right, and let no one present it as benighted or as encouraging murder, heaven forbid. That's all.
Fine, sir, fascinating. Thanks for the conversation.
One thing is important for me: Say what I said as I said it.
Trust me on that score.
Very good, thank you. Whom was I speaking with?
Nir Gontarz.
Fine, Nir, thanks.
ICYMI
Ken Burns' Brilliant 'The U.S. and the Holocaust' Has Only One Problem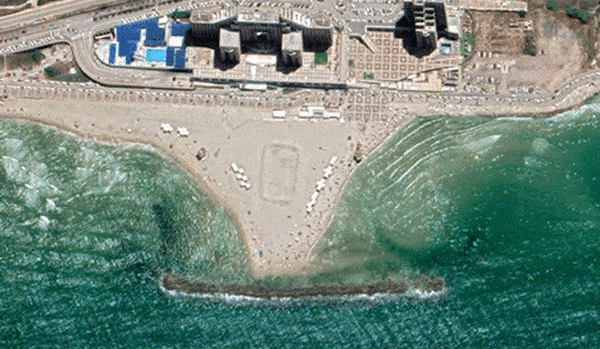 Facing Rapid Rise in Sea Levels, Israel Could Lose Large Parts of Its Coastline by 2050
As Israel Reins in Its Cyberarms Industry, an Ex-intel Officer Is Building a New Empire
How the Queen's Death Changes British Jewry's Most Distinctive Prayer
Chile Community Leaders 'Horrified' by Treatment of Israeli Envoy
Over 120 Countries, but Never Israel: Queen Elizabeth II's Unofficial Boycott