Bloody Incidents in Israel Spark Sharp Discord in Settlements
A case in point is the West Bank's Kochav Hashahar and its satellite outpost Baladim, where some residents attacked others for condemning the deaths in Duma and Jerusalem.
A prayer session held in Gush Etzion on Sunday for the victims of the Duma arson attack.
Credit: AFP
The arguments that broke out in an online "meeting" of the residents of the West Bank settlement of Kochav Hashahar on Friday reflected the feelings and emotions of the settler community at large, following the two murderous incidents last week.
First was the attack at Thursday's Gay Pride event in Jerusalem that killed 16-year-old Shira Banki and wounded 6 others, and then the arson in the Palestinian village of Duma, where an infant was burned to death on Friday.
The northern West Bank settlement is a microcosm of the world of religious settlers and the changes it has undergone in recent years. What began as an agricultural community became more and more national-religious over the years. There is constant tension among its different factions and disagreements erupt over issues such as whether to purchase chairs for the synagogue from an Arab contractor, or whether there should be separate kindergartens for boys and girls.
Close to the settlement are two satellite outposts – the national-religious Mitzpe Kramim, under constant threat of evacuation, and Baladim, which houses a fierce group of hilltop youth. A month ago, Kochav Hashahar suffered a difficult loss: One of its residents, Malachi Rosenfeld, was killed during a shooting attack not far from where the Duma incident took place.
The arguments broke out last Friday about a suggestion that the settlement evacuate Baladim.
"I'll start by declaring that I'm in favor of settlement on every part of the Land of Israel, with no exceptions. But I'm not in favor of settlement by advocates or proponents of the murder of Jews, or Arabs," wrote M., a resident. "Baladim is located near Kochav Hashahar. According to Roei Sharon on radio Galei Israel, those who burned the Church of the Loaves and Fishes [in June] came from there. There are rumors that those murderers who killed the baby in Duma are connected to Baladim. The settlement should dismantle the outpost as soon as possible, and if it doesn't, the army and the police will. We have to take responsibility as a community in dealing with this situation."
Usually propositions such as these border on treason in the settler camp, but the recent horrors created support for such ideas.
At the meeting, G., another member of Kochav Hashahar, mentioned another recent incident, in which Baladim residents were caught attacking a Bedouin by Israel Police forces during a stakeout.
G.: "I kept quiet all this time. I said I don't know all of the details and that I shouldn't take a side. Certainly not the same side as the media. But one thing never left my mind – even if we assume that the police weren't acting appropriately. The facts are exactly as they were presented: Those who were arrested threw stones at a Bedouin who approached them. This story has bothered me since it was published. Who are you that you should throw rocks at a Bedouin? Are you the law? We work with the law, with the security forces. There's no question here, and so I join others in making the calls."
Bacol Serlui, a poet, added: "I'm grateful from the bottom of my heart that this idea came up. Since I heard the terrible news, I don't know what to do with myself. The murder of an innocent baby that took place last night, and the attempted murders of his family members are despicable acts that deserve all forms of condemnation. These acts violate every law in the Torah, every law of human morality and logic, and are a terrible desecration of God's name.
"I believe that a community is measured not only by the way it comforts residents, but also by the moral and educational stand it takes against acts such as these. Our right to this land does not relieve us of our obligation to live moral lives within it," Serlui said.
But alongside the condemnation, other opinions were voiced as well. One older resident from Baladim asked that the settlers to "stop the incitement." A theological discussion regarding the arson attack at the church, a holy site located near Lake Kinneret, ensued.
One outpost resident cited a biblical verse that he says includes a commandment to burn churches: "Ye shall break down their altars, and dash in pieces their pillars, and hew down their Asherim, and burn their graven images with fire. For thou art a holy people unto the Lord thy God" (Deuteronomy 7:5-6).
He also quoted a passage with similar content from "Sefer ha-Chinuch," a work that describes all 613 commandments that are to be fulfilled according to halakha (traditional Jewish law).
"It's clear to me that most halakhic authorities would believe that it's forbidden to set churches on fire in today's complex reality," said the resident, adding, "but the commandment to expel idol worship from our holy land remains, even if we cannot carry it out, and those who aren't disgusted by the images of crosses and statues throughout our land, and don't feel sorrow over their inability to get rid of them – they have apparently sunk too deep into 'enlightened' discourse and forgotten the language of Torah."
Rabbis' condemnation
The disagreement that surfaced at Kochav Hashahar is not an isolated case, of course. The same feelings and need "to do something," in addition to justifications and accusations, are all mixed in together.
The settlement movement in the territories is no longer the same small movement it was during the early 1980s, when everyone knew one another. Now there are over 400,000 settlers. For example, people in Gush Etzion – the "leftist" stronghold, in settler terms – were critical of regional council head David Pearl, whose statement about the attack in Duma was relatively cold, and who described the event as "an incident in which a family was harmed and a baby was killed."
One response to his statement read: "I'm having a very hard time, and I'm even slightly embarrassed by his email. First, I would expect a clear message of condemnation, and I am puzzled and saddened by this message. Instead of stopping to decry the murder carried out there by Jews, we jump at the opportunity to paint ourselves as victims who must beware and guard ourselves from the Palestinians. Even for a moment, we must not let ourselves know that we are also capable of being the aggressor. We immediately try to be the victims and pile on the security guidelines, without any condemnation of the murder."
The writer added: "Security recommendations are important, but they should not take precedence over condemning the attack I am referring to the atrocious use of euphemisms. 'An incident in the Binyamin district .. in which a baby was killed!?' Instead of that we must come out and say clearly: 'an act of Jewish terror in which a baby was murdered by Jews!' (The baby was not killed, he was burned to death in an act of premediated murder. Someone murdered him. That someone was a Jew, probably a religious one)."
Rabbinic officials also weighed in with comments about the two recent incidents. A prayer service was held for the family in Duma on Sunday in Gush Etzion.
At the same time, dozens of rabbis signed a declaration condemning the murder of the baby and offering condolences to the victims and their family.
"On that morning, we awoke again to a difficult and horrific reality upon hearing of the heinous murder in the village of Duma," read the statement, signed by Rabbis Aviad Sanders and Sarel Rosenblatt, among others. "We are ashamed of this cruel and horrific act. The violence in our land is in stark contradiction with what is written in the Torah. Even during this hour of tension between peoples, we must not allow ourselves to be dragged into atrocities that have no religious or moral justification."
The statement was also signed by prominent figures including Ramat Gan Chief Rabbi Yaakov Ariel; Rabbi Uri Sherki from Jerusalem, who lost his son in a terror attack on a car this year; and Rabbi S. Yossef Weitzen of Psagot.
An initiative from the rabbis of Kochav Hashahar and Kida to visit the family in Duma was met with criticism. "Did the mukhtar of Duma visit to express condolences after Rosenfeld was murdered?" asked one religious official on the extreme right, who asked to remain nameless.
An article on the right-wing Arutz Sheva website, popular among settlers, recounted the bloody events on Thursday night and Friday morning. Eliezer Melamed of Har Bracha, one of the most important rabbis in the West Bank, wrote an item in which, along with criticism of the attackers, he attributed blame to the government and media.
"That these criminals dare to cloak themselves in zeal for God and his Torah is made possible by the fact that large populations of observant, honest and innocent Jews, ultra-Orthodox and settlers alike, live in frustration and desperation. They see the way the government and media regularly discriminate against them and their values. This frustration is taken by these criminals as justification for horrific acts," read the article – for which Arutz Sheva disabled online responses, in fear of condemnations of the rabbi, accusations of incitement or praises for the death of the baby. Apparently, they know their readership well.
Click the alert icon to follow topics:
ICYMI
Ken Burns' Brilliant 'The U.S. and the Holocaust' Has Only One Problem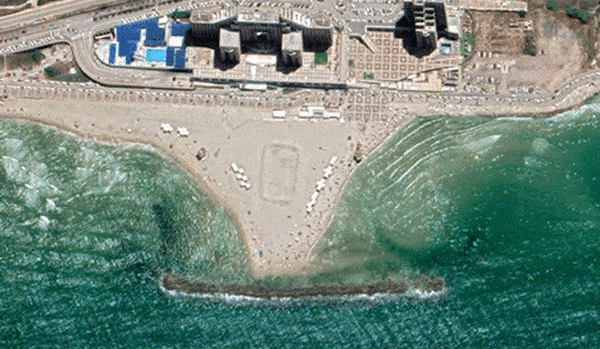 Facing Rapid Rise in Sea Levels, Israel Could Lose Large Parts of Its Coastline by 2050
Lapid to Haaretz: 'I Have Learned to Respect the Left'
The Mossad's Fateful 48 Hours Before the Yom Kippur War
As Israel Reins in Its Cyberarms Industry, an Ex-intel Officer Is Building a New Empire
How the Queen's Death Changes British Jewry's Most Distinctive Prayer