After Beit El, Settlers Learn Violent Threats Pay Off
How do you get Netanyahu to approve new housing units? You threaten soldiers. That is the lesson learned this week from the demolition saga of two West Bank structures.
Illustration by Amos Biderman.
Credit: Amos Biderman
"Pettiness," is how Defense Minister Moshe Ya'alon summed up the behavior of a number of his fellow government ministers in the Beit El affair.
Ya'alon was referring mainly to two colleagues from Habayit Hayehudi, Education Minister Naftali Bennett and Agriculture and Rural Development Minister Uri Ariel, and two from his own Likud: Immigrant Absorption Minister Zeev Elkin and Tourism Minister Yariv Levin. With Bennett, he has a history of bad blood going back to the days of Operation Protective Edge, exactly a year ago. Every summer brings with it a new chapter in the Ya'alon-Bennett wars. With the colleagues from his own party, the rivalry testified to the settlers' clout but even more than that, to Israel's character as a democracy and a law-abiding state.
Ya'alon is a proponent of construction in the territories. In his opinion, this is the essence of Zionism. He draws a line, though, with the High Court of Justice. With no "ifs, ands or buts," and with no winking or squirming or looking the other way. During this past week, when ministers insulted and denigrated the court, Ya'alon stood out as nearly a lone voice of sanity and responsibility. To resort to a cliché – it could be said that among all the knights of "the national camp," only the kibbutznik from Grofit gave Ze'ev Jabotinsky and Menachem Begin a moment of pleasure in Paradise.
By way of contrast, there is Yariv Levin, who this week broke his own record for vulgarity in his brutal attack on the highest bench in the land. He and his eternal twin, Elkin – Tweedledum to his Tweedledee – relate to the Supreme Court as the enemy of the people. In their view, its rulings are not even recommendations. On Monday, close to midnight, hours after the inflamed mob began to gather in Beit El near the two abandoned hulks of the illegal structures, also referred to as the Dreinoff buildings, which have been keeping the legal and military establishments busy for four years now – Chief of Staff Gadi Eisenkot phoned Ya'alon. He requested authorization to bring forces to the site to prevent infiltration and barricades that would make it difficult to evacuate the structures prior to demolishing them. Ya'alon gave his approval. Then he phoned the prime minister and briefed him.
"If we had waited until morning, we would have got Amona squared," the defense minister explained on Wednesday behind closed doors, referring to the violent response in 2006 to an attempt to demolish another West Bank outpost. "They would have barricaded themselves in with all their tires and spikes and spurs and their 'war for the home.' All in all, just two illegal structures with demolition orders, and they – together with ministers and Knesset members and local authority heads and rabbis – turned this into the Temple Mount, at the very least."
What developed next, and above all the ministers' attacks on the Supreme Court, caused Ya'alon, who is usually restrained, to blow a gasket. Irresponsible, inflammatory, inciters of the public against the rule of law, he called them.
It is beyond his comprehension how a minister of education, who in one month and a day will greet first-graders on their first day of school, has the gall to call Supreme Court justices names and attribute to them stupidity, foolishness and "an absence of common sense," as Bennett said of Supreme Court President Miriam Naor. Another civics lesson like this one and we are lost, mourned Ya'alon in those same private conversations.
The claim that he had deceived Justice Minister Ayelet Shaked makes him laugh. He has great respect for her. She is someone he trusts, in contrast to his feelings about other ministers from Habayit Hayehudi. Their relationship is excellent. They are in close professional contact, as their positions require of them.
On Monday, at about 9 P.M., they met in the Knesset. Shaked asked him what was happening in Beit El. "We won't do anything before a final High Court of Justice ruling," promised Ya'alon. Shaked went to Beit El, met with the heads of the community and the local council, and transmitted the message to them. At around 11 P.M., she came back and asked Ya'alon if there were developments. Again he told her there would not be a demolition before the court handed down a decision.
Shaked sent an instant message to Beit El council head Shai Alon: "You can sleep easy tonight." At half past midnight, she received word again from Beit El that something was happening: The army was moving forces in. She fired off an SMS to Ya'alon. He did not respond to her. Not because he had lost his manners, but rather because he didn't want to lie to her or alternatively to force her into a dilemma about what to do with the information that it had been decided to evacuate. Shaked will not say so openly, but deep in her heart, she is grateful to him for this.
On Wednesday morning, Prime Minister Benjamin Netanyahu convened three of his ministers in his bureau at the Knesset: Ya'alon, Elkin and Levin, along with Cabinet Secretary Avichai Mandelblit. There, the decision was taken to re-approve the construction of 300 housing units in Beit El that had been promised to the settlement after the evacuation of the Ulpana Hill neighborhood three years ago, and to begin the procedures for building and marketing hundreds of additional units in Jerusalem.
Ya'alon opposed this. He thought it was a mistake, that it was a bad message to surrender to violence, bullying and law-breaking, to reward it and to pay in the coinage of construction. Netanyahu thought otherwise. Caving in to pressure is his forte. He invited Elkin and Levin to the meeting as a cheerleading squad. What connection do they have to the construction of apartments in the territories or in Jerusalem? The one is the absorption minister, the other is tourism minister. Why didn't he invite Interior Minister Silvan Shalom, who is responsible for the planning commissions? Why was there no place for Construction Minister Yoav Galant? And where was Public Security Minister Gilad Erdan? Doesn't he have some connection to the police? To the Border Police?
Netanyahu wanted Elkin and Levin at his side in order to signal to the defense minister that construction in the West Bank is solely his responsibility and under his authority alone, and also to show his pets, the settlers who gave him the victory in the election, who the boss is.
On the roof of the world
The settlers' systematic pressures – and they are world champions at pressuring, driving crazy and inflicting terror on the system – to prevent demolition of the Dreinoff buildings gathered momentum on Sunday, when the Tisha B'Av fast was commemorated. Council head Shai Alon and one of the settlement's rabbis, Zalman Melamed, urgently asked to see President Reuven Rivlin. They imposed a task on him: to call the prime minister and ask him not to demolish the skeletons of the two illegal buildings, so that there would not be a "catastrophe." Those Supreme Court justices, they complained, are serving the left.
Rivlin did not take fright from the apocalyptic descriptions. "I have no intention of threatening the prime minister on your behalf," he replied to them. "Go threaten him directly, if you want to. You can't go playing your tricks on everyone. The court has had its say. You are too late. I am very well acquainted with the two justices who handed down the ruling [former Supreme Court President Asher Grunis and the current President Miriam Naor]," added Rivlin. "To describe them as leftists – nothing could be further from reality."
Disappointed but not surprised, Alon and Melamed went on their way. They found the ministers from Habayit Hayehudi ready to lend an ear and to help; the same was true of ministers Elkin and Levin, representatives of the settler lobby in the ruling party.
It is interesting to note, by the way, that their colleagues in Likud, newly minted ministers Danny Danon (Science, Technology and Space) and Miri Regev (Culture and Sport) – who, in their previous incarnations as MKs, would have rushed out to the scene equipped with Israeli flags and chained themselves to the concrete – went silent and vanished, physically, from the heated arena.
That cannot be said of the education minister. On the morning after the nighttime evacuation, Bennett hastened to arrive at the scene, climbed up on a rooftop, grabbed a microphone as though he were Boris Yeltsin on the tank in Red Square in Moscow during the coup attempt in 1991, and spoke to the crowd.
"Last night a hasty, extreme and oppositional deed was done here," he called out to the youngsters. He called them "my 'bros." Immediately after, he was photographed scuttling away in his ministerial car in a manner that added neither to his dignity nor his glory.
Bennett's 'bros got the message and in the evening, after the High Court ruled for the third time that the buildings were to be demolished immediately, they greeted the police special-ops forces and the Border Police with stones, bottles of urine and cries of "Nazis," "traitors" and "oppressors."
Incidentally, the heads of the settlement were disappointed. They had hoped that on the 10th anniversary of the evacuation of the Israeli settlements from the Gaza Strip, many thousands would flock to fight the First Dreinoff War alongside them. Hundreds showed up, most of them reckless youngsters, whom one of the senior religious Zionist people called "a pack that has lost connection with reality."
To say that Bennett felt satisfaction toward the end of the week from the way things developed would be an understatement. He is not sorry and he has no regrets with respect to his visit to Beit El, the harsh, personal criticism he voiced of the Supreme Court president who did not live up to his expectations, or his attack on his long-time foe Ya'alon.
"I spoke in the most proper way possible at Beit El," he said. He claims he had to go there at that particular moment to spur the state to tell the Supreme Court that it does not support the demolition. "I'm proud that I went to the site. Bogie's move was totally superfluous," he added, referring to Ya'alon by his nickname. "There was no need for it at all. It was he who brought about the inflamed passions."
His faction colleague, head of the extremist Tkuma party Agriculture Minister Uri Ariel, missed his moment of glory on the roof. He tried, rather clumsily, to cash a coupon of his own by posing a "public ultimatum" to the prime minister, insisting that he announce "within an hour" the start of the construction of those 300 forgotten housing units. When asked what he would do if the prime minister didn't do so in the allotted time – would he resign from the coalition? – Ariel hastened, in panic, to negate that scenario. He will be the one to turn the light out on this government, the last to leave the room. In any case, he issued his ultimatum after he already knew for certain that Netanyahu was about to authorize the construction. Ariel specializes in such dramas.
That's how high politics works in these parts. Like a Turkish bazaar, in the best case, like a rumble between street gangs, in a less good case. But who are Ariel and Bennett, as compared to this week's unrivaled star, MK Moti Yogev, who proposed going at the "charlatan" High Court with a D-9 bulldozer?
One of his colleagues in Habayit Hayehudi said of Yogev that he thinks only after he speaks. This is a huge compliment. Yogev does not think even after the words have left his mouth. A man who reached the rank of colonel in the army and – no less appallingly – served for some three years as general secretary of the National Religious Party's splendid youth movement Bnei Akiva, has been known for some time now as a Knesset oddity. As a weirdo. Every day he is at the Knesset, together with his faction colleague MK Bezalel Smotrich, makes one long for Michael Ben Ari, Aryeh Eldad and Moshe Feiglin.
Following the trajectory of Yogev's parliamentary activity during the two or so years he has been a legislator, we find three high points: The time he said that MK Ahmad Tibi had spit on his mobile phone during an argument between them in a committee meeting during the last Knesset; second, when he told residents of the Gaza "envelope" who came to ask for help from the Knesset: "You supported the disengagement, so now you're eating it"; and, the third time, this week, which far surpassed its predecessors. These are the only three times Yogev has made headlines.
Poor Smotrich had a hard time trumping him in his press release, reading: "The High Court of Justice's decision is another nail in the coffin of a blowhard court." Perhaps the young MK will consider organizing a march of animals near the Supreme Court at Givat Ram in Jerusalem, just as he did a few years ago in response to the gay pride march in the city. There are enough animals for everyone. For the justices, for the gays.
Click the alert icon to follow topics:
ICYMI
Ken Burns' Brilliant 'The U.S. and the Holocaust' Has Only One Problem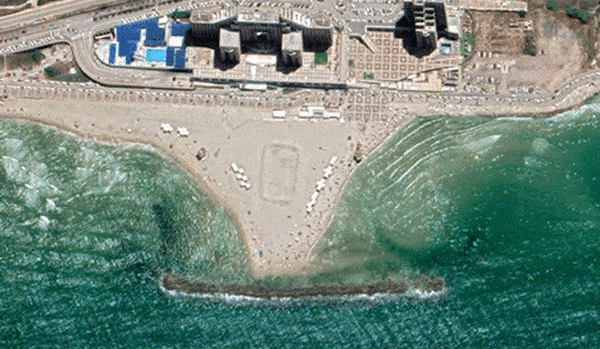 Facing Rapid Rise in Sea Levels, Israel Could Lose Large Parts of Its Coastline by 2050
As Israel Reins in Its Cyberarms Industry, an Ex-intel Officer Is Building a New Empire
How the Queen's Death Changes British Jewry's Most Distinctive Prayer
Chile Community Leaders 'Horrified' by Treatment of Israeli Envoy
Over 120 Countries, but Never Israel: Queen Elizabeth II's Unofficial Boycott