Just Like His Hero, This Asylum Seeker Has a Dream
Mutasim Ali has become a symbol of hope for African asylum seekers. Several weeks after his release from Holot detention facility, he's still not sure why he was freed but his 1,700 peers remain incarcerated.
Mutasim Ali was not jumping for joy earlier this month when he was released from the detention facility that holds hundreds of African asylum seekers. "I went outside into the desert that surrounds Holot and did not feel like a free man," relates Ali. "It's not possible to push a button, open a gate, release a person from detention on an arbitrary decision, and order him to experience a feeling of freedom right away. I'm still at a stage where I'm just beginning to feel like a human being again," says the 28-year-old Sudanese activist.
In an interview with Ali at the Tel Aviv café that currently also serves as his office, he's in two minds about his release from Holot. "I am very happy that after a year and two months of administrative detention, the decision to release me was taken," he says with evident irony. "I'm happy I am the first to have been released from Holot on orders from the attorney general, since this provides hope for other detainees there. But this happiness is not complete. It was sad and hard for me to be released from Holot and leave behind about 1,700 detained asylum seekers. Mainly, I don't understand the difference between me and the other asylum seekers locked up at Holot, who have also submitted applications for asylum, have been interviewed and not received answers."
Ali became the voice and symbol of the Sudanese and Eritrean community in Israel at the asylum-seekers' demonstrations in January 2014, which he helped organize. Ali stood out for his activism, natural charisma, fluent Hebrew, academic education, analytic skills and ability to sweep people along with him. He was born in a village in the Darfur region of Sudan, the first-born son of parents who are educators; he has four sisters and a brother.
Ali speaks at a protest of support for asylum seekers at the Holot detention facility, February 2014. (Photo: Eliyahu Hershkovitz)
At the age of 16, Ali left the village and went to the big city, Khartoum. He enrolled for a bachelor's degree in geology, but when he was 19, his home village was burned to the ground and wiped out. His family managed to escape and now lives in a refugee camp in Darfur. Alongside his academic studies, Ali became a full-time activist: he was a member of the Sudanese Liberation Movement and was among those who rebelled against the regime. He was imprisoned three times for his political activity, and suffered beatings and torture. "To this day, I can't talk about what I went through in prison in Sudan," he says tersely, falling silent.
When he felt endangered because of his political activity, Ali says he had to flee. At first he escaped to Egypt, but within a month he realized his life was in danger once more.
"The Egyptian authorities cooperated with Sudan, and everyone in the Sudanese Liberation Movement was in their sights for arrest and deportation back to Sudan. I had to flee from there – and the only option was Israel. I know about the country's history, the Jewish religion and the Jews, and I felt an identification. I was certain I would be safe in a country that knows about persecution, hatred of the Other and victimhood from up close. And I thought that since there are no diplomatic relations between Israel and Sudan, Israel would not send me back," he says with a tired smile.
On May 5, 2009, Ali crossed the border to the sound of bullets, fired by Egyptian soldiers, whistling past his head. Upon his arrival in Israel, he was held for four months at Saharonim Prison. After his release he went to Levinsky Park in south Tel Aviv, a neglected area, and worked as a shift manager in a Tel Aviv hotel. When the asylum seekers' protest erupted, the media crowned him one of the organizers.
A prison in every respect
How did Ali come to lead the asylum seekers' community here? It all began in 2010, in the bureaucratic corridors of the Interior Ministry when Ali asked for an asylum application form. "I simply asked to fill in an asylum application. They told me there was no such thing," he recalls. "I tried to understand why there wasn't a form, and I was told to come back in a year's time and submit a request. I went back a year later and again they didn't let me submit an asylum application. Only two years later, in 2012, was I able to fill in an application. After 18 months I got an interview, and to this day there hasn't been a decision."
Ali says he is still dazed by recent events: "Just as I don't understand why they locked me up at Holot, I don't understand why they released me. I am not able to find any logic in the state's decisions."
In January 2014, some six weeks after he had participated in the organization of the asylum seekers' protests, Ali went to the Interior Ministry to arrange the renewal of his residency permit. To his surprise, he was ordered to the Holot detention facility. He immediately embarked on a legal battle, aided by attorneys Asaf Weitzen and Rachel Friedman from the Hotline for Refugees and Migrants.
Ali in court, March 2014. (Tomer Appelbaum)
"The main argument in the petition was that even though the UN Refugee Agency had determined I fit the criteria that justify the granting of refugee status, the state had not decided on the asylum application I had submitted at the end of 2012."
On July 6, the attorney general, Yehuda Weinstein, ordered that Ali be released from Holot. "This is the first time the Interior Ministry has ordered the release of an asylum seeker because of procrastination in the examination of an application for asylum," explains Weitzen, who represented Ali in his petition. "This is a bittersweet achievement."
During his period of detention at Holot, Ali grew thin and lost weight. "I am gradually recovering from the trauma of detention," he says now. "The Holot facility is being marketed to the public as a 'residential facility' and an 'open facility,' but it is a prison in every respect. At the Holot facility, there is an orderly and organized policy of imprisonment manifested in controlling the asylum seekers' lives and denial of their liberty."
He says the community's leaders are locked up at Holot, and this has taken a toll on everyone. "People are depressed and despairing," says Ali. "When that's the mood, people naturally shut down and try to survive and look only after themselves. Holot is a place that strangles hope. I saw people there who were depressed, in states of anxiety. People who don't know what their future will be, people with an extinguished look in their eyes. There is the smell of despair in that place. It is a prison facility that is aimed at breaking the asylum seekers' spirit."
Ali bids farewell to friends as he heads to Holot, May 2014. (David Bachar)
He is convinced he and his associates have paid a high price for their participation in the protest. "We went into Holot only because of organizing the protest," he believes.
Ali was released from Holot just as a new Hotline for Refugees and Migrants report was published, which revealed serious flaws in the conditions there. These included harsh punishment (Population, Immigration and Border Authority officials – despite not being judges – sent over 1,200 Holot detainees to Saharonim Prison for periods of a month and more); serious failures in food provisions – the detainees' main nutrition consists of foodstuffs with empty calories like bread and white rice, while sick people do not receive appropriate nourishment and, contrary to the state's reply to the High Court of Justice, the Prison Service prohibits food being brought into Holot, even in closed packaging; confiscation of personal items like heating stoves; and the imposition of monetary fines on detainees who violate the facility rules or are suspected of doing so.
Back to south Tel Aviv
Ali has yet to find an apartment since his release. For the moment, he's a guest in the home of a friend in south Tel Aviv. Upon entering Holot, he had to resign from a prestigious position at the African Refugee Development Center. He hasn't found time to look for a job, but is already fully immersed in activism to benefit the community. In the little time that has elapsed since his release, Ali has managed to meet with European Union Ambassador to Israel Lars Faaborg-Andersen; meet community leaders and field activists; and participate in a Ramadan meal held outside the Holot detention facility in solidarity with the detainees.
"I missed them," admits Ali. "Four days after my release, I had already gone to visit Holot. I met friends, we talked about getting [them] released and I encouraged them."
Ali upon his release from the Holot detention facility, July 7, 2015. (Ilan Assayag)
Ali's release has not gone unnoticed among neighborhood activists in south Tel Aviv, either. They launched a Facebook campaign demanding that Ali not be granted refugee status, even writing to Interior Minister Silvan Shalom and demonstrating in front of the minister's home.
"This doesn't hurt me on the personal level," Ali responds. "It mainly saddens me because I am extending a hand, trying to create a dialogue, knowing that it's possible to change the reality – and the reaction is extremely negative."
He says it's important now to rehabilitate the asylum seekers; to act for the release of everyone who has applied for asylum and is innocent; and to act to accelerate examination of asylum applications. Israel, he says, mustn't close its eyes and avoid formulating an orderly immigration policy, while in the same breath creating draconian laws, imprisoning those asking for protection and acting to force deportation. "Israel is one of the first countries to have signed the [1951] Refugee Convention, but it's shrugging off its obligations toward the asylum seekers and lacks a clear, fair, moral and humane immigration policy," Ali adds.
He wishes to stress that none of the asylum seekers is against Israel. "We fled here in order to get protection, and if the situation in our country improves and we are not in danger – many of us will go back home truly voluntarily, not because of force or monetary compensation. Many people who know me think I'm really Zionist. I love Israel and am grateful to it for being able to live here. I think the State of Israel could make use of the asylum seekers to show an enlightened face to the world. If Israel were to grant asylum to the small number of refugees from Sudan and Eritrea in its territory, allow people to get work permits, grant a basic package of rights that will prevent the disgrace of hunger and life on the margins – that would preserve its moral character, not only its Jewish character. I respect and love Israel, and I understand it cannot open its doors to all the countries of the world. But that doesn't mean it is forbidden to criticize its immigration policy."
Inspired by Mandela
We discuss the approach of government ministers such as Miri Regev and Ayelet Shaked. "The problem of the asylum seekers in Israel should not be a political problem of left and right," says Ali. "It is primarily a matter of values and morality. It's not a question of one minister or another who agitates and makes headlines on the backs of the asylum seekers. That's not the issue. The real problem is that it's a matter of government policy, not specific people. A government policy that isn't orderly, that evades moral decisions, and at the same time acts in a way that is contrary to human rights on the most basic level – a breach of international trust, imprisonment of people without trial, and advancement of dark deals whose whole aim is to deport asylum seekers by force."
The Holot detention facility. (Ilan Assayag)
Nelson Mandela and Martin Luther King serve as inspirations for the nonviolent struggle they pursued. But with the melting smile of a child being hit by a wave of nostalgia, he admits that, first and foremost, his role model is his father. "When I fled Sudan, my father asked me to act to benefit my people, to tell our story to the entire world," he recalls. "My father was imprisoned for two years when the authorities found out I had fled to Israel.
"If I learn that my application for asylum has been denied," he continues, "I will regretfully have to apply in some other country. In Israel, we are fighting for basic recognition, while in another country we will be able to fight for the Sudanese people."
Ali pauses for a moment. "I feel I am connected to this country, and despite all the difficulties, I love it a lot. I make a point of keeping up with the news, understanding the Israeli reality, becoming familiar with its history, culture and society. I visit historical places, and Yad Vashem and the Ghetto Fighters' House, and I feel close to the values of Judaism. I believe Israel can create a future of peaceful ties with Sudan, and that the asylum seekers in its territory can serve as a bridge to peace between the countries.
"I think the issue of migrants and foreigners in Israel has to be, first of all, an Israeli struggle before it becomes an asylum seekers' struggle," he emphasizes. "This poses an important question: how does Israeli society want to look in the future? Does it want to turn into a closed, intolerant, racist society, where hate crimes and xenophobia are rife? Or does it dream of being an enlightened, humane and moral state?"
Click the alert icon to follow topics:
ICYMI
Ken Burns' Brilliant 'The U.S. and the Holocaust' Has Only One Problem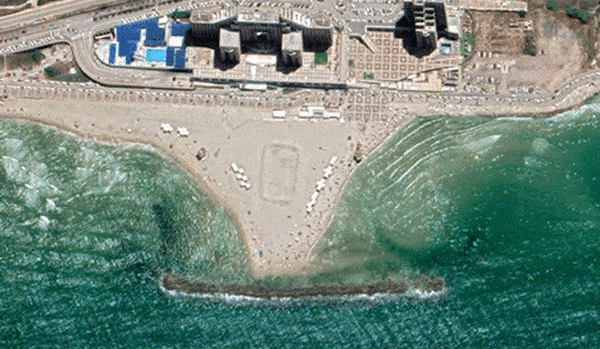 Facing Rapid Rise in Sea Levels, Israel Could Lose Large Parts of Its Coastline by 2050
Lapid to Haaretz: 'I Have Learned to Respect the Left'
The Mossad's Fateful 48 Hours Before the Yom Kippur War
As Israel Reins in Its Cyberarms Industry, an Ex-intel Officer Is Building a New Empire
How the Queen's Death Changes British Jewry's Most Distinctive Prayer