Reform Jews Should Take Minister Azoulay's Vile Rant as a Compliment
The Shas politician is using the same rejectionist lines that have defined ultra-Orthodox Jewry for the past 200 years.
Religious Affairs Minister David Azoulay (left) and former Kadima MK Akram Hasson, February 18, 2015.
Credit: Gil Eliahu
I really don't know why everyone is ganging up on Religious Affairs Minister David Azoulay. Yes, he said that Reform Jews are a disaster, or, in another statement, that they're not Jewish at all. So? What's wrong with that? Azoulay is simply reiterating what sages, mentors and venerated rabbis of the ultra-Orthodox movement that he represents have been saying for the past 200 years. Do people expect him to hypocritically hide his views simply because he is now a minister in the Israeli cabinet?
Azoulay is a representative of Shas, a senior partner in Benjamin Netanyahu's coalition. And it was Shas' revered spiritual leader Ovadia Yosef who ruled in 1988 that Reform Jews are the same as pagans, from whom one is not allowed to receive donations. And it was Yosef who mocked "the Reform Women of the Wall," as he called them, for wearing the talis traditionally reserved for men, suggesting that they "should be buried in them." And it was Yosef who affixed his signature to a 2012 petition sponsored by another Shas luminary, Sephardi Chief Rabbi Shlomo Amar, in which Reform rabbis were called "uprooters and destroyers of Judaism." So what do you expect from Azoulay? He should be less holy than his popes?
After all, the very essence of so-called "ultra-Orthodox" is inextricably tied to complete rejection of Reform Jewry. Faced with the early 19th century rise of Neology, the Hungarian version of Reform Judaism, it was the esteemed Chatam Soffer of Pressburg, today's Bratislava, who decried that Reform Jews should be viewed as heretic sects with whom kosher Jews are forbidden to marry; and it was his disciples who took matters one step further after his death, declaring, just like Azoulay, that Reform Jews are no Jews at all.
But the Chatam Soffer did much more: In fact, many consider him to be the father of traditional Orthodoxy. Before the arrival of Reform Judaism, devout Jews had found ways to accommodate changing times, but all that came to a halt in the mid-19th century, as Emancipation, secularization and Reform threatened the traditional Jewish way of life - as well as the rabbis' control over their flock: Paralysis was the prescribed antidote.
In order to try and stop the rapid spread of the Reforma, the Chatam Soffer declared that true Judaism is the antithesis of everything that is "new." He and his disciples set up a religious "wall of separation" that has protected devout Jews from the modern world and from the pernicious influence of "Reformers" for nearly two hundred years. Behind this wall, the ultra-Orthodox still hide from secular studies, from the emancipation of women, from even the minutest change to Jewish ritual.
Since then, the ultra-Orthodox, as they came to be known, have lived in a land frozen in time, circa 19th century Eastern Europe, locked in a never-ending struggle with the demons who are trying to undermine their sacred way of life.
And the sweet irony, of course, is that it is now the Moroccan born David Azoulay, along with the rest of Shas, who has turned his back on the lenient and accommodating practices of Sephardi Jewry, serving instead as the self-appointed Guardian of this petrified Eastern European Ashkenazi world.
American Jews were outraged by Azoulay's attack, but they shouldn't take it personally. I doubt, frankly, whether Azoulay has any idea what 21st Century Reform Judaism is, how it is American Jewry's largest religious movement, and how it often serves as a last defense against complete assimilation. Azoulay probably has no clue that Reform Jewry today bears very little resemblance to the movement that his 19th century heroes were fighting against. It is far more traditional, much more Zionist, and infinitely prouder of its Jewish identity.
Nonetheless, it cannot be denied that the movement's embrace of equality for women and LGBTQ as well as its outreach to intermarried families is anathema for Azoulay no less than the rejection Hebrew prayers and the sanctity of oral law were for Chatam Soffer's generation. And the Reform Movement, it's true, still believes in core values that are completely alien, unfortunately, for Azoulay, his party and much of the coalition that currently rules Israel: Tikkun Olam, freedom of conscience, defense of minorities and the universality of human rights.
Azoulay is not the problem, therefore, but a mere symptom. He is a product of a part of Israeli society that has grown increasingly intolerant and xenophobic. He is a manifestation of an Israeli political system in which the dominant secular party, Labor or Likud, repeatedly and voluntarily cedes control of the country's religious life to Jewish fundamentalists in exchange for a free hand on foreign and military affairs. It's as if the rules and regulations governing birth, death and marriage in America were permanently handed over to the Amish, or, if you want to be more moderate, to the 19th century Catholic Church.
For many years, Israelis were unaware of the importance of Reform and Conservative Jewry in American life: for many years they didn't really care. That has been gradually changing, while the physical presence of Reform and Conservative Jews in Israel has been steadily growing. Israelis have become increasingly frustrated, living under the yoke of the rigid Orthodoxy monopoly on their lives, but also disenchanted with the fanatic secularism in which many were raised: Reform and Conservative worldviews may suddenly seem like viable alternatives.
Thus, Reform Jews should actually take Azoulay's rant against their Jewishness as a compliment. They should see it is a sign of their increasing impact on Israeli life and the growing threat that they pose to Orthodox domination and privilege. Azoulay should not be faulted: He is true to his belief and to his roots. He was simply reacting to the threats of modernity in same rejectionist way that his mentors and predecessors have for the past 200 years.
Click the alert icon to follow topics:
ICYMI
Ken Burns' Brilliant 'The U.S. and the Holocaust' Has Only One Problem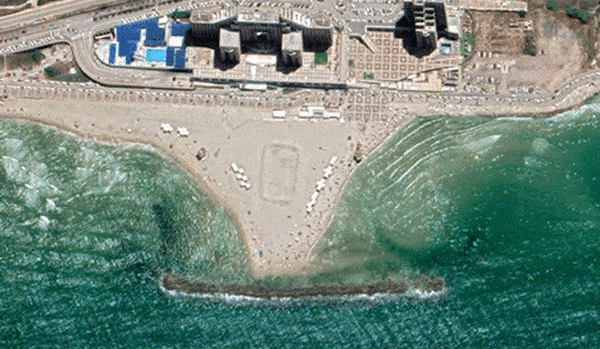 Facing Rapid Rise in Sea Levels, Israel Could Lose Large Parts of Its Coastline by 2050
As Israel Reins in Its Cyberarms Industry, an Ex-intel Officer Is Building a New Empire
How the Queen's Death Changes British Jewry's Most Distinctive Prayer
Chile Community Leaders 'Horrified' by Treatment of Israeli Envoy
Over 120 Countries, but Never Israel: Queen Elizabeth II's Unofficial Boycott