Will Israeli Spy Jonathan Pollard Be Released in November?
The Obama administration refuses to say if Pollard will be released on his scheduled parole date. Pollard can blame himself and Benjamin Netanyahu for the sorry state of affairs.
A Jerusalem demonstration calling for the release of Jonathan Pollard, in March 2013.
Credit: Oren Nahshon
Jonathan Jay Pollard has never been a Yonatan. The "Yonatanization" of Pollard by his disciples from the religious right in Israel was intended to turn him into a Prisoner of Zion, an intelligence fighter captured during his mission, an Eli Cohen relocated from Damascus to Washington, D.C.
This played a major part in Israel's disastrous wrestling match with the U.S. establishment in order to show who was stronger. The result is that in less than five months, after 30 years' confinement, Pollard is supposed to be released from prison – yet still there is no official response to the question of whether he will be allowed to go free. And if he is released, whether his movements and freedom of expression will be restricted.
The main person responsible for Pollard's incarceration for three decades is Pollard himself. His senior accomplice, however, is Prime Minister Benjamin Netanyahu: Pollard locked himself in the prison cell, and Netanyahu threw away the key. They both acted arrogantly and stupidly. But only one of them is suffering for it, in the very same correctional facility – Butner, North Carolina – that has served as a wonderful backdrop for photos of Likud politicians and ministers, who smiled and faded away over the past 19 years.
In recent months, Haaretz has written to three separate bodies in the U.S. law enforcement system, in order to clarify what Pollard can expect on November 21 – the scheduled date of his parole.
That November date is the accepted date of parole that was in effect at the time of his trial in 1987 (federal regulations were changed after that, but do not apply retroactively). This release date also can be found explicitly stated on the U.S. Federal Bureau of Prisons website. It can be changed through external intervention, for better – though it's too late for that now – or worse.
The Bureau of Prisons is a subdivision of the U.S. Department of Justice. The bureau's spokesmen passed the ball onto someone else in the Justice Department: the U.S. Parole Commission. Officially, in order for a federal prisoner sentenced to life imprisonment to be released on parole, the parole most be approved by all the appropriate authorities. In this case, the Parole Commission passed the ball almost immediately to the Justice Department itself – since even after all the professional bodies have completed the process for parole, the release still requires the signature of the attorney general.
Spokespersons for the Justice Department were asked whether Pollard would be released on November 21 (or on November 20, since this is a Friday and prisoners' release dates are customarily moved up if they fall on the weekend), or if the release would be blocked by the Justice Department or other government institutions. Also, if Pollard is to be released then, will he be allowed to leave the United States for Israel? And will he be silenced or censored?
All of our requests for information, in writing or otherwise, were met with total silence. God help anyone daring to touch this particular hot potato. One attorney general, Eric Holder, has left and a new one, Loretta Lynch, has come in: the wheels of justice turn slowly – and do not answer.
Revenge, payback and deterrence
In normal, noncontroversial cases, the attorney general tasks his deputy with the job of handling parole, clemency and pardon requests. But there is nothing normal about Pollard's case. Presidents, attorney generals, secretaries of defense, CIA heads and senior congressional leaders have argued the issues for years: those calling for clemency (for Pollard, or for Netanyahu); and those in favor of revenge, payback and deterrence.
The result shows it wasn't just the decision to recruit Pollard as a spy and run him (in 1984-1985) that proved an unmitigated disaster. So, too, has been the policy operated on his behalf since Netanyahu's first term in 1996. Just like Netanyahu's bravado on surrendering to terror and the freeing of murderers in return for hostages – which disintegrated on its first contact with reality – his verbiage on behalf of Pollard was also put to the test and completely crushed.
The loud noises Netanyahu proudly made over Pollard, and especially the granting of Pollard's Israeli citizenship in November 1995 (at Pollard's lawyer's request) only dug him deeper into his hole.
In light of previous vocal objections by U.S. law enforcement, intelligence and military officials to Pollard's release, which scared off presidents Clinton, Bush and Obama, there's still no guarantee that the parole of Pollard's 30-year sentence will happen naturally. True, blocking his release will turn Pollard into a victim being subjected to special treatment compared to other prisoners. But the political echelons in Washington will be hesitant to fight with defense authorities – especially as the next presidential and congressional campaigns grow ever closer.
These authorities will have a strong justification against Pollard's release, even if it's not a new one: He knows many secrets, not all of which have gone stale since his capture in the mid-1980s, and he will likely reveal them to unauthorized people in general – and Israelis in particular. It's a well-known claim: The Israelis used the same one, with various adaptations, against nuclear whistle-blower Mordechai Vanunu.
Blabbermouth
Two key facts in the Pollard affair are almost always repressed in the public discourse in Israel: In U.S. eyes, an American committing espionage is not a matter of spying but treason; and Pollard is still sitting in prison not because of what he did before he was apprehended, but because of his behavior afterward. If he had behaved differently, he would have been released years ago – after only a quarter, third or half of his sentence.
Last week, Mostafa Ahmed Awwad, 36, from Yorktown, Virginia, pleaded guilty to attempted espionage on behalf of Egypt – which was not involved in or aware of the affair. Awwad, a U.S. Navy civilian engineer, planned on providing top-secret materials to Egyptian intelligence, including the plans of a nuclear-powered aircraft carrier. He was caught in an FBI and Naval Criminal Investigative Service sting operation – the same two organizations that were negligent in the Pollard case, but in the end arrested him while he was a civilian employee of the same navy.
Awwad will only be sentenced in another three months, but the agreed-upon range of punishment in the plea-bargain agreement is from eight to 11 years – even though the maximum penalty is life imprisonment.
If Awwad has learned anything from Pollard, he will remain silent until then. Pollard didn't. He talked, blabbed, gave interviews – and revealed secrets not just from the intelligence he knew and gave to Israel, but also from a secret memo that Secretary of Defense Caspar Weinberger presented to the court. This revelation infuriated the judge, who agreed with the Pentagon that Pollard had violated the terms of his plea-bargain agreement and sentenced him to a much harsher punishment than expected. Pollard's wife Anne, his partner in crime, was sentenced to five years in prison and served two-thirds of her time. They later divorced and she moved to Israel.
Jonathan Pollard, who violated the trust the U.S. Navy and the U.S. intelligence community placed in him, is considered a traitor there. The Americans hate traitors – from Benedict Arnold in the Revolutionary War through to the "atomic spy" Julius Rosenberg, along with the FBI and CIA agents who sold their secrets – and spies – to the Soviets. This is a sort of defense version of the super-fraudster Bernie Madoff – but with national mortal dangers, not just financial ones.
Click the alert icon to follow topics:
ICYMI
Ken Burns' Brilliant 'The U.S. and the Holocaust' Has Only One Problem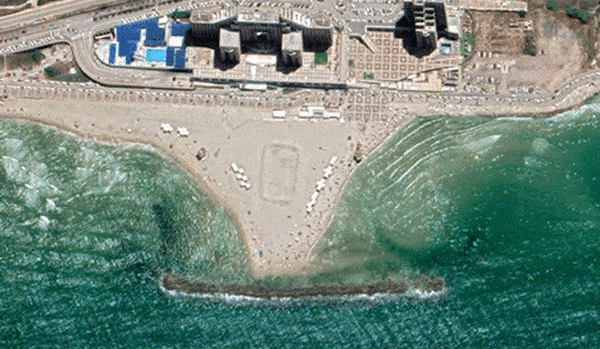 Facing Rapid Rise in Sea Levels, Israel Could Lose Large Parts of Its Coastline by 2050
As Israel Reins in Its Cyberarms Industry, an Ex-intel Officer Is Building a New Empire
How the Queen's Death Changes British Jewry's Most Distinctive Prayer
Chile Community Leaders 'Horrified' by Treatment of Israeli Envoy
Over 120 Countries, but Never Israel: Queen Elizabeth II's Unofficial Boycott