Trapped in Gaza: The Faces Behind the Blockade of the Strip
From a U.S. resident who came for his father's funeral and isn't allowed home, to a rights activist unable to attend conferences, Haaretz speaks to five Gazans who can't leave.
Residents of the Gaza Trip. Photos courtesy of Gisha.
Mohammed Naim Shahada, a resident of the Gaza Strip who lost his legs in last summer's Operation Protective Edge, has been waiting since then to go to a Bethehem Hospital and get prosthetic legs. Israeli authorities won't let the 27-year-old father of three make the trip, though, telling Haaretz this is due to unspecified security reasons.
Mohammed Tamraz, 26, has been waiting in Gaza since the summer war to join his wife, a Canadian citizen, in Canada. He says he filed a request three months ago to be allowed to leave the Strip, but Israeli authorities say they never received it. With his wife in Canada is Tamraz's eight-month-old daughter, whom he's never seen.
Last week Egypt opened the Rafah border crossing into Gaza for three days, the first time since March. Thousands of Palestinians – women, children, sick and elderly – wait for hours every day to enter the Strip. But they're in better shape than those living on the Gazan side of the border: almost no one was allowed to leave Gaza when the border was opened.
For the last year and a half Egypt, under the rule of President Abdel-Fattah al-Sissi, has classified Hamas and its military wing as a terrorist organization that participates in attacks against Egyptian security forces in the Sinai Peninsula. Still, entry to Egypt, which Cairo authorities have allowed to Gazans for a total of eight days this year, remains the only sure way, albeit a terribly infrequent one, to get out of the Gaza Strip.
Gaza is under Israeli blockade, and Gazans are all but stuck in their homes. Exit by sea is impossible, due to the lack of a normal seaport, and because Israel limits any sailing to a distance of six nautical miles from the cost (fishermen often report being fired on for going further); and exit by air is impossible because Gaza's only airport has been closed, and in ruins, since Israel bombed it in 2001.
The Erez crossing into Israel, in the northern part of the Strip, remains the only way for Gazans to enter Israeli territory or travel to the West Bank. According to the Coordinator for Government Activity in the Territories (COGAT), 162,000 people, less than 10 percent of Gaza's population, passed through the Erez crossing in 2013-14. Following last summer's Operation Protective Edge, Israeli eased the restrictions, and has allowed 72,000 people to cross thus far this year.
According to Gisha – Legal Center for Freedom of Movement, the number is slightly lower, 68,000, based on United Nations and Palestinian data, which don't include foreign nationals. These figures can't accurately account for the number of individuals who left Gaza this year, as they can include multiple exits by the same person, and Gisha notes that roughly 60 percent of those crossing do so to buy Israeli goods to then sell in Gaza. The rest are primarily pilgrims going to pray at the Al-Aqsa Mosque, medical patients seeking treatment in Israel, or relatives of Israeli prisoners, traveling to visit. All these groups are required to return to Gaza the same day or a day later.
Those who suffer the most from the Israeli and Egyptian policy are ordinary Gazans, especially young people, who want to go abroad for study, business, to visit family or just travel. Many of them have never left Gaza, and for those who have, returning to Gaza does not guarantee that they will be allowed to leave again. Israel does not allow Palestinians to exit through the Erez crossing unless they entered through it – even if they have a foreign passport. Requesting permission from Israeli authorities can take a long time, months even, and refusal rates are high, particularly for young people. Also, obtaining Israeli permission is only one of the obstacles to leaving Gaza; often, residents of the Strip are required to get permission from the Palestinian Authority to coordinate their travel plans with Jordan.
Behind the dry data are tens of thousands of people with tens of thousands of stories. Over the last week, Haaretz spoke with 10 Palestinians stuck in Gaza, trying to get out, some of them for the first time in their lives. Here is the first part in a series of articles about them.
Samir Mustafa, 55
Photo by courtesy
He arrived from the United States for a funeral in January, and has not been able to leave since. Mustafa immigrated to the United States 35 years ago and has U.S. citizenship. He lives in Maryland with his wife and their five children. In January this year he traveled to Gaza through the Rafah crossing to attend a family member's funeral, and has not been able to leave. Mustafa worked in a spare parts warehouse, but was notified a month and a half ago that he has been fired for failure to show up for work.
"When I asked for assistance from the U.S. consulate they told me that I violated a travel warning that prohibits entry to Gaza since 2003, as if they'd forgotten that I'm from Gaza and I came to see my family," said Mustafa. "Lately they've been telling me I'm on a waiting list, but I don't know how much time I'll have to wait. My wife and children have been living off the little savings we have, but it's running out. I worked my whole life, in Israel as well, now I've spent six months walking around doing nothing in Gaza. I don't understand why they don't let me leave here and return to my wife and children." According to Israeli authorities, since Mustafa did not enter Gaza through the Erez crossing, he is not allowed to leave from it, and therefore his only option is leaving through Rafah – which Egypt nearly always keeps closed.
Fida Argelawi, 32
Photo by courtesy
Israel refuses to allow her to pursue a master's degree in the West Bank. Argelawi aims to study for a master's degree in translation and English literature at Al-Quds University in Abu Dis, as Gazan universities do not offer this option. Ten days ago, as registration opened for the coming school year, she requested a registration form from the university's office in Gaza, but was told she has no chance of receiving permission to move to the West Bank or Jerusalem to study. Thus, she didn't bother filing a request with the Israeli authorities.
"I'm very frustrated from the whole situation, and feel desperate," she says. "I want to study and advance, but everything is stuck now. Even leaving through Rafah is not an option, I can't go to the West Bank from Jordan, because I don't have a permit to enter Jordan."
Najah Yassin, 53
Photo by courtesy
A women's rights activist, she has been unable to leave the Strip to attend international conferences and meetings. In Gaza, Yassin runs a center for empowering women of low socioeconomic status. Following Operation Protective Edge, the center began a project teaching embroidery to women whose homes were destroyed during the fighting. Yassin has filed numerous requests in the past for permits to leave Gaza, but her requests have been rejected or ignored. In March, she asked Israeli authorities for permission to attend a world cultural forum in Tunisia. The event came and went, and she has yet to receive a response.
"I've never left through the Erez crossing, and I've often done the whole roundabout journey from Gaza to Cairo to Amman in order to meet women in the West Bank," says Yassin. "I'm a social activist with no ties to politics, and I see no reason to prevent me and thousands of other women in the Gaza Strip to go out and see the world, as if we're been sentenced to jail here," she says. Haaretz learned that Yassin's requests have been rejected because she failed to meet criteria, though the criteria were not specified.
Mohammed Tamraz, 26
Photo by courtesy
His wife is in Canada, with their daughter whom he has yet to meet. He has been married to his cousin, a Canadian citizen, for two years. His wife traveled to Canada through the Rafah crossing during last summer's fighting while she was in an advanced stage of pregnancy, and they've begun the process of immigrating there. Tamraz was supposed to join her quickly, but he is still stuck in Gaza. He says his wife has managed to obtain a Canadian visa for him, and all the necessary permits, but he has not yet been able to leave the Gaza Strip to fly to Canada.
"My wife is alone in Canada, because her family left for Cuba. My daughter was born eight months ago, and I've yet to touch her, or hug her. We're really at a breaking point," he said.
"Last week, when the Rafah crossing was opened, we thought my wife would come back to be here with me, but they told us it would be open only for two days, and we were afraid she wouldn't make it in time. In the end, it was opened for a third day. We felt like we missed a big opportunity. I don't know what to do anymore, I try to get help from everyone I can to bring my family back together." It turns out his request wasn't received by Israel, even though he claims to have filed it three months ago, and filed an additional request last week.
Mohammed Naim Shahada, 27
Photo by courtesy
He has not received permission to travel to a hospital in Bethlehem to obtain prosthetic legs. Shahada is married with three children. He lost his legs during Operation Cast Lead, and was afforded the opportunity to receive prosthetic legs from a hospital in Bethlehem. He has also received a grant from the Palestinian Authority to cover expenses, medical and otherwise, while in Bethlehem. Shahada has filed a request for permission to leave Gaza, but every time he inquires with the local council about the status of his request, he's told it is being looked into by Israel.
"I can't understand why I'm rejected, I'm asking to leave for medical reasons and perhaps finally part with this wheelchair. I'm not asking for permission to go on vacation, as if it were a luxury, I want to go to the hospital to get assistance, so that I can stand on my legs again," Shahada says. Haaretz was told his request was rejected for security reasons that were not specified.
Soccer players
Photo by courtesy
For the last year and a half, the Palestinian beach soccer team, led by Imad a-Din Hashem, and part of the Palestinian soccer federation, have not been able to obtain exit permits from Gaza in order to compete in tournaments abroad. In March, Israel refused to grant travel permits to members of the Palestinian national team, some of whom also play on the local team, to go to the qualifiers for the Asian Beach Games in Qatar. In 2012, two years after the team was founded, it traveled to the Asia Cup in China, where it took third place. For the past couple of years, the team members have also been unable to leave Gaza via the Rafah crossing into Egypt. As a result, they missed the next Asia Cup that was held in China, as well as the Asian Games in Thailand and the Arab Beach Soccer Championship, in Sharm el-Sheikh, Egypt.
Some of the players have been able to get out of Gaza, but since mid-2013, the majority have not been able to leave at all and the team has not been able to travel as a team. One of the Palestinian soccer federation's complaints to FIFA against Israel concerned the restriction of the freedom of movement of Palestinian players, including being prohibited from traveling from Gaza to the West Bank and back, or going from the West Bank to Jordan and from there to elsewhere in the world. They did not receive explanations as to why their requests were turned down.
Click the alert icon to follow topics:
ICYMI
Ken Burns' Brilliant 'The U.S. and the Holocaust' Has Only One Problem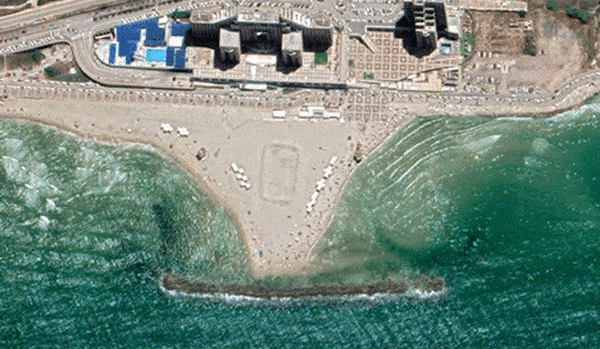 Facing Rapid Rise in Sea Levels, Israel Could Lose Large Parts of Its Coastline by 2050
As Israel Reins in Its Cyberarms Industry, an Ex-intel Officer Is Building a New Empire
How the Queen's Death Changes British Jewry's Most Distinctive Prayer
Chile Community Leaders 'Horrified' by Treatment of Israeli Envoy
Over 120 Countries, but Never Israel: Queen Elizabeth II's Unofficial Boycott