Changing the Israeli Narrative — the One About the Ethiopian Community
Female Ethiopian protest leaders, frowning on what they call the victimhood approach, are forging fresh coalitions in the fight against Israeli racism.
Ethiopian Israelis Esther Varknach, left, Rachel-Yoran Gato and Kasa Gato in a protest march, May 2015.
Credit: Ilan Assayag
"Mommy, what are they, slaves?" That's what a boy from Rishon Letzion said upon seeing four university students on the street in this Tel Aviv suburb a week ago, backpacks on their backs.
The incident reflects a lot on how society views the Ethiopian Israeli community. The college students were either born in Israel or immigrated when they were babies. They have taken the same path as other Israelis, but they're black.
The four — Kasa Gato, her younger twin siblings Rachel-Yoran and Avraham, and Esther Varknach — had set out from Tel Aviv to march to Jerusalem. They were symbolizing the hundreds of kilometers their parents had trudged from Ethiopia to Sudan on their way to Israel. Back then, thousands died along the way.
Remember the name Kasa Gato, because you'll be hearing it a lot in the coming years. Earlier this month, after the Ethiopian community demonstrated in Tel Aviv, she helped organize a protest rally at Tel Aviv University.
That event and the march to Jerusalem were initiated by young women who have played a big role in the community's protest movement. They're highlighting the fact that Israeli society isn't ashamed to treat them with racism, and that the police don't flinch at assaulting young men, even when they're wearing an army uniform.
In any case, on the second day of the trek, the four met with a Haaretz reporter in the Tel Aviv suburb of Nes Tziona. Varknach and Gato initiated the march and recruited the 21-year-old twins to take part. Others joined along the way.
Gato, 27, who has a degree in political science and communications, is now doing an M.A. in gender studies. She and her colleagues seek to change Israeli society's narrative about the Ethiopian Jewish community.
"The narrative is that Israel saved us. It's a story of victimhood, even though the immigrants chose to come to Israel, an act in realization of a dream. And along the way, people were murdered and raped and underwent other horrors," Gato says.
"There is a national day in memory of those who died, but actually ... the story has melted away. No one knows about it."
She says the march provides a chance to explain the story to people in the towns along the way. "This story needs to become part of the Israeli identity, part of the Jewish narrative, not just for me as an Ethiopian," she says.
In recent weeks, following the incident caught on video in which a policeman beat an Israeli soldier of Ethiopian descent, the topic of Israeli racism has permeated the public agenda. And the Gatos' mother began talking about her own journey to Israel — a rare mention of it.
"They've recounted the past. My grandfather was a general. My father was a man of religion. There is a discussion about culture, but when it comes to the journey — silence," Gato says.
"And then came the difficult experience with Israeli society. It's hard to talk about. There was a tremendous sacrifice and then the collision with Israeli society and its racism. We sacrificed for nothing."
But the new generation is connected to the past. "We're walking now and people are amazed, but what's this compared to what they did?" she says.
The decision to launch the march wasn't simple. Awareness was raised by this month's demonstrations in Jerusalem and Tel Aviv. Varknach says most of her friends are not of Ethiopian background, and though she feels part of the Ethiopian Israeli community, she also feels outside it.
"At the big Tel Aviv demonstration, I painted half my face white to show that everyone should take part in the struggle," she says.
As Varknach puts it, "We're no small part of society. Our parents did so much to come here. I only have an Amharic name on my ID card," she says, referring to Ethiopia's dominant language. "When I immigrated when I was a year old, [the authorities] changed it. They took the parental authority from our parents."
To her, the story of the Ethiopian immigration is "no less a historic event than everything that is commemorated here."
Lots of credentials
It's painfully evident that mistakes made with immigrants in the 1950s were repeated in the 1980s with the first airlift of Ethiopian immigrants.
Varknach was a coordinator in Hashomer Hatza'ir, the socialist-Zionist youth movement. She did a year of national service, worked with youth at risk and was a commander in Caracal, an Israeli combat battalion made up of men and women.
"I have a white boyfriend, I'm in higher education, I volunteer, I have a lot of credentials," she says. "Why do I need to persuade people all the time?"
Israeli society is sick, she says. "When I talk about things that happened during my childhood, about being excluded, about the humiliation, the response is always: 'That happened to me too,'" she says.
"Why do you think that if I talk about my suffering, it has to be at the expense of your suffering? I'm the most Israeli, but some people hold the view that I can never be Israeli, because they're white."
The Ethiopians' Jewish identity began well before there was a State of Israel, and not recognizing this fact "means erasing 2,500 years, erasing our identity," she says.
Gato is a feminist who realizes that women — along with Palestinians and Jews of Middle Eastern descent — get a raw deal from Israeli society. "What's Israeli society afraid of?" she asks.
Gato was with Palestinians for six months in New York as part of a Path to Peace program. The experience shook her up.
"I had never been on the strong side. When I met with Maryam from Gaza, suddenly I, a left-winger from Hashomer Hatza'ir, found myself to be an extreme right-winger," she says.
"The thing is to find a balance. From the moment I'm comfortable with my identity, I can lend a hand. When I'm comfortable with myself, I'm not undermined because there are others." Her sister Rachel-Yoran notes that the same goes for homophobia.
Varknach recounts that she volunteered with hungry African asylum-seekers in south Tel Aviv, whom she at least regards as human beings.
Others around her didn't take kindly to her approach. There were religious Jews who tried to convince her that God does not love non-Jews, and extreme right-wingers who tried to dissuade her from her work. Some even said they hoped a Sudanese asylum seeker would rape her.
Kasa Gato recounts that her father, who is religious, taught her that even if she is cursed at, she shouldn't curse back. "Don't do something bad even if someone else does," she quotes him. "Be on a loftier level. It's an education in compassion."
Once after Holocaust Remembrance Day, Gato asked him how the Shoah could have happened if there's a God. He said: "I'm just human. Follow the ways of God."
"And he mentioned that it was people who perpetrated it," Gato says. "People have a choice. It would be great if the Judaism I grew up with became everyone's heritage. Instead, they've excluded it from the religious discourse." Varknach adds: "There are things to be learned from this community."
War against the people
Of course, the pair were at the big demonstration in Tel Aviv. The protest began as a demonstration against police brutality, and the police used violence against the demonstrators — an ironic turn, Varknach says.
"I was at the demonstration until they threw a stun grenade at me," Gato says. "We came as a family. I came with three oranges and a bottle of water. That's the heavy ammunition I brought with me."
The police came for a war, she says — "and I know what that is. I was on the other side. I was a soldier in the territories. When you come for a war, you know it. It was a war of the people in charge against the citizens."
Commenting on the soldier beaten by the police, Varknach says it was a good thing the incident was filmed and the young man was in uniform — "It happens every day."
Gato mentions a female university student who said after the demonstration that things blew up because Ethiopian Israelis couldn't take it anymore. "When I was a youth group coordinator, two of my students committed suicide," Gato says. "They act as if everything's all right, but nothing was all right."
So what changes would Varknach and Gato like to see? "A policeman who commits assault because he gets angry has to be put on trial. The police are supposed to protect me. Forty percent of the children at the Ofer prison are Ethiopian. It doesn't make sense. We're demanding answers," Gato says.
"People ask me 'why don't we see you in academia?' Racism and discrimination start long before college admission exams. If there's a good chance you'll end up in jail, with 56 percent of [Ethiopian Israeli] children living in poverty and when most won't even finish school, with the country's largest suicide rate, the problem starts much earlier."
She also mentions the tiny presence of Ethiopians in academia. Although she loves learning, she's not sure she'll go that route.
The new generation is a generation of leaders not only of the Ethiopian community but of Israel as a whole, she says. That was clear at the demonstration at Tel Aviv University and other institutions of higher education.
Gato and her female friends invited other student groups — Palestinian, feminist and gay and lesbian — to join the protest.
"It's a joint battle on which we're on the front lines," she says, "There were signs in Arabic stating 'An Arab knows what a policeman who commits assault is.' It's the same pain."
She says she's glad the demonstration was at Tel Aviv University, which she calls "such white academia .... There had never been a case in which Ethiopians made such a fuss — let alone female Ethiopians." She says feminist methods were employed — "listening and giving space to one another without silencing one another."
"It's taking responsibility — that it's possible to change; there's no 'us and them' here .... The other is a continuation of oneself," she says. "There's no black and white. We make things better together. It's very characteristic of women, so it's not just a struggle by Ethiopians."
They're approaching the issue with pride, not weakness. As Gato and Varknach put it, the politicians won't change and racism won't disappear, so they'll be the ones to change things.
"We're coming to reveal culture and make it accessible, not from a position of being persecuted and dependent," Gato says. "We're coming to share what we have. For you."
Click the alert icon to follow topics:
ICYMI
Ken Burns' Brilliant 'The U.S. and the Holocaust' Has Only One Problem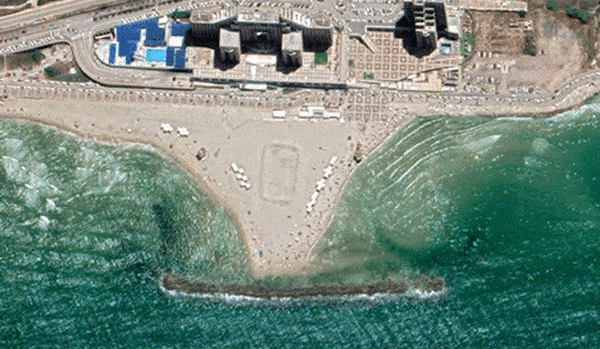 Facing Rapid Rise in Sea Levels, Israel Could Lose Large Parts of Its Coastline by 2050
As Israel Reins in Its Cyberarms Industry, an Ex-intel Officer Is Building a New Empire
How the Queen's Death Changes British Jewry's Most Distinctive Prayer
Chile Community Leaders 'Horrified' by Treatment of Israeli Envoy
Over 120 Countries, but Never Israel: Queen Elizabeth II's Unofficial Boycott