BDS's Best Ally May Turn Out to Be Bibi Himself
Netanyahu's reliance on rich Republicans and the Orthodox threatens the broad-based American Jewish support on which Israel counts.
Benjamin Netanyahu, right, shakes hands with House Speaker John Boehner, a good Republican buddy, in Congress (March 3, 2015)
Credit: Bloomberg
Without any intent, the New York Times said everything there is to say in just two sentences about the international drive to impose boycotts, sanctions and divestment on Israel.
Describing the tensions on college campuses across America as BDS seeks to persuade student governments to call for sanctions against Israel, the newspaper wrote, "The debates can stretch from dusk to dawn, punctuated by tearful speeches and forceful shouting matches, with accusations of racism, colonialism and anti-Semitism no university boards or administrators are heeding the students' demands."
Any novice reporter knows what kind of event makes news. Clenched fists and keffiyehs, shouting slogans, tearful speeches and confessions, maybe even a bit of pushing and shoving. The BDS movement favors those kind of in-your-face tactics over reasoned debate; it does not cavil at harassing Birthright recruiters, challenging someone's right to speak by virtue of their Jewishness, and making generous use of inflammatory language.
BDS's framing the Israel-Palestine issue in terms of oppression and Apartheid versus freedom and justice is music to the ears of politically engaged undergraduates. With the occupation and Israel's image of a prosperous Western society, Israel's supporters have a chip on their shoulder. The defense usually put forward -- that people shouldn't pick on Israel in a world where things far worse than what happens in the West Bank and Gaza occur every day, or that BDS isn't helpful to the peace process – is limp.
But even in that most hospitable of environments, the university campuses, BDS has been a flop.
According to figures for the Anti-Defamation League, out of 2,300 four-year institutions, the number of resolutions voted on by student governments was eight in the 2013/13 academic year and 15 in 2013/14. An informal survey showed the number edged up to 16 this year, which probably marks the season total now that final exams and summer vacation are here.
Among that small number of votes, BDS advocates convinced student governments to support them 50% of the time in 2012/13, 33% in 2013/14 and 38% this school year (although in at least one case a student court disallowed a student government vote in favor).
Now for the second half of the Times' summary of the BDS phenomenon on campus: No university has actually divested from anything connected with Israel.
That is the main issue, but it doesn't make for interesting journalism. University boards don't hold their meetings in public, the trustees don't wave flags or don keffiyehs as they enter the boardroom or send out edgy tweets intended to provoke a reaction. A journalist can at best expect some anodyne comments from anonymous sources by phone after the meeting and probably not even that. Not divesting from Israel-affiliated companies isn't news in the dramatic sense of the word, but it is the real story.
Nevertheless, it would be premature to starting saying kaddish for BDS.
Israel who?
Opinion polls in America routinely show support for Israel is strong and even growing, but the great majority of Americans don't give Israel a thought except when a pollster asks them. They don't choose their congressperson based on his or her Israel record or have ever attended a pro-Israel rally. If a company were to actually heed the BDS call and boycott Israel, it would provoke no counter-reaction from consumers.
The Israel-Palestine battle is a tribal one. The BDS movement likes to present itself as a universalist movement fighting for principles of justice and freedom, but it is basically a group of expatriate Arabs fighting to reverse the great defeat their Palestinian brothers suffered in 1948. They have the backing of another tribe, that of Western leftists who share 1960s-era preoccupations, including an overwhelming urge to stick it to the establishment. You, dopey, middle class America are Islamophobic, another manifestation of your incurable racism, but we progressives aren't: quite to the contrary, our hearts bleed for the Palestinians and all other oppressed people.
Israel's tribe is American Jews. That might not seem like much of a tribe because the U.S. Jewish community is small and shrinking, and conventional wisdom says that the younger generation is less enamored of Israel than its elders.
All of this is true, but a Pew Research Center survey released in 2013 paints a surprising picture of the relationship between American Jews and Israel.
Close to 70% of those surveyed -- a figure that includes Jews with no formal affiliation to a synagogue or other organization, suggesting their attachment to their religion is tenuous -- said they feel very or somewhat "emotionally attached" to Israel. Some 43% say they have visited. Needless say the highest levels of attachment are among older Jews and the Orthodox but for everyone else they are also unexpectedly strong.
Netanyahu seems ready to risk all this.
American Jews are attached to Israel, but they are equally attached to liberalism and the Democratic Party, which interestingly is supported by 70% of the Jews surveyed by Pew, just slightly ahead of their attachment to Israel. But rather than cultivate Israel as something everyone can and should support, even people who might be bothered by the contradictions of espousing liberal positions and the occupation, Bibi seems intent on putting the Israel cause into the hands of American Orthodox Jews and a handful of Republican Jewish billionaires.
There is a distressing congruity between how Bibi is acting at home in Israel and vis a vis America. In Israel, he prefers a coalition of Haredim and right-wingers that give him as little political trouble as possible, even if it will wreak havoc with the budget, sacrifice of principles he supposedly once held dear and damage the country's international standing. Quiet in the cabinet and quiet in the media, if he can arrange it, that's what Bibi wants.
In America, he would rather not deal with a White House making all kinds of annoying demands about Palestinians or negotiating with Iran or with obstreperous groups like JStreet. Better to powwow at dinners where he is feted as the guardian of Israel or with Republicans who compete with each other over who can be more hardline on Israel. Who cares if it is the billions of Adelson and others who are buying this friendship.
As Obama's 2012 election victory showed, Adelson & Company can buy candidates but they can't buy America. Orthodox Jews are at the forefront of pro-Israel activism, but they are a tiny minority of the American Jews community and their share isn't growing. If you subtract ultra-Orthodox Jews, who may be pro-Israel but are outside the mainstream, the Orthodox share is even smaller.
The day is approaching when it will be hard to find enough American Jews willing to defend Israel on campus. But more importantly Netanyahu is making it certain the day will come when support for Israel in the establishment wanes among liberal and Democratic Jews. An ever-friendly White House and Congress and America's pro-Israel consensus will be history.
Click the alert icon to follow topics:
ICYMI
Ken Burns' Brilliant 'The U.S. and the Holocaust' Has Only One Problem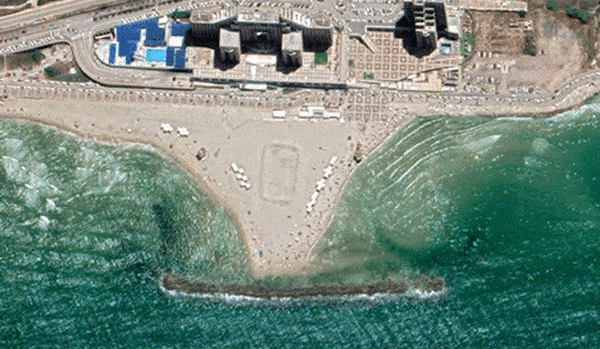 Facing Rapid Rise in Sea Levels, Israel Could Lose Large Parts of Its Coastline by 2050
As Israel Reins in Its Cyberarms Industry, an Ex-intel Officer Is Building a New Empire
How the Queen's Death Changes British Jewry's Most Distinctive Prayer
Chile Community Leaders 'Horrified' by Treatment of Israeli Envoy
Over 120 Countries, but Never Israel: Queen Elizabeth II's Unofficial Boycott