Israeli Thai Boxers Kick Down Barriers of Racism
Tel Aviv boxing club caters for every type of Jew and non-Jew.
A Thai boxing class in Tel Aviv.
Credit: Moti Milrod
Wearing tight shorts inscribed "Israel," Yaniv Cohen hops like a grasshopper amid a dozen sweating people kicking each other. About half of them are migrant workers' children, the rest are Jews – secular Israeli-born children, new immigrants, one religious guy and an ultra-Orthodox one.
This Thai boxing group in the municipal sports center on Tel Aviv's Mazeh Street is one of the only places in Israel in which, surprisingly, ultra-Orthodox and secular people, foreigners and Jews feel friendship, affection and partnership.
A 10-year-old and his mother enter the building. The boy examines the youngsters beating each other and the instructor. "Do you teach how to dodge a gun?" he asks Cohen. The mother gazes at her son with admiration. "Why do you need to dodge a gun at your age?" asks Cohen. The child could not answer and hurried away.
"I was born in France and know what alienation is," says Cohen, 30, holding his skullcap tight when he kicks. "In boxing clubs, most of the people are minority members. In Europe before the Holocaust a third of the boxers were Jews. In France the majority are Muslims, Africans and Jews. Even in Israel there are many Russians and Arabs. There's a group that's almost entirely ultra-Orthodox," he says.
"Sport sociology tells us that boxing is a way of mobilizing. They won't run to the Knesset but they can be national champions. That's the beauty of sport – it removes barriers," he says.
Cohen sees no contradiction between his religion and sports. "Boxing helped me become religious again and gave me discipline," he says.
Golan Singh and Cedric Green are two 14-year-old friends from the Bialik Rogozin school. Singh's parents are Sikh, a chef and kindergarten teacher from India. During a tour of the Golan his mother fell in love with the region and called her son after it. Green's mother is a Filipina house cleaner who has been here for 16 years.
"Cedric told me about the course and I thought it would give me confidence," says Singh. "There's a boy in school who wants to bully me and I was afraid to respond. Now I'll know how to deal with him."
This is the first time they've made friends with Israelis and people who aren't part of their circle of foreign workers and asylum seekers.
"Out there are people who shout "Chinese" when I pass by or make a harassing Chinese accent," says Green. "The course is a chance to meet Israelis who aren't racists, Israelis who accept us, and that's pleasing."
"People look at us in the street as though we did something bad," says Singh. "When we're in shops they act like we're going to steal something. But here it feels like family."
(Moti Milrod)
Singh says his mother doesn't like his new hobby. "She doesn't want me to do physical things, she wants me to be an accountant, but I'm not interested in that," he says.
Anderson Kateniu, 15, the son of a cleaning woman from Colombia, looks very Israeli. But he still gets annoyed when "people make racist remarks at my friends."
If he could help it he would become a professional boxer. "I want to advance in this field, if I can," he says. "If not, that's OK too, due to my training here I can return to my previous dream of being a soccer player."
Asked if he'd want to represent the Israeli or Colombian team, he finds it hard to choose. "I don't care. I'm an Israeli Colombian."
He says he wants to serve in the Israel Defense Forces. "This country has given me many things I wouldn't receive in Colombia and protected me. When there are wars I want to give back," he says.
Yishai Amara is a cute ultra-Orthodox boy of 11 from Bnei Brak. His father learned Thai boxing in France. "At first it was hard for me, now it's easier. It's good to learn how to protect yourself from the Arabs in France," he says.
When I tell him that Israel is supposed to be safe for Jews, he is not convinced. "On Jabotinsky Street they stabbed a Jew," he says.
Until he becomes a hero, he hopes the training will make him strong in school. "If I get punched, I'll be able to beat them."
His father, David Amara, owner of a new fashion store on Sheinkin Street, says, "If a terrorist shows up, he'll be able to kill him. Or maybe it's better to say overcome him. In Israel there are also problems with Arabs, not that I'm advocating violence, heaven forbid."
Yuri Ischakov, 18, from the Kiryat Shalom neighborhood in South Tel Aviv, who immigrated from Bukhara in Uzbekistan, says his parents couldn't afford the course and he got a job cleaning stairwells. "Thai boxing was my dream ever since I was little," he says.
Designer Jeremy Bujo, 31, immigrated from Paris 10 years ago the first time, but returned to France for seven years because of a woman. The relationship ended and some three months ago he immigrated again. He knows Cohen from the army. For him too, boxing is a means of self-defense.
"If someone gives me trouble in the street, first I'll talk to him. But if necessary, I'll know how to give back. The training also takes nervous energies out of me and I'm more relaxed," he says.
Bujo feels Israelis are hostile toward immigrants from France. "Because of some French people who made shady business deals they think all the French are the same. A taxi driver told me this week that I wasn't a real Israeli and never would be, because the French come to Israel only when it's bad in France. I didn't answer him," he says.
Binyamin Hendels, 13, a student in the Ironi Daled High School in the wealthier part of town, says, "it helps. When I got into a brawl, I always used to evade it. Now I'm less afraid."
The only girl in the course is Tal Nataf, 11, who has been boxing since September. She says she joined "because it's fun." Being the only girl is also fun. "All the boys are considerate."
She says she likes the variety, but would like it better if there were more girls, although "I make friends with boys more easily."
At the end of the session Cohen asks them to put the gloves, tooth protectors and groin cuffs away in order. "The order isn't for me. If you have order in life, you have order in your head," he says, admonishing the students to buy deodorant.
"We've grown used to the smell, but it's unpleasant to people outside," he says.
(Moti Milrod)
ICYMI
Ken Burns' Brilliant 'The U.S. and the Holocaust' Has Only One Problem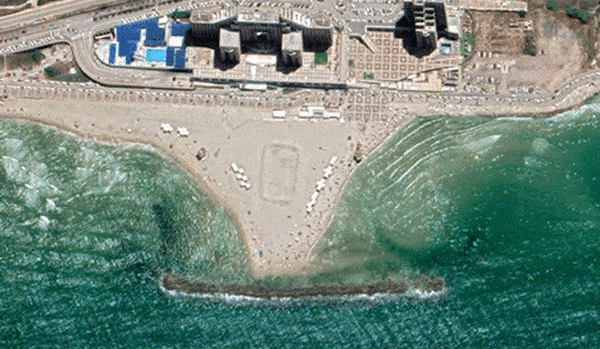 Facing Rapid Rise in Sea Levels, Israel Could Lose Large Parts of Its Coastline by 2050
Lapid to Haaretz: 'I Have Learned to Respect the Left'
The Mossad's Fateful 48 Hours Before the Yom Kippur War
As Israel Reins in Its Cyberarms Industry, an Ex-intel Officer Is Building a New Empire
How the Queen's Death Changes British Jewry's Most Distinctive Prayer