ICC Prosecutor: Low-ranking Israeli Soldiers, as Well as Palestinians, Could Be Prosecuted for War Crimes
Fatou Bensouda tells Haaretz that 'it is in the interests of both Palestine and Israel to cooperate' in International Criminal Court's probe into Israeli-Palestinian conflict.
Israeli soldiers walk by foot near the border between Israel and the Gaza Strip as they return from the Hamas-controlled coastal enclave, Aug. 4, 2014.
Credit: AFP
Fatou Bensouda, prosecutor of the International Criminal Court in The Hague, told Haaretz that if she decides to open an investigation of war crimes committed in the West Bank and Gaza, Israeli soldiers of low- and middle-rank potentially could be investigated for the purpose of "bringing stronger cases against those most responsible."
However, Bensouda emphasized that the court is now only examining whether such an investigation is warranted, and that if there is a decision to go forward with one, the investigation "will of course look into the alleged crimes committed by all sides to the conflict" beginning in June 2014, the eve of Operation Protective Edge.
In an exclusive interview conducted with Haaretz by email and completed Tuesday, Bensouda was asked whether the ICC's strategic plan to investigate lower- and mid-level operatives means that every Israeli soldier who ever served in the West Bank and Gaza should be worried.
"If an investigation is opened in any given situation, my office will be guided by a policy of investigating and prosecuting those most responsible for the commission of mass crimes," Bensouda wrote.
"That is the general rule. In accordance with my office's new strategic plan, where appropriate, we may indeed investigate and prosecute notorious perpetrators whose conduct has been particularly egregious or a number of lower- or mid-level perpetrators, building upwards, and thereby bringing stronger cases against those most responsible."
How will you deal with the fact that the Israeli-Palestinian case is a political "hot potato"?
"While I am fully cognizant of the political complexities of this lingering conflict, mine is a legal mandate. All I can and will do is to apply the law in strict conformity with the Rome Statute [of the International Criminal Court], with full independence and impartiality as I have done with all our cases and situations to date. We operate in a highly political world where we will face reactions to the decisions we take based on our legal mandate.
"Let me reassure you that as prosecutor, political considerations have never, and will never form any part of my decision making. My duty firmly remains to simply apply the law to whatever situation is before the court."
Israelis are very concerned with what they consider anti-Israel bias in international institutions. How would you assure the Israelis no such bias exists in the work of the ICC?
"As prosecutor of the ICC, I execute my mandate in accordance with the Rome Statute; independently and impartially without fear or favor. ... Our treatment of the situation in Palestine will be no different."
ICC prosecutor Fatou Bensouda. (Reuters)
"International humanitarian law and international criminal law are not designed to handicap national defense, but to ensure that conduct of hostilities and methods and means of warfare used by warring parties to an armed conflict are legal and regulated to minimize suffering, in particular among civilians, and to deter mass crimes through investigations and prosecutions. As such, international law and national defense are not antagonistic; on the contrary, the former reinforces the latter.
"At this stage, we are not investigating, as a decision on whether to open an investigation in the situation of Palestine has not been made. Rather we are conducting what we call in our parlance a preliminary examination over alleged crimes committed in Palestine. In January of this year, as you know, Palestine accepted the jurisdiction of the ICC for acts committed on its territory or by its nationals since June 2014. In the course of the preliminary examination, we will gather and assess information received from reliable sources from all sides, including from Israel, on alleged crimes committed by any party to the conflict.
"A preliminary examination is not an investigation. The purpose of a preliminary examination is to determine whether there is a reasonable basis to proceed with an investigation. This requires an examination of jurisdiction, national proceedings, complementarity [the principle under which the ICC has no jurisdiction if the case is being genuinely investigated or prosecuted by a state that has jurisdiction over the case – A.G.], the gravity of the alleged crimes, and the interests of justice. There are no timelines provided in the Rome Statute for a decision on a preliminary examination.
"We will of course look into the alleged crimes committed by all sides to the conflict. I have made this clear to both Israeli and Palestinians officials.
Will investigations conducted within the Israeli army itself be considered as fulfilling the complimentary requirement?
"Complementarity is one of the core principles of the Rome Statute system. Under this system, national authorities of the Court's 123 States Parties form the first line of defense to address mass crimes. They shoulder the primary responsibility for the investigation and prosecution of perpetrators of these crimes, through individual efforts and through mutual support. In the event that the State is unwilling or unable genuinely to conduct national investigations and prosecutions, the Rome Statute authorizes the ICC to step in, counting on the full support and cooperation of the ICC States Parties.
"The relationship between the Office of the Prosecutor and national prosecuting authorities – whether civilian or military – is not adversarial. On the contrary, it is complementary. The role of the Office is not to challenge the work of national investigators and prosecutors; it supports their work as long as it is genuine and meets other requirements stipulated by the Rome Statute. This is one of the major strengths of the system: its capacity to contribute to the fight against impunity either directly through the Court's proceedings or by incentivizing and mobilizing action at the national level, through its preliminary examinations and investigations.
"During the course of this preliminary examination, any information given by the Israel and Palestinian governments related to complementarity efforts will be evaluated in order to determine whether nationals investigations and prosecutions are genuine, and bearing in mind the Office's policy of focusing investigative efforts on those most responsible for the most serious crimes. The Office will also consider information gathered from other reliable sources, as well as open sources, in assessing complementarity."
Here Bensouda refers me to her office's Policy Paper on the topic, which emphasized that in assessing complementarity her office will examine whether there are or have been any relevant national investigations or prosecutions, whether such proceedings relate to potential cases being examined by the Office and in particular, whether the focus is on those most responsible for the most serious crimes committed.
If so, the Office shall then assess whether such national proceedings are vitiated by an unwillingness or inability to genuinely carry out the proceedings. Proceedings which are being undertaken for the purpose of shielding the person concerned from criminal responsibility for crimes within the ICC jurisdiction may be indicative of unwillingness to investigate or prosecute genuinely.
What about the Israeli argument that Palestine is not a state so it cannot confer jurisdiction?
"On the issue of statehood, the Office of the Prosecutor considers that since Palestine was granted observer state status by the United Nations General Assembly in November 2012, it must be considered a 'state' for the purposes of accession to the Rome Statute.
"For the Office, the focus of the inquiry into Palestine's ability to accede to the Rome Statute has consistently been the question of Palestine's status in the UN, given the United Nations Secretary General's role as treaty depositary of the Statute".
Palestinian children collect water during a five-day truce in Khan Yunis, in the southern Gaza Strip, during the 2014 Israel-Gaza War, Aug. 14, 2014. (Reuters)
How will your office cope with expected lack of cooperation on behalf of Israel?
"We trust that all the state parties will continue to fully cooperate with the court. The preliminary examination process will proceed on the basis of available reliable information. We will be looking at all credible and reliable sources of information.
"Cooperation, in particular, from the parties most directly concerned in the situation – Palestine and Israel – will assist my office in arriving at a fully informed decision at the end of the preliminary examination process. It is in the interests of both Palestine and Israel to fully cooperate with my office's preliminary examination into the situation. "
Will the Israel/Palestine case be one you find attractive as it does not deal with yet another African country on one hand, and not with a Security Council permanent member? Or will Israel's ties with the United States make it seem too risky to deal with this case?
"We should guard against politicizing the court's proceedings. Justice is not a pick and choose system. The ICC's every decision and action, in every instance is applied in strict accordance with the legal framework of the Rome Statute. We independently and impartially apply the law without distinction, fear or favor, and we follow the mandate that has been given to us under the Statute.
"Our decisions on whether or not to conduct preliminary examinations or to open an investigation are not governed by regional or geographic considerations, but merely by our jurisdiction. In addition to our active cases in Africa, my office is also conducting preliminary examinations on four different continents – including in Ukraine, Honduras, Afghanistan, Iraq, Colombia, Georgia and now Palestine. Again, my office acts strictly within the four corners of the Rome Statute and undertakes its mandate without fear or favor. Any other interpretation of why, when or where we act betrays a lack of understanding of the court's legal framework and jurisdiction. "
Bensouda's formative years
"We all have those moments in our lives; those decisive moments that leave a mark and help us determine our trajectory in life," said Bensouda when asked how her background had influenced her life choices. "I am reminded of my formative years, when I served as a clerk in the courts of my native home, Gambia.
"As a young girl, I recall witnessing countless courageous women who were victims of rape as well as other forms of sexual and domestic violence relive their ordeals through the Gambian court system; their agony and suffering in the face of a judicial system and indeed society, which could not fully afford them the protective embrace of the law, are still vivid and etched in my memory. To this day, their plight and cries of injustice are one of the driving forces behind my firm commitment to the pursuit of justice.
"I knew from that moment that I desired, indeed that I had a duty to represent such women," Bensouda said. "I knew from that moment that through the vector of the law, vulnerable groups in society and those whose rights have been trampled upon can and must be protected and afforded a measure of justice."
Bensouda's conviction that the law could be a tool of justice was bolstered during her stint at the special international criminal tribunal established in the wake of the Rwandan genocide, prior to her appointment as deputy prosecutor of the ICC and then, in 2012, as its prosecutor.
"My work [there] exposed me to the horrors that unfolded in Rwanda, including the mass rapes and murder of women as part of a deliberate campaign, as well as the unspeakable violence perpetrated against fellow human beings. What transpired in Rwanda in 1994 is in one of modern history's most violent acts of criminality and mass murder."
Bensouda said the Rwandan genocide left a permanent scar on the conscience of humanity, and that the world can no longer remain silent in the face of such atrocities.
"As prosecutor of the International Criminal Court, I have done my best and will continue to do whatever I can to help restore dignity to the shattered lives of victims of atrocities and to give breath to our common yearning for the international rule of law and international criminal justice, applied independently and impartially. My challenge and focus, is to bring justice to victims and to prevent future crimes that shock the conscience of humanity."
ICC prosecutor Fatou Bensouda lays a wreath in Lukodi village, in Gulu district northern Uganda, dedicated to victims of the Lord's Resistance Army, Feb. 28, 2015. (Reuters)
But the road to realizing these goals isn't easy.
"At the outset, it must be stressed," Bensouda said, "that international criminal investigations and prosecutions are much more complex and face different challenges than those experienced at the national level. There are many reasons for this, not the least because we operate in live conflict or post-conflict situations.
"Additionally, we have an important statutory duty to protect people who would be at risk due to their interaction with the court. We, therefore, carefully strategize and reflect on how we can collect reliable information and evidence in a manner that doesn't expose people in a way that we can't manage."
"Cooperation," she emphasized, "is a key element. ICC has no police force or enforcement body. We rely on states to implement court decisions and to support our work. We need effective and timely cooperation from states, parties and others, for example to execute arrest warrants issued by the court, and to respond to our requests for assistance. To be meaningful, cooperation has to be timely and tangible; this is what we ask of states."
"By nature of our activities," she added, "the risk of politicization and misperceptions about the court will always remain a challenge. There is a continuous need to shield the Court from politicization at both the national and international levels. The court has to be allowed to carry out its mandate impartially and independently, without fear or favor. It is our collective duty to enhance understanding of the role and mandate of the court. I continue to seek to increase my Office's engagement with all regions of the world, to explain and correct any misperceptions about the court.
"We must indeed remain unwavering in our resolve to create a world that seeks justice for atrocity crimes, universally and blindly applied. Awareness and increased support for the court are important contributions towards this goal. "We cannot do this alone. States, civil society, lawyers' associations, and of course, the media all have a crucial role to play in this regard."
Click the alert icon to follow topics:
ICYMI
Ken Burns' Brilliant 'The U.S. and the Holocaust' Has Only One Problem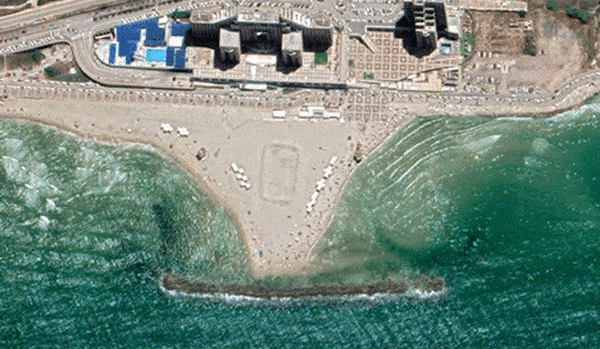 Facing Rapid Rise in Sea Levels, Israel Could Lose Large Parts of Its Coastline by 2050
As Israel Reins in Its Cyberarms Industry, an Ex-intel Officer Is Building a New Empire
How the Queen's Death Changes British Jewry's Most Distinctive Prayer
Chile Community Leaders 'Horrified' by Treatment of Israeli Envoy
Over 120 Countries, but Never Israel: Queen Elizabeth II's Unofficial Boycott