No Exit: An Israeli Arab City's Second-class Status
Umm al-Fahm has roads that lead to nowhere and until two years ago no public transportation at all.
The Israeli Arab city of Umm al-Fahm.
Credit: Nitzan Shorer
On one side of the Arab city of Umm al-Fahm is a two-lane road that ends suddenly — the money ran out — and on the other side is the main exit, a bottleneck that narrows even further the closer it gets to Route 65, the main highway that runs through Wadi Ara.
A visit to the second largest Arab city in Israel, where 53,000 residents live, in the Wadi Ara area of northern Israel illustrates the impasse faced by many Arab towns in the country.
The afternoon we visited traffic flowed easily. But that's not the case during rush hour at 5:30 a.m., seven days a week, when some 20,000 drivers try to leave town.
"It takes 20 to 45 minutes [to get out]," says Saliman Mahamid, the long-serving city engineer. "Every resident knows that in order to get to work they must make it through the traffic jam, and 12 hours later they will get stuck on the way back," says Mahamid, noting that over 50% of the population works out of town. "People work all over the country so they leave early, but everyone sits in the same unbearable traffic jam. There is no city in Israel, certainly not of this size, where the exit and entrance are controlled by one small traffic light. I assume that in a Jewish city of the same size they would have already dealt with the matter," he says.
It seems Mahamid is right: Over 10 million shekels ($2.5 million) was invested recently in another interchange for the second largest neighborhood in Hadera, Givat Olga, where some 12,000 residents suffered from an infuriating, but much smaller, traffic jam. Today they enjoy a new and impressive road that connects to the coastal road (Highway 2). In Umm al-Fahm, by comparison, they will wait — and not because there are no plans, which there have been for decades. This traffic jam is the parable and moral of the story of generations of Israeli governments whose actions are defined by discrimination and Chelm-like stupidity.
Image problems
In Umm al-Fahm residents believe the city suffers from discrimination, in part, because of its problematic image as a place that is dangerous for Jews. Wissam Qassem Kahush, a lawyer who is the deputy mayor and the chairman of the engineering department, is furious about this.
"No Jew has ever been harmed here," he declares, adding that Jews wander around freely in the city, "except for those who are sure, because of [Foreign Minister] Avigdor Lieberman, that Umm al-Fahm is in the West Bank. [The Yisrael Beiteinu leader has proposed transferring the town and its residents to a future Palestinian state.] "True, the Northern Branch of the Islamic Movement sits here, and it is an active and lively place filled with diverse opinions, and that is how it should be, since this is a democracy, no?" asks Kahush. "You see us through the plate of hummus, but we are not hummus, and not every resident in Umm al-Fahm is Raed Salah [the head of the Northern Branch of the Islamic Movement]. We are citizens of Israel."
But you still don't want to integrate. You wouldn't send your son to work in the police, for example.
"There is confusion in the Jewish community. We don't want to enlist in the security forces, since the view is that it is always the security of the Jews against the Arabs. The police have not come to collect illegal weapons or to solve murders in Arab towns. We meet [the police] only when they harm us. But Arabs work in Magen David Adom in Umm al-Fahm, and there are Arabs who work as firefighters too. We want to integrate in civilian organizations and government jobs. To say we have a problem cooperating with state institutions is not true, and is even outrageous," says Kahush.
First bus route came two years ago
The visit to Umm al-Fahm raises questions that have not been asked in Jewish communities for quite a long time. For example, few people know that the first public bus route inside the city began running only two years ago. "In other cities they talk about bicycle paths, I'm asking for local buses," says Kahush.
The reason for the lack of public transportation within Arab towns sounds absurd, but is a real obstacle. In order to create a place where buses can turn around in old neighborhoods, narrow streets must be widened or houses must be moved. They know how to do that in Umm al-Fahm, says the city engineer, but they need a budget for it.
At the end of last year, the Finance Ministry announced that the government would allocate 660 million shekels to address such barriers facing the Arab sector, including public transportation.
This sounds promising, but it's actually a drop in the bucket. "They are giving 20 million shekels for public transportation infrastructure for all the towns, and we will receive 4 million out of that, when after years of neglect we need some 70-80 million shekels," says Mahamid. "Communities of our size [in the rest of the country] receive 40-50 million shekels for this matter, so it is good the treasury is advancing a new plan, but it needs a realistic budget. I don't want reverse discrimination, not at all. I want criteria [for allocating funds]."
The submission of plans presents another obstacle for many Arab towns. When government ministries invite proposals for a specific project, for example building day care centers, the rich municipalities pull out already prepared plans and have the money to pay outside planning firms to write the budget requests. The engineering departments in Arab towns are very small, and don't have the money to hire outsiders. While the government considers this to be an equal opportunity process, the result is discrimination. "They present their plans much faster than we do, and their plans are better," says Mahamid. "The fact is 31 Arab municipalities filed plans for a project to build day care centers, and 31 did not meet the criteria," he said.
The issue of day care centers is painful, and makes it difficult for women to go out to work. Umm al-Fahm is missing places for some 500 children in day care and preschools today, even though there are some 110 such centers operating.
When it comes to new construction many Arab municipalities find themselves in a Catch-22 situation. "In order to allocate land for public purposes ... the city needs to initiate and file a plan," says Mahamid. "Often the city does not have the money to fund the plan, and even after the plan is filed there are problems in receiving the permit. Sometimes everything is there, but the approval from the architect on behalf of the Economy Ministry is missing, since there isn't one. While the Education Ministry has a mechanism for dealing with the planning, in the Economy Ministry there isn't . The government wants to allocate money, but they don't establish the bureaucratic mechanism to advance the matter easily. And without the mechanism, it simply won't succeed."
Umm al-Fahm. Forget about bike paths. (Tess Scheflan)
So what can you do?
"We have succeeded in renting buildings, but the physical conditions are not always good and the rent is on us," says Kahush. "Actually it is us, the poor Arab municipalities, who need to pay rent for buildings for preschools and schools, while the Jewish municipalities don't need to. Local non-profits operate five preschools subsidized by the Economy Ministry, but that is not enough. The registration begins in February and ends within two days, and the situation here is relatively good [compared] to other communities. The government did not think in the past that the Arab community needed day care centers."
Do you see any change in the government's attitude in recent years?
Mahamid: "At the end of the 1980s, when I would come to government offices, they would ask me: 'Are you Druze?' When I would say no, they would say there is no budget. Today the situation is a little bit better, but the lack of trust exists. Once they gave nothing, today they already give, but the distribution is wrong. Good will is important, but not enough."
Real estate in the Arab sector is also a major obstacle to development. Umm al-Fahm has a shortage of about 2,000 housing units today. The city is currently planning a new neighborhood with affordable housing.
No industry, no jobs, no taxes
And then there's employment. The unemployment level in Umm al-Fahm, and Wadi Ara in general, is about 12% to 13%. Local residents travel all the way to Tel Aviv to work, as well as to the north and the south. In the early 1990s, planning began for a small industrial area, which will finally be marketed this year. Two additional industrial zones, which are supposed to be built in cooperation with two neighboring regional councils, are still stuck. Given the situation, it is impossible to bring in new factories to provide local employment.
That situation has a direct impact on the city's coffers, which suffer from an acute shortage of property tax revenues. In Umm al-Fahm, 81% of local taxes come from households (which by law receive many discounts) and not businesses. The situation in Jewish towns is almost the opposite, with some 50% to 60% of tax revenues coming from businesses, industry, infrastructure installations, public buildings and others, which further fortifies the already better situation of those towns.
Click the alert icon to follow topics:
ICYMI
Ken Burns' Brilliant 'The U.S. and the Holocaust' Has Only One Problem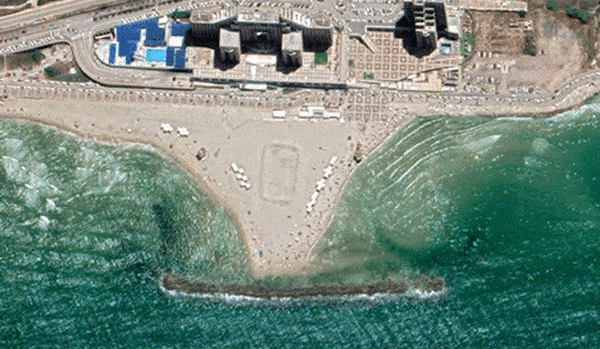 Facing Rapid Rise in Sea Levels, Israel Could Lose Large Parts of Its Coastline by 2050
Lapid to Haaretz: 'I Have Learned to Respect the Left'
The Mossad's Fateful 48 Hours Before the Yom Kippur War
As Israel Reins in Its Cyberarms Industry, an Ex-intel Officer Is Building a New Empire
How the Queen's Death Changes British Jewry's Most Distinctive Prayer