Israel's Paratroopers Want to Know They Will Not Die in Vain
Ten paratroopers lost their lives since war broke out in Gaza last summer; battalion commanders tell Haaretz what they learned since.
Paratroopers resting in Tel Nof, 21 April, 2015.
Credit: Moti Milrod
On the first Memorial Day since the war in the Gaza Strip last summer, there are ten new names on the Paratroopers Brigade memorial wall at the Tel Nof base, all of them casualties of Operation Protective Edge. Because the brigade is currently wrapping up a training phase, and is only weeks away from assuming operational duty patrolling the Israel-Gaza border, there was a rare opportunity to gather all of the Brigade soldiers in one place. The red berets of thousands of soldiers and officers dotted the memorial site at the Tel Nof base on Tuesday afternoon, during a ceremony that focused largely on the events of last summer's war.
For Lt. Col. Ami Biton, commander of the 202nd Paratrooper battalion, the ceremony marked the beginning of two long days, which will end on Thursday night. During that time, Biton will meet with all of the bereaved families of fallen soldiers from his battalion throughout the country. He will visit the Turgeman family in Beit Shean, whose son Eviatar was killed during an exchange of fire in Khan Younis last summer. He will visit other families of the fallen from previous wars as well.
A short meeting with him before he began his series of meetings and ceremonies focused on what happened this year: the war, the lessons from the war, the status of his battalion and the brigade as a whole, as it has spent the time since training in preparation for the next round, be it in Gaza or Lebanon. We were joined by two of the company commanders serving under him, 27-year-old Capt. Yoni Hacohen from Ramat Gan (originally from the Otniel settlement south of Hebron), who commands the battalion's heavy weapons and support company, and 23-year-old Capt. Or Peretz from Ma'ale Adumim, who commands a company of younger battalion soldiers who were drafted during the war last summer, and have yet to fully finish their training.
34-year-old Biton, the battalion commander, from Rehovot ("originally from Kiryat Gat") assumed his current position immediately after the war. During the fighting he joined the command squad of a friend, who commanded one of the brigade's other battalions. Like most of the company commanders under him, except Peretz, Biton is married (and in his case, a father of two). As always, the battalion commander sees a larger picture: He was a regular soldier as the security zone in southern Lebanon was being faded out, he was a platoon commander during Operation Defensive Shield, and a company commander during the Second Lebanon War. The two company commanders I spoke to were drafted just after the Second Lebanon War. Gaza is their primary viewpoint when it comes to experiencing war.
"After last summer," says Biton, "the soldiers' viewpoint changed. It's not the existential threat to the country the soldiers felt in 1948 or the Yom Kippur War, but when they understand that children in the south had to stay home from summer camp for 50 days because of rockets, that's significant for them. We just completed difficult drills at the battalion level, and the brigade level, and over 90 percent of our soldiers participated. That's not war, but those are drills that include very difficult physical activity. The average soldier can come up with lots of excuses to get out of such drills, but almost everyone participated in every aspect, because the recent war demonstrated the necessity. It can be seen in other places as well. I can only send seven soldiers from each draft group to Officer's Training School, but I've got forty that are asking to go. We haven't taken our foot off the gas since the war."
Hacohen says that the same attitude took over during the war itself. "I was a training company commander then, with younger soldiers. There is no soldier or commander who doesn't have hesitations upon being told to go into Gaza. But when we went it, I had no soldiers that asked to stay out. I was surprised. I expected two or three to turn back. After the fighting, after the battalion suffered casualties, the military experience for these soldiers is completely different; they're more mature, they understand more."
Battalion commander Biton is "more comfortable talking to the soldiers. When you say war, they know what it is. Now their concerns are different, because they've been there. They'll say, 'we've been there, we don't need you to tell us anything.' What's difficult for me is trying to explain that Protective Edge 2 will be different that Protective Edge 1, even if you fight in the same place. There are clear differences in how Hamas conducted itself during Cast Lead (in 2008) than in Protective Edge, and I was there during both. They improved in many areas, specifically in underground tactics. There will be changes next time, too."
Like his commanders and his subordinates, Biton's working assumption is that Israel has entered a new reality of rounds of fighting. Once in a while, under circumstances that are hard to foresee, the brigade will be called upon to act as quickly as possible as conflict erupts. Last week, during the brigade-wide drill, Defense Minister Moshe Ya'alon showed up to visit. "I told him the battalion is ready for anything. From the companies on down, it doesn't matter much if the conflict is against extremist organizations on one of the borders, Hamas in Gaza, or Hezbollah in Lebanon."
Capt. Peretz, who first met his new recruits while his friends were fighting in Gaza, said that even they showed up ready to do more. "I commanded new recruits a few years ago as well, and it was totally different. This time, they showed up well aware of what was going on." Like Hacohen and Biton, Peretz says it's important for him to stress that his soldiers come from a wide range of socioeconomic backgrounds. Roughly a quarter of them get financial support from the army.
Hacohen is joined in his command squad (the small team of soldiers that accompany the commander) by "a soldier from Dizengoff in Tel Aviv, a soldier from Bat Yam, and one from near the Gaza Border." The officers in his company come from Jerusalem, Efrat and Holon. Biton is still surprised by the high numbers of new recruits that are drafted after spending a year doing community service. "Some of them continue to volunteer during their weekend leave home. Sometimes I feel bad about myself," he says. He marvels less at the amount of support his soldiers receive from the public. "It comes in pulses, in peaks and valleys. They [his company commanders] won't say so, but sometimes they miss it. During the war, the civilians hugged us, but soon, there will be another argument over the budget, and we'll hear different things. None of us even open our paychecks. I have no idea what's written on mine."
Capt. Hacohen is "so focused on what goes on in my company, that I almost have no idea what's going on outside. I go home to my wife and son once every two weeks. I hardly have time to read the papers."
At every level, dealing with these new generations of soldiers and their parents is different, primarily because the commanders are always a cellphone call away from mothers that do not hesitate to pick up the phone. In any case, "a week before going into Gaza, no parent called me," said Hacohen. "On regular days, they call, but in most cases they are trying to help a soldier overcome a crisis and stay in the company. I can count on one hand the number of times a parent has called to say they want their son to be released from combat service."
Biton learned that "you must speak to the soldiers one on one, despite that as battalion commander, I'm 15 years older than they are. If soldiers are listening to singers like Moshe Peretz and Eyal Golan, I need to learn to be able to speak to them in their language. I don't have Facebook, but I learn something new every day. Just this week I learned what a hipster is." Biton says the word "hipster" incorrectly, twice. His company commanders grin, but they agree with his bottom line. "The soldiers want to know that the person giving the orders is in tune with them. First and foremost be a person, you yourself must live up to what you demand of them."
Hacohen interjects "but they see you much more than we saw our battalion commanders when we were soldiers. I doubt you ever saw your battalion commander freezing alongside you at 4 in the morning during a drill on the Hermon." Some of the changes can also be ascribed to the end of the Second Intifada. A decade ago, the battalions were spread out over dozens of sectors, and the platoon sergeant or the platoon commander was the highest rank the regular soldiers would meet, day to day. The return to larger-scale training since the end of the Second Lebanon War has made the battalion commanders closer to the regular soldiers.
Like their commanders, the officers from the 202nd Battalion left the war in Gaza feeling like they accomplished their mission. "The question of how much Hamas was deterred after the war will be answered with time," says Biton. "The media's [negative] coverage isn't the issue as far as I'm concerned. Our experience is that the brigade fulfilled all its missions in the best possible fashion. When we clashed with the enemy, it always ended in total victory for us. There were incidents like Shujaiyeh and Rafah, but those things happen during war. If they had wanted us to do more, we would have."
The brigade's recent training period was named "sons of the Palmach," by the brigade commander, Col. Eliezer Toledano, who is trying to get his soldiers to connect to the pre-state period in Israel. The commanders learned from the Palmach, "field tactics, reconnaissance, learning the terrain, things we've let go a little bit. We worked on ruses, non-conformity, doing the unexpected. We worked to strengthen the junior command, so that every soldier will feel that his fate in the action also depends on himself." During their battalion celebration, the 202nd hosted the battalion's first every commander, Brig. Gen. (res.) Efraim Foran, now 81-years-old.
All of this sounds terribly serious and heavy, and it might prompt commanders from other brigades to roll their eyes when asked about the Paratroopers. Still, it seems that the Paratroopers commanders manage to get through to their 19-year-old soldiers as they stand next to the memorial. "In the end, we live on these things, on the battalion's legacy," says Capt. Peretz. "That's what holds us together as a fighting battalion. It doesn't matter what iPhone each different soldier has. We have nothing else." When his battalion commander, Ami Biton, is asked how he sees his role in terms of his soldiers, he answers simply. "Two things: to avoid adding to the list at the memorial site as much as possible, and for those who do fall, to know that they fell for good reason."
Click the alert icon to follow topics:
ICYMI
Ken Burns' Brilliant 'The U.S. and the Holocaust' Has Only One Problem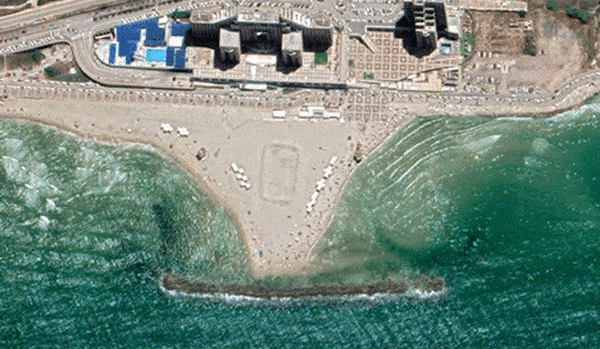 Facing Rapid Rise in Sea Levels, Israel Could Lose Large Parts of Its Coastline by 2050
As Israel Reins in Its Cyberarms Industry, an Ex-intel Officer Is Building a New Empire
How the Queen's Death Changes British Jewry's Most Distinctive Prayer
Chile Community Leaders 'Horrified' by Treatment of Israeli Envoy
Over 120 Countries, but Never Israel: Queen Elizabeth II's Unofficial Boycott