Middle East Updates U.S., Allies Conduct 23 Air Strikes in Syria, Iraq Against ISIS
At least two Egyptian military academy students killed by bomb in north Egypt; Iran FM: Russia decision to supply missiles fully legal, has no impact on nuke talks.
Egyptian soldiers stand guard at an army checkpoint in Arish, north Sinai, Egypt, January 31, 2015.
Credit: Reuters
For Tuesday's updates, click here
Latest updates:
8:29 P.M. U.S., allies conduct 23 air strikes in Syria, Iraq against ISIS
U.S.-led forces targeted ISIS militants in Syria with six air strikes and conducted another 17 strikes against the group in Iraq from Tuesday to Wednesday morning, the U.S. military said.
In Syria, there were two strikes involving attack and fighter aircraft near Al Hasakah and four near Kobani, it said in a statement released on Wednesday. In Iraq, the strikes were conducted with fighter and attack planes as well as drones near Bayji, Fallujah, Mosul, Ramadi, Sinjar and Tal Afar, the U.S. military statement said.
"All aircraft returned to base safely," it said.
3:46 P.M. Iran FM: Russia decision to supply missiles fully legal, has no impact on nuke talks
Iran's foreign minister said on Wednesday that Russia's decision to go ahead with the sale of S-300 surface-to-air missile systems to Iran is "fully legal" and has no impact on talks for a nuclear deal with major powers.
"I think it is the right decision that Russia has made, it is a contract with the good relations we have with Russia, which is fully legal and will have no impact on the (nuclear) negotiations," Mohammed Javad Zarif told journalists in Lisbon.
Russian President Vladimir Putin signed a decree lifting a ban on exports of the S-300 missile system this week. (Reuters)
2:59 P.M. Palestinians battling ISIS group advance in Syria refugee camp
A Palestinian official and an activist say local fighters in a Palestinian refugee camp in Damascus have advanced in clashes with Islamic State militants.
Damascus-based Palestinian official Khaled Abdul-Majid said Wednesday that Palestinian factions have forced the ISIS fighters to retreat from some positions in Yarmouk camp.
Sami Hamzawi, a Palestinian activist from the camp who currently lives outside Syria, says the Hamas-affiliated Aknaf Beit al-Maqdis group has captured several buildings and is currently advancing from areas it holds northeast of Yarmouk.
Hamzawi says he is in regular contact with camp residents. (AP)
2:05 Turkish PM puts new constitution at heart of election manifesto
Turkish Prime Minister Ahmet Davutoglu said on Wednesday a new constitution should be the next parliament's priority, moving the country towards a presidential system, a key goal of President Tayyip Erdogan.
Announcing his AK Party's manifesto for a June 7 general election, Davutoglu said: "We see the restructuring of the administrative system towards a presidential system as necessary to clear up the mess over lines of responsibility and to genuinely restore accountability."
A new constitution has long been a priority for Erdogan, meant to replace a text born of a 1980 coup which, despite numerous revisions, still bears the stamp of its military authors.
Erdogan, who is no longer head of the party he founded but continues to dominate the political scene, has said he wants the AKP to win 400 parliamentary seats, which would comfortably allow the government to change the constitution unopposed. (Reuters)
1:53 P.M. At least two Egyptian military academy students killed by bomb in north Egypt
At least two Egyptian military academy students were killed and several wounded in a bomb attack on a minibus in northern Egypt, witnesses and state media say. (Reuters)
1:23 P.M. ISIS withdraws most fighters from Yarmouk refugee camp, residents say
Islamic State fighters have withdrawn most of their fighters from a Palestinian refugee camp on the outskirts of Damascus after expelling its main rival from it, several residents and a Palestinian official said on Wednesday.
The pull-out from Yarmouk leaves Al-Qaida-linked Nusra as the main insurgent group inside the camp. (Reuters)
12:08 P.M. Jihadist networks claim new propaganda video features German rapper
Supporters of the Islamic State militant group on Wednesday claimed a new jihadist propaganda video circulating online features German rapper Deso Dogg, a militant Islamist who left Germany for Syria several years ago.
The slickly produced video shows footage of the January attacks on the offices of the Charlie Hebdo satirical magazine in Paris as well as footage of injured soldiers and people preparing terrorist attacks.
Several of the clips shown appeared to be from previous execution videos, including the burning of Jordanian pilot Mu'adh al-Kasasbeh while he was alive and the mass execution of Iraqi soldiers captured during the organization's lightning offensive last summer.
The new video has been widely circulated by terrorist networks, and German security services are currently verifying whether it was produced by the Islamic State. (DPA)
12:02 P.M. ISIS makes major advances near Ramadi amid fierce Iraq clashes
Fierce clashes are underway in Iraq's western Anbar province where residents say Islamic State militants captured three villages near the provincial capital of Ramadi.
The residents say the Islamic State launched an offensive at dawn Wednesday east of the city, seizing the villages Sjariyah, Albu-Ghanim and Soufiya, which had been under government control.
They say fighting is now taking place on the eastern edges of Ramadi about two kilometers away from local government building.
In Soufiya, the militants bombed a police station and took over a power plant. The residents, who spoke on condition of anonymity fearing for their own safety, said airstrikes are trying to back up Iraqi troops. (AP)
11:38 A.M. Erdogan: European parliament comment on Armenia will go 'in one ear, out the other'
President Tayyip Erdogan said on Wednesday that Turkey would disregard the European parliament's views over the 1915 mass killings of Armenians, which the Pope this week described as genocide.
The European parliament is due later on Wednesday to debate a resolution to mark the 100th anniversary of the killing of as many as 1.5 million Armenians.
"Whatever decision they may take, it would go in one ear and out the other," Erdogan told reporters at Ankara airport before departing on an official visit to Kazakhstan. (Reuters)
11:00 A.M. U.K. arrests four Britons who allegedly sought to cross into Syria via Turkey
Four Britons who were detained in Turkey on suspicion of trying to cross illegally into Syria were arrested on their return to England on Wednesday, police said.
The four were part of a group of nine people, all members of the same family, who were detained in Turkey at the beginning of the month.
One of the nine, a 21-year-old man named in the media as Waheed Ahmed, the son of a British local politician, was arrested when he returned to Britain on Tuesday.
They were arrested on suspicion of the commission, preparation or instigation of acts of terrorism, police said. (Reuters)
10:21 A.M. Iran: U.S. domestic politics will not derail nuclear negotiations
Iran will not allow U.S. domestic politics to derail nuclear negotiations, Foreign Ministry spokeswoman Marzieh Afkham said on Wednesday, after U.S. President Barack Obama conceded that Congress will have the power to review any final deal.
Republicans and some Democrats in Congress had pressured Obama to allow legislative oversight of the nuclear negotiations.
"That is an issue related to their domestic affairs. We are dealing with the American government," Afkham said at a news conference carried by state television.
The development injects a new element of uncertainty into the delicate final stages of negotiations between major powers and Iran aimed at curbing Tehran's nuclear program in exchange for sanctions relief. (Reuters)
2:00 A.M. Egypt says discussed 'major military manoeuvre' in Saudi Arabia
Egypt and Saudi Arabia have discussed holding a "major military manoeuvre" in Saudi Arabia with other Gulf states, the Egyptian presidency said, after the two countries discussed the progress of a Saudi-led campaign against Shi'ite militias in neighbouring Yemen.
Egyptian naval and air forces are already participating in the campaign against Houthi militias in Yemen, and Cairo has said it would supply ground forces "if necessary". Earlier on Tuesday, it denied reports that it had already sent troops to Yemen.
Egypt said the topic of manoeuvres in the Saudi kingdom was discussed during a meeting between Egyptian President Abdel Fattah al-Sisi and Saudi Defense Minister Prince Mohammed bin Salman in Cairo on Tuesday.
"It was agreed to form a joint military committee to discuss the implementation of a major strategic manoeuvre in the territory of the Kingdom of Saudi Arabia, with the participation of a joint Arab force which includes troops from Egypt, Saudi Arabia and the Gulf states," the Presidency statement said.
It said the security of the Gulf region and the Red Sea was a "red line" for Cairo. The statement gave no timings or details of what the manoeuvres would entail. (Reuters)
1:30 A.M. Obama warns Iran its fighters in Iraq must answer to Baghdad
U.S. President Barack Obama warned Iran on Tuesday that its fighters must respect Iraq's sovereignty and answer to the government in Baghdad in the battle against Islamic State militants.
Iran-backed Shi'ite militias have played a major and growing role in battling the Sunni Islamic State, an al Qaeda offshoot also known as ISIL, that emerged from the chaos in Iraq and neighboring Syria and which swept through northern Iraq last June.
Iraqi Prime Minister Haidar al-Abadi has had to rely on Shi'ite militias, some of which are backed by Iran and advised by Iranian military officers, as Iraq's regular military deserted en masse last summer in the face of the Islamic State onslaught.
Obama said he and Abadi discussed the issue at length in their Oval Office meeting on Tuesday.
Asked about Iranian involvement in Iraq, Obama said that he expected the neighbors to have an "important relationship," and recognized that the mobilization of Shi'ite militias had been necessary to counter ISIL's advance last year.
But he added that any foreign-backed groups in Iraq should now be under Abadi's control.
"Once Prime Minister Abadi took power ... from that point on, any foreign assistance that is helping to defeat ISIL has to go through the Iraqi government. That's how you respect Iraqi sovereignty," Obama said.
"It needs to be help that is not simply coordinated with the Iraqi government, but ultimately is answerable to the Iraqi government and is funneled through the chain of command." (AP)
ICYMI
Ken Burns' Brilliant 'The U.S. and the Holocaust' Has Only One Problem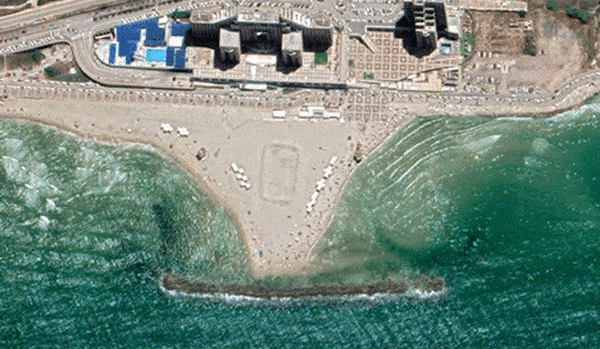 Facing Rapid Rise in Sea Levels, Israel Could Lose Large Parts of Its Coastline by 2050
As Israel Reins in Its Cyberarms Industry, an Ex-intel Officer Is Building a New Empire
How the Queen's Death Changes British Jewry's Most Distinctive Prayer
Chile Community Leaders 'Horrified' by Treatment of Israeli Envoy
Over 120 Countries, but Never Israel: Queen Elizabeth II's Unofficial Boycott