Bibi's Second-worst Iran Nightmare: That It Will Abide by the Agreement
Maybe Tehran will honor the nuclear accord and use its opening to the world to revive its economy - and threaten the region without a bomb at all. It could happen, but probably won't.
Benjamin Netanyahu, March 31, 2015.
Credit: AP
Now that the Israeli elections are over and he is no longer haunted by dark visions of Arabs voting Isaac Herzog into office, Bibi has a nightmare.
It's that Iran reaches a nuclear accord with the P5+1 powers, then goes ahead and develops a bomb, while a spineless Washington looks the other way, and proceeds to drop it on Israel.
The Arab-vote remarks were a nightmare intended for consumption by the most gullible segments of the public. It's doubtful whether Netanyahu believed it himself, though he did believe, as did almost everyone else, that he was about to lose the election and that he had to do whatever was necessary to prevent it. He had already disavowed the two-state solution, so what was a little mildly racist scaremongering?
On the other hand, Netanyahu does honestly believe in that Iran nightmare. He has been chased by those fears for years and has done everything he can to block the bomb, including risking relations with Israel's closest ally, America, and investing billions of shekels on a military solution.
As nightmare scenarios go, it certainly is plausible. We don't know whether Tehran is driven by some vision of a Shiite apocalypse or by a visceral hatred of Israel, or by realpolitik – a shield to protect itself from military attack as it spreads revolution across the Middle East, or to see off any threat from America. But we do know the Iranian have spent untold tens of billions of dollars, and suffered years of political and economic isolation, to pursue its nuclear ambitions. They didn't do it to ensure a steady supply of medical isotopes, develop nuclear power they don't need or demonstrate to the world the glories of Iranian science. It is not unreasonable to assume they won't give up their military nuclear ambitions so quickly and easily.
But there's a second-worst nightmare that should be keeping Bibi awake at night. It's that Iran will indeed abide by the terms of the final accord – assuming the two sides can reach one, which is by no means a given – and achieve its ambitions in the Middle East anyway, by reviving its economy as the sanctions end. A stronger economy would give it the financial resources to arm and subsidize it allies and throw its economic weight around the region to win friends and punish enemies.
In other words, on a much smaller scale, Iran could easily opt to take the China path, forswearing revolution as Beijing did under Deng Xiaoping and morphing through powerful economic growth into a much more dangerous conventional power.
A warm and fuzzy Iran?
Even under the pressure of sanctions and with no nuclear bombs in its arsenal, Iran has been ready and willing to battle Israel through its Hamas and Hezbollah proxies, prop up the regime in Syria in war that is shaping up to be Tehran's Vietnam, entangle itself in the Shiite-Sunni wars in Iraq and interfere in Yemen. It takes a lot of faith, and no small amount of naiveté, to imagine Iran will use a nuclear accord to become a quiet and cooperative (read pro-American) member of the family of nations. Nukes or no nukes, Iran sees itself as an aspiring regional power and leader of the Shiite world.
There are plenty of reasons to fear Iran could pull it off. It is a huge country of 80 million people and even after years of sanctions and government mismanagement, is the world's 18th-largest economy. Despite its image of a backward place ruled by turbaned ayatollahs imposing a medieval way of life on the poor and passive masses, Iran has a large and educated middle class and sends reams of students abroad for advanced degrees every year.
Not only that, Iran would also be freed of the huge bills it has been paying – estimated by the Carnegies Endowment for International Peace at $100 billion so far – to build a bomb.
In a regional contest for economic clout, Iran's gross domestic product is smaller than Turkey's and Saudi Arabia's, but if in a post-sanctions world Iran starts growing at a rate of 5% or 8% a year, it would soon catch up. A U.S. Congressional Research Service report last year estimated that without sanctions, Iran's economy would have been 15-20% bigger than it is today.
And, as it recovers, Iran's dynamism would be enough to have multinational companies lining up to invest and trade. Its advantage over Turkey is that it has oil and gas; its advantage over Saudi Arabia is that it also has a real economy and a tradition of business.
Not so fast
It all sounds potentially nightmarish for Israel and the Arab Gulf states, all of whom are at the receiving end of Iranian ambitions.
Yet there are very good reasons to believe Iran won't become the China of Western Asia.
Russia didn't waste any time announcing less than two weeks after a framework agreement that it was going ahead with plans to sell an air defense system to Iran. China and India will be angling to restore energy imports. But the reality is that sanctions relief isn't likely to come so quickly, certainly not from the United States. In any case, even if the formal rules no longer bar companies from doing business, they will certainly hesitate until they are confident that any threat of a sanctions snapback is removed. Companies will have be convinced that Iran is investor-friendly and welcoming, a tough task for a government that still holds death-to-America rallies regularly and will remain on U.S. blacklists for terrorism, human rights violations and its ballistic missile programs.
Then there's that big problem of oil. Prices have collapsed in the past year, which has deprived Iran of more oil revenues on top of those caused by sanctions. Iran will need foreign investment to crank up production, which has been falling in the face of under-investment and lack of technology. Iran is a cheap enough producer to make its oil profitable these days, but its investment laws are unattractive and it remains a security risk. With oil aplenty right now, Iran's crude will be staying in the ground.
But Iran's biggest problem is the regime itself.
A nuclear accord might strengthen the so-called moderates gathered around President Hassan Rouhani, but it will give every reason for the hardliners to ensure they don't lose their lock-hold over the economy through the array of Revolutionary Guard companies and religious foundations. They will fight bitterly against laws creating true competition, encouraging free enterprise and foreign investment, and selling off quasi-state owned enterprises.
Given the hardliners' control of the religious establishment, judiciary and business, it's hard to imagine how they can lose, especially if the gradual end of sanctions gives the economy a quick boost that provides "evidence" that no reforms are needed to begin with.
Iran could become the China of the Middle East, but the odds are better it will become the region's Russia – a troublemaker, but without the depth of true power that a thriving and advanced economy can give it. For Bibi, that's not the stuff that dreams are made of, but it's far short of a nuclear nightmare.
Click the alert icon to follow topics:
ICYMI
Ken Burns' Brilliant 'The U.S. and the Holocaust' Has Only One Problem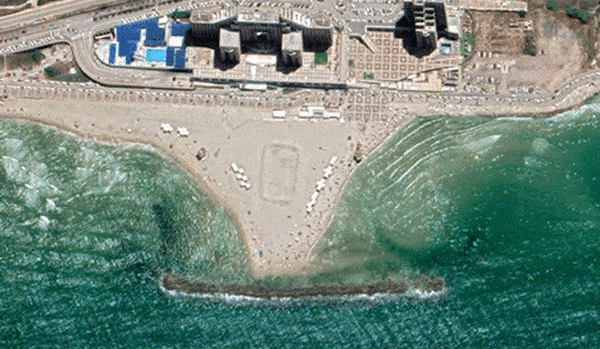 Facing Rapid Rise in Sea Levels, Israel Could Lose Large Parts of Its Coastline by 2050
Lapid to Haaretz: 'I Have Learned to Respect the Left'
The Mossad's Fateful 48 Hours Before the Yom Kippur War
As Israel Reins in Its Cyberarms Industry, an Ex-intel Officer Is Building a New Empire
How the Queen's Death Changes British Jewry's Most Distinctive Prayer