Kings of the Israeli Toy Store Are Still Game, 50 Years On
Ora and Theo Coster have been creating popular games since 1965, with Zingo! and Guess Who? just two of their many hits. They reflect on a lifetime of fun and games.
House of fun: Theo and Ora Coster with some of the games they have created, Tel Aviv, March 30, 2015.
Credit: Moti Milrod
Ora and Theo Coster are an inspiring couple. She is 83, admits to being "a kibbutznik with a big mouth" and is full of life and brimming with ideas. He is 86, what she calls a "Dutch cucumber" – an industrial designer with golden hands who makes her ideas come true.
They met in the mid-1950s through mutual friends, and initially had no romantic interest in each another. But after he told her how he had journeyed to Turkey from The Netherlands on a motor scooter with a tent on his back, and then continued on by boat to Israel, she asked him to teach her to ride a Vespa. That was the start of their life together – one that led to a wedding, two sons and innumerable inventions that have enriched the playtimes of millions of children worldwide.
As pioneers of the Israeli game industry, the Costers have more than 170 games to their credit, some of which have become international hits, been sold in major toy stores and earning millions of dollars annually. Among their games: Zingo!, Magimixer and Guess Who? – a game of identifying facial composites that has been sold in dozens of versions and languages, and even entered American universities and Italian television. Most recently, a pirated pornographic version was discovered, as well as a strictly kosher but fake rabbis' version.
Summing up 50 years of innovations and inventions, the Costers tell Haaretz about the division of labor between them; the path that every random idea has to follow to end up on toy-store shelves; their anger at the Israeli authorities; and the most important characteristic of a successful game – simplicity.
At the outset of our conversation, Theo insists on complimenting his wife and downplaying his contribution to the company (which was called Matat [Hebrew for gift] when it launched in 1965, and changed its name to Theora Design in the 1970s). "In general, the division of labor is that Ora has an idea, and I only implement it," he says, causing his wife to get angry. "He wants you to think that I'm worth 10 percent and he's worth 90 percent! Because what's an idea? It's nothing, it's a moment," she states. "The trick is to develop it. Until the game is perfect, simple and works with clear rules that don't allow for misunderstandings and arguments among children, it isn't ready."
'One big coincidence'
When asked where her ideas come from, Ora laughs. "From Allah! I myself tried to figure out where they come from and when, but I don't know. Cigarettes helped me to concentrate until now, but I know they're not the reason for the invention – and that's why I'm trying to stop smoking. You don't create entirely ex nihilo. You take parts of thoughts and put them into new molds.
"All of life is one big coincidence," she continues. "When we were just starting out, the only games were chess, Scrabble and cards. When I was pregnant with Gideon, my elder son Boaz asked me to explain to him where Jerusalem was. I asked Theo for some cardboard and I drew a map of Israel on it with small drawings of sites in Jerusalem, and we turned it into a simple board game. A friend who worked for Delek [the energy company] saw the game in our house and suggested giving it as a holiday gift to the firm's employees.
"At the time I was an art teacher and a mentor for art teachers. I already recognized how much one child costs and I was worried about finances, so we decided to open a business making gifts for companies. We called it Matat – there was no such thing at the time. For the Citrus Marketing Board we developed a plastic orange; for Vita and Supersol, we developed key chains and a keychain holder. We have a whole closet of products we invented for companies," she adds.
A Dutch-born book agent named Jacob (Jaap) Bar David suggested they try to market their ideas abroad. He went with three of the Costers' ideas to a games fair and returned a few months later with contracts to sell the games and with down payments of thousands of German marks, U.S. dollars and British pounds.
"We decided to stop working with merchandising and to invest all our energy in inventing games," recalls Theo. "At first we were in charge of everything – from the idea, through the development and the implementation. We left only the marketing to him [Bar David]."
One of the couple's successful early inventions was the result of a work of art made from ice-cream sticks that the daughter of a friend had glued together, and which left a strong impression. It led Ora to invent ICETIX (aka Creative Stix) – Popsicle sticks that are used as a construction toy.
Nine terrifying words
"Our agent didn't believe in the ice-cream sticks; he suggested that we break each stick into small pieces so the construction game would be like Lego," says Theo. "But he flew to a games fair in New York in order to market other ideas of ours, and got stuck in an elevator with several people between the sixth and seventh floors. One of them turned out to be the buyer for an ice-cream firm. Bar David pulled the sticks out of his bag and showed him the game, and the next day we had an exclusive contract with a huge company [Borden Dairy Products] that manufactured 12 billion such sticks over a decade."
Ora: "What an exaggeration! The royalties were by weight, not by unit, and it was nothing to write home about. But at least we had something to eat regularly for 10 years, which gave us the freedom to develop additional inventions."
As the pioneer inventors of games in Israel, you brought a lot of honor to the state. How's your relationship with it?
Ora: "There is no relationship, thank God! The state can only interfere, and we don't want anything to do with it."
Theo: "Ronald Reagan once said that the nine most terrifying words in the English language are "I'm from the government, and I'm here to help."
Ora: "The government has always caused us problems. A large percentage of Israeli inventors have left the country or retired: at any point we could have taken our suitcase and gone to work somewhere else in the world. But maybe luckily [for the government], we decided to stay. Instead of encouraging creativity, they put a spoke in your wheel from the beginning. Only this week, Customs demanded a payment of 900 shekels ($228) from us to release a package containing an invention that we sent to a games company and was returned to us after inspection. Such things make you want to forget the whole thing. In my opinion, one day the business will end here because of them – I mean the government. And I'm one of those whose parents established the state and I participated in all the wars."
Throughout our conversation, Boaz and Gideon Coster, the couple's sons, pull out the right game at the right time. They show me archival material – sheathed in plastic and numbered – that completes the half stories and makes their parents happy. In their childhood, the boys were the laboratory rats of Theora Design, trying out all the ideas their parents had thought up. "The poor things were also forced to play inferior games that were rejected," adds Ora.
The sons show me the company's most recent game, Last Mouse Lost – a competitive game of strategy using a circular silicon tray designed as a chunk of yellow cheese. Players take turns pressing down as many "mice" as they wish in a single row; whoever has the last mouse loses.
Ora, where did the idea for this game come from?
"You have to invest a lot of thought in a game until it emerges. I thought of this game 40 years ago. In order to explain it, I asked Theo to assemble a round plastic model that would include a field of breasts that would stand nicely, and that could be easily pressed from side to side. Theo did exactly what I asked – breasts with wonderful nipples! But at the time, the materials were rigid and pressing them wasn't pleasant."
Boaz hastens to show me the outdated model, which really does look like a field of breasts. "In the end, this game was manufactured less than a year ago by a [North American] company called FoxMind, because today there are silicon materials that are pleasant to press, and which pop with a pleasant sound," adds Ora. "The trick in this game is that you can play it again as soon as the contest ends: you simply turn it upside down. Also, it comes in a single unit that you put into your pocket. For me, as a mother of two, that was a very important consideration. In fact, we don't have games with lots of pieces, marbles, cards and confusion – because one piece always gets lost and then you're just left with the box."
You've been in the business since 1965. You could have taken the games and your savings and retired long ago to a vacation in Acapulco with a glass of piña colada and a cigarette. Why do you continue to go up to the second floor, to the workshop for inventions and models?
Theo: "We don't work for the money. In terms of income we're fine, but it's a lot of fun to create something that didn't exist before – and maybe afterward they'll produce hundreds of thousands of editions."
Click the alert icon to follow topics:
ICYMI
Ken Burns' Brilliant 'The U.S. and the Holocaust' Has Only One Problem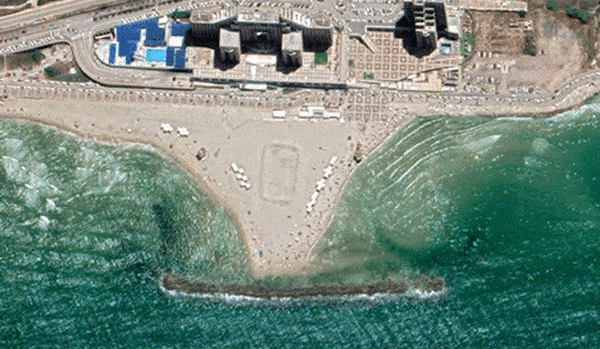 Facing Rapid Rise in Sea Levels, Israel Could Lose Large Parts of Its Coastline by 2050
As Israel Reins in Its Cyberarms Industry, an Ex-intel Officer Is Building a New Empire
How the Queen's Death Changes British Jewry's Most Distinctive Prayer
Chile Community Leaders 'Horrified' by Treatment of Israeli Envoy
Over 120 Countries, but Never Israel: Queen Elizabeth II's Unofficial Boycott