Nuclear Deal Divides Iranian Community in America
While one Iranian lobby group in the United States has campaigned long and hard for the Americans and Iranians to reach a nuclear deal, another fears that any deal now would gift the Islamic republic the bomb.
A woman waves the Iranian flag during a demonstration outside of a meeting of EU foreign ministers in Brussels, March 16, 2015.
Credit: AP
WASHINGTON – The first weekend in March is something of a festival in the U.S. capital. It's the time when 16,000 delegates from the American Israel Public Affairs Committee meet their representatives in the Senate and House of Representatives, and try to persuade them to support Israel. In recent years, it has also become the moment when the National Iranian American Council (NIAC) prepares its modest retort to the pro-Israel lobby, with dozens of U.S. Iranians appearing at administration offices across the United States.
While AIPAC members warn congressmen and senators about the impending nuclear deal with Iran, and the risks it poses to the entire world and Israel, the Iranians try to convince them to support the deal, which may bring about a historic reconciliation between their motherland and the country that has welcomed them as new citizens.
For the Iranian-Americans who support the deal, this is a journey laden with very personal implications. For more than two years, they have been meeting with senators and congress members, signing petitions and waging viral campaigns in support of the deal. Recently, on the eve of Prime Minister Benjamin Netanyahu's speech in a joint session of Congress, they placed a large ad in The New York Times, asking readers who the supreme commander of the U.S. military really was – Netanyahu or President Barack Obama – and demanding that members of Congress boycott the speech.
Trita Parsi, cofounder and president of NIAC, arrived in the United States at a young age. He says Iranian Americans are one of the more established groups in the United States, yet their voice used to be nonexistent. Following the Iranian revolution in 1979, and particularly after the takeover of the U.S. embassy in Tehran between 1979-1981, they kept a low profile, embarrassed and even afraid to identify themselves as Iranians. Initially, Parsi was hugely inspired by the same Jewish organizations that are currently in conflict with NIAC over the nuclear deal.
Many of NIAC's key activists were born in the United States to parents who arrived around the time of the revolution, when the pro-West Shah was ousted by the Islamist regime. They are completely American yet speak fluent Farsi, and their attitude to their country of birth is reminiscent of how many U.S. Jews feel toward Israel – feelings of belonging and commitment, with a tendency to idealize the place they came from.
This is a duality that is part and parcel of American identity and the ethos of an immigrant society. The question of sanctions, which to an outsider sound like a technical issue, is a very personal matter for many Iranians.
"It's absurd that I can't send my mother money to buy medicine if she's sick, since it's now illegal. The same applies to raising money for a new movie that my brother is producing," says Ahmed Kiarostami, an NIAC board member and software engineer. He came to California in the early 2000s in order to visit a friend, but – like many Iranians – ended up joining the local high-tech industry.
However, Iran is not Israel. Although Iranians are usually very proud of their culture, language and heritage, the image their homeland has acquired since the establishment of the Islamic Republic has turned their identity in the United States into a complex issue. This was particularly so during the years when Mahmoud Ahmadinejad was president (2005-2013), when many U.S. Iranians recoiled in embarrassment.
Parsi has been following the nuclear deal negotiations closely and clocked many hours talking with U.S. and Iranian negotiators. He supports the deal unreservedly. He believes the deal being cobbled together is the only way to peacefully prevent Iran from acquiring nuclear weapons, and that it creates a framework for a U.S.-Iranian dialogue, something he views as a positive development. Any idea implying that the United States is abandoning Israel is completely baseless, he adds.
The Tehran lobby
According to a 2014 survey, most Iranian Americans support a diplomatic solution to the Iranian issue, fiercely objecting to a military confrontation. Thirty percent still believe it's possible to replace the current regime and establish a democratic one, even though Iran has never experienced one. But according to Iranian-American activist Peter Kohanloo, any deal that doesn't relate to the pitiful human-rights situation in Iran can't be good for the Iranians, or the values that America upholds. He adds that executions have increased during President Hassan Rohani's term (from June 2013) and is concerned that the situation will deteriorate if a nuclear deal is reached, strengthening the regime. "It seems that NIAC cares more about a nuclear deal than about improving the human rights situation in Iran," he notes.
Activists at NIAC stress their commitment to human rights in Iran. However, M., a journalist who left Iran in the early 2000s, says that "only Iranians who did not personally experience the terror regime of the 1980s can be so forgiving toward the present regime." For many Iranians, the desire to reach a deal that would allow better communication with friends and family left behind is tempting, but does not justify reconciliation with the present regime. "The truth is that Bibi [Netanyahu] is the only one in the whole world who is still combating this regime," M. says, with people around the table falling silent.
The People's Mujahedin of Iran (MEK) and its U.S. branch, NCRI, also want to replace the government in Tehran. MEK was founded as an Islamic-Marxist organization in Iran during the 1960s, and until 2012 was defined as a terrorist organization by the United States. In 2002, it was an NCRI spokesman who disclosed the existence of a secret nuclear installation in Iran. The organization has also been linked to the assassination of Iranian nuclear scientists in Tehran since 2007.
MEK/NCRI is the most significant rival to NIAC in Washington. In 2007, a series of stories were published by Hassan Daioleslam (aka Hassan Dai), a journalist who, according to NIAC sources, was formerly linked to MEK. He claimed that Parsi and NIAC were lobbyists working illegally in Washington for the Iranian regime. Parsi and NIAC filed libel charges against him, but lost. The court did not uphold Dai's claims, but rejected the libel suit since no malice was proven on his part. The court also determined that NIAC did not provide much of the material that the defense team requested. "According to the logic of these accusations against us, all the countries participating in the talks with Iran, including President Obama, are lobbyists for Iran," laughs Parsi. "No one buys that. Our popularity among the Iranian-American community is at its peak. Ultimately, our policy is winning and those attacking us are becoming irrelevant."
Tehrangeles
There is nowhere that seems more removed from the troubles and dangers of the Middle East than the affluent neighborhoods of Los Angeles. But it is here, in "Tehrangeles" – the city with the largest Iranian population outside Iran, many of them Jewish Iranians – where the impending nuclear deal, and its implications, is a hot topic. Like anything connected to Iran, Israel and the United States, it evokes strong and emotional responses. Jews from Iran belong to one of the oldest communities in the world, and many of them feel a deep sense of belonging to the culture, language and country from which they came. I met David Peyman at a kosher café in Beverly Hills. In his mid-30s and a graduate of Harvard Law School, he appears as if he could be part of the energetic NIAC team. This, however, is far from the case.
Peyman is vice president of the Iranian Jewish Federation in Los Angeles and a member of United Against a Nuclear Iran (UANI), a leading opposition group to an atomic Persia. UANI is supported by billionaire and Netanyahu confidante Sheldon Adelson. "I agree that this is a very rational regime that will never use an atomic bomb as an offensive weapon, but possessing it will allow them to be much more aggressive, and nothing good can come out of that," argues Peyman.
When we talked, a week before the nuclear negotiators reconvened in Switzerland, Peyman was not impressed by the manner in which the U.S. Administration was conducting the talks. "If the Iranians are truly not interested in nuclear weapons, they can make do with uranium enrichment to a 3%-5% level, at most. The [heavy-water production] facility at Arak must also change its designation. In exchange for these concessions and a reduction in the number of centrifuges, I would deliver a very big carrot: promising the regime that no efforts would be made to undermine it if it abides by international norms. Iran could become a prosperous Islamic republic. The problem is that [Ayatollah Ali] Khamenei does not want to be part of the international community because he wants to have someone to blame for all of Iran's problems. Otherwise, he will have to admit that he doesn't have a clue how to run the country."
You sound like someone who supports the deal. If what you say is true, why not lift the sanctions and let the regime collapse on its own?
"Because Iran has a track record of deception, and they are cheating now as well. In six years, you'll discover that there's a secret facility that no one knew about, and Iran is actually two weeks away from having a nuclear weapon. They can then raise a finger and say, 'We're a nuclear nation, we've attained everything we wanted. We have nuclear weapons and we also got the U.S. off our backs.'"
While many Iranian Jews oppose the deal, the general Jewish community exhibits mixed feelings. While veteran lobbies oppose the deal, J Street supports the Obama administration's efforts, believing that a deal is the best way to prevent Iran from acquiring a nuclear weapon. It's difficult to assess how much impact the organizations that support the deal are having on the final agreement.
The progress in the negotiations and the fact that both countries' foreign ministers are behaving like close friends, as if it were 1978, is connected more to strategic decisions by Obama and Khamenei. At the last NIAC meeting, a representative from the White House was present: Philip Gordon, an adviser to President Obama on Middle Eastern affairs. If an interim agreement is signed, Iranian Americans in Washington will try to use the experience and political clout they have gained to prevent the deal from collapsing. According to signals coming recently from the Senate and Congress, this will not be an easy task.
Click the alert icon to follow topics:
ICYMI
Ken Burns' Brilliant 'The U.S. and the Holocaust' Has Only One Problem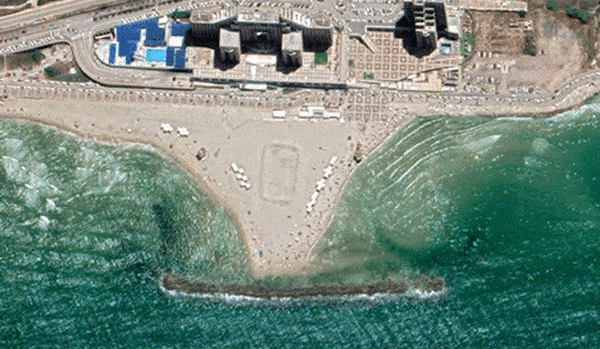 Facing Rapid Rise in Sea Levels, Israel Could Lose Large Parts of Its Coastline by 2050
As Israel Reins in Its Cyberarms Industry, an Ex-intel Officer Is Building a New Empire
How the Queen's Death Changes British Jewry's Most Distinctive Prayer
Chile Community Leaders 'Horrified' by Treatment of Israeli Envoy
Over 120 Countries, but Never Israel: Queen Elizabeth II's Unofficial Boycott