Relax, Lena Dunham Isn't anti-Semitic. She's Just Not Funny
The voice of New York City millennials penned a listicle in the New Yorker called 'Dog or Jewish Boyfriend: A Quiz,' and unwittingly started a Twitter storm.
Lena Dunham poses on arrival at the 71st annual Golden Globe Awards in Beverly Hills, California January 12, 2014.
Credit: Reuters
1. Lena Dunham, 28, the voice of precocious privileged New York City millennials - and best-known as the auteur of the smash HBO series "Girls" - penned a listicle humor column in the New Yorker called "Dog or Jewish Boyfriend: A Quiz."
2, While the piece starts out all adorably romantic with items like "We love to spend hours in bed together on Sunday mornings" it quickly sharpens and hones in on the presumably "Jewish" qualities of her boyfriend Jack Antonoff, blaming his picky eating on "a culture in which mothers focus every ounce of their attention on their offspring and don't acknowledge their own need for independence as women." What's more, the cheap guy "doesn't tip" and "never brings his wallet anywhere."
3. Most of us, myself included, read it and found it vaguely amusing but far from chuckle-inducing, shrugged and turned the page. New Yorker humor, from the cartoons to Andy Borowitz, may or may not be one's cup of tea. It is, after all, the New Yorker - often what's hilarious on the Upper West Side just doesn't play in Peoria.
4. But one writer for the website Kveller, Jordana Horn, found the piece objectionable enough to rant about, and made a strong enough case for me to re-think my shrug. She wrote: "the boyfriend of whom she paints a picture is a weak, cheap, complaining, ungrateful, whiny jerk. To say that these qualities are obviously Jewish – and doglike? – offends me deeply." Horn also noted that the choice of domesticated animal was unfortunate, what with Nazis and other anti-Semites frequently equating Jews and dogs.
5. I wasn't the only shrugger to be woken up by Horn's points. After her piece appeared, a Twitter-storm ensued, calling Dunham's article "offensive," "appalling," "racist trash." Never one to miss a celebrity-centered publicity opportunity, the Anti-Defamation League got into the act. Abraham Foxman, its president, said: "The piece is particularly troubling because it evokes memories of the "No Jews or Dogs Allowed signs from our own early history in this country, and also because, in a much more sinister way, many in the Muslim world today hatefully refer to Jews as "dogs."
"We doubt that Ms. Dunham had any intention of evoking such comparisons. While we understand that humor is its own special brand of expression and always try to give leeway to comedians, we wish that she had chosen another, less insensitive way to publicly reflect on her boyfriend's virtues and vices. We are surprised that the New Yorker chose to print it."
6. Dunham has not yet reacted to the criticism, but New Yorker editor David Remnick has hastened to her defense: "The Jewish-comic tradition is rich with the mockery of, and playing with, stereotypes. Anyone who has ever heard Lenny Bruce or Larry David or Sarah Silverman or who has read 'Portnoy's Complaint' knows that. Lena Dunham, who is Jewish and hugely talented, is a comic voice working in that vein. Richard Pryor and Chris Rock do the same about black stereotypes; Amy Schumer does it with women and gender. I don't mind if one reader or another didn't find the piece funny. People can differ on that. But considering all the real hatred and tragedy in the world, the people getting exercised about the so-called anti-Semitism of this comic piece, like those who railed at Philip Roth a generation or two ago, are, with respect, howling in the wrong direction." Other pundits have weighed in with a similar line
I asked Horn for her response to Remnick's "howling" statement. She said: There is indeed a rich tradition of smart, edgy Jewish humor that flirts with the boundaries of the appropriate. Roth and Bruce did it well and in some instances brilliantly. One does not, however, become a member of that tradition simply by trafficking in tired ethnic stereotype and passing it off as humor.
7. Here's another thing: the comics that Remnick refers to are identifiably Jewish - and of course, Pryor and Rock are identifiably black. It's clearly "insider" and very self-deprecating brand of ethnic humor. But Dunham's New Yorker piece is not written in a self-deprecating "insider Jewish comic" voice. The BOYFRIEND is portrayed as clearly Jewish - in contrast to her WASPY repressed dad. But Dunham is not. Is the audience supposed to assume that she is? A Google search tells us that yeah, Dunham's mom is Jewish, her father isn't and that the author herself considers herself "culturally Jewish", whatever that means.
Fans of "Girls" know that her characters are that same kind of Jewish-ish - they look Jewish, sound Jewish, have Jewishy names, but it's not always clear who is and who isn't. She does flirt with stereotypes on the show. The one character who is undeniably Jewish (Shoshanna Shapiro, hello ) played by Zosia Mamet, is wealthy and rathered spoiled young alumna of Camp Ramah.
Comics who are 100 percent unabashedly Jewish, from those Remnick mentioned, as well as those like Mel Brooks, Woody Allen, and Joan Rivers have gotten away with far, far worse. (Joan Rivers: 'I'm Jewish. I don't work out. If God had wanted us to bend over, He would have put diamonds on the floor.')
The fact that it is not at all clear in the New Yorker piece that it is insider humor about "us Jews" and reads far more like an article by a non-Jew about her Jewish boyfriend made it harder to swallow.
8. Another salient Horn point: Insider or outsider, let's take a moment to try to imagine a humor piece comparing one's Muslim boyfriend to a dog in a manner that invoked racist tropes, like commenting that "I can't seem to stop him from lying around on the carpet and getting his hair on it" or about a black boyfriend that "he constantly steals the fried chicken off my plate."
A lot less funny, right?
9. With all this, it must be acknowledged that plenty of people hate Lena Dunham for reasons having nothing to do with the issue at hand, and so were happy to cry "anti-Semite" on top of their other insulting descriptions of her. There are those who resent the fact that she is young, well-connected, and at the tender age of 26, won a $3.7 million book deal for her autobiography. There are those who find "Girls" whiny and self-indulgent, are offended by its casual approach to sex and nudity.
That memoir, titled "Not That Kind of Girl" engendered its own fair share of controversy, everything from those who found her descriptions of her relationship with her sister to her memory of a rape experience when she was in college. Writing in defense of the New Yorker piece in Salon, Anna Silman said "Dunham is a lightning rod for both the left and right; she seemingly can't do anything without igniting a hailstorm of controversy, even if it's unwarranted. Maybe it's time to give her a break?"
10. Frankly, I think the bottom line is that the piece would have been harder to attack if it was, simply, funnier - and a bit more original.
Dunham's riff rang all to familiar to fans of "The Big Bang Theory" which featured a recurring joke this season: it was a quiz called "Emily or Cinnamon" in which the characters amused themselves with a guessing game as to whether their pal Raj had made certain remarks to his girlfriend or his dog like "I want you to know the bed feels so lonely when you're not in it" or "You're so lucky: you have the shiniest hair!"
I point this out not to accuse Dunham of plagiarism - but to demonstrate that evidence exists showing that comparing pets to lovers can be done humorously without resorting to racial remarks. As a talented comic writer - the brilliant "Girls" proves her worth - Dunham really didn't need to go there.
Click the alert icon to follow topics:
ICYMI
Ken Burns' Brilliant 'The U.S. and the Holocaust' Has Only One Problem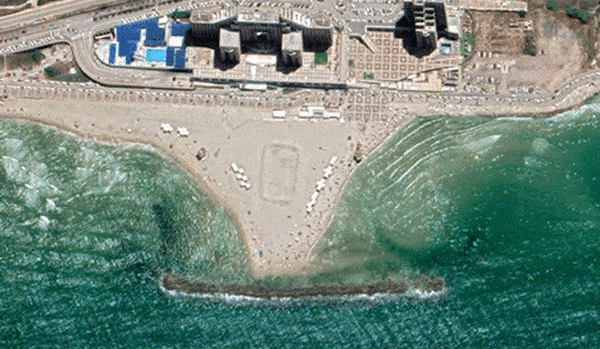 Facing Rapid Rise in Sea Levels, Israel Could Lose Large Parts of Its Coastline by 2050
As Israel Reins in Its Cyberarms Industry, an Ex-intel Officer Is Building a New Empire
How the Queen's Death Changes British Jewry's Most Distinctive Prayer
Chile Community Leaders 'Horrified' by Treatment of Israeli Envoy
Over 120 Countries, but Never Israel: Queen Elizabeth II's Unofficial Boycott