How Is One of Israel's Wealthiest Men Voting in the Election?
Industrialist Stef Wertheimer says that, like many things in life, the answer is 'simple.'
Stef Wertheimer (right) with former President Shimon Peres at the inauguration of the industrial park in Nazareth in 2013.
Credit: Gil Eliahu
Industrialist Stef Wertheimer, one of Israel's wealthiest and most influential individuals, knows who he wants to lead his country. And it is not Prime Minister Benjamin Netanyahu.
"We need a change," Wertheimer says simply, granting Haaretz an interview at his sunny Tel Aviv apartment in advance of the publication of the English-language version of his autobiography, "The Habit of Labor" (Overlook Press, out May 12).
"Simple" is a word the dashing 88-year-old uses often. There are, according to Wertheimer, "simple" solutions for a lot of what seems complicated, messy, daunting and even frightening in Israel. Getting the balance right between classic and vocational education is one, as is getting the balance right between justified pride in being a "startup nation" and the critical need to encourage and celebrate the less sexy manufacturing industries.
Getting the right leadership is also, Wertheimer believes, a necessary, "simple" step in the right direction. "I will vote for Tzipi and Bougie," he says, referring to Tzipi Livni and Isaac "Bougie" Herzog, who jointly lead the Zionist Union and are hoping to unseat Netanyahu.
"Do we have another choice right now? Netanyahu has had his chances. I think Herzog and Livni will do a better job in building the country and creating opportunities to keep our young people here instead of looking for opportunities elsewhere," he says. "I am impressed that they have been able to overcome their egos in an agreement to work together for the future good of Israel."
It's the industry, stupid
Wertheimer famously made his money with ISCAR, a precision metal-cutting tools company he started from scratch on his kitchen porch in Nahariya in 1952 – and had sold by 2013 for over $6 billion. American billionaire Warren Buffett, who bought ISCAR via his Berkshire Hathaway investment firm (in its first overseas investment), agreed to a condition to keep the company based in Israel. Today, ISCAR employs more than 12,500 people worldwide, including 3,000 in Israel.
Another company, Blades Technology – which Wertheimer started in response to France imposing an arms embargo on Israel in the late 1960s – today develops and manufactures turbines for jet engines (together with its sister business, Techjet) and employs a further 2,000 people in Israel. Another 400 are employed by Blades in the United States, with 200 in China. It was sold last year to its erstwhile partner, Pratt & Whitney.
Chat about Israel as the "startup nation," or attempts to get Wertheimer's opinion on the culture of casually dressed 20 years olds inventing mobile apps and dreaming of their big "exits," are gently dismissed with a raised bushy eyebrow. "Nothing wrong with making money from technology," he says, speaking with a heavy German accent, even after 78 years away from his birthplace. But what, he wants to know, about "making something?"
The answer for Wertheimer is, and always has been, manufacturing. Or, more precisely, "manufacturing and creating jobs."
Yes, encouraging high-tech development is good, just as dealing with the Iranian threat is important, as, equally, is finding a political solution to the Palestinian-Israeli conflict.
But what will really affect the future of this country, Wertheimer believes, is not how many new Waze-like applications are announced, or even how successful the next government might be in negotiating with the Palestinians, or making nice with the U.S. administration. What counts for Wertheimer is whether or not the government of Israel can find the ways and means to develop industry and encourage exports – and so provide its citizens with the tools to earn a respectable living.
In Israel today, "making things" is often considered something better suited to the likes of China, he says. This country, with its small population and limited home market, lack of mining reserves and no tradition of heavy engineering, car- or shipbuilding, has proudly positioned itself as a nation that is all about innovation, creativity and services. But this, retorts Wertheimer, will not do, because it's simply not where the jobs are.
In 2013, the very year Buffet completed his purchase of ISCAR, Google was buying the navigation app Waze for $1 billion. The government reaped high taxes from the Waze sale, of course, but, Wertheimer points out, Waze only employed 100 people at the time and did not export anything – so most of the payout went to foreign investors.
The rewards for strengthening the industrial sector go beyond the economic, he argues. "When people work together, they have no time for nonsense," he says. "They're satisfied, they engage in production. They work together, not against each other. The idea is to put people to work and end the quarreling about land and religion."
The same goes for the larger region, he continues. By helping its neighbors be equally successful, he says, Israel would go a long way toward helping usher in peace.
"Netanyahu tells us Iran is the main problem of our world. But whether he is right or wrong, it gives him an excuse for doing nothing regarding promoting our industrial sector and elevating the average income level to a sensible place. Let's give someone else a chance," says Wertheimer.
High school dropout
Born in a small German village called Kippenheim, the Wertheimer family fled the Nazis and arrived in what was then Mandatory Palestine in 1937. He was expelled from the Nordau school in Tel Aviv at age 14 after getting into one fight too many – and never returned to the classroom. Despite his many awards and honorary degrees over the years, Wertheimer never finished high school or went to university.
"I always resisted conventional, banal classroom studies, with the teacher instructing the class and the pupil receiving instruction," he writes. "But education has been an abiding interest all my life, even though – or perhaps because – I am a school dropout."
"There is nothing more gratifying than to teach someone a new skill that enables him to create something," he says. "Unfortunately, in the last 20 years this country has done nothing but educate and give out degrees that then push Israelis to go overseas to find a job. This country seems to like to help its people stay poor by not getting them the right skills."
Learning skills and working hard are values Wertheimer internalized early. After being kicked out of school, he went to work at a camera-repair store, and afterward found an apprenticeship at an optical shop. This led him to another apprenticeship with a renowned Israeli physicist and inventor, and into Britain's Royal Air Force, where he served as an equipment technician.
Wertheimer joined the Palmach (the elite strike force of the pre-state underground Jewish militia) a few years later, in 1945, and served as a technical officer developing weapons – even though he was trained as a pilot.
"There was one thing that was clear during this whole period: that we had to work to build the state," he recalls. "We were not just fighting – we were fighting and at the same time thinking about what and how we would produce something here after the war."
"My industrial worldview was already developed. A state can stand on its feet only with a strong economic foundation, with industry and agriculture, so that people have jobs," he continues, pointing at countries like South Korea, Finland and Singapore as models when it comes to both manufacturing and success in the global market.
"I opposed the prevailing idea of turning Israel into a country of tourism, a nation of waiters, chambermaids and tour guides dependent on tips. Already, I believed strongly in the possibilities that industry could offer."
Success and failures
Wertheimer's upcoming book is an updated and expanded version of his Hebrew autobiography, which came out in 2011. It interweaves his personal history with the history of the companies he founded and the people he worked with along the way. He talks about his brief stint as a member of the Knesset, and dotes on the story of the creation of his seven successful industrial parks, in which he personally has invested millions. The parks include Tefen in the Galilee, where ISCAR is based; an industrial park in Turkey; and, the newest addition to the lot, a park in Nazareth – a primarily Arab city that was previously almost completely dependent on tourism.
By Wertheimer's own admission, some of his endeavors have been less successful – thwarted, as he sees it, by events. Or, just as often, blocked by bureaucrats and naysayers. Chief among those disappointments has been his inability to push his idea, dreamt up with his partner Lynn Holstein, for a "Marshall Plan for the Middle East." The idea involves developing, with the help of U.S. funding, hundreds of industrial parks in the region, to provide training, create jobs, alleviate poverty and bring peace.
Another disappointment, and a recurring theme in Wertheimer's book, concerns the number of Israelis leaving the country - a consequence, again, as he sees it, of the government's mistaken emphasis on educating for the wrong careers. To redress this situation, he himself has created dozens of technical and entrepreneurial schools and programs. It's not by chance that Wertheimer, alone out of the country's three wealthiest individuals, lives full-time in Israel. He has what borders on disdain for those who leave. "Maybe if we elect the right government next week, the tide will begin to change," he says.
"We are a young country, filled with immigrants many of whom come here because they are frightened. And so they vote for those who give them a sense of security, like Netanyahu," he concludes. "But real security will come from having work."
Click the alert icon to follow topics:
ICYMI
Ken Burns' Brilliant 'The U.S. and the Holocaust' Has Only One Problem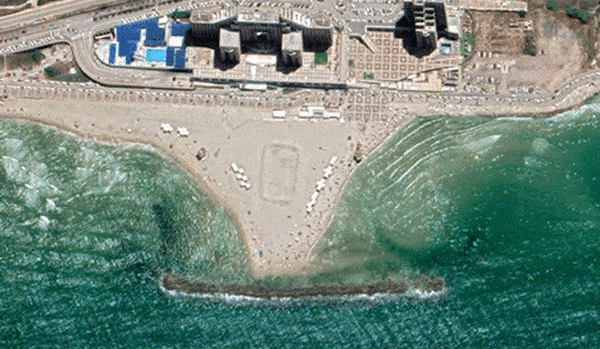 Facing Rapid Rise in Sea Levels, Israel Could Lose Large Parts of Its Coastline by 2050
As Israel Reins in Its Cyberarms Industry, an Ex-intel Officer Is Building a New Empire
How the Queen's Death Changes British Jewry's Most Distinctive Prayer
Chile Community Leaders 'Horrified' by Treatment of Israeli Envoy
Over 120 Countries, but Never Israel: Queen Elizabeth II's Unofficial Boycott