Middle East Updates UN Security Council Adopts Russian-drafted Resolution Stifling ISIS Cash Flows
Egypt frees two jailed Al Jazeera journalists on bail after more than 400 days; U.S.-led coalition pounds ISIS targets with 15 airstrikes since Wednesday; Retrial of Al Jazeera journalists jailed in Egypt set to begin.
Houthi Shi'ite Yemenis hold a poster of U.S President Obama and banners in Arabic that read,"God is great, Death to America, Death to Israel, A curse on the Jews," in Sanaa, Feb. 11. 2015.
Credit: AP
For Wednesday's updates, click here
Latest updates:
7:32 P.M. Syrian rebel commander vows guerrilla warfare against Hezbollah, Assad regime
A Syrian rebel commander in the south vowed to wage guerrilla warfare against the Lebanese group Hezbollah and Syrian government forces which have launched a major offensive against insurgents in the border region near Israel and Jordan.
The offensive that got under way this week is focused in an area south of Damascus that is the last notable foothold of the mainstream armed opposition to President Bashar Assad, who has consolidated control over much of western Syria.
The Syrian Observatory for Human Rights, which tracks the war, says the offensive is being spearheaded by Hezbollah, and that government forces and allied militia have made significant progress.
The Syrian army said on Wednesday that territory including four hills and three towns had been secured from insurgents it identified as members of the al Qaeda-linked Nusra Front.
The mainstream rebels known collectively as the Southern Front are dismissive of Nusra's role in the area. The battle -- the most serious effort to date by the state to take back the south -- was mostly brought to a halt on Thursday by snow.
"The battle could be lengthy. It will be hit and run -- this is the system we are going to use in battle," said Abu Osama al-Jolani, a senior commander in the southern rebel alliance.
"We are not a state army defending borders ... we operate a system of guerrilla warfare. As far as we are concerned, land is not important," he added, speaking to Reuters via the Internet from an area near the Syrian-Jordanian border.
Jolani, who held the rank of major when he defected from the Syrian army in 2011, said advances made by the attacking forces were insignificant. He is now deputy commander of the "First Army", formed from three smaller rebel groups in January. (Reuters)
7:23 P.M. Egypt's Al-Azhar condemns killings of three Muslims in North Carolina
Al-Azhar, the center of Islamic learning in Egypt, on Thursday condemned the killings of three young Muslims by a gunman in the United States as a "terrorist and racist" act.
A man who had posted anti-religious messages on Facebook and quarreled with neighbors has been charged with the shootings.
Muslim activists in the United States and around the world have demanded authorities investigate a possible motive of religious hatred. Police said on Wednesday the case involved a dispute over parking and possibly a hate crime.
Craig Stephen Hicks, 46, a full-time paralegal student from Chapel Hill, was charged with first-degree murder in Tuesday's killings two miles (three km) from the University of North Carolina campus.
"Al-Azhar expresses its deep shock and concern at this cowardly terrorist act, which indicates that terrorism has no nationality or religion," said a statement issued by the 1,000-year-old seat of religious learning, respected by Muslims around the world. (Reuters)
7:03 P.M. Jordanian jet fighters bomb ISIS targets on Thursday (Reuters)
6:50 P.M. Syrian opposition calls for help against Assad as death toll rises
A Syrian opposition leader called Thursday on world leaders to take "immediate action" to end government attacks on rebel-held suburbs of Damascus, amid reports that some 150 people have been killed in government airstrikes in the past 10 days.
Khaled Khoja, leader of the Syrian National Coalition, made the appeal at a press conference held from the group's base in Turkey.
The government has been pounding the eastern suburbs of Damascus known as Ghouta for days as part of a military campaign against rebel-held districts east and south of the capital Damascus. Douma, a sprawling town east of Damascus, has taken the brunt of the airstrikes.
"The Assad regime's killing of children and the elderly with rockets, barrel bombs, and toxic gases is as a crime as horrible as ISIS's slaughtering and burning of people alive," Khoja said, using an acronym for the Islamic State extremist group.
He said Assad's "barbaric assault" on Douma constitutes a war crime and urged the U.N. to force the Syrian leader to stop indiscriminate bombardment of rebel-held territory. (AP)
6:06 P.M. Ban Ki-moon to UN Security Council: Yemen is collapsing before our eyes
UN Secretary-General Ban Ki-moon said on Thursday that Yemen is disintegrating after the country slipped further into chaos as the Houthi militia consolidated their grip on power.
"Yemen is collapsing before our eyes, we can't stand by and watch," Ban told the U.N. Security Council on Thursday. "We must do everything possible to help Yemen step back from the brink and get the political process back on track." (Reuters)
6:03 P.M. Egypt's top prosecutor imposes media gag order on killed female protester
Egypt's top prosecutor imposed a media gag order Thursday on the case of a female protester killed during a peaceful demonstration last month.
Rights groups and political factions accuse the police of killing 32-year-old Shaimaa el-Sabbagh, pointing to widely circulated footage that showed two masked, black-clad policemen pointing their rifles in her direction as gunshots rang out and a voice commanded "fire."
She was killed on Jan. 24, the eve of the fourth anniversary of the uprising that ousted longtime autocrat Hosni Mubarak.
The police sought to distance themselves from the killing, which revived longstanding charges that they routinely use excessive and lethal force.
On Thursday, a statement from the prosecutor general's office said the gag order will remain until the investigation is completed.
The statement said "inaccurate and contradictory" media reports about the investigation into el-Sabbagh's killing could "negatively impact" the probe. (AP)
5:32 P.M. UN Security Council unanimously adopts Russian-drafted resolution stifling ISIS cash flows
The United Nations Security Council on Thursday banned all trade in antiquities from war-torn Syria, threatened sanctions on anyone buying oil from ISIS and Al-Qaida-linked Nusra Front militants and urged states to stop kidnap ransom payments.
The 15-nation council unanimously adopted the Russian-drafted resolution, which is legally binding and gives the council authority to enforce decisions with economic sanctions. It does not authorize using military force. (Reuters)
4:05 P.M. France, Egypt reach deal for sale of 24 Rafale fighters, navy frigate and missiles
A deal between France and Egypt for the sale of 24 Rafale fighters, a navy frigate and missiles has been agreed, a French source close to the matter said on Thursday.
"Yes, there is an agreement," the source said.
A French defense ministry official said an agreement had not been signed yet. (Reuters)
3:37 P.M. Egypt frees two jailed Al Jazeera journalists on bail after more than 400 days
Two remaining Al Jazeera journalists jailed in Egypt on charges of aiding a "terrorist organisation" were freed on bail on Thursday after more than 400 days, but the court said the case against them was still pending.
The case triggered an international outcry and has been cited by government critics as evidence that Cairo is rescinding freedoms gained after a 2011 uprising toppled autocrat Hosni Mubarak, allegations the government denies.
Mohamed Fahmy, a naturalized Canadian who gave up his Egyptian citizenship, was released on bail of 250,000 Egyptian pounds ($32,765). Baher Mohamed, who has only Egyptian citizenship, was released without bail. Judge Hassan Farid said the next hearing in their case would be on Feb. 23.
A third Al Jazeera reporter sentenced with them, Australian Peter Greste, was freed on Feb. 1 and deported.
The three were sentenced to between seven and 10 years on charges including spreading lies to help a terrorist organisation - a reference to the Muslim Brotherhood.
The court's decision comes ahead of an investment conference in Sharm al-Sheikh scheduled for March, which authorities hope will help improve Egypt's image, which has been damaged by one of the fiercest security crackdowns in its modern history. (Reuters)
3:04 P.M. U.S.-led coalition pounds ISIS targets with 15 airstrikes since Wednesday
U.S.-led forces hit Islamic State targets in Iraq with 12 airstrikes and three airstrikes in Syria since Wednesday, the U.S. military said.
Four strikes near Mosul and three near Kirkuk hit Islamic State tactical units, bulldozers, vehicles, buildings and heavy machine guns, the Combined Joint Task Force said in a statement on Thursday. It said the other strikes hit tactical units in Makhmur and Tal Afar, a mortar position near al Asad and earthen berms used to control water near Falluja.
The strikes in Syria destroyed six militant fighting positions near Kobani and "multiple" oil pump jacks near al Hasaka, the statement said. (Reuters)
12:30 P.M. Power comes back on after short-lived blackout in Kuwait
A sweeping blackout that struck the tiny but oil-rich Kuwait on Wednesday evening knocked out lights even at the international airport, brought out the amateur comedians on social media and got lawmakers Thursday asking why so much of the OPEC nation suddenly went dark.
The power cut happened when a technical fault struck a transmission line linked to the al-Subbyia power station, according to Minister of Public Works, Electricity and Water Abdulaziz al-Ibrahim whose remarks were carried by the official Kuwait News Agency.
Residents in the car-loving country reported unusually thick traffic jams caused by darkened traffic lights.
Emergency measures used to bring power back online following the outage included the use of an electrical link to the rest of the six-member Gulf Cooperation Council, which includes Saudi Arabia and other energy-rich Arab nations.
Engineers managed to get power fully restored within a matter of hours, but by then the jokes were already flowing.
"Is our oil gone? I'm contemplating getting my very first camel now," wrote Twitter user known as SarahAlBusairi. Another user on the social media site predicted a Kuwaiti baby boom come November.
Kuwait is one of the largest oil exporters in the 12-member OPEC bloc, producing roughly 2.7 million barrels of crude a day. (AP)
10:20 A.M. ISIS confirms widow of Paris shooter in Syria
A magazine run by the Islamic State militant organization has published an interview with the French widow of a Paris hostage taker, its first official claim that Hayat Boumeddiene is in their territory, which spans parts of Syria and Iraq.
France launched a search for the 26-year-old after police stormed a Jewish supermarket where her partner Amedy Coulibaly had taken hostages, four of whom were killed along with Coulibaly. Authorities described her as armed and dangerous.
Turkish officials said last month that Boumedienne had been in Turkey five days before the shootout, and crossed into Syria on Jan. 8.
Wednesday's edition of Islamic State's online French-language magazine, Dar al-Islam, ran an edition on the attacks in Paris and included an interview with a woman who it said was Coulibaly's wife, although her name was not given. (Reuters)
5:00 A.M. Retrial of Al Jazeera journalists jailed in Egypt set to begin
An Egyptian court is expected to begin on Thursday the retrial of Al Jazeera journalists on anti-terrorism charges in a case that has triggered an international outcry.
The retrial by the Cairo Criminal Court is to be held more than a week after Egyptian authorities released and deported Australian Peter Greste, one of the three journalists charged in the case with aiding the now-outlawed Muslim Brotherhood and spreading false news about Egypt.
Greste was freed from prison and allowed to return home under a decision by Egyptian President Abdel-Fattah al-Sissi.
Greste, Canadian-Egyptian Mohammed Fahmy and their Egyptian colleague Baher Mohammed were sentenced to seven years in prison in June. Last month, Egypt's top appeals court overturned the verdict and ordered a retrial for the trio. Fahmy has reportedly renounced his Egyptian citizenship to qualify for deportation under a decree signed by Sissi in November, which was widely seen as aimed to resolving the controversial case.
The decree does not apply to Mohammed, who holds an Egyptian passport only. Fahmy, writing recently in the New York Times, complained that the three were "pawns in a geopolitical game" between Egypt and Al Jazeera's owner, the Gulf emirate of Qatar, a staunch backer of the Brotherhood. (DPA)
2:40 A.M. U.S. Marines say they destroyed weapons before exiting Yemen
U.S. Marines destroyed their personal weapons at the airport in Yemen's capital, Sanaa, on Wednesday, before leaving the country and did not hand them over to anyone, the Marine Corps said on Wednesday night, clarifying earlier Pentagon comments.
In a statement, the Marines said the Marine Security Force left the embassy for the airfield with only personal weapons after other weapons were destroyed at the embassy.
The U.S. Embassy was closed and embassy personnel evacuated the country after the Houthi militia group, which overran Sanaa in September, formally took power last week. The Shi'ite Muslim group is stridently anti-American and is backed by Iran.
Asked earlier on Wednesday if the weapons the Marines had taken to the airport were handed over to Houthi fighters, a spokesman said it was not clear but it was believed "they turned them over to government officials at the airport, prior to boarding the aircraft."
The Marines Corps statement said on arrival at the airfield, the Marines rendered their weapons inoperable. (Reuters)
Click the alert icon to follow topics:
ICYMI
Ken Burns' Brilliant 'The U.S. and the Holocaust' Has Only One Problem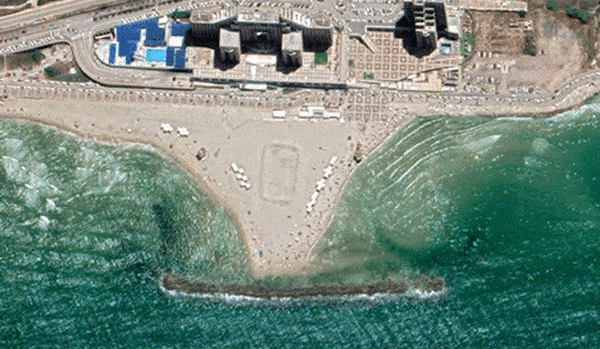 Facing Rapid Rise in Sea Levels, Israel Could Lose Large Parts of Its Coastline by 2050
As Israel Reins in Its Cyberarms Industry, an Ex-intel Officer Is Building a New Empire
How the Queen's Death Changes British Jewry's Most Distinctive Prayer
Chile Community Leaders 'Horrified' by Treatment of Israeli Envoy
Over 120 Countries, but Never Israel: Queen Elizabeth II's Unofficial Boycott