New Israel-U.S. Spat Is Good News for Netanyahu
As long as the PM plays the security-political card while ignoring the country's real problems, he's only helping his campaign – especially if he succeeds in bickering with the Obama administration. Meanwhile, a Likud-Habayit Hayehudi merger looks increasingly possible
King Bibi? King Kong, more like it.
Credit: Amos Biderman
Next week, Zionist Camp is planning to snap out of its winter hibernation, stop babbling about the earth-shaking question of who will be 24th on the party ticket, and launch a campaign under the slogan "Either us or him." Meaning, either Bougie-Tzipi or Bibi, and in every sphere of life: security, policy, diplomacy, economy, society. That is, assuming – and hoping – that war doesn't break out, there's no terrorist attack, and we're spared other disasters.
This past week, Isaac Herzog & Co. found themselves playing willy-nilly on Benjamin Netanyahu's turf; time and again, they were maneuvered onto territory that is convenient to the prime minister. It started with Sunday's attack on the convoy in the Syrian part of the Golan Heights, continued with the terror attack on a Tel Aviv bus, and ended with the kind of crescendo Netanyahu likes best: another spat with the Americans, another finger poked in the eye of Barack Obama.
The president discovered by chance that behind his back, envoys of the Israeli government and Republicans in Congress had contrived to arrange a speaking engagement for Netanyahu before a joint Congressional session a month before the Israeli election. Congress is the only place where Netanyahu is still King Bibi, where he can draw a standing ovation and waves of adulation.
The confrontation that began to develop with the White House on Wednesday is one more piece of bad news for Israeli-U.S. relations, but good news for the premier. In the absence of a war, for now, with the Iranians or their proxies, we'll just have ourselves a skirmish with the enemy across the pond. Given a choice between Netanyahu and Obama, most of the Israeli public, certainly the right wing, will march with Netanyahu.
From the prime minister's standpoint, this week was cut-and-keep. Every day in this election campaign that plays to the security-political agenda and marginalizes the country's social-economic problems is pure gain for him. After all, he doesn't really have anything to say about the issues that are truly critical for the voters: the cost of living, the housing crunch, the low salaries and the dead-end feeling harbored by many young people. Whatever he says on those subjects will sound disconnected and alienated. Let him tour the world – to Paris, Washington, or Micronesia if necessary – and speak in polished English about security and ISIS and Iran Iran Iran. As long as he doesn't have to speak to the Israelis in their language.
A looming union?
The politicians have five working days left before the parties have to submit their official slates. Four, if you deduct the last day (next Thursday). Not much, but as the saying goes, if God wants it, a broom will shoot, too. If Netanyahu and Habayit Hayehudi leader Naftali Bennett decide at the last minute to unite their tickets, the ticking clock will not be a drawback. On the contrary: Sometimes a lack of time is the recipe for success in maneuvers of this kind.
Contrary to the prevailing opinion, the premier isn't the only one who has a vested interest in a union with Habayit Hayehudi, which will make him the head of the largest party and almost certainly get him the nod from President Reuven Rivlin to form his fourth government. Bennett, too, has an interest in this. A merger with Likud will make his party an integral element in the next government, and place him in position for a very senior portfolio, maybe even defense. Not to mention a possible rotation as prime minister.
In contrast, going it alone carries its risks. After the election, Bennett might discover that Netanyahu and Herzog have agreed on a unity government, with or without rotation, and he and all his colleagues will be cast into the opposition, to wither on the vine along with Yair Lapid, Meretz and the Arabs.
There's a growing feeling in the political arena that this is where we're headed: a coalition based on Likud and Zionist Camp (around 50 seats), plus the ultra-Orthodox (12-15 seats), and Kahlon's Kulanu (let's say, 10 seats), for a total of 72-75 seats.
As far as is known, however, Bennett's initial opposition to the union idea has faded with time. He too is undoubtedly contemplating the national-unity scenario. People in his circle insisted this week that there have been no negotiations between him and Netanyahu, even though the two met privately at least twice in the past few days, But, as Bennett notes, along with MK Ayelet Shaked, what is true "at the moment" may not be true in another week. In fact, the phrase "at the moment" was frequently used among informed sources in Habayit Hayehudi this week.
We'll meet again
On Sunday, close to midnight, at his home in Kochav Yair, it became clear to MK Shaul Mofaz that his political career, which began in the Defense Ministry near the end of the first Ariel Sharon government, was about to end. The messenger who brought the news was MK Eitan Cabel, who arrived on behalf of Zionist Camp co-head Herzog and, according to Mofaz, made him an offer he couldn't but refuse: No. 20 on the slate, with no promise of getting the defense portfolio.
It was a big comedown from the original idea: 11th place on the slate with a declaration of intent to make him defense minister. The meeting wasn't an easy one for Cabel, either. Mofaz was his commanding officer in the Paratroops, and Cabel holds him in high regard.
Mofaz is certain he knows who's behind what he sees as Herzog's rather craven and ungentlemanlike behavior: "Her." You know, the woman whose name he can barely make himself utter. The one without whose authorization Herzog doesn't make a move. She vetoed the idea, she doesn't want him by her side at the Zionist Camp helm – and she got what she wanted.
A month ago, after the merger of Labor and Hatnuah, Tzipi Livni's party, Herzog met with Mofaz at his Ramat Aviv home. He told him that the merger with Livni – a bitter rival who had ousted Mofaz as leader of Kadima – would make no difference. Mofaz was skeptical but went with the flow; that's when he was offered the 11th slot and the defense portfolio. But Mofaz said he had to join as a faction, with other people from Kadima. "If I make the leap alone, people will say I'm zigzagging again," he told Herzog.
Herzog promised to consider this, but privately thought Mofaz was out of touch with reality. Mofaz has no faction to speak of and should be grateful someone wants him, Herzog thought.
In the meantime, the Labor primary came and went successfully, and the polls looked good for Zionist Camp. But in Kadima it was business as usual: Mofaz's colleagues heaped obstacles on him en route to the Herzog-Livni party. He sank into the mire of petty party politics, and didn't notice that with each passing day his stock plunged with him.
Mofaz was sorry Herzog didn't call or meet with him to make the final offer; the next morning Mofaz told Cabel nyet. Within less than half an hour, Herzog's bureau announced that he and Livni would hold a press conference a few hours later to announce that Maj. Gen. (res.) Amos Yadlin was Zionist Camp's nominee for defense minister.
"There are some basic codes in human relations that should be maintained even under great pressure," Mofaz said this week in private conversations. "I know it was her. But I'm not surprised. I have served the country for almost 50 years, since the age of 18. I thought I'd be able to continue. Never mind, it's possible take a break. We'll wait for the next round." Tell us another one.
By the way, Livni's aides vehemently deny that she had anything to do with the Mofaz episode. On the contrary: She wanted to help Herzog, left the decision to him, and even agreed to "make concessions" to allow Mofaz to join the slate.
Insurance policy
"I'll go right, you go left, and good luck to both of us." With those words, more or less, Moshe Kahlon concluded his midweek meeting with Yair Lapid. It was the end of an intensive, lengthy courtship conducted by the head of the Yesh Atid party in an effort to snag the leader of the new Kulanu party and get them to run on a joint ticket.
Throughout, Kahlon was reserved and Lapid ardent. The basic approach of each of them did not change when the former's campaign got off to a rocky start and the latter soared in the polls. On the face of it, Lapid's surprising rebound should have convinced him to lay off a little, just as Kahlon's weakness should have been an incentive for him to be more receptive to Lapid's overtures.
Lapid brandished a poll showing a potential combined total of 27 seats, and proposed a "joint leadership" in the Herzog-Livni style. Kahlon declined. He says he wants to be "clean," to follow his own path and make good on his promises. A merger would tarnish him, turn the Kahlon concept into something technical, petty politics. Even if the polls gave him eight or nine seats, they were his and only his. "I represent people who are truly hurting," Kahlon says, from which one can infer what he really thinks about Yesh Atid and its leader.
Why is the union so critical for Lapid? Why is he projecting a lack of self-confidence? The explanation is as simple as it is obvious: He is apprehensive, and rightly so, that with 10 or 12 Knesset seats, his place in the next government is far from a sure thing. In the event of a Netanyahu-led government, the only way Lapid will enter is on the guest list.
Moreover, even if Herzog somehow manages to form a government, at the moment of truth, he might well prefer the ultra-Orthodox over Yesh Atid. Lapid is toxic, radioactive. The Ashkenazim, United Torah Judaism, have already asserted that, on the instruction of their rabbis, they will not sit with the former finance minister at the government table. If Lapid could corral Kahlon, that would be an insurance policy for him, a ticket into the next coalition. But what would Kahlon get from the match? A millstone. No wonder he said "No, thanks."
Sad but true
The leaders of the three right-wing parties lost no time in reacting to the terrorist attack on a Tel Aviv bus on Wednesday. The most moderate response came from Netanyahu; he blamed Palestinian Authority and Hamas incitement. Then came Bennett, who singled out Palestinian President Mahmoud Abbas as a "terrorist" who bore direct responsibility for the incident. The most extreme reaction came from Foreign Minister Avigdor Lieberman, who blamed not only Abbas but also Hamas' Ismail Haniyeh; Ra'ad Salah, the Islamic Movement leader in Israel; and MKs Ahmed Tibi and Haneen Zoabi.
It's the same old tune: Lieberman lashing out furiously at the Arab MKs during an election campaign. He seems to believe that he will gain something from this behavior, at least in the short term.
He may be right. This week he presented his new, sad Yisrael Beiteinu slate. Why sad? Because when top-notch people like Yitzhak Aharonovitch, Yair Shamir and Uzi Landau quit, and are replaced by the likes of former journalist Sharon Gal and 24-year-old Shira Mistrial, head of the student union at Ariel University, with her racist, infantile Facebook posts of four years ago – even the cynics among us are entitled to feel a bit of grief and agony over our politics.
I asked Lieberman whether he hadn't tried, as in the past, to bring in people of the same quality as those who left, to give the ticket a more respectable look, and whether his efforts had perhaps failed because of the corruption investigation that has pegged many from his party as suspects.
"Usually people contact us, but this time it didn't happen," he replied with honesty.
Minor miracle
People familiar with the ponderous management, lack of orientation and confusion in Zionist Camp's campaign headquarters, where only two people – Herzog and Livni – make all the decisions, say that the fact that the party is looking stronger in the polls even without a campaign, message or strategy, is little short of a miracle.
This week, the staff released its first Internet clip aimed at rebuffing the quite effective negative campaign being run against its leading members by Habayit Hayehudi. Forget humor. Forget modern. Forget cool. Forget the 21st century. Besides the fact that the Zionist Camp clip, titled "What Zionism Is," is an admission that the ad people of Habayit Hayehudi have succeeded in extracting the two-headed party from its stoic equanimity – it could be considered an homage to what we used to see on Educational TV in the 1970s.
What we see is civics teacher Isaac and pedagogue Tzipora and substitute teachers Stav and Merav, Eitan and Omer, Erel and Itzik, all looking grimly serious and, with a huge national flag waving in the background, explaining to online surfers what Zionism is: reserve duty, education, safeguarding of public funds, settling in Lod, and many more good deeds, plus a little Declaration of Independence.
Get ready, kids, tomorrow there'll be a surprise quiz.
Click the alert icon to follow topics:
ICYMI
Ken Burns' Brilliant 'The U.S. and the Holocaust' Has Only One Problem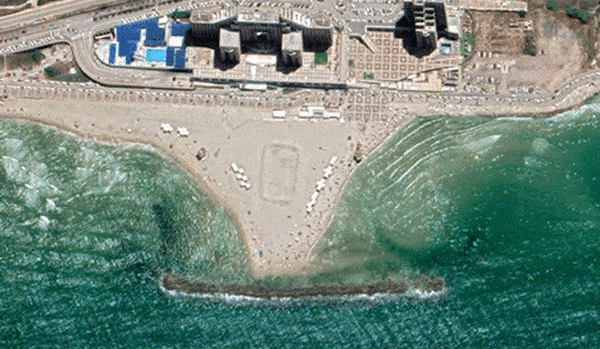 Facing Rapid Rise in Sea Levels, Israel Could Lose Large Parts of Its Coastline by 2050
As Israel Reins in Its Cyberarms Industry, an Ex-intel Officer Is Building a New Empire
How the Queen's Death Changes British Jewry's Most Distinctive Prayer
Chile Community Leaders 'Horrified' by Treatment of Israeli Envoy
Over 120 Countries, but Never Israel: Queen Elizabeth II's Unofficial Boycott