Will Israeli Expats Return to Vote in March?
Those who will make the trip feel the election is critically important, regardless of flight cost.
Finance Minister Yair Lapid, left, with Prime Minister Benjamin Netanyahu at a recent cabinet meeting.
NEW YORK – Kobi Cohen and his wife have been bickering: He wants to go back to Israel to vote in the upcoming election and she thinks it's a waste of money that the couple can ill afford.
Kobi, an operations manager for a logistics company in New Jersey, plans to make a brief visit so he can cast his vote in the March 17 contest.
He and many other Israelis in the U.S. see the vote as a chance to replace Prime Minister Benjamin Netanyahu with someone who might be willing to work on a peace deal.
"In the last elections I didn't think there was a chance to beat the conservative side, and I couldn't afford it, so I didn't go," said Cohen, who is originally from Jerusalem and has lived here for four years. "Now I can, and I truly think there is a good chance of getting Israel a little back on track."
Cohen and his wife live in the Washington Heights neighborhood of Upper Manhattan. He says he moved to the U.S. "purely for economic reasons."
He plans to vote for Yitzhak Herzog, the head of the Labor Party, who "is a good manager and has a good chance of becoming prime minister.
"It's worth giving him the chance," Cohen said, adding, "It's better than keeping Bibi and Bennett and all of that gang over there."
More than a dozen Israeli citizens who live in the U.S., spanning the political spectrum, agreed on one thing: They are voting because they want to get Netanyahu out of office.
For Yakov Naim, though, the only person to really consider is Netanyahu. The Lod native, who has lived in the U.S. for a dozen years, works as a real-estate investor. "My family is always Likud," said Naim.
"I like the way he represents Israel all over the world; he's a very strong character, [a] very good talker," said Naim, who lives in Roslyn Heights on New York's Long Island.
"I was thinking to go Bennett, but Bennett is not that strong, absolutely not ready to be prime minister.
"With everything going on in Israel right now, in Gaza, in Syria, in Europe, Bibi is the way to go. He is very strong. I like the way he talks. He says 'this is what it is, accept it or not.' He's no-nonsense."
While Naim says he is concerned about economic issues, and that in Israel "the rich are getting richer and the middle class getting poorer," he also said that "for the safety of the people in Israel, I will choose Bibi. That's the most important thing for me."
Others interviewed say they aren't going back to vote because they can't afford the trip.
Avital Burg, an artist living in Greenpoint, Brooklyn, wants to vote but at current prices can't afford to, she told Haaretz.
Avital Burg
"I have to choose. If I go I can only for two days and can't see my family, then I can't go for Passover," said Burg, who also teaches art and is preparing a show of her paintings in a Greenpoint gallery.
"Usually I go once a year, I can't really afford going more than that."
A daughter of former Knesset Speaker Avraham Burg, she is aligned with Hadash, as her father is now. Even though the small party is not likely to win many Knesset seats, voting for Hadash makes an important statement, she said.
With Bennett, who chairs the national religious Habayit Hayehudi Party, "getting strong and really racist members of the Knesset getting stronger, when you're in a minority and it's shrinking, it's even more important not to abandon the cause you want to fight for," said Burg, who grew up in Tel Aviv and has lived here for four years.
"Hadash for me is super important because it's the only mixed Jewish and Arab party. The only solution [to Israel's problems] is acting together for equal rights for all."
El Al's election fares
On Tuesday, El Al will start a sale, offering discounted airfares good during the election period.
In 1999 American benefactors from the right and left wings underwrote cheap flights so Israeli citizens living here could return to vote. Ths was when incumbent Netanyahu faced Ehud Barak in the contest for prime minister, after a no-confidence vote felled the government and a peace deal with the Palestinians seemed possible. As many as 15,000 people went.
Today there are no such plans, said those previously involved, though the New-York-based Israeli organization Moatza Mekomit is currently in talks with El Al to provide group discounts, according to Moatza's chairman, Oren Heiman.
Heiman, an attorney in New York, is planning to go back to Israel to vote, though for whom he is not yet sure, he told Haaretz.
He is making the trip because "it seems like these elections have a high likelihood of changes in the right wing, and in the balance of power between right and left," Heiman said.
Representatives of the Israeli-American Council, which is based in Los Angeles and has branches around the U.S., said that it is not political and is not organizing voters to return.
Haifa native Avi Pemper has lived in New York for 23 years and visits Israel twice a year. "My neshama [soul] is there, you know?" he told Haaretz.
Avi Pemper
But when he goes in March to cast his vote in the Knesset election, it will be just the second time he's returned specifically to vote. The first time was in 1996, when Netanyahu faced Shimon Peres soon after Prime Minister Yitzchak Rabin was murdered.
Pemper went because "I felt it was a very significant time in Israel." Now Pemper, who worked in finance for 20 years and recently finished training as a psychotherapist, feels compelled to vote because he wants Bibi out of office.
Pemper's priority is peace with the Palestinians, and since last summer's war, "I haven't really been able to disengage," said Pemper, who plans to vote for Yesh Atid's Yair Lapid.
"All of the hatred, the double standard, the BDS all around. I would love for each party to state exactly what they would do," said Pemper, who grew up in Haifa and now lives in the Gramercy Park section of Manhattan. "I want Bougie (Herzog) and Livni and Bibi and Lapid to say exactly how far they are willing to go" for peace. "I want the world to understand that."
Steven M. Cohen is definitely going back to Israel to vote, as the American born dual citizen has done for each election since making aliyah in 1992.
"My heart is in the east although sometimes I'm in the west," said Cohen, who is a research professor of Jewish social policy at the Reform movement's Hebrew Union College-Jewish Institute of Religion in Manhattan, and for 14 years after making aliyah taught at the Hebrew University of Jerusalem.
"It's part of my minhag [religious custom] to go back" to vote, said Cohen, who lives on the Upper West Side and in the Talbiya neighborhood of Jerusalem, and goes to Israel about six times a year.
He plans to vote for Labor, as he has in every election but the last, when he voted Meretz: "I vote primarily on the Palestinian question. In this election Herzog and Livni clearly see the Palestinian issue as one of supreme importance, as does the Bibi-Bennett coalition."
Few people he knows are planning to vote in Israel, which does not have absentee voting except for diplomats stationed abroad.
Lisa Goldman isn't planning to return. A citizen of both Canada and Israel now resident in Brooklyn, Goldman says she thought about going to vote and mentioned it to a few Israeli friends. "They all laughed at me and said 'why bother?'
"There doesn't seem to be any hope there will be a shift. Netanyahu is the bargain striker, knows the system and will lead the coalition," said Goldman, who became an Israeli citizen in 1990 and works as director of the Israel-Palestine Initiative at the New America Foundation in Manhattan.
"There's just an overwhelming sense of a tragic disenchantment. There's a sense that the situation is beyond repair."
Steve Cohen argues that those who want to see Israel reach a peace agreement with the Palestinians - which is the central issue cited by every person interviewed - must vote in the March election.
"To be defeated is a misreading of history. History is full of the unpredictable," Cohen said. "If we determine that there's no chance of getting Palestinian agreement with what we see as a reasonable peace settlement, we have to move unilaterally.
"How we move unilaterally will be determined by who's in power. We can't sustain increasing international isolation and increasing tension with the Palestinians. They have no hope and they will attack us again unless we make some big moves. Everybody understands that."
A technologist's take on the election
S. Daniel Leon is an Israeli-born dual citizen who splits his time between Fort Lee, New Jersey, and Tel Aviv. Though he will just have been in Silicon Valley to raise more capital for his tech startup, Leon is going back to Israel for a brief visit specifically to vote.
"This is a more important election than others, no doubt," said Leon, who is CEO of Atlis, a search engine that will launch in April, and describes himself as liberal on social issues like gay rights and conservative on economic ones.
He has, he says, voted Republican since becoming a U.S. citizen in 2008 and he supports Aipac, the Washington-based Jewish advocate.
The issues are "Israel's standing in the world, Iran, then obviously the Israeli-Palestinian conflict," he says. "It's frightening. The world is very close to considering this country a pariah. If we don't take our fate into our own hands some very bad things may happen."
He's conflicted about for whom to vote. "I'm definitely undecided. It's weighing heavily on me because it's coming down to a lesser-of-two-evils decision," Leon said.
"I'm looking for one party that is non-religious, more liberal on social issues, strong on defense and public diplomacy, a party that can confront the current situation and not think that just by merely by talking to the other side, which has proven time and time again that it's not willing [to reach a peace deal], that will solve the conflict.
"I'm left with some pretty bad choices," Leon says. "I hope for a strong unity government that can sustain where Israel is headed and confront many of these challenges."
Steve Goldberg, a Los Angeles lawyer who became an Israeli citizen last April, is going in March to cast his first vote in an election there.
"I'm a one-issue guy," he says. He describes himself as "entirely secular" and "pretty liberal" on economic and social issues like gay marriage, abortion rights and universal health care.
"But on Israel specifically and foreign policy in general I'm more hawkish," said Goldberg, who was a longtime Democrat in the U.S but became a Republican after September 11, 2001.
Goldberg was national vice chairman of the Zionist Organization of America until its recent elections, in which he unsuccessfully ran for president in an effort to unseat Mort Klein.
He is a member of the executive board of World Likud and a member of the international board of governors at Ariel University in the West Bank, as well as of the Extended Executive of WZO.
Goldberg intends to vote for Bennett: "He is the clearest that he would be opposed to a two-state solution permanently. I see Bennett as the only one running for prime minister who is willing to say there has to be another way. Netanyahu has waffled. No one really knows what his ultimate intentions are."
Brooklyn's Goldman says that if she finds a really cheap ticket to go back to Israel, she may go because she loves being in Israel for an election.
"They always give me a delightful frisson of having agency," Goldman told Haaretz. "Everyone's off work, school's out, offices are closed, government bodies are all closed, everyone's hanging out in cafes and drinking cappuccino. There's always interesting political talk.
"There's a big scene at Kikar Rabin where every single party, the Green Party, the Green Grass Party for marijuana smokers, the Ethiopian Party, is out there hawking their platform. You end up having pretty interesting conversations."
Click the alert icon to follow topics:
ICYMI
Ken Burns' Brilliant 'The U.S. and the Holocaust' Has Only One Problem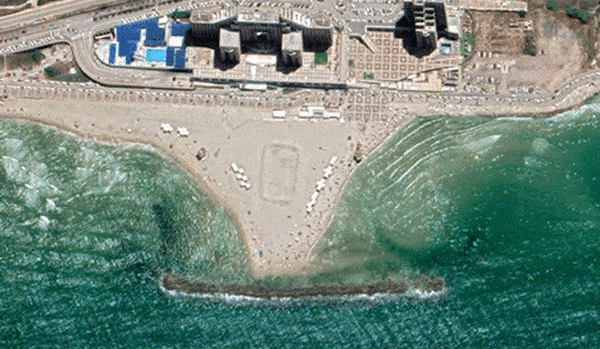 Facing Rapid Rise in Sea Levels, Israel Could Lose Large Parts of Its Coastline by 2050
As Israel Reins in Its Cyberarms Industry, an Ex-intel Officer Is Building a New Empire
How the Queen's Death Changes British Jewry's Most Distinctive Prayer
Chile Community Leaders 'Horrified' by Treatment of Israeli Envoy
Over 120 Countries, but Never Israel: Queen Elizabeth II's Unofficial Boycott