Making Money Under Fire on the Gaza Border
Despite six war-torn years out of the past 14, Kibbutz Kfar Aza on the Gazan border has still managed to spawn several business success stories – just ask Mick Jagger and Lady Gaga.
Lady Gaga performs in Tel Aviv, Sept. 13, 2014.
Credit: Shuka Cohen
Night falls on Kibbutz Kfar Aza. Birds chirp softly and the fields lay still as the sun slips below the horizon. Then an army jeep shatters the quiet, reminding us that just over two month ago, this area was at war.
When missiles are raining down, businesses tend to shut. Yet, perhaps surprisingly, some are still doing really well. Kibbutz Kfar Aza runs a factory called Kafrit Industries that turns over 700 million shekels ($184 million) a year selling compounds and masterbatches for the plastics industry. Kafrit has subsidiaries around the world.
Also operating from the privatized kibbutz is Sincopa, Israel's biggest amplification and lighting company – without it, concerts by The Rolling Stones or Lady Gaga would look very different. The kibbutz also sports some small businesses, like a seafood restaurant.
It may sound surprising that profitable business is being done just a few kilometers from Gaza, especially when, over the last 14 years, six were especially rough ones, incessantly wracked by violence, leaving the kibbutz members on edge and some with a sleeping pill habit. Yet the kibbutz members seem optimistic.
Take Zoli Gyongyosi, who's married to a kibbutz member and opened a restaurant, Sins, a year ago at the Shaar Hanegev intersection. In the last year it had to shut down for two and a half months because of the fighting. Gyongyosi figures he lost 180,000 shekels in revenue and had to cover costs out of his own pocket. He hasn't gotten any compensation, at least not yet. Turnover at the restaurant hasn't returned to prewar levels, but he's optimistic. In the restaurant business, he says, nobody makes money during their first year anyway. It certainly didn't help that he had to close down throughout the summer, but they'll be fine – unless, of course, there's another war.
Actually, with the war over, life has become more complicated for Sincopa CEO Amos Bokobza, who founded the company in 2002. After two months of paralysis, now everybody's putting on shows at the same time and his company is scurrying like mad to supply lighting and amplification to everybody. He's even been reduced to hiring subpar temps, and his profit margins have vanished. "The madness after war doesn't compensate for the losses of war," says Bokobza. "Two months wiped out half a year."
Sincopa, which started as a local business providing lighting for shows on the kibbutz, now has 22 employees and hires more help when needed. Bokobza had thought this would be Sincopa's breakthrough year, as it started providing lighting and sound for foreign artists appearing in Israel and after investing 6 million shekels in cutting-edge equipment. But everything ground to a halt in July as Operation Protective Edge began. The company continued to pay salaries to workers during the moribund months, he points out, and estimates Sincopa lost 2.5 million shekels during the 50-day war. If they previously thought to return the investment in three years, now he figures it will take five.
Lady Gaga's performance in Tel Aviv was, quite literally, the point of light for the company, Bokobza says. "We were afraid that international artists would cancel, but she came and proved that it's business as usual."
The company also did the lighting and sound for The Rolling Stones at Park Hayarkon, he adds. "Who could ask for more?"
If the siren goes off
The keystone of business in the kibbutz is Kafrit, which makes precursors – compounds and masterbatches – for plastic. Founded in 1973 to make plastic sheeting for cables manufactured by Zion Cables for the Israel Electric Corporation, today Kafrit is a multinational with subsidiaries in China, Germany, and Canada. It floated stock in 1993, but the kibbutz members retain 78% of its shares.
While interviewing CEO Nadav Goldstein, missile alerts went off three times in the next-door moshav of Netiv Ha'asara. Goldstein continues to talk, though visibly pales. "Everything's going to grind to a halt again," he says. "People call home, parents get stressed over whether the school is going to send the kids home or not, and I have to wonder whether to shift the company to emergency mode again. If the siren goes off here, you run after me. Is that clear?"
In central Israel, the CEO wouldn't have to decide to put millions of shekels into protective shielding rather than, say, marketing. But Kafrit is situated right by Gaza.
"Operation Protective Edge was a wake-up call," says Goldstein. "For 14 years we just lived with it, running to the bomb shelters. This time around, people realized this is absurd, that you can't live this way."
Some people have taken to tranquilizers, he says. Yet the plant soldiered on, running at 98%, if not 100%, under fire.
"We have two concerns: business continuity, with minimal danger to life," he says. "Some 60 to 70 of the plant's workers were told to work from home, so they wouldn't have to take the roads. Instead of three shifts, we instituted two long ones, to reduce traffic to and from the plant. People who came to work received incentive bonuses and only worked in protected areas that had telecommunications means."
During the war the plant ordered extra shielding that set it back 150,000 shekels. Over the years Kafrit has spent millions on shielding, the CEO says. Obviously, as the company invests in protection rather than efficiency measures, productivity suffers.
The company exports 55% of its products. Israelis know, but its international clients don't, what their supplier goes through, and Kafrit doesn't see any reason to whine on their shoulders ("Nobody wants to make the buyer think twice"). It sure didn't help that, on top of the missile threat, Ashdod Port workers were on strike as Operation Protective Edge began.
Eventually, Kafrit should get several million shekels in compensation from the government. So far, it's received half a million.
Mortar shell on the gallery
Kafrit suffered indirect damage from the war. However, the gallery Shosh Segev Ofek runs at the kibbutz – with a large display room and workshop – wasn't so fortunate. On the second day of the war, a mortar shell hit the workshop, blowing off its roof and punching holes in the walls. Luckily, it was empty at the time. Since the roof had been made of asbestos, Segev Ofek was forbidden to enter the premises until the Environmental Protection Ministry cleared it. Consequently, she wasn't able to take part in fairs held around Israel on behalf of the border towns.
She estimates the damage to the gallery at 300,000 shekels – no trivial matter for a small business – but there's other fallout aside from asbestos dust. Her daughter was supposed to return to the kibbutz (from central Israel), and is now rethinking the move.
At least her gallery is a kibbutz business and is spared costs like rent and local tax, but it had to close down for about three months and left Segev Ofek in the red. Also, regarding compensation, it's hard to nail down figures for artworks damaged by war, she says.
She has an appointment with potential donors soon and takes out her diary. A shard from the shell had torn through it. She eyes it thoughtfully and looks at the shattered roof and holes in the walls. "I'm staying here. I'm not going anywhere," she states.
Not playing the victim
Kibbutz secretary Tikva Tenenbaum doesn't sweat the direct damage: The Tax Authority sends an assessor, the damage gets repaired, and everybody moves on. "The problem is what's hard to quantify. Education, for instance. The moment parents in the region decide not to send the kids to our schools, we lose support from the Education Ministry."
Pleas for help are made with the utmost caution, Tenenbaum says. "Part of the struggle is not to create an image of victimhood, because we want to attract new people to the region – and nobody will want to come to a place of victims."
Tax breaks alone won't do the trick either, she adds. "Nobody's going to come for the cheap housing if they think they're risking their lives." Nor does anybody need to beg: people work and make a living.
To really attract new people, she feels – and there are people who do want to live there – the threat has to be lifted. And for that, the state has to help. "The real frustration is knowing that, if not for the security threat, people would be standing in line to live here," she avers.
In September, the cabinet approved 1.3 billion shekels for the development of rocket-stricken Sderot and the towns by Gaza, over four years – from now to 2018. Netanyahu declared it the "biggest investment the State of Israel has ever made in the region."
Tenenbaum feels it's inadequate to the region's needs and, in any case, that promise isn't going to solve the area's fundamental problems. But still, it's a start.
Click the alert icon to follow topics:
ICYMI
Ken Burns' Brilliant 'The U.S. and the Holocaust' Has Only One Problem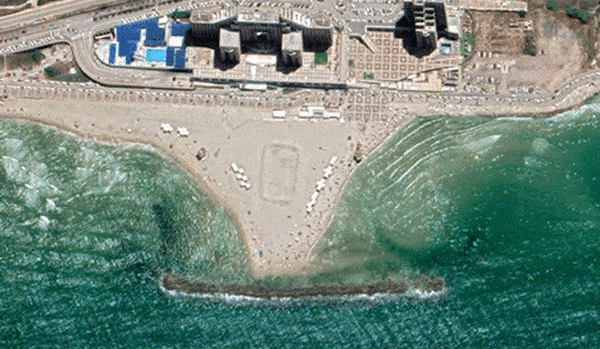 Facing Rapid Rise in Sea Levels, Israel Could Lose Large Parts of Its Coastline by 2050
As Israel Reins in Its Cyberarms Industry, an Ex-intel Officer Is Building a New Empire
How the Queen's Death Changes British Jewry's Most Distinctive Prayer
Chile Community Leaders 'Horrified' by Treatment of Israeli Envoy
Over 120 Countries, but Never Israel: Queen Elizabeth II's Unofficial Boycott