Middle East Updates Obama Plans New Authorization for Military Force Against ISIS
Bomb kills 2 policemen on train north of Cairo; At least 11 children killed in mortar fire on Syria school; U.S., France cite concerns about Iran nuclear talks; Lebanon lawmakers extend term to 2017 amid protest.
Smoke rises after an airstrike in the city of Kobani, as seen from the south eastern border village of Mursitpinar, Sanliurfa province, on Nov. 5, 2014.
Credit: AFP
Haaretz's latest Middle East analyses and opinions: Rivalries in Kobani play into hands of ISIS | In Egypt's fight against terror, it's the anti-terror Bedouin who suffer most.
SUBSCRIBE TO HAARETZ
Click here for Tuesday's updates
Latest updates:
11:19 P.M. Bomb kills 2 policemen on train north of Cairo
A bomb planted in a train killed two Egyptian policemen and wounded 11 other people when it exploded at a station in the Nile Delta province of Menufia late on Wednesday, state television said.
There was no immediate claim of responsibility for Wednesday's attack. (Reuters)
10:15 P.M. Obama plans new authorization for military force against ISIS
In a live address following U.S. midterm elections, President Barack Obama said on Wednesday he would begin working with Congress on a new authorization for use of military force against Islamic State militants in Iraq and Syria. (Reuters)
9:35 P.M. Trial opens in Germany of accused ISIS supporter
A man accused of fighting for the Islamic State militant group said Wednesday on the opening day of his trial in Germany that he was motivated to join the jihadists because members of his family had been persecuted by the Syrian regime.
"My family was traumatized," the defendant, identified only as Ismail I under German privacy laws, told the court.
The 24-year-old son of Syrian and Lebanese parents who moved to Germany in the early 1990s is the main defendant in the trial that began at the Stuttgart Higher Regional Court in south-west Germany.
Prosecutors said Ismail I along with an older brother and another co-defendant were members of the Sunni extremist group that has taken over large swathes of Syria and Iraq. (DPA)
6:50 P.M. U.S. sends back Kuwaiti held at Guantanamo for over decade
A Kuwaiti citizen held at the detention centre in Guantanamo Bay since 2002 without charge has been transferred home, the US Defence Department said Wednesday. A periodic review board found that holding Fouzi Khalid Abdullah Al Awda was no longer necessary to protect US security, it said.
Al-Awda had been held at the detention centre in Cuba since 2002 without charge, after he had traveled from Kuwait to Afghanistan in 2001 allegedly to fight alongside the Taliban and Al-Qaida.
During his interrogation Al-Awda repeatedly denied any involvement with the terrorist group and, according to documents presented to the review board earlier this year, he "has not provided valuable information about Al-Qaida operations."
The review board concluded that "continued law of war detention of Al-Awda does not remain necessary to protect against a continuing significant threat to the security of the United States." (DPA)
5:23 P.M. Gunmen attack military bus in Tunisia, kill three
Tunisia's Defense Ministry says gunmen have attacked a bus carrying soldiers and their families in the mountainous northwest region, killing three service members and wounding 12 people.
Ministry spokesman Rachid Bouhoula said the attack took place Wednesday near El-Kef, part of the rugged border region with Algeria. It wasn't immediately known if the wounded included civilians.
In Tunisia many soldiers live with families on bases with their own transportation networks between towns.
Al-Qaida-linked extremist groups are believed to be hiding out in these border regions and have mounted several attacks against soldiers. (AP)
4:36 P.M. U.S., France cite concerns about Iran nuclear talks
The top diplomats for France and the United States are urging Iran to prove that its nuclear program is peaceful, as time runs out on Tehran's negotiations with world powers.
U.S. Secretary of State John Kerry and French Foreign Minister Laurent Fabius maintained Wednesday that Iran has the right to generate nuclear power - but not enough to create a bomb.
Kerry will meet this weekend with top diplomats from Iran and the European Union in the latest turn of years of negotiations to curb Tehran's nuclear program. Crippling sanctions on Iran's economy has pushed the Islamic republic toward an agreement but ongoing talks are set to expire later this month.
Kerry says it should be "easy" for Iran to prove that its nuclear program is peaceful. (AP)
4:00 P.M. U.K to send more army trainers to Iraq to help fight ISIS
Britain will boost the number of its army trainers in Iraq in the coming weeks to support the Iraqi armed forces' battle against Islamic State militants, the British defense secretary said on a visit to Baghdad on Wednesday.
Britain said last month it had deployed a team of trainers to Iraq to help Kurdish peshmerga fighters maintain and use heavy machineguns against the ultra-radical militants which have taken over large parts of Iraq and Syria. (Reuters) Read the full article
3:15 P.M. Lebanon lawmakers extend term to 2017 amid protest
Lebanese lawmakers voted overwhelmingly Wednesday to extend their mandate by another two years and seven months, skipping scheduled elections for the second consecutive time amid deteriorating security conditions in the country.
The vote now gives parliament eight full years in power— double its allowed mandate — to June 2017. Ninety-five lawmakers among those who showed up voted in favor of the extension, while two opposed.
The decision came despite a boycott by two major Christian parties. A small group of protesters blocked roads to Lebanon's parliament in a last-ditch attempt to halt the session, hurling tomatoes at lawmakers' passing cars in downtown Beirut. (AP)
2:03 P.M. At least 11 children killed in mortar fire on Syria school
At least 11 children were killed after mortars crashed into their school in a rebel-held town east of Damascus, said local activists.
The children of the Haya School in the town of Qaboun were struck by three mortars, said a local activist who uses the name Abu Akram al-Shami. Another local activist, Amar al-Hassan, based near Damascus, also confirmed the incident, as did Rami Abdurrahman of the Britain-based Syrian Observatory For Human Rights.
Video uploaded of the incident showed at least five boys bloodied and lying lifeless on the ground of what appeared to a medical faculty. The video appeared genuine and corresponded to Associated Press reporting of the incident. (AP)
1:54 P.M. U.S. slams human rights situation in Egypt at UN meeting
The United States and other countries on Wednesday slammed the human rights situation in Egypt at a United Nations meeting reviewing the country's record for the first time since the 2011 ouster of longtime autocrat Hosni Mubarak.
The blistering criticism came as human rights groups said that conditions in Egypt have worsened in recent years, rather than improved, and warned that their work to highlight abuses is becoming increasingly difficult.
"We are deeply concerned with steps taken by Egypt that have resulted in violations of freedoms of expression, peaceful assembly and association, deprived thousands of Egyptians of fair trial guarantees, and undermined civil society's role in the country," U.S. Ambassador Keith Harper told the Geneva-based U.N. Human Rights Council.
Harper called for the release of political prisoners and urged Egypt to "investigate excessive use of force by security forces, publicly release findings, and prosecute those identified as being responsible." Hundreds of protesters were killed during clashes with security forces under the transitional military leadership after the popular uprising that toppled Mubarak, as well as since the first democratically elected president, Mohammed Morsi, took office in 2012. (AP)
11:27 A.M. Lebanon's parliament attempts to extend its own term in office by more than two years
Lebanon's parliament is attempting to extend its own term in office by more than two years. But a group of protesters is trying to stop it.
Demonstrators on Wednesday blocked roads leading to the parliament and threw tomatoes at lawmakers' cars. They were held back by security forces and the vote was expected to continue.
The parliamentarians claim they need to extend their own mandate because Lebanon's security situation is too dire to allow holding elections.
The extension is likely to pass despite opposition by most Christian parties. It would grant the parliament another two years and seven months in power.
If passed, it would be the second time parliamentarians extend their own terms, giving them a full eight years in power— double their allowed mandate. (AP)
10:24 A.M. At least 16 people, mostly children, killed in Egypt school bus crash
At least 16 people, mostly children, were killed on Wednesday when a school bus crashed into three other vehicles on a desert road in the Nile Delta north of Cairo, state television said.
Photos published online by privately-owned news outlets showed the bus engulfed in flames and later reduced to a charred metal frame, suggesting many of the victims were burned alive.
Eighteen people were also wounded in the crash and transported to hospital, a local health ministry official told Reuters.
Wednesday's accident came less than a month after 30 people died in a bus crash in southern Egypt. Hundreds die and thousands are wounded every year in Egyptian road accidents, often caused by reckless driving and poor roads. (Reuters)
7:33 A.M. Senior Al-Qaida official killed by U.S. drone strike in Yemen
A senior Al-Qaida official wanted by the United States and a local leader of the militant group's affiliate, Ansar al-Sharia, were killed in a drone strike in central Yemen overnight, tribal sources said on Wednesday.
Nabil al-Dahab, leader of Ansar al-Sharia in Yemen's al-Bayda province, was killed along with four other al Qaeda members, including Shawki al-Badani, the sources said. Badani is a leader of al Qaeda in the Arabian Peninsula who is wanted by the United States.
The U.S. State Department has designated Badani as a "global terrorist" and said he was linked to at least two plots against the U.S. embassy in Sanaa and a 2012 suicide bombing in the Yemeni capital that killed more than 100 soldiers. (Reuters)
2:43 A.M. New Zealand won't send troops to fight Islamic State in Iraq
New Zealand said Wednesday it would not send combat troops to Iraq to directly fight the Islamic State group but it could send military personnel to help train Iraqi forces behind the front lines.
Prime Minister John Key made the comments during a speech on national security in which he addressed the Pacific Island nation's response to the threat posed by the extremist group.
He said government agencies have a watch list of between 30 and 40 New Zealanders who are engaged in extremist behavior.
He said some have traveled to Syria to participate in fighting, others have tried but have had their passports canceled, while others are funding terrorism. He said a further 30 to 40 people who weren't on the watch list needed further investigation. (AP)
ICYMI
Ken Burns' Brilliant 'The U.S. and the Holocaust' Has Only One Problem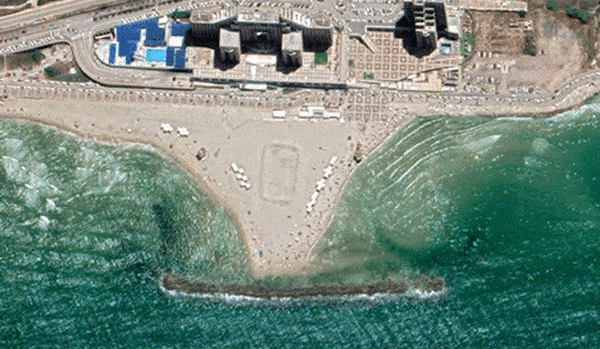 Facing Rapid Rise in Sea Levels, Israel Could Lose Large Parts of Its Coastline by 2050
Lapid to Haaretz: 'I Have Learned to Respect the Left'
The Mossad's Fateful 48 Hours Before the Yom Kippur War
As Israel Reins in Its Cyberarms Industry, an Ex-intel Officer Is Building a New Empire
How the Queen's Death Changes British Jewry's Most Distinctive Prayer