Latest Updates Australia Stops Processing Visas From West African Nations Affected by Ebola
EU wants massive increase in staff to fight Ebola; UN: Governments must not deter Ebola workers, quarantine must be rational; new Jersey releasing quarantined nurse; 10 contacts of Ebola nurse leave Madrid hospital.
New York Governor Andrew Cuomo, center, speaks at a news conference, Friday, Oct. 24, 2014 in New York.
Credit: AP
Latest in-depth reporting from Haaretz: Ebola and us: Why fear is something to fear itself (David Rosenberg) | Is climate change to blame for the Ebola outbreak? (Ruth Schuster) | As Ebola spreads: Scientists working on new drugs to treat viruses (Asaf Shtull-Trauring) | Israelis on the front lines of Ebola (Ido Efrati)
Click here for Sunday's updates on the Ebola outbreak
11:29 P.M. Australia stops processing visas from West African nations affected by Ebola
Australia has stopped processing humanitarian and immigration visas from West African nations affected by the Ebola outbreak, a move to help prevent the deadly disease reaching the country, Immigration Minister Scott Morrison said.
Australia has not recorded a case of Ebola but has had a number of scares, including an 18-year-old West African woman who tested negative on Monday.
"The government has strong controls for the entry of persons to Australia under our immigration program from West Africa," Morrison told parliament on Monday.
"These measures include temporarily suspending our immigration program, including our humanitarian program from Ebola-affected countries, and this means we are not processing any application from these affected countries."
All non-permanent or temporary visas were being cancelled and permanent visa holders who had not yet arrived in Australia will be required to submit to a 21-day quarantine period, he added. (Reuters)
8:42 P.M. Member of Cuban Ebola mission dies of malaria
Cuba says a member of a medical team it sent to fight Ebola in West Africa has died of malaria.
According to state newspaper Granma, Jorge Juan Guerra Rodriguez, 60, died in Guinea on Oct. 26 from cerebral malaria, a complication of the parasitic infection that severely and sometimes fatally damages the brain.
The newspaper said two tests for Ebola turned up no sign of the disease.
Cuba sent 165 medical workers to Sierra Leone this month, followed by a second group of 83 who went to Guinea and Liberia last week. Guerra, who the newspaper said was trained as an economist, was a member of the advance team sent to Africa before the doctors were dispatched. (AP)
7:33 P.M. EU wants massive increase in staff to fight Ebola
The European Union's newly appointed Ebola coordinator on Monday said fresh EU funds should be used to finance a vast increase in health staff and hospital beds to treat patients in West Africa.
The EU's "Ebola Czar" Christos Stylianides insisted that the number of overall beds in the region needed to increase "from 1,000 at present to 5,000 as soon as possible" while some 40,000 staffers needed to be mobilized to set up and keep field hospitals working.
Stylianides said that overall so far 244 health workers had died from a pool of 443 that had been infected by the disease as they sought to treat patients. He said that health workers "deserve all our respect and support. Their ranks need to be strengthened and protected." (AP)
7:29 P.M. UN chief: Isolate Ebola, not countries or workers
United Nations Secretary-General Ban Ki-moon says the situation for returning health workers from Ebola-affected countries is proving difficult and that the stigma against them should end.
Ban spoke Monday on a trip to Ethiopia, where he called health workers managing the Ebola outbreak in West Africa "exceptional people."
Ban said the world depends on health workers to fight Ebola, and he said to government leaders: Please do not quarantine them. (AP)
7:29 P.M. CDC to release new U.S. guidelines for returning Ebola healthcare workers
The U.S. Centers for Disease Control and Prevention will release additional guidelines later on Monday governing protocols for healthcare workers returning to the United States after treating Ebola victims in West Africa, the White House said.
White House spokesman Josh Earnest said U.S. policies needed to be guided by science and to not discourage volunteers from going to help in the countries hardest hit by the Ebola outbreak. (Reuters)
6:01 P.M. U.S. isolates soldiers after Ebola response mission in West Africa
The U.S. Army has started isolating soldiers returning from an Ebola response mission in West Africa, even though they showed no symptoms of infection and there was no incident signaling potential exposure, the Pentagon said on Monday. (Reuters)
5:32 P.M. New Jersey releasing quarantined nurse
Officials say a nurse who was quarantined after working in West Africa with Ebola patients is being released.
The New Jersey state Health Department said in a statement Monday that Kaci Hickox had been symptom-free for 24 hours and would be taken on a private carrier to Maine.
Hickox was the first person forced into a mandatory quarantine in the state, announced Friday by New Jersey Gov. Chris Christie for people arriving at Newark Liberty International Airport from three West African countries. (AP)
5:16 P.M. UN: Gov'ts must not deter Ebola workers, quarantine must be rational
Governments must avoid doing anything to deter desperately needed health workers from coming to West Africa to fight Ebola, the head of the UN mission battling the virus said on Monday, adding that quarantine decisions must not be based on hysteria.
"Decisions (on quarantine) should be based on science and fact and not hype and hysteria and decisions should be taken in a way that will promote the most rapid, effective response to the Ebola crisis in West Africa possible," Anthony Banbury, head of the UN Ebola Emergency Response Mission (UNMEER), told Reuters.
"Anything that will dissuade foreign trained personnel from coming here to West Africa and joining us on the frontline to fight the fight would be very, very unfortunate," he said in an interview. (Reuters)
3:36 P.M. Boy in N.Y. tested for Ebola
A 5-year-old boy who arrived from Guinea showed a low-grade fever and would be tested for Ebola in New York, City Health Commissioner Dr. Mary Travis said on MSNBC's "Morning Joe" program. The results will be available later on Monday, she said.
The patient was taken to Bellevue Hospital in New York City on Sunday night by emergency workers wearing protective gear after it was reported the child had a fever, the hospital said in a statement. But the patient did not actually develop a fever until Monday morning, the statement said. (Reuters)
1:54 P.M. 10 contacts of Ebola nurse leave Madrid hospital
Ten people who had contact with a Spanish nursing assistant who survived Ebola have been released from a Madrid hospital, among them the woman's husband.
A spokeswoman for Carlos III hospital says they left Monday after 21 days under observation with no symptoms. Nursing assistant Teresa Romero was cleared of the virus last week but is still being treated for aftereffects. (AP)
9:17 A.M. Australia closes door on Ebola-affected West Africa nations
Australia said Monday it has temporarily stopped processing visas for people from Ebola-affected West Africa.
The new rules would apply to Sierra Leone, Liberia and Guinea and were aimed at preventing the spread of the virus to Australia, Immigration Minister Scott Morrison told Parliament.
"These measures include temporarily suspending our immigration program, including our humanitarian program, from Ebola-affected countries, and this means we are not processing any application from these affected countries," Morrison said. (DPA)
8:23 A.M. White House presses states to end Ebola quarantine
The White House has told states that have imposed mandatory quarantines for some travelers from Ebola-hit West Africa that the policy could impede the fight against the disease, while the first health worker isolated under the rules planned to sue.
Kaci Hickox, a nurse placed in 21-day quarantine in a New Jersey hospital after returning from treating Ebola patients in Sierra Leone, will contest her quarantine in court, her attorney said on Sunday, arguing the order violates her constitutional rights.
New Jersey, New York and Illinois are imposing quarantines on anyone arriving with a high risk of having contracted Ebola in Sierra Leone, Liberia and Guinea, where the epidemic has killed nearly 5,000 people.
The White House voiced its concern to the governors of New York and New Jersey about the potential impact of quarantine orders, a senior administration official said.
"We have let the governors of New York, New Jersey, and other states know that we have concerns with the unintended consequences of policies not grounded in science may have on efforts to combat Ebola at its source in West Africa," the Obama administration official said in a statement.
Medical professionals note that Ebola is extremely difficult to catch. It is spread through direct contact with bodily fluids from an infected person and is not transmitted by people who are not showing symptoms. (Reuters)
4:00 A.M. New York governor spells out new rules on Ebola quarantine
New York Governor Andrew Cuomo on Sunday spelled out the specifics of a new policy to quarantine some people returning from Ebola-stricken West Africa, saying the state wanted to protect public safety while encouraging medical workers to go and fight against disease.
New York will ask healthcare professionals or passengers arriving in New York who had exposure to people infected with Ebola and reside in the state to stay in their homes for 21 days, the governor said at a news conference with New York City Mayor Bill de Blasio.
Those in quarantine could receive visitors and see family members during their isolation, Cuomo said. The state will make alternative arrangements for non-residents deemed to be at high risk but without symptoms.
If a person arrives from one of the affected areas with no symptoms and had no direct contact with anyone infected with the Ebola virus, the state will require twice-a-day temperature checks for 21 days, at a minimum, it said in a statement after the press conference.
The governor said New York was making no change in its policy from what was announced on Friday during a press conference with Governor Chris Christie of New Jersey, which announced the same rules.
Illinois followed suit on Saturday. That accounts for three of the five U.S. states with airports authorized to receive travelers from the three stricken West African nations. The other two, Virginia and Georgia, have yet to announce policy changes (Reuters)
Click the alert icon to follow topics:
ICYMI
Ken Burns' Brilliant 'The U.S. and the Holocaust' Has Only One Problem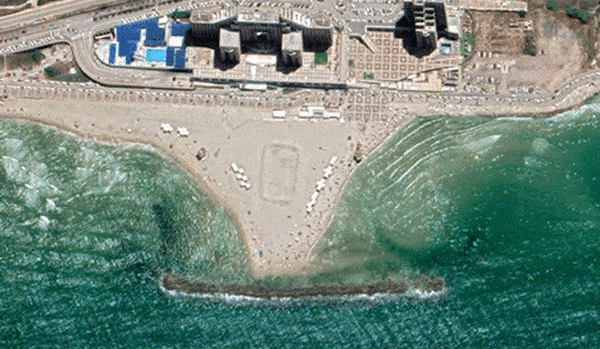 Facing Rapid Rise in Sea Levels, Israel Could Lose Large Parts of Its Coastline by 2050
Lapid to Haaretz: 'I Have Learned to Respect the Left'
The Mossad's Fateful 48 Hours Before the Yom Kippur War
As Israel Reins in Its Cyberarms Industry, an Ex-intel Officer Is Building a New Empire
How the Queen's Death Changes British Jewry's Most Distinctive Prayer