Is ultra-Orthodox Bnei Brak Truly the Israeli City That Never Sleeps?
A nighttime trip to the city east of Tel Aviv conjures up a modern sense of what the Prohibition era was like.
Bnei Berak, last month.
Credit: Tomer Appelbaum
Most secular Jews imagine the predominantly ultra-Orthodox city of Bnei Brak as a drab place that closes up and goes to sleep at 9 P.M. That's actually what its municipal leaders would like to see, but this picture bears no relationship to reality. Bnei Brak has a vibrant nightlife, and it's no accident that residents call their hometown "the real 'city that never sleeps.'"
The big night is on Thursday. Men spend the evening studying Torah in preparation for Shabbat. Then they head out, looking for food, drink and gossip until the wee small hours.
The municipality hasn't been happy about all this nighttime activity, so about 18 months ago it decided to resume enforcing an old bylaw that requires all businesses to close at 11 P.M. every evening (midnight on Thursdays).
Luckily, I chance upon the best possible guides for my tour of the city's nightlife: journalists Itay Gadasi (Kav Itonut) and Yisrael Cohen (Kikar Shabbat) and photographer Moshe Goldstein.
We meet at 11 P.M. on Rabbi Akiva Street, which Gadasi grandly terms "the Champs-Élysées of Bnei Brak," and take off in Cohen's car.
By around 3 A.M., I am exhausted – perhaps due to one too many helpings of cholent. But Gadasi is wide awake.
"It's not healthy to eat after 11; we're looking out for the residents' health," a senior municipal official told the Kikar Shabbat website, when asked to explain the decision to enforce the bylaw. "In the past, the city was lively until 4 A.M.," one municipal activist we met during our tour explains, "but then the great sages of Israel came and asked us to shut down the city at 9, so people would get up on time for [yeshiva] classes."
The decision to close at midnight was a compromise.
According to my guides, the municipality has been trying to enforce the bylaw for about a year, and even has inspectors roaming the streets to catch errant businesses. But, as with the Prohibition era in America, success has been only partial, and various ways of evading the bylaw have been devised.
Our tour began in one of the "nooks" – small, tucked-away shops that sell traditional Jewish foods. Hillel, owned by Hillel and Malka Friedman, is a local legend. A tiny, chaotic place crowded with vats of pickles, it would be hard to guess from the outside that there's a restaurant inside. The eatery is very successful, but its owners aren't considering expanding. "Bigger means worse," says Hillel.
Customers say prominent secular Jews make pilgrimages to Hillel to eat the Friedmans' cholent. When I ask for names, Friedman says, "I don't know any of them." Then he quietly hands over an envelope. Inside is a picture of entertainer Didi Harari gobbling down cholent.
Cohen and Gadasi have their eyes on their cellphones all night; they turn them off only on Shabbat. Gadasi belongs to 30 different WhatsApp groups, Cohen to 20. There's never a dull moment. A passerby photographs us at Hillel and posts the picture to a WhatsApp group; minutes later I get the picture from a Chabad friend who is traveling overseas.
From Hillel, we head for Muchan U'Mezuman, a two-story restaurant. Shortly before midnight, all the tables are taken.
"The media make people think the ultra-Orthodox never go out for entertainment," one diner says. "But people have been studying since 9 P.M., and after that, they come here."
One person explains that to get around the bylaw, customers form connections with certain restaurants that let their regulars in even after midnight, when they officially close.
The next stop is the Viznitz bakery, whose challah is famous far and wide. As a bakery, it's exempt from the curfew. About half the people waiting in line are secular. "I feel like a minority here," someone behind me says.
Near the bakery, we meet a 17-year-old Haredi teen from Kfar Chabad, a self-professed political junkie. "The nicest ministers are Gideon Sa'ar and Yair Lapid," he confides. An ultra-Orthodox Jew who supports the vociferously anti-Haredi Lapid? "He's evil, but nice," the teen responds.
My hosts say the preoccupation with WhatsApp and politics stems from a vibrant news culture. "There's no soccer in Bnei Brak, no museums, so we do news," Gadasi explains. "We read all day long what this rabbi said and why Gideon Sa'ar is resigning. They say Haredim are out of civic life here, but we're very much up on the news."
En route to our next stop, Goldstein gets some bad news. On a "people of the year" list compiled by the Hadrei Haredim website's gossip columnist, he ranked seventh among the photographers. Clearly, he should have been higher. But he brightens up after recalling one of his biggest scoops: a photo of a Haredi publisher, out running in shorts. "I received threats; they demanded that I take it down or they wouldn't buy my pictures. But I wasn't afraid," he says proudly.
At Ponevezh Yeshiva, the students are still studying. To my surprise, they welcome a Haaretz journalist warmly. "We're Haredi, but we aren't stupid," Gadasi says. "Haaretz is a high-quality paper, and precisely because it's the most secular, it interests us."
Long after midnight, my escorts stop the car near a dark, shuttered store on Rabbi Shach Street and wait. Just like in a film about Prohibition, a man emerges from the store and peers at us suspiciously. But he recognizes my hosts, one of whom whispers, "Two black beers." The man looks in both directions, runs into the store and comes out with a paper bag. He throws it in the car, takes the money and runs back inside.
The center for Bnei Brak nightlife is the Itzkowitz Synagogue on Rabbi Akiva Street, which is open round the clock. Inside, people study; outside, they talk. Thousands of people crowd into the synagogue every day.
"It's the Western Wall of Gush Dan," says sexton Yitzhak Sheinin, referring to the greater Tel Aviv area. About 50 Haredim gather around to listen to our conversation, which takes place at 2 A.M.
To circumvent the curfew, vending machines that sell almost anything have been set up opposite the synagogue. I buy an excellent soda for three shekels ($0.82). "It's packed here until 3 or 4 A.M.," someone standing in line says.
We finish the night at another restaurant, Shleikes, which opened about a month ago. Since it's located in an industrial zone, the curfew doesn't apply, so it's open until 4 A.M.
At 2:30 A.M., it is still full of Haredi high-tech workers, lawyers and political activists. "This is a VIP restaurant," says one diner, who turns out to be the owner's brother-in-law. "We want people to come here instead of going to Tel Aviv.
"This isn't a nook; hackers from the Haredi community come here," he adds, his tone implying that hackers are important people. "I want secular people to come here; women too. They shouldn't listen to what the media says about us. We want quality people. Ordinary people can't spend 52 shekels a plate."
Yaakov Vider, head of Likud's ultra-Orthodox chapter, is sitting at another table. He contributes his bit to Bnei Brak's pluralistic image by telling us how he brought gay party members to Ponevezh Yeshiva.
"They were afraid they'd throw diapers at them, but Bnei Brak is very liberal," he says. "They received them nicely, even the yeshiva heads."
Click the alert icon to follow topics:
ICYMI
Ken Burns' Brilliant 'The U.S. and the Holocaust' Has Only One Problem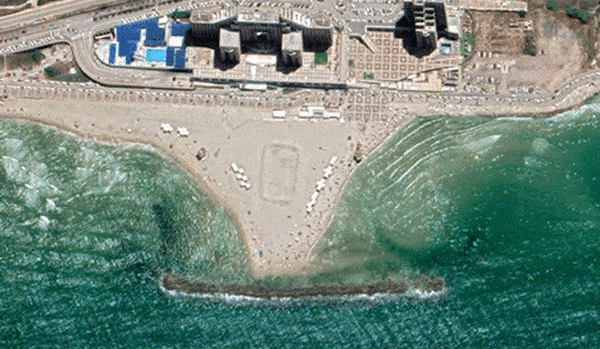 Facing Rapid Rise in Sea Levels, Israel Could Lose Large Parts of Its Coastline by 2050
As Israel Reins in Its Cyberarms Industry, an Ex-intel Officer Is Building a New Empire
How the Queen's Death Changes British Jewry's Most Distinctive Prayer
Chile Community Leaders 'Horrified' by Treatment of Israeli Envoy
Over 120 Countries, but Never Israel: Queen Elizabeth II's Unofficial Boycott