Analysis |
In Hesitating on Iraq, U.K. Exposes Its Diminishing Role in Global Affairs
Fighter jets carrying out Britain's first offensive operation against Islamic State failed to bomb targets, but did collect intelligence using Israeli technology.
Royal Air Force (RAF) Tornado GR4 fighter jets prepare to land at the Akrotiri British airbase, near the Cypriot port city of Limassol, after returning from a mission over Iraq on September 27, 2014.
Credit: AFP
LONDON - There could hardly have been a more ironic illustration of Great Britain's current status in world affairs: The two Royal Air Force Tornado fighter jets that took off on Saturday morning for the first offensive operation by British armed forces against the Islamic State group in Iraq failed to find any targets and returned to base with their entire bomb load.
The government in London has tried very hard to market the operation to the public, allowing journalists to view the would-be bombers taking off from a base in Cyprus (other countries bombing Iraq have kept a much lower profile so far). While the British entry to the fray has naturally been the main news item in the United Kingdom over the weekend, it has barely changed the nature of the war on Islamic State. American warplanes began bombing IS targets in Iraq nearly eight weeks ago, followed shortly thereafter by French Rafale fighter-bombers. Last week, the attacks were expanded to Syria, this time with the United States operating alongside aircraft from five Arab nations. Britain is just a latecomer to the war party, hardly a decisive factor and unnecessary for the international legitimacy that the Obama administration is anxiously seeking.
Effectively, Britain has been relegated to the status of Denmark, which also announced over the weekend that it is sending seven F-16 fighters to join the campaign. The United Kingdom's participation in the fight against Islamic State hardly compares to the previous wars in Iraq and Afghanistan, in which it served as America's first and closest ally, contributing more firepower (and casualties) than any other international partner. This time, Prime Minister David Cameron was much more cautious, joining the fight only after a lengthy process of consultations with senior members of the main political parties, gradually preparing the public, securing an official request from the Iraqi government to come to its aid and finally, last week, a special vote in the House of Commons authorizing bombing operations.
Cameron needn't have worried; he won the vote on Friday 524-43. But he was careful not to repeat the surprise loss of last year, which was aimed at approving retaliatory attacks against the Syrian regime that had just used chemical weapons against Syrian civilians. The government lost the Commons vote last year by a tiny margin, not only preventing British participation in the planned attack, but also making it that much harder for U.S. President Barack Obama to shore up his own support in Congress and ultimately playing a central role in convincing the U.S. president to abandon the plan.
Britain's leaders have not emerged from the trauma of last decade's Iraq War. They are daunted by the prospect of being sucked into the Syrian quagmire, and have not even tried to gauge support in parliament for such a move. And of course they are adamant that this time no ground troops will be involved. In many ways, of course, these fears are very similar to those of the Obama administration, but while America, for all the current weakness of its foreign policy, remains the world's superpower, Britain's minor role in the war against Islamic State reflects a dramatic erosion in its global standing in recent years. This time, Obama wasn't waiting for Cameron to join.
Britain actually has "boots on the ground," as does the United States in the form of military advisors working with the Iraqi army and the Kurdish Peshmerga militia and small teams of special forces locating targets and coordinating air-attacks. But officially, this doesn't count as a ground operation and the government is clinging to that line.
Ironically, the British public seems to be emerging from the trauma. While a majority opposed the planned attacks last year, the most recent polls now indicate at least two-thirds support for bombing Islamic State in Iraq, and one poll said that 52 percent would support similar operations in Syria. This is largely due to the wide publicity given to the Islamic State "beheading" videos, in which a London-accented jihadi seems to be carrying out the gory deed. In addition, multiple recent media reports of hundreds of British citizens who have gone to fight for Islamic State in Syria, some of whom may now be planning terror attacks in the country of their birth, as well as stories of mass executions and widespread sexual violence against women, have served to bring the threat home to ordinary Britons.
Anti-war groups which succeeded in bringing out over a million people to protest on the eve of the Iraq War in 2003 have so far managed to muster only about 300 protestors against this new war.
Most of the serious criticism isn't coming from those opposed to carrying out strikes in Iraq and Syria, but from those who believe the government is going about it the wrong way. At least two former commanders of the British Army, Generals Richard Dannatt and David Richards, have written this weekend that without committing ground troops and by limiting air strikes to Iraq alone, Islamic State will not be eliminated. There have also been calls for sanctions on Arab states that sponsored radical jihad groups, including from former Defense Minister Malcolm Rikfind, who said that Britain should consider sanctions on Qatar. But there is no appetite for this in London, where the banks handle tens of billions of Arab petrodollars.
The leaders themselves are unclear on how they plan to continue operations. Cameron said in an interview that Britain in his view could attack targets in Syria but he shied away from actually advocating it. In addition, Labor Party leader Ed Miliband, who could be prime minister nine months from now, said he supported America's attacks in Syria but that Britain would do so only following a United Nations resolution. However, such a resolution is unthinkable due to a certain veto by Russia. Cameron seemed to be summing up his problem when he said last week in a speech to the UN General Assembly that "past mistakes should not be an excuse for inaction. We must not be so frozen with fear that we don't do anything at all."
Cameron seems to be confronting a very similar dilemma to the one with which Prime Minister Benjamin Netanyahu was faced this summer when he was urged both by military and political leaders to launch what they claimed would be a much more effective ground offensive in Gaza, despite his misgivings over the diplomatic repercussions and casualties. Which brings to mind another nearly unnoticed ironic detail in the first (non)bombing operation over Iraq this weekend.
While the Tornado fighters failed to launch missiles, they were collecting information on potential targets in Islamic State-held areas through their Litening reconnaissance and targeting pod. The $1.4 million Litening pod, manufactured by Israel's Rafael Advanced Defense Systems company, has become an integral component in ground attacks and surveillance missions carried out by the RAF in recent years on both its Tornado and Typhoon jets. It also emphasizes the growing reliance of British armed forces on Israeli defense technology, especially in the fields of airborne surveillance; the British forces still operating in Afghanistan have been using Israeli Elbit Hermes drones for years and will expand their use as the Israeli-designed Watchkeeper WK450 drones, part of a $1.2 billion contract with Elbit, enter service.
Two months ago, at the height of the Gaza conflict, the Cameron government resisted increasing calls for embargoing British arms sales to Israel. Cameron finally had to concede to his coalition partners from the Liberal-Democrat party and it was announced that if the situation in the Gaza Strip escalated, the government would consider suspending export licenses of arms to Israel. This threat was not carried out (despite a subsequent escalation) but what the politicians in Westminster were loath to point out was that while Britain's armed forces are a major customer for Israeli military wares, blocking the relatively tiny quantity of security products Israel buys in the United Kingdom (less than $10 million annually) would have virtually no effect on the Israel Defense Forces and would have been totally farcical if put into effect. Yet another sign of how Britain's influence in world affairs has been diminished.
Click the alert icon to follow topics:
ICYMI
Ken Burns' Brilliant 'The U.S. and the Holocaust' Has Only One Problem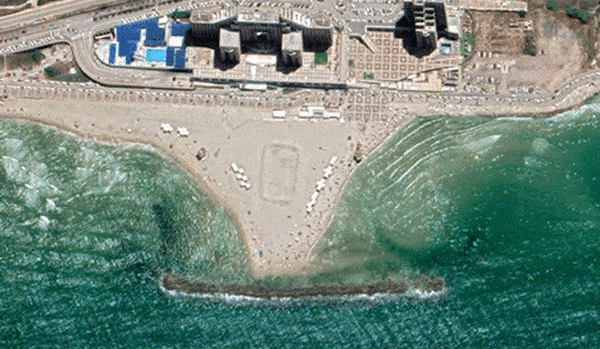 Facing Rapid Rise in Sea Levels, Israel Could Lose Large Parts of Its Coastline by 2050
As Israel Reins in Its Cyberarms Industry, an Ex-intel Officer Is Building a New Empire
How the Queen's Death Changes British Jewry's Most Distinctive Prayer
Chile Community Leaders 'Horrified' by Treatment of Israeli Envoy
Over 120 Countries, but Never Israel: Queen Elizabeth II's Unofficial Boycott