Middle East Updates 10 Arab States Pledge to Join U.S. Fight Against Islamic State
Republican lawmakers support Obama's plan; Assad meets new UN envoy to Syria, pledges cooperation; Syria warns against foreign intervention; Germany, Britain say won't take part in anti-Islamic State air strikes in Syria.
U.S. Secretary of State John Kerry talks with attendees before a meeting of the Gulf Arab region at King Abdulaziz International Airport in Jiddah, Saudi Arabia, Sept. 11, 2014.
Credit: AP
Haaretz's latest analyses and opinions on the Middle East: Obama's speech on Islamic State: He's no George Bush but not his old self either (Chemi Shalev) | Netanyahu's urgent meeting inflates danger of Islamic State (Amos Harel) | Air strikes won't defeat Islamic State (Zvi Bar'el)
SUBSCRIBE TO HAARETZ
See Wednesday's Middle East Updates
Latest updates:
1:55 A.M. The Republican leader of the U.S. House of Representatives voiced support Thursday for U.S. President Barack Obama's expanded campaign against Islamic State militants, but members of his party questioned whether the plan to rely mainly on air strikes and arming Syrian rebels was forceful enough.
House Speaker John Boehner said Obama had made a "compelling case for action" but said the president must provide Republicans with more details about his strategy. "It's important to give the president what he has asked for," he told a news conference.
Congress' Republican leaders generally supported Obama's plans but must work to unite various factions within their party, including members deeply skeptical of Obama's leadership and spending plans and others who want the United States to cut back sharply on foreign military involvement.
Boehner said Republican House members have doubts about whether Obama's plan can accomplish his mission of destroying a militant group whose fighters have killed thousands of people in recent months.
"An F-16 is not a strategy. And air strikes alone will not accomplish what we're trying to accomplish. The president's made clear that he doesn't want boots on the ground, well somebody's boots have to be on the ground," the Ohio representative said.
In a televised address on Wednesday night, the Democratic president declared he would lead an alliance to root out Islamic State, plunging the United States into two conflicts in which nearly every country in the Middle East has a stake.
The White House argued that Obama does not need Congress' formal authorization for the effort, but they want legislators' support to show a united front both against opponents and to other nations asked to become allies. (Reuters)
Thursday, September 11, 2014
22:38 P.M. Dozens of activists demonstrated Thursday in Morocco's capital in a rare protest against racism following the murder earlier of a Senegalese migrant.
Senegalese migrant Charles Ndour was visiting Tangiers from Casablanca with friends when he was attacked by a mob and fatally stabbed August 30. Hundreds of migrants marched the next day to protest his death and the numerous attacks they say are subjected to by residents. Police dispersed the demonstration, arrested 26 and deported most of them.
"The migrants in Morocco are in real danger," said Lucile Daumas of Atac Maroc, one of the groups organizing the demonstration, as she stood before parliament in downtown Rabat. "He (Ndour) was killed just because he had dark skin."
She added that he was the sixth African migrant killed in the last year and said that while the new migration policy had noble ideas, there had been little change on the ground. There are an estimated 40,000 sub-Saharan Africans living in Morocco, most seeking to cross to Spain. Morocco has pledged its northern neighbor to stem the flow. (AP)
7:47 P.M. U.S. Secretary of State John Kerry will visit Turkey on Friday as part of a tour of the Middle East to rally efforts to tackle the Islamic State militant group, the Turkish Foreign Ministry said in a statement on Thursday.
Kerry will meet his Turkish counterpart Mevlut Cavusoglu, as well as Prime Minister Ahmet Davutoglu and President Tayyip Erdogan during his two-day visit to the capital Ankara, the ministry said. (Reuters)
7:21 P.M. Key Arab allies of the U.S. say they agree to "do their share" to fight against the Islamic State group, promising to take action to stop the flow of fighters and funding to the group and possibly to join military action.
The announcement comes in a joint statement with the United States by ten Arab states, including Saudi Arabia, other Gulf states and Egpt, Iraq, Jordan and Lebanon at the end of a meeting Thursday in the Saudi Red Sea city of Jiddah. U.S. Secretary of State John Kerry met with his regional counterparts.
The countries said they have a shared commitment to stand against terrorism and promised steps including stopping fighters and funding and "as appropriate, joining in the many aspects of a coordinated military campaign" against the militants. (AP)
7:19 P.M. Syrian President Bashar Assad met with the new UN envoy to Syria, Staffan de Mistura, and expressed willingness to work with the diplomat. The embattled leader pledged to cooperate with the envoy in reaching a solution to the crisis in Syria that would ensure the security of the Syrian people and combat what he called terrorism in his country. (Jacky Khoury)
6:56 P.M. U.S. Secretary of State John Kerry said on Thursday Arab states would play a critical role in a coalition against Islamic State militants in Iraq and Syria, but no country in the alliance was talking about sending ground troops to participate.
Speaking to a news conference after meeting counterparts from several Arab states and Turkey in the Saudi port city of Jeddah, Kerry added that he was surprised that Russia had questioned the legality of proposed attacks on the militants in Syria in view of events in Ukraine. (Reuters)
5:54 P.M. Turkey's President Recep Tayyip Erdogan will visit Qatar next week to discuss the threat from Islamic State militants with the Gulf nation's leadership, media reported on Thursday. (DPA)
4:18 P.M. French authorities have arrested a "particularly dangerous" recruiter of young jihadis for the civil war in Syria, the Interior Ministry said Thursday.
Mourad Fares, 30, was arrested Wednesday night at Paris' Charles de Gaulle airport, nearly a month after he was detained in Turkey — a transit country for fighters who want to enter Syria.
Fares, from Thonon-les-Bain in the foothills of the Alps, went to Syria in July 2013 and had links to the predecessor of the Islamic State group, the most brutal among myriad jihadi organizations, then the Al-Qaida linked Nusra Front, the ministry said. (AP)
4:03 P.M. The foreign ministers of Germany and Britain said on Thursday they would not be taking part in air strikes in Syria against the Islamic State militant group.
German Foreign Minister Frank-Walter Steinmeier told a news conference in Berlin that Germany has not been asked to take part in the air strikes and would not be participating. "To quite clear, we have not been asked to do so and neither will we do so," Steinmeier said.
His British counterpart Philip Hammond said that while Britain "supports entirely the U.S. approach of developing an international coalition" against the Islamic State, it "will not be taking part in any air strikes in Syria. We have already had that discussion in our parliament last year and we won't be revisiting that position." (Reuters)
4:00 P.M. Any foreign intervention in Syria would be an act of aggression unless it is approved by Damascus, a Syrian government minister said on Thursday, after the United States said it was prepared to strike against Islamic State militants in the country.
"Any action of any type without the approval of Syrian government is an aggression against Syria," Ali Haidar, Minister of National Reconciliation Affairs, told reporters in Damascus.
"There must be cooperation with Syria and coordination with Syria and there must be a Syrian approval of any action whether it is military or not," he said. (Reuters)
3:04 P.M. Al Jazeera television reports vehicles carrying dozens of Fijian UN peacekeepers, released by the Syrian Nusra Front group, arrived at a Golan Heights crossing. It was not clear which crossing the peacekeepers were at. Read full article here
2:37 P.M. Syrian activist groups say government airstrikes on a northern town controlled by the extremist Islamic State group have killed at least 11 people.
The Britain-based Syrian Observatory for Human Rights says six air raids struck the town of al-Bab in Aleppo province Thursday. It says at least 11 people were killed and more than 17 wounded in the strikes, one of which hit a crowded market.Another activist group, the Aleppo Media Center, put the death toll at 19 and said another 20 people were wounded.
It was not possible to reconcile the difference in casualty figures, but numbers frequently vary in the chaotic aftermath immediately following attacks. (AP)
1:42 P.M. Iran said on Thursday the emerging international coalition to battle Islamic State militants was "shrouded in serious ambiguities", Iranian state television reported.
Islamic State fighters have seized major Iraqi cities and towns bordering Iran and Tehran has expressed concern about their rapid advance and the upsurge in violence.
"The so-called international coalition to fight the ISIL group ... is shrouded in serious ambiguities and there are severe misgivings about its determination to sincerely fight the root causes of terrorism," Foreign Ministry spokeswoman Marzieh Afkham was quoted by state TV as saying.
She did not mention specifically a call by U.S. President Barack Obama for a broad coalition to root out Islamic State in Iraq and Syria and said some coalition members were "financial and military supporters of terrorists in Iraq and Syria". (Reuters)
11:36 A.M. China responded cautiously on Thursday to a call by U.S. President Barack Obama for a broad coalition to root out Islamic State militants in Iraq and Syria, saying the world should fight terror but that the sovereignty of countries must be respected.
Obama also told Americans on Wednesday that he had authorised U.S. air strikes for the first time in Syria and more attacks in Iraq in an escalation of a campaign against Islamic State.
Chinese Foreign Ministry spokeswoman Hua Chunying said the world was facing a terror threat that was a "new challenge" to international cooperation.
"China opposes all forms of terrorism, and upholds that the international community must jointly cooperate to strike against terrorism, including supporting efforts by relevant countries to maintain domestic security and stability," Hua told a daily news briefing when asked about Obama's comments. (Reuters)
10:51 A.M. Al Jazeera television said on Thursday the Al-Qaida-backed Nusra Front group released UN peacekeepers it seized two weeks ago on the Golan Heights.
On Wednesday the group posted a video on its Twitter and YouTube accounts in which the hostages, from the South Pacific nation of Fiji, say they expect to be freed soon. (Reuters) Read full article here
8:20 A.M. Syria's Western-backed National Coalition opposition on Thursday urged U.S. Congress to approve as soon as possible President Barack Obama's policy on Islamic State militants after he authorized U.S. airstrikes for the first time in Syria.
"The Syrian Coalition ... stands ready and willing to partner with the international community not only to defeat ISIS but also rid the Syrian people of the tyranny of the Assad regime," coalition president Hadi al-Bahra said in a written statement. (Reuters)
6:35 A.M. Fiji says its 45 United Nations peacekeepers being held captive in Syria are shown in a new video posted on YouTube.
The video shows two men speaking in Arabic with the Fijian troops sitting cross-legged in the background.
Near the end of the 15-minute video, one of the Fijian soldiers speaks in English.
He says it's September 9 and a "very happy day" because the soldiers have been told they will soon be going home.
He says all the soldiers are alive, safe and well. He says they've been treated well by the Nusra Front, given the group's limited resources.
Fijian government spokeswoman Sharon Smith-Johns said Thursday the soldiers depicted in the video are those being held by the Nusra Front and identified the Fijian speaking as Captain Savenaca Rabuka. (AP)
4:30 A.M. U.S. President Barack Obama said he had authorized U.S. airstrikes for the first time in Syria and more attacks in Iraq in a broad escalation of a campaign against the Islamic State militant group. Obama laid out his emerging plan for tackling the group in a widely anticipated White House speech.
"Our objective is clear: we will degrade, and ultimately destroy, ISIL through a comprehensive and sustained counter-terrorism strategy," Obama said, using an acronym for Islamic State.
He said he would expand the list of targets inside Iraq beyond several isolated areas. He will send 475 more American advisers to help Iraqi forces, joining more than 1,000 already there. They will not engage in combat. (Reuters and Haaretz) Read full article
4:02 A.M. Saudi Arabia will host a U.S. training effort for Syrian rebels, senior U.S. officials said.
The Saudi decision emerged after Obama spoke by phone earlier in the day with Saudi King Abdullah, who has pressed the American government to do more resolve the Syrian conflict. (Reuters)
Click the alert icon to follow topics:
ICYMI
Ken Burns' Brilliant 'The U.S. and the Holocaust' Has Only One Problem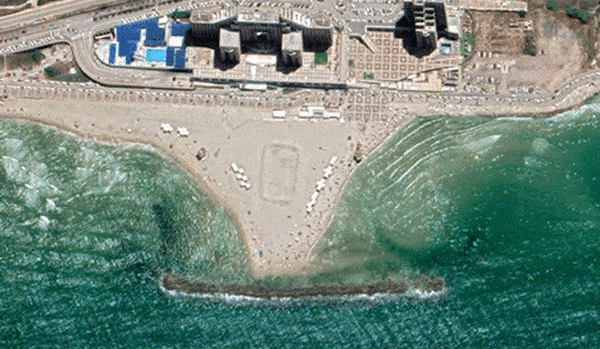 Facing Rapid Rise in Sea Levels, Israel Could Lose Large Parts of Its Coastline by 2050
Lapid to Haaretz: 'I Have Learned to Respect the Left'
The Mossad's Fateful 48 Hours Before the Yom Kippur War
As Israel Reins in Its Cyberarms Industry, an Ex-intel Officer Is Building a New Empire
How the Queen's Death Changes British Jewry's Most Distinctive Prayer