War Against the N.Y. Times and the New 'My Way or Highway' Jewish Theology
A leading Reform rabbi's post-Gaza divorce from the Grey Lady questions the integrity of the Times but highlights the intolerance of its critics.
The New York Times building in Manhattan.
Credit: Reuters
Rabbi Richard Block recently hit a raw American Jewish nerve. His article in Tablet magazine "Why I'm Unsubscribing to the New York Times" has been shared on Facebook almost 16,000 times. Most of his followers, one assumes, agree with Block's harsh castigation of the allegedly anti-Israeli tilt of the Times' coverage of the recent Gaza conflict and identify with his decision to end his four-decade relationship with the newspaper. "I know the Times won't miss me. The feeling is mutual," he wrote.
Really, Rabbi Block? You won't miss the New York Times? You'll make do with Fox News and the Wall Street Journal and the Washington Free Beacon, because they report on Israel in the way you deem acceptable? You'll give up the Times because they upset you on Gaza?
Seems hard to believe, but who knows. After all, in the world according to Block, the Times is on no less than a journalistic jihad against the State of Israel. Its coverage of Gaza "can only be described as a campaign to delegitimize the Jewish state", he writes. "Knowledgeable experts" - whoever they are - have "long assailed the Times lack of objectivity and absence of journalistic integrity in reporting on Israel," he asserts. The newspaper is "intellectually deficient, morally obtuse, and profoundly unworthy of its readers," he declares. Its coverage of Gaza, he says, elicited nothing less than "visceral disgust" in this particular rabbinical reader.
Block's no-punches-pulled polemic might have been dismissed as one of many over-the-top protests against the Times - were it not for the fact that he is president of the Reform movement's rabbinical arm, the Central Conference of American Rabbis. He even describes himself as "a lifelong Democrat" and "a political liberal." Right-wing critics and conservative enemies of the Times could not have dreamt of a better poster boy for their ongoing campaign against the openly liberal Grey Lady of midtown-Manhattan.
What does it say about the Times, they ask, if it has even lost the leader of America's largest and presumably most pluralistic and fair-minded Jewish religious movement? Fair enough - but there is a flip side to that question: What does it say about American Jewish supporters of Israel if they can no longer tolerate what many people, including this writer, consider to be the finest newspaper in the world? What does it say about "liberal" American Jews if Israel drives them to boycott the most prominent and most respected platform for liberal views?
After all, Block did not simply make a personal decision to stop reading the Times. He could have done so in private, with or without a letter notifying the paper's proprietors of the impending divorce. By publishing his protest for the world to see, Block intentionally turned it into a public manifesto, a call to arms, a rallying cry for others to follow in his tracks. Jews, so quick to label any talk of boycott as rampant anti-Semitism, are much better at dishing it out, it seems, that at taking it themselves.
The Times – which maintains a limited business relationship with Haaretz - does not need me to defend it. Suffice to say that every morning when I take the newspaper into my hands, I am in awe of the its abiding pursuit of journalistic professionalism. Nonetheless, I do not reject and sometimes agree with criticism of the newspaper's coverage of Israel, including the recent Gaza conflict - though the hyperventilating hyperbole used by Block was immeasurably more distorted and one-sided than the reporting he sought to condemn.
It's hard to fathom, after all, why a newspaper supposedly hell-bent on "delegitimizing" Israel should offer opinion articles by Ron Prosor, Amos Yadlin or Professor Deborah Lipstadt, as the Times has in recent weeks. And to call the coverage of the Times' Israel correspondent Jodi Rudoren's slanted or distorted against Israel is ludicrous, frankly: just ask the legions of vociferous Palestinian critics who portray her and the Times as forward outposts of the Zionist lobby in America. They too can cite endless articles and headlines no less impressive – or selective – than that which ostensibly proved Rabbi Block's point.
But what is truly troubling about Rabbi Block's rant is not its content, but its portent. The liberalism of many so-called American Jewish liberals is great for Washington or Ferguson but seems to stop dead in its tracks on the Green Line between Israel and the territories it occupies. It represents the new "my way or the highway" Jewish theology which seems to be gaining new converts by the day - even in what is supposed to be an American Jewish bastion of moral tolerance and intellectual curiosity such as the Reform movement. In this new religion, there is only one truth, propagated by the Prime Minister's Office in Jerusalem and spread by disciples worldwide, and no room for infidels and heretics.
This newfound intolerance exists on both sides of the Atlantic. It is a reflected in the increasingly close-minded groupthink that has simmered for years but spread far, wide and deep during and after the recent Gaza conflict. As it drifts to the right, Israel's body politic and public opinion prefer to shun debate and introspection by casting doubt on the basic if not base motives and motivations of their detractors and by portraying them "in the worst possible light", to quote Rabbi Block. In this gutless new world, Palestinians are all terrorists, leftists are mostly traitors, Europeans are covert anti-Semites and the New York Times is only two steps shy of Der Sturmer.
This is the same kind of world view that triumphed when the Conference of Presidents earlier this year rejected the membership application of J Street, a group that defines itself as unabashedly pro-Israel, simply because it differs with the views of the current powers that be. This censure – opposed and criticized, ironically, by Union of Reform Judaism leader Rabbi Rick Jacobs –seems to be in line with Rabbi Block's New York Times' tone. In such overheated public discourse, J Street cannot simply be seeking a two-state solution: it must be an agent of Israel's destruction.
It all makes for the depressingly insular, self-righteous, with-us-or-against-us mentality that is delineating Israel and many of followers abroad as an island unto themselves. In this cloister, the only benchmark for judging the worth of anyone - countries and institutions, newspapers and opera companies, artists and authors - is whether they accept or reject the Israel-good, Arab-bad narrative. By this standard, the bible itself, with its constant harping on Israel's bad ways and the Lord's displeasure would probably be blasted from Brooklyn to Beit Shemesh today for its negative portrayal of Jews.
By parting ways with the New York Times and "not missing" the great intellectual wealth that it offers, day in and day out, Block would have Jews return, mutatis mutandis, to the kind of stifling ghetto that drove his theological forefathers, two centuries ago, to set up the Reform movement in the first place.
Click the alert icon to follow topics:
ICYMI
Ken Burns' Brilliant 'The U.S. and the Holocaust' Has Only One Problem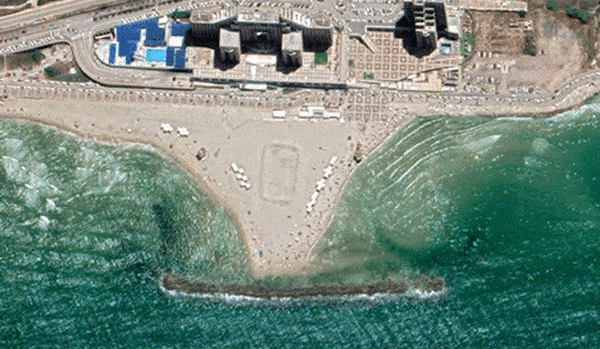 Facing Rapid Rise in Sea Levels, Israel Could Lose Large Parts of Its Coastline by 2050
As Israel Reins in Its Cyberarms Industry, an Ex-intel Officer Is Building a New Empire
How the Queen's Death Changes British Jewry's Most Distinctive Prayer
Chile Community Leaders 'Horrified' by Treatment of Israeli Envoy
Over 120 Countries, but Never Israel: Queen Elizabeth II's Unofficial Boycott