The Summer Israelis Would Rather Forget
What characterizes life in Israel as August draws to a close, and the conflict with Hamas in Gaza approaches its fiftieth day - is a feeling of exhausting uncertainty.
A beach-goer runs with a baby for shelter as a siren sounds warning of incoming rockets in Tel Aviv July 15, 2014.
Credit: Reuters
It was crowded and noisy on the beach Friday afternoon, so much so that almost nobody noticed the muffled "boom" - it was so distant, it almost sounded more like a "pop."
But there it was, up in the skies over Herzliya, southwards towards Tel Aviv, the tell-tale circle of smoke - an Iron Dome missile intercepting a rocket from Gaza. I wasn't the only one who noticed it - a man a just a few feet away from me, also ankle-deep in the Mediterranean, was looking skywards as well. We caught each other's eye, pointed upwards and exchanged knowing glances. "That was what I thought it was right?" I asked him and he nodded. Oddly, the crowd around us continued to splash obliviously in the surf. They hadn't noticed. Or maybe they didn't want to notice.
The beachgoers, just a few kilometers down the coast on the Tel Aviv beaches didn't have that luxury. That same rocket attack was directly overhead, close enough for a siren to sound, the scene was very different as bathers ran out of the water and deserted the beaches, heading for cover in the hotels that line the shore. A video of the rush out of the sea was posted online afterwards commented, "Looks like a scene out of "Jaws," doesn't it?" Afterwards, they returned to the beach.
And tragically, in the same stream of rocket barrages coming out of Gaza, what was undetectable in Herzliya and a nuisance in Tel Aviv, was horrific and deadly in the south. While we residents of the center of the country were at the beach, at almost the same moment, blond 4-year-old Daniel Tragerman was killed by shrapnel from a rocket in his living room in Kibbutz Nahal Oz.
That afternoon encapsulated the bizarre, absurd and confusing picture of Israel's summer of 2014. Certainly, Israel's pain and loss is far smaller than the misery, destruction and death in Gaza. But that doesn't make the Israeli experience any less unsettling, painful, and often downright surreal.
What characterizes life in Israel as August draws to a close, and the conflict with Hamas in Gaza approaches its fiftieth day - is a feeling of exhausting uncertainty. Israelis are an impatient people who have tried their best to be patient through this conflict. But the roller coaster ride of conflict, loss, hope, disappointment, and conflict is threatening to dampen the normally irrepressible national spirit. The feeling that Israel is despised around the world for actions that most feel it has had little choice but to take doesn't help.
Of course, no one wants to show the enemy they are demoralized. Comic Eyal Kitsis opened his satiric comedy show Friday night smiling by greeting the audience, then giving the camera a sideways glance and asking: "Can I please ask the Hamas who are watching this not to tune in for a minute? Really - just go do something else for a sec. Keep yourselves busy."
After checking that they were no longer tuned in, he slumped wearily.
"Enough, come on! We're exhausted, just sick and tired of this war. We're done - really, enough is enough! And it's so HOT out and soon the Jewish holidays will be upon us, I don't believe it. I mean, how LONG is this thing going to continue? It's lasted so long that course of this war, I've managed to be left wing - then sober up - then become right-wing, then sober up from the sobering up process, then emigrate to Berlin, then come back to Israel because everyone's anti-Semitic over there, come on, I'm begging you - END already!"
Kitsis then pulled himself together, told that the Hamas viewers to come back, puts on a stalwart face and announced in a confident voice: "Today is the 134th day of Operation Protective Edge -- and we are a strong, determined people who can't be broken!"
Certainly, the resilience isn't completely an act. Sirens signaling a rocket alert have become part of life. Even the youngest child knows the drill by now - exactly what to do when a siren wails because of incoming rocket fire. Inside buildings, one immediately gets oriented to where they would go if rockets fall and the siren wails. The tricky part is travelling. You get onto the highway with an eye on where they would pull over, picturing yourself pulling over to the shoulder and lying on the ground in a ditch.
The neon signs on the road that normally warn you of upcoming traffic jams, remind you that when there is a siren, you have to pull over to the side of the highway "calmly" if a siren sounds. As you drive along listen to the radio, the music and chat is constantly interrupted by an irritatingly calm announcers voice continuously announcing siren alerts in various locations around the country, interrupting the songs on the music stations and the interviews on the news programs. As you make your way through the city, you think about which building you would run into as you drive by. Bus drivers know where the nearest shelters are on their routes, so they can pull over in the proper spots.
The abnormal has become normal, and very outing - every destination - the beach, the mall, a wedding a few towns over, is reconsidered with the possibility of a rocket attack in mind. The definition of 'staying safe' differs from minute to minute and from place to place - everything takes a tremendous amount of energy.
For residents of southern Israel, this is all child's play. For them, where the rockets, sirens, and booms of explosions are a daily, sometimes hourly occurrence, listening to Israelis in the center of the country whine about abnormality is annoying. And hearing their brag about how tough Israelis are while offering no hope for the conflict's end is infuriating.
As residents of the close-knit communities near the Gaza Strip, little Daniel Tragerman on Sunday, they decided it was time to stop being stoic. They are sick and tired of their homes not being safe, they have had it with living like gypsies with friends and relatives in the center of the country. As the school year approaches - the gap between the "haves" and "have-nots" when it comes to basic personal security is becoming even clearer. My kids will go back to their classrooms on September 1. It looks increasingly like theirs will not.
While my life merely feels like a bizarre dystopian movie, they are living in a real-life horror flick.
There is probably no more accurate and graphic illustration as to how how they feel, than a video posted on Facebook by Saar Altman, a resident of Kibbutz Nir Yitzhak. The ALS Ice Bucket challenge has been popular in Israel this summer, a way of feeling like part of the world community and forgetting local troubles - Altman came up with "The S--t Bucket Challenge" filmed outside kibbutz cowshed, he issued a challenge to Prime Minister Benjamin Netanyahu, Foreign Minister Avigdor Lieberman and Religious Services Minister Naftali Bennett that he said would give them a taste of life on the border with Gaza.
Standing outside the shed, Altman declares: "I want to raise awareness regarding the residents of the area surrounding Gaza. I want to challenge Bibi, Lieberman and Bennett … because of their attitude, we are having to eat their shit. And for the past 14 years, our lives have stunk." He then holds his nose while a bulldozer dumped manure over him until he is coated with the brown muck.
"Disgusting!" he cries, "Ugh!" - summing up how Israelis feel about this long, hot, endless summer.
ICYMI
Ken Burns' Brilliant 'The U.S. and the Holocaust' Has Only One Problem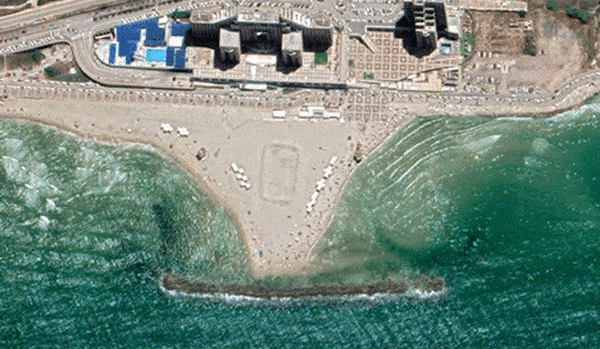 Facing Rapid Rise in Sea Levels, Israel Could Lose Large Parts of Its Coastline by 2050
As Israel Reins in Its Cyberarms Industry, an Ex-intel Officer Is Building a New Empire
How the Queen's Death Changes British Jewry's Most Distinctive Prayer
Chile Community Leaders 'Horrified' by Treatment of Israeli Envoy
Over 120 Countries, but Never Israel: Queen Elizabeth II's Unofficial Boycott