Middle East Updates Iran: Willing to Help With Islamic State - After Nuclear Talks Progress
Death toll in Syria tops 180,000, activists say; U.S. opens criminal probe into journalist Foley's death; Yazidi militia claims to have killed at least 22 Islamic State militants.
Haaretz's latest analysis on the Middle East: Why Egypt won't let Turkey be the key Mideast player it dreams of being
See Wednesday's Middle East Updates
12:51 A.M. The sophistication, wealth and military might of Islamic State militants represent a major threat to the United States that may surpass that once posed by al Qaida, U.S. military leaders said on Thursday.
"They are an imminent threat to every interest we have, whether it's in Iraq or anywhere else," Defense Secretary Chuck Hagel told reporters at the Pentagon.
Hagel's assessment of Islamic State, which gained strength during Syria's civil war and swept into northern Iraq earlier this summer, sounded a note of alarm several days after the group posted a video on social media showing one of its fighters beheading an American hostage kidnapped in Syria.
Asked if the hardline Sunni Muslim organization posed a threat to the United States comparable to that of the attacks of Sept. 11, 2001, Hagel said it was "as sophisticated and well-funded as any group we have seen."
"They are beyond just a terrorist group. They marry ideology, a sophistication of ... military prowess. They are tremendously well-funded. This is beyond anything we've seen." (Reuters)
7:47 P.M. Iran is ready to do something to help tackle Islamic State insurgents in Iraq but first wants progress in negotiations with world powers over its nuclear program, Foreign Minister Javad Zarif was quoted as saying by Iranian media.
France, one of the six nations in nuclear talks with Tehran, said on Wednesday it wanted Arab states, Iran and the five permanent members of the UN Security Council to coordinate a comprehensive response against Islamic State, whose militant forces control large parts of Syria and Iraq.
"If we agree to do something in Iraq, the other side in the negotiations will need to do something in return," Zarif said in remarks late on Wednesday carried by state news agency IRNA.
"All the sanctions imposed on Iran over its nuclear activities should be lifted in return for its help in Iraq."
French Foreign Minister Laurent Fabius urged Iran on Wednesday to be part of any coordinated action against Islamic State but said that the Iraq and nuclear issues should be dealt with independently.
"We shouldn't exchange one thing for another. While it seems indispensable that Iran participates (in an Iraq conference), it's not because it participates that we are going to say the Iran nuclear problem is resolved," said Fabius, whose country has traditionally maintained a tough stance in the Iran takls. (Reuters)
6:12 P.M. At least 20 militants were killed in clashes between Shi'ite rebels and Sunni tribesmen in Yemen's north-eastern province of al-Jouf, a local journalist said Thursday.
The fighting, which erupted Wednesday night, pitted fighters from the Shiite Houthis against tribal supporters of the Sunni Islah Party, Mabkhut Mohammed, a journalist in al-Jouf, told dpa by phone.
The dead included 16 Houthis and four tribal insurgents, he said.
"Both sides are using heavy and medium weapons in the fighting that is still going on," he added. (DPA)
5:02 PM The U.S. Justice Department is conducting a criminal investigation into the death of American journalist James Foley, who was beheaded by the Islamist militant group Islamic State, Attorney General Eric Holder says. (Reuters)
4:55 PM The death toll in Syria's civil war has topped 180,000, the Syrian Observatory for Human Rights says, marking an increase of 9,000 from July's estimate. The Britain-based watchdog says it has documented 180,215 deaths, including 89,286 civilians, 6,063 of them women and 9,428 of them children.
More than 68,000 people were killed while fighting for Syrian President Bashar Assad, including 40,438 soldiers, 25,927 militia members and 2,415 mainly Shi'ite fighters. The Observatory puts the number of dead opposition fighters at 30,481 as well as 16,855 foreign Sunni Islamist insurgents. (DPA)
3:31 PM Tunisia and Egypt's Cairo airport have cancelled all flights to Libya, officials in the three countries said on Thursday. Tunisian aviation officials gave no explanation but Libyan news agency LANA said Cairo airport authorities had cancelled flights to and from the neighboring country for security reasons.
The closure of airspace came after the Libyan government said on Monday unidentified war planes had attacked positions of armed groups in Tripoli fighting with a rival faction for control of the capital. (Reuters)
12:47 PM Recep Tayyip Erdogan and his ruling party were poised Thursday to choose his successor as party chairman and prime minister, with expectations high that the man who has dominated Turkish politics for more than a decade will keep charge as president.
Erdogan has indicated that he plans to keep tight control of the government by transforming the normally ceremonial presidency. He has said he would employ its seldom-used powers, such as summoning and presiding over Cabinet meetings. Turkey's first popularly elected president, Erdogan takes office August 28.
Senior officials of Erdogan's ruling Justice and Development Party, or AKP, were meeting Thursday to pick a leader whom analysts expect to be loyal to Erdogan. The nominee to succeed Erdogan as party chairman and prime minister is to be confirmed at the party's extraordinary congress next week. (AP)
12:12 PM A militia of Iraq's minority Yazidis Thursday killed at least 22 fighters from the militant Islamic State group in clashes in the northern town of Sinjar, a member of the militia said. A force from the Yazidi group, Malik al-Tawus (King Peacock), clashed with Islamic State insurgents in Sinjar, west of the rebel-held city of Mosul, and killed 22 of them, militia spokesman Khudida al-Haskani, told independent Iraqi site Alsumaria News.
"Five Islamic State armoured vehicles were also burnt in the same operation." The Yazidi fighters suffered no casualties, according to al-Haskani. The Islamic State - a radical Sunni group - has in recent weeks overrun areas inhabited by the Yazidis in northern Iraq, forcing them to flee. The Al-Qaida splinter group reportedly killed dozens of the Yazidis after they refused to convert to Islam. The militants consider the Yazidis, followers of a religion with pre-Islamic origins, to be infidels.
Malik al-Tawus is a self-defense group, believed to have been set up in 2007 to protect the Yazidi community in Iraq against attacks by radical Islamists. The United States recently launched airstrikes against Islamic State's targets in northern Iraq to block the group's push towards the autonomous region of Kurdistan. Other Western countries have pledged to offer arms to the Kurdish forces fighting the jihadists. (DPA)
10:34 AM Interpol says the execution of an American journalist kidnapped in Syria shows the need for a coordinated international effort against the stream of foreign fighters joining extremists in the Middle East.
The international policy agency said in a statement Thursday that James Foley's death shows the "depravity" of the Islamic State group in Syria and Iraq and "highlights the ongoing plight of other innocent people across the region
France-based Interpol is particularly concerned that a man who appears in a video of Foley's death may be British. Interpol says this highlights "the need for a multilateral response against the terror threat posed by radicalized transnational fighters travelling to conflict zones in the Middle East." More than a thousand radicals from Europe have joined militant fighters in Syria and Iraq. (AP)
8:55 AM The United States launched a new barrage of airstrikes against the Islamic State extremist group that beheaded American journalist James Foley and that has seized a swath of territory across Iraq and Syria. President Barack Obama vowed relentless pursuit of the terrorists and the White House revealed that the U.S. had launched a secret rescue mission inside Syria earlier this summer that failed to rescue Foley and other Americans still being held hostage.
In brief but forceful remarks, Obama said Wednesday the U.S. would "do what we must to protect our people," but he stopped short of promising to follow the Islamic State in its safe haven within Syria, where officials said Foley had been killed. Later, though, the administration revealed that several dozen special operations troops had been on the ground in Syria briefly in an effort to rescue the hostages, but did not find them. (AP)
4:28AM U.S. forces attempted to rescue journalist James Foley and other American hostages during a secret mission into Syria and exchanged gunfire with Islamic State militants only to discover the captives were not there, officials said on Wednesday.
The mission, authorized by President Barack Obama based on U.S. intelligence, took place earlier this summer. Officials disclosed the mission a day after a video surfaced showing a militant beheading the 40-year-old Foley.
Officials would not say exactly when the operation took place but said it was not in the past couple of weeks. U.S. special forces and other military personnel, backed up by helicopters and planes, dropped into the target zone in Syria and engaged in a firefight with Islamic State militants.
The incident, in which a number of militants were killed, appeared to be the first direct ground engagement between the United States and Islamic State militants, seen by Obama as a growing threat in the Middle East. (Reuters) Full article
1:22 AM The chief executive officer of a Boston-based media company says James Foley's kidnappers last week threatened to kill him in response to U.S. bombings in Iraq. Foley was freelancing for GlobalPost when he disappeared in Syria.
GlobalPost CEO Philip Balboni told reporters Wednesday that the threatening email sent to Foley's family was "full of rage" but made no demands. He says the kidnappers ignored pleas for mercy.
Balboni says the company spent millions on efforts to bring Foley home including hiring an international security firm. The 40-year-old journalist from New Hampshire was beheaded by Islamic State militants. A video recording of the slaying was released Tuesday.
Foley was abducted in northern Syria in November 2012 and had not been heard from since. (AP)
1:18 AM Islamic State, a militant group that witnesses and officials say has executed hundreds of members of Iraq's Yazidis, has released a video that seeks to show it enlightened hundreds of members of the religious minority by converting them to Islam. The production was issued not long after the group on Tuesday released a video showing one of its black-clad fighters beheading American journalist James Foley, sparking international outrage.
The Yazidis, followers of an ancient religion derived from Zoroastrianism who are part of the country's Kurdish minority, have paid the highest price for Islamic State's dramatic advance through northern Iraq. Islamic State militants, widely seen as more hardline than al Qaeda, storm into villages armed with machine guns and give Yazidis a simple choice: convert to Islam or die.
Witnesses have said most of their hundreds of victims were shot dead at close range, while others including women and children were buried alive. Women who avoided death were rounded up and taken away as slaves, witnesses said. The threat to the Yazidis was one reason cited by U.S. President Barack Obama when he launched U.S. air strikes against Islamic State in parts of Iraq earlier this month.
The Islamic State video, which the group called "Hundreds of Yazidis convert to Islam", gives no indication of the bloodshed that prompted tens of thousands of people to flee. In the film, Islamic State fighters say they are misunderstood as they sit on a wall in Mount Sinjar, the Yazidis' ancient homeland. Witnesses earlier told Reuters that residents who dared to stay hung white flags on the homes to show their complete surrender to Islamic State, which has declared a caliphate in parts of Iraq and Syria it controls and threatened to march on Baghdad. (Reuters)
Click the alert icon to follow topics:
ICYMI
Ken Burns' Brilliant 'The U.S. and the Holocaust' Has Only One Problem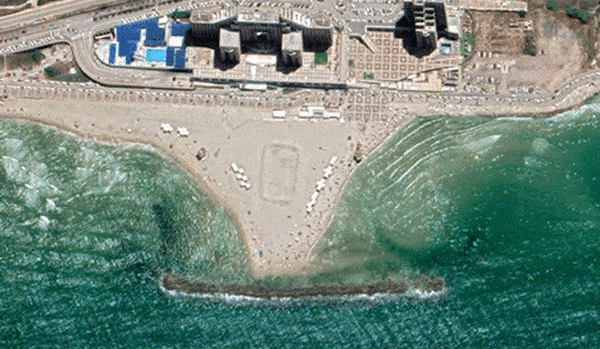 Facing Rapid Rise in Sea Levels, Israel Could Lose Large Parts of Its Coastline by 2050
As Israel Reins in Its Cyberarms Industry, an Ex-intel Officer Is Building a New Empire
How the Queen's Death Changes British Jewry's Most Distinctive Prayer
Chile Community Leaders 'Horrified' by Treatment of Israeli Envoy
Over 120 Countries, but Never Israel: Queen Elizabeth II's Unofficial Boycott