Because of Samson: Infatuated by Gaza, a Love Story
'Plus ça change, plus c'est la même chose' might as well be the motto of this benighted land where some naked truths can be discerned about this favorite Israelite hero
An image of Samson found at an ancient synagogue in Israel.
Credit: Huffington Post
Yet again Israel has found itself embroiled in Gaza – this time trying to eradicate the threat of "terror tunnels," through which terrorists had been infiltrating Israel. A truce tarries and meanwhile, nobody has won; and one is left with the feeling that we'll be back.
Ten days before the outbreak of the Six-Day War, Moshe Dayan – then a retired hero of the Sinai War – insisted on re-enlisting to the Israel Defense Forces. Dayan saw that full-scale war had become unavoidable and realized Israel needed a strategy. As part of it, he stated that Israel should not conquer the Gaza Strip, which was populated by Palestinian refugees. He called the Strip "a hornets' nest."
Three days before the war, now as the newly-appointed minister of defense, Dayan met with then chief-of-staff Yitzhak Rabin and some other army generals. They thought that Gaza should be taken, if only to see the headline "Gaza is ours". Dayan warned again that it should not be taken.
The rest is history. On the third day of the war, Levi Eshkol - the usually reasoned and rational prime minister, who until the last moment tried to avoid war and rein in his generals - told the members of the Knesset Foreign Affairs and Defense Committee that "I have an uncontrollable passion for Gaza. Possibly because of Samson and Delilah."
Two years earlier, in 1965, when Ezer Weizmann - then IDF chief of operations, needed to present Israel's requests for airplanes to the United States, he consulted Eshkol on how to portray the state: as one in desperate need, or as one that can take care of itself but would appreciate some assistance. Eshkol did not hesitate: "Shimshon der nebechdiker" - "Samson the weakling."
A young male raring to go
Samson, apart from his strength and daring, and his habit of being one against many, is presented in the Book of Judges (chapter 16) as a male with a very healthy sexual appetite, attracted mainly to non-Jewish females. His story starts in Gaza, then a Philistine town.
At the very beginning of the chapter, he finds himself locked within Gaza's walls, following a night of passion with a local lady of ill repute. He carries the gates – which one can assume were massive - on his back, leaving the city wide open. A Freudian might detect some symbolism here.
The gist of the 16th chapter is Samson and Delilah's night of love, ending with his downfall. At the end of that night, Samson confides in Delilah, and reveals the secret of his hairy strength. She promptly delivers him into the hands of the barbarian barbers.
If we read the whole chapter bearing in mind what we know now about the peculiarities of human sexuality, it reads like the story of a sexual encounter with a decidedly violent streak. To be precise, it reads like a story of a bondage game that got out of hand, if hand is indeed the part of human anatomy that one should have in mind.
Yearning to be mastered?
It looks as if Samson, the male supreme, the everlasting conqueror who is always ready to storm the gates, yearns (subconsciously, of course) to experience submissiveness. He asks Delilah to tie him up, but each time, though the ropes are stronger, his body proves stronger than his will and he tears the ropes apart before reaching the release he craves. Each time it happens - four times - he ups the ante.
Finally, when his soul is vexed unto death (for the metaphysical poets, "to die" was to reach an orgasm), he betrays his body by giving up the secret of his hair, hoping to finally achieve the satisfaction which he tried and tried and tried to reach.
This reading of the chapter in no way contradicts the simple facts as stated about Delilah's services, which were bought by the Philistines as a part of clandestine espionage mission and which she performed by pursuing the quickest route to a male heart: through his groin. Scholar Rabbi Levi Ben Gershom (France, 13th century) makes it clear that Delilah urged Samson on by denying him the sexual release he craved, and when hard-pressed, he spilled his secret.
In prison, although bald and weak, his sexual prowess remained undiminished. It is written (Judges 16:21): "He did grind in the prison house." The Babylonian Talmud (Sotah, 10a) says: "Rabbi Yohanan said: 'Grind' means nothing else than [sexual] transgression; and thus it is stated: Then let my wife grind unto another. It teaches that everyone brought his wife to him to the prison that she might bear a child by him [who would be as strong as he was.]"
There was some slight problem with intelligence sharing between the various branches of the Philistines' security services. Their counterespionage department was well aware of Samson's hairy secret (it had cost them a lot of money), but probably did not pass that bit of information on to the prison authorities. "The hair of his head began to grow again after he was shaven" and yet they brought him into a crowded hall, with 3,000 men and women sitting on the roof.
The rest is, again, history.
In the same tract (Sotah, 9b), it is written: "Rabbi says: 'The beginning of his [Samson's] degeneration occurred in Gaza; therefore he received his punishment in Gaza.'"
The very same can be said about the State of Israel, whose passions took over in 1967. Being fully aware of the danger, it conquered Gaza and now, finally, withdraws from it, still undefeated, yet certainly weakened and perplexed.
Shimshon der nebechdiker, leaving many gates gaping wide open, here, there and everywhere.
Republished version of original article from August 26, 2005.
Click the alert icon to follow topics:
ICYMI
Ken Burns' Brilliant 'The U.S. and the Holocaust' Has Only One Problem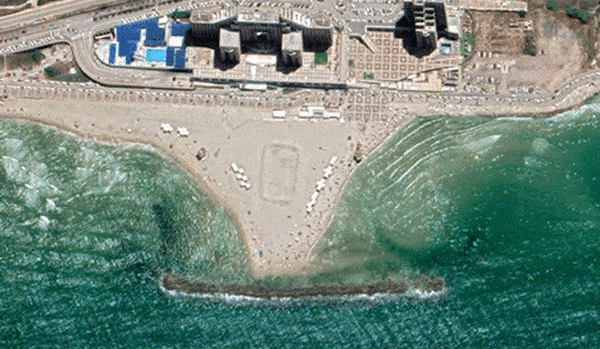 Facing Rapid Rise in Sea Levels, Israel Could Lose Large Parts of Its Coastline by 2050
Lapid to Haaretz: 'I Have Learned to Respect the Left'
The Mossad's Fateful 48 Hours Before the Yom Kippur War
As Israel Reins in Its Cyberarms Industry, an Ex-intel Officer Is Building a New Empire
How the Queen's Death Changes British Jewry's Most Distinctive Prayer