After Islamic State Onslaught, Iraqi Christians Have 'No Way Back'
The Islamic State is displacing and massacring the dwindling Christian community, but Andrew White, head of Iraq's only Anglican church and a stalwart friend of Israel, says he's not leaving Baghdad.
Displaced Iraqi Christians settle at St. Joseph Church in Irbil, northern Iraq, Thursday, Aug. 7, 2014.
Credit: AP
The future of Iraqi Christians is "seriously in doubt," says the leader of the country's only Anglican church, describing scenes of horrific slaughter as Islamic State fighters continue their push into Iraq.
"It's absolutely horrendous," said Canon Andrew White, who has headed St. George's Anglican Church in Baghdad since 2005. "Every Christian has been ousted from Kirkuk and Nineveh, once the traditional homeland of Iraqi Christians. Many were told their choice was to convert to Islam, be killed or pay the jizya tax [to ensure protection of non-Muslim minorities]. Those who didn't were shot dead, and a lot were killed in ghastly ways."
A 5-year-old boy that White had baptized several years ago in Baghdad – the child was named Andrew in his honor – was brutally murdered, cut in half by IS attackers in the Christian village of Qaraqosh. The boy's father had been one of the founding members of White's congregation. Another family of eight were shot in the face for refusing to convert.
The survivors of these atrocities have all fled, White told Haaretz in a phone interview Sunday from England, in advance of his return to Baghdad.
"There is no way they will ever go back, everything has been destroyed, all their churches have been turned into IS offices, all the crosses on their roofs ripped off and replaced with the IS flag. The future of Christianity in Iraq is seriously in doubt," he declared.
Two months ago, IS fighters began their push into Iraq from territory they held in Syria. Tens of thousands of people have been displaced, including many Christians as well as people affiliated with the minority Yazidi sect.
White said that Christians in northern Iraq are working hard to deal with the massive influx of refugees. "The Christian community will cram people into their homes. In Dohuk and Alqosh, the main places for Christians in Kurdistan, with some in Erbil, they are living five families in a house."
From Kurdistan, many will try to appeal for refugee status in Europe or North America. One place they will not find sanctuary, however, is the United Kingdom, which does not offer asylum to Iraqis. White is highly critical of this decision, but understands that it stems from the fear of importing extremism.
"We are afraid," he explained. "The problem is that there is this fear, you don't really know what's going to happen. You live among these people, trust them, they are your friends, but at any moment they could turn against you. This is the risk."
White says he has personal experience of this, and is at pains to stress that "these extremists did not just gather up overnight." Their rise, he noted, is a result of the failed policies of former Prime Minister Nouri al-Maliki and of the Shi'a-led regime that left Sunnis increasingly sidelined.
White: "I know a few people, my friends, Sunnis who were on our side and working for reconciliation at one stage, coming to meetings – and they have gone over to IS, in Fallujah and Ramadi mainly. The Sunnis felt so disenfranchised and forgotten about that they went over to the extremists."
He estimates that the Christian population in Iraq has dropped from 1.5 million, during the 2003 invasion, to around 300,000. Of this number, there are some 50,000 in Baghdad, living in relative safety – for now.
"Baghdad is still quite well protected and functioning normally as the capital, but IS are on the doorstep," said White. "Their aim without doubt is to get to Baghdad; that would be the ultimate achievement. The Americans say they will bomb Baghdad to stop them getting in. I hope they do: If IS get into Bagdad, then the whole country has fallen."
Six Jews in Baghdad
There is another minority group IS would dearly love to get its hands on, White said, although he doubts the Islamic movement knows of its existence: That's the tiny remnant of the once-great Jewish community of Iraq.
Last time White spoke to Haaretz, two years ago, there were seven Jews still living in Baghdad. Since then, one has died.
"Four are old and housebound, the other two are able-bodied and still relatively young," he said. "They are both doctors and working flat-out in their professions. They all come together on Friday night for Kiddush, if they can."
Not surprisingly, there is deep hostility toward Israel among Iraqis today, White noted, although many recall their former Jewish neighbors with affection. At one time, Baghdad's population was one-third Jewish: "People do remember them. People say, 'Our Jews were great. They were our top government ministers and best doctors, but then Israel took them. And they became bad.'"
White himself has enormous affection for Judaism and Israel, where he is a regular visitor, long involved in a number of interfaith projects dating back to the 2002 Alexandria Process, between Jewish, Muslim and Christian leaders in the Holy Land.
Born in southeast London in 1964, White studied medicine before focusing on religion, although he remembered that while at the University of Cambridge, he found Christian theology terribly dull and turned to Jewish studies instead "because it was much more interesting."
He studied at Cambridge under Nicholas de Lange, a Reform rabbi and professor of Hebrew and Jewish studies. Although de Lange was far more liberal-minded than the distinctly conservative priest, "I loved him so dearly and I am still in contact with him," White recalled affectionately.
White went on to enrol in the Hebrew University of Jerusalem in order to study Judaism, but felt he was yet to find his religious comfort zone.
He remembers a conversation with someone on a street in Jerusalem whom he thought looked like an Orthodox rabbi, and who told him: "'You're frum [religious]. Don't go to Hebrew University, they're woolly liberals. Come to my yeshiva.'" That took White to the Karlin Yeshiva in Jerusalem's ultra-Orthodox Mea She'arim quarter, where he describes himself as the first-ever "goy" at that yeshiva.
White's ties to Israel remain strong – he delights in sprinkling Hebrew phrases into his conversation – and he has little sympathy for its opponents.
"I think the war in Gaza and the way it was performed was wrong," he commented, "but if Hamas in Gaza cared for its people it would not have shot rockets into Israel."
There was another side-effect of that particular conflict, he said: "Gaza was a very bad distraction because horrendous things were happening in Iraq and nobody seemed to be caring about it."
Of the attitude toward Christians still living in the Strip, he dismisses the Hamas government's claims of mutual respect and support for coexistence.
"There are three congregations I know about in Gaza and things are really difficult for them. Even though they are supposed to live in peace, they don't really, even though Hamas leaders say they do," he explained.
White carries on his work undeterred by the dangers of life in Baghdad and by the speech and mobility problems he suffers as a result of multiple sclerosis, with which he was diagnosed 16 years ago. Despite the deep commitment, however, he admits that the situation for Iraqi Christians looks increasingly bleak.
"My congregation in Baghdad has gone down from thousands to about 400, most are trying to leave," said White. "I used to say to them: I'm not leaving you, don't you leave me. But now I can't say that, because that is [like] saying: Stay and be killed. All I can promise is that I will be there until the very last Christian."
Click the alert icon to follow topics:
ICYMI
Ken Burns' Brilliant 'The U.S. and the Holocaust' Has Only One Problem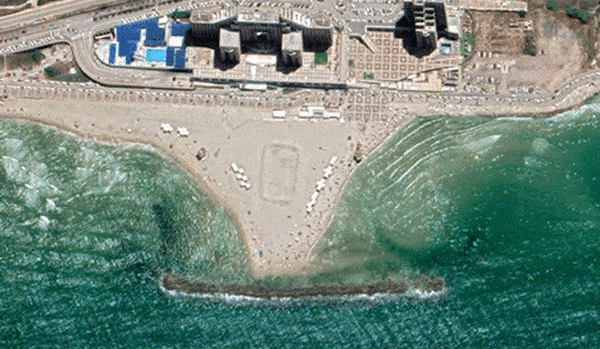 Facing Rapid Rise in Sea Levels, Israel Could Lose Large Parts of Its Coastline by 2050
As Israel Reins in Its Cyberarms Industry, an Ex-intel Officer Is Building a New Empire
How the Queen's Death Changes British Jewry's Most Distinctive Prayer
Chile Community Leaders 'Horrified' by Treatment of Israeli Envoy
Over 120 Countries, but Never Israel: Queen Elizabeth II's Unofficial Boycott