Hellfire Missile Snafu Is Another Flare-up in the Ongoing Obama-Netanyahu Feud
Their dialogue on Gaza proves that while both leaders are masters of English oratory, they hardly ever talk to each other in the same language.
U.S. President Barack Obama and Israel's Prime Minister Benjamin Netanyahu.
Credit: Reuters
It's not completely clear whether we're dealing here with a lone pyromaniac or with a group effort, but there's no doubt that someone has been pouring high-octane fuel on the smoldering fire of U.S.-Israeli relations. Thursday's Wall Street Journal report on the delay in supplying Hellfire missiles to Israel is just the latest in a series of leaks that highlight the links between Jerusalem and Washington, in general, and the ties between Barack Obama and Benjamin Netanyahu, in particular, in as negative a light as possible.
The short list of immediate suspects is limited to those who have both the motivation to create havoc and accessibility to the secret materials, including transcripts that have found their way to the media in recent weeks. They could be senior figures in Israel, who are leaking directly or through American proxies, in order to pressure the administration and/or embarrass Obama; they could be senior American officials, who want to push Israel into a corner and/or distance themselves from Netanyahu; and it could be a free-for-all shootout from officials on both sides who can no longer contain their mutual distrust and suspicions.
Obama is not the first president to hold up arms shipments to Israel – Gerald Ford stopped all major arms transactions for six months during the 1975 "reassessment" and Ronald Reagan halted shipments of new F-16's after the bombing of the Osiraq nuclear reactor and of cluster bombs after the 1982 bombing of Beirut. From the WSJ report and the State Department clarification issued on Thursday, one can deduce that the delay in supplying the helicopter-borne Hellfires is meant as a shot across the bow for Israel and as a means for the White House to assert control over most arms transactions between the two countries. Nonetheless, the harsh language hurled by the feuding sides in the newspaper article – Netanyahu is "reckless and untrustworthy" while Obama is "weak and naïve" – indicates that the Hellfire is only symptom of a malaise at the top that is eating its way into the otherwise sturdy foundations of U.S.-Israeli ties.
The sad tale of the relations between Obama and Netanyahu is proof, first and foremost, of the magnetic rule that "opposites attract and likes repel." Obama and Netanyahu were both political meteors who bypassed their parties' old guard and catapulted to the top at a relatively young age: Bibi was 46 when he first became prime minister; Obama was 47 when he entered the White House. Both are well-read book lovers, widely-admired orators and graduates of prestigious Boston universities. Both are big admirers of America, though Obama, if you listen to his critics, a little bit less.
Most importantly, the two leaders' lack of social skills and failure to communicate with each other doesn't seem to be an exception, but rather the general rule. Both Netanyahu and Obama do not excel, to put it mildly, in forging ties or creating trust with their peers, either in the international arena or in their domestic political fronts at home. Both, in fact, are very lonely at the top.
When Obama was asked by Fareed Zakaria in 2012 to name the five foreign leaders he's closest to, he included German Chancellor Merkel, who has yet to forgive him for the NSA eavesdropping on her cellphone as well as newly-elected Turkish President Tayip Erdogan, who recently said that he's stopped talking to Obama altogether after the American president failed to intervene in Syria. Two others on Obama's list – India's Prime Minister Singh and Korean President Lee – have since left office, leaving British PM David Cameron as the lone ranger with reasonably close ties to the White House. Canadian Prime Minister Stephen Harper fills a similar function for Netanyahu.
Obama undoubtedly came to the White House in 2008 with preconceived notions and grudges against the Jewish right, in both America and Israel. "You don't have to be pro-Likud to be pro-Israel" he famously told Jewish leaders in Cleveland nine months before his election, but after six years of costly confrontations, he probably thinks otherwise today. Obama suspected that Jewish conservatives with close ties to Israel were behind his identification with Islam and the campaign against his ties to controversial Reverend Jeremiah Wright in 2008, and his suspicions were spectacularly confirmed four years later when Netanyahu almost openly and certainly brazenly backed Mitt Romney in the 2012 elections.
That unfortunate event continues to cast a pall over the contacts between the two sides: a very senior Washington figure recently told an Israeli counterpart that each step or statement made by Netanyahu is a-priori examined by the White House to see if it helps the Republicans or if Sheldon Adelson might be behind it. This was the case when Israeli sources carried out a brutal assault on Secretary of State John Kerry two weeks ago over his role in the Gaza cease-fire mediation efforts and it will be the case right now as the White House contemplates the most recent flare-up on the pages of the Wall Street Journal (if they didn't leak it themselves).
The fighting in Gaza showcased how Obama and Netanyahu, both masters of spoken English, don't talk to each other in the same language at all. Throughout operation Protective Edge, Obama consistently supported Israel's right to defend itself and to operate against the tunnels and the rockets but his attitude cooled considerably with the rising number of civilian casualties. Obama was taken aback by what seemed to be Netanyahu's indifference to the carnage in Gaza, by the Israeli leader's repeated efforts to identify Hamas in Gaza with ISIL in Iraq and by his refusal to accept Obama' s basic axiom that can be summed up in James Carville jargon as: It's the occupation, stupid. Obama wanted to steer the dialogue to creating a political horizon Palestinians, while Netanyahu pushed him to the clash of civilizations and the West's war with Jihadist Islam.
In fact, It is Netanyahu's complete immersion in the lingua franca of the American right that builds the biggest barrier between him and Obama. Not only is the Israeli Prime Minister the hero of Republican conservatives – as witnessed in Sean Hannity's fawning interviews on Fox – but he even thinks and speaks like they do, By the same token, not only does Obama represent the kind of left-wing liberals that Netanyahu detests, he often preaches to him in the same terms that they do. And just as Obama appears to have given up any hope of finding common ground with his ideological rivals at home in Washington, so he seems to have abandoned any pretense of having a meaningful dialogue with an Israeli leader who seems molded in their image.
Of course, one mustn't get carried away in assigning blame to Netanyahu: Israeli polls indicate that an overwhelming majority of Israelis increasingly share his views of the world - and of Obama. Israelis can't fathom Obama's empathy towards the Palestinians just as they are bewildered by his perceived softness in the Middle East. As for their support for the humanistic, liberal and leftist values represented by the U.S. President, according to most reports and indications, Israelis have left those behind in the ruins and rubble to their south.
Click the alert icon to follow topics:
ICYMI
Ken Burns' Brilliant 'The U.S. and the Holocaust' Has Only One Problem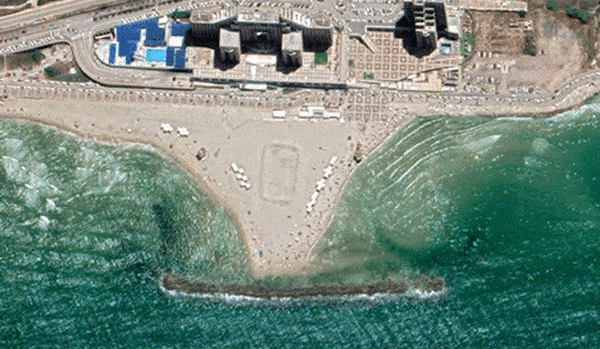 Facing Rapid Rise in Sea Levels, Israel Could Lose Large Parts of Its Coastline by 2050
Lapid to Haaretz: 'I Have Learned to Respect the Left'
The Mossad's Fateful 48 Hours Before the Yom Kippur War
As Israel Reins in Its Cyberarms Industry, an Ex-intel Officer Is Building a New Empire
How the Queen's Death Changes British Jewry's Most Distinctive Prayer