Fears of Coup in Baghdad After Iraqi PM's Surprise Speech
Shi'ite militias step up patrols in capital; PM Nuri al-Maliki says he won't back down from bid for third term, decries new president's 'constitutional violation.'
Missy Ryan, Michael Georgy
Iraq's Prime Minister Nouri al-Maliki casts his ballot during parliamentary election in Baghdad in this April 30, 2014 file photo.
Credit: Reuters
Missy Ryan, Michael Georgy
REUTERS - Special forces loyal to Iraqi Prime Minister Nuri al-Maliki were deployed in strategic areas of Baghdad on Sunday night after he delivered a tough speech indicating he would not cave in to pressure to drop a bid for a third term, police sources said.
Pro-Maliki Shi'ite militias stepped up patrols in the capital, police said. An eyewitness said a tank was stationed at the entrance to Baghdad's Green Zone, which houses government buildings.
In a speech on state television, Maliki accused Iraq's Kurdish President Fouad Masoum of violating the constitution by missing a deadline for him to ask the biggest political bloc to nominate a prime minister and form a government.
"I will submit today an official complaint to the federal court against the president of the Republic for committing a clear constitutional violation for the sake of political calculations," said Maliki.
Serving in a caretaker capacity since an inconclusive election in April, Maliki has defied calls by Sunnis, Kurds, some fellow Shi'ites, regional power broker Iran and Iraq's top cleric for him to step aside for a less polarising figure.
Critics accuse Maliki of pursuing a sectarian agenda which has sidelined Sunnis and prompted some of them to support Islamic State militants, whose latest sweep through northern Iraq has alarmed the Baghdad government and its Western allies.
Washington seems to be losing patience with Maliki, who has placed Shi'ite political loyalists in key positions in the army and military and drawn comparisons with executed former dictator Saddam Hussein, the man he plotted against from exile for years.
A senior U.S. official said on Sunday he fully supported Masoum after Maliki, who the United States has blamed for stoking Iraq's security crisis, criticised him.
"Fully support President of Iraq Fouad Masoum as guarantor of the Constitution and a (prime minister) nominee who can build a national consensus," Deputy Assistant Secretary of State Brett McGurk, the State Department point man for Iraq, said on his Twitter feed.
U.S. President Barack Obama urged Iraqi politicians on Saturday to form a more inclusive government that can counter the growing threat from the Islamic State.
But Maliki keeps digging in.
"Now we can see unprecedented deployment of army commandos and special elite forces deployed in Baghdad, especially sensitive areas close to the green zone and the entrances of the capital," one of the police sources said.
"These forces are now taking full responsibility of securing these areas of the capital."
The Islamic State has capitalised on political deadlock and sectarian tensions that have made it easier for the group to make fresh gains after arriving in the north in June from Syria.
The group, which sees Shi'ites as infidels who deserve to be killed, has ruthlessly moved through one town after another, using tanks and heavy weapons it seized from soldiers who fled in the thousands.
Islamic State militants have killed hundreds of Iraq's minority Yazidis, burying some alive and taking women as slaves, an Iraqi government minister said on Sunday, as U.S. warplanes again bombed the insurgents.
Human rights minister Mohammed Shia al-Sudani accused the Sunni Muslim insurgents - who have ordered the community they regard as "devil worshippers" to convert to Islam or die - of celebrating what he called a "a vicious atrocity".
No independent confirmation was available of the killings of hundreds of Yazidis, bloodshed that could increase pressure on Western powers to do more to help tens of thousands of people, including many from religious and ethnic minorities, who have fled the Islamic State's offensive.
The U.S. Central Command said drones and jet aircraft had hit Islamic State armed trucks and mortar positions near Arbil, the capital of the autonomous Kurdish region which had been relatively stable throughout the past decade of turmoil until the insurgents swept across northwestern Iraq this summer.
That marked a third successive day of U.S. air strikes, and Central Command said in its statement that they were aimed at protecting Kurdish peshmerga forces as they face off against the militants near Arbil, the site of a U.S. consulate and a U.S.-Iraqi joint military operations center.
The U.S. State Department said on Sunday it had pulled some of its staff from the Arbil consulate for their safety.
The Islamists' advance in the past week has forced tens of thousands to flee, threatened Arbil and provoked the first U.S. attacks since Washington withdrew troops from Iraq in late 2011, nearly nine years after invading to oust Saddam Hussein.
Iraqi rights minister Sudani told Reuters in a telephone interview that accounts of the killings had come from people who had escaped the town of Sinjar, an ancient home of the Yazidis, a Kurdish-speaking community whose religion has set them apart from Muslims and other local faiths.
"We have striking evidence obtained from Yazidis fleeing Sinjar and some who escaped death, and also crime scene images that show indisputably that the gangs of the Islamic State have executed at least 500 Yazidis after seizing Sinjar," he said.
"Some of the victims, including women and children were buried alive in scattered mass graves in and around Sinjar."
Consolidating a territorial grip that includes tracts of Syrian desert and stretches toward Baghdad, the Islamic State's local and foreign fighters have swept into areas where non-Sunni groups live. While they persecute non-believers in their path, that does not seem to be the main motive for their latest push.
The group wants to establish religious rule in a caliphate straddling Syria and Iraq and has tapped into widespread anger among Iraq's Sunnis at a democratic system dominated by the Shi'ite Muslim majority following the U.S. invasion of 2003.
Obama warned on Saturday that there was no quick fix for the crisis that threatens to tear Iraq apart.
Kurdish regional president Masoud Barzani urged his allies to send arms to help his forces hold off the militants, who have bases across the Syrian border. During a visit by French Foreign Minister Laurent Fabius, Barzani said: "We are not fighting a terrorist organisation, we are fighting a terrorist state."
Another senior Kurdish official said Kurds retook two towns southwest of Arbil, Guwair and Makhmur, with the help of U.S. strikes. But he did not expect a rapid end to the fighting.
In Jalawla, 115 km (70 miles) northeast of Baghdad, a suicide bomber killed 10 Kurdish forces and wounded 80 people on Sunday. Kurdish fighters and Islamic militants are locked in fierce clashes in the town.
Fabius, noting how Islamic State fighters had taken the upper hand after seizing heavy weaponry from Iraqi troops who fled in June, said the European Union would look into bolstering the Kurds' arsenal to help them hold out and hit back.
Taken as "slaves"
Sudani said: "The terrorist Islamic State has also taken at least 300 Yazidi women as slaves and locked some of them inside a police station in Sinjar and transferred others to the town of Tal Afar. We are afraid they will take them outside the country.
"In some of the images we have obtained there are lines of dead Yazidis who have been shot in the head while the Islamic State fighters cheer and wave their weapons over the corpses," he added. "This is a vicious atrocity."
U.S. military aircraft have dropped relief supplies to tens of thousands of Yazidis who are trapped on the desert top of nearby Mount Sinjar, seeking shelter from the insurgents.
A spokesman for the UN refugee agency in Iraq said some 30,000 Iraqis had since Friday reached safety in Kurdistan after travelling on the Syrian side of the border from Sinjar.
At the Vatican, Pope Francis held a silent prayer for victims of the Iraq conflict: "Thousands of people, among them many Christians, banished brutally from their houses, children dying of hunger and thirst as they flee, women kidnapped, people massacred, violence of all kinds," he said in a Sunday address.
"All of this deeply offends God and deeply offends humanity."
Maliki criticism
France joined the calls for Iraq's feuding leaders to form an inclusive government capable of countering the militants.
"Iraq is in need of a broad unity government," Foreign Minister Fabius said in Baghdad. "All Iraqis should feel they are represented to take part in this battle against terrorism."
The pressure from France came a day after Obama described the upheaval in the north as a "wake-up call" to Iraqis who have slipped back into sectarian bloodshed not seen since 2006-2007.
Nearly every day police report kidnappings, bombings and execution-style killings in many cities, towns and villages. In Baghdad, police were on Sunday manning some squares in armoured personnel carriers, an unusual sight.
The Islamic State has met little resistance. Thousands of U.S.-trained Iraqi soldiers fled when its Arab and foreign fighters swept through northern Iraq from eastern Syria in June.
The collapse of the Iraqi army prompted Kurds and Shi'ite militias to step in, with limited success.
The Sunni militants routed Kurds in their latest advance with tanks, artillery, mortars and vehicles seized from fleeing Iraqi troops, calling into question the Kurds' reputation as fearsome warriors.
Iranian-trained Shi'ite militias may stand a better chance than the Kurds but they are accused of kidnapping and killing Sunnis, playing into the hands of the Islamic State, which also controls a large chunk of western Iraq.
After hammering Kurdish forces last week, the militants are just 30 minutes' drive from Arbil, the Iraqi Kurdish capital, which until now has been spared the sectarian bloodshed that has scarred other parts of Iraq for a decade.
The possibility of an attack on Arbil has prompted foreigners working for oil companies to leave the city and Kurds to stock up on AK-47 assault rifles at the arms bazaar.
In their latest sweep through the north, the Sunni insurgents seized a fifth oil field, several more villages and the biggest dam in Iraq - which could give them the ability to flood cities or cut off water and power supplies - hoisting their black flags up along the way.
After spending more than $2 trillion on its war in Iraq and losing thousands of soldiers, the United States must now find ways to tackle a group that is even more hardline than Al-Qaida and has threatened to march on Baghdad.
Click the alert icon to follow topics:
ICYMI
Ken Burns' Brilliant 'The U.S. and the Holocaust' Has Only One Problem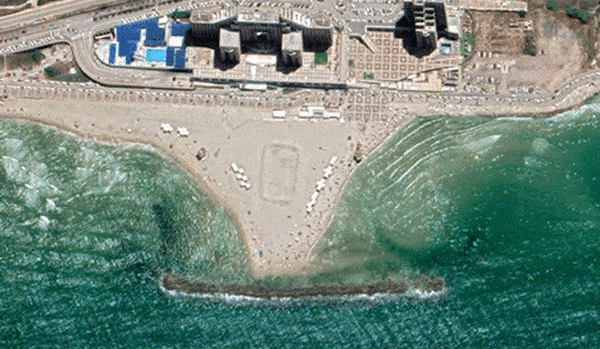 Facing Rapid Rise in Sea Levels, Israel Could Lose Large Parts of Its Coastline by 2050
As Israel Reins in Its Cyberarms Industry, an Ex-intel Officer Is Building a New Empire
How the Queen's Death Changes British Jewry's Most Distinctive Prayer
Chile Community Leaders 'Horrified' by Treatment of Israeli Envoy
Over 120 Countries, but Never Israel: Queen Elizabeth II's Unofficial Boycott