LIVE UPDATES: Operation Protective Edge, Day 32
Three Israelis wounded by shrapnel; 47 targets in Gaza struck since 8 A.M.; Hamas says Israel dragging its feet in truce talks, Bennett says Gaza op isn't over, and Egypt says some progress in negotiations.
The Israeli Air Force attacked targets in the Gaza Strip on Friday morning, following renewed rocket barrages on Israel, as Operation Protective Edge enters its 32nd day.
The cease-fire lapsed at 8 A.M. Friday amid confusion as to whether it would be extended. Palestinian sources told Haaretz that agreement had been reached to extend the truce for three days, but other sources said that it would not be renewed. Hamas had warned that it would resume hostilities if its demands were not met.
Since the cease-fire's expiration, 51 rockets and mortars have been fired at Israel. The Israeli Air Force has responded by striking 47 targets in Gaza.
SUBSCRIBE TO HAARETZ AND GET FULL COVERAGE
For Thursday's live updates, click here
Live updates [Friday]:
10:37 A.M. Gaza-based medics report that Israeli airstrikes were stepping up, with a new report of a death after a mosque was struck.
Gaza Health Ministry spokesman Ashraf al-Qedra told reporters that at least one man was killed after a strike hit a mosque in the central Gaza Strip refugee camp of Nuseirat.
Residents said the airstrikes started after midnight and targeted mosques in the southern Gaza Strip towns of Rafah and Khan Youis. Houses and several open spaces were also bombed.
Israeli attacks have destroyed 63 mosques since the Gaza Strip offensive began on July 8, reported the Palestinian Ministry of Religious Affairs.
Al-Qedra also said that at least 10 Palestinians have been injured in Saturday's airstrikes, adding that two of the victims are in critical condition.
Israeli jets targeted 30 sites overnight into Saturday as the military resumed its offensive against militants in the Gaza Strip, according to a military spokeswoman.
The airstrikes resumed after minor militant groups fired dozens of rockets into Israel on Friday. The renewal of fighting came after Egypt's attempt to mediate a ceasefire failed on Thursday. On Friday, an Egyptian-brokered 72-hour ceasefire ended.
Al-Qedra said that the death toll since the beginning of the Israeli offensive had reached 1,899, with the wounded numbering around 10,000 people. (DPA)
8:57 A.M. Rocket sirens sound in Eshkol Regional Council (Haaretz)
7:02 A.M. Four mortar shells hit open areas near Gaza-bordering town in Eshkol; One missile strikes Sdot Negev Regional Council. (Shirley Seidler)
6:52 A.M. Rocket sirens sound in two Israeli towns near Gaza border. (Haaretz)
1:05 A.M. More than 15,000 Muslim Brotherhood supporters gathered at a pro-Hamas rally in Jordan's capital on Friday, with many chanting "death to Israel" and urging the militant Palestinian group to step up rocket salvos against Israeli towns and cities.
The evening rally, the largest such protest in Amman in years, saw scores of masked youths dressed in the uniform of Izzedine al-Qassam Brigades, the military wing of Hamas, stage a mock military parade to the cheers of a flag-waving crowd. (Reuters)
9:54 P.M. A 22-year old Palestinian was reportedly killed during clashes with Israeli security forces south of Ramallah. AFP reports dozens wounded in Hebron protests. (Jack Khoury)
9:42 P.M. Rocket falls in open area in Hof Ashkelon Regional Council (Shirly Seidler)
9:33 P.M. The White House on Friday urged Israel and the Palestinians to resume talks and do what they can to protect civilians after Egyptian-mediated negotiations failed to extend a ceasefire and rocket fire resumed. "The United States is very concerned about today's developments in Gaza," White House spokesman Josh Earnest told reporters. "We condemn the renewed rocket fire and we are concerned about the safety and security of civilians on both sides of that conflict," he said. (Reuters)
9:12 P.M. 51 rockets and mortars fired at Israel from Gaza since 8 A.M.
9:05 P.M. Rocket sirens sound in Hof Ashkelon Regional Council.
8:30 P.M. IDF: 47 targets struck since this morning. Targets struck include concealed rocket-launchers, control facilities and command and military compounds. In addition, three militants were killed and one was wounded in southern Gaza. (Gili Cohen)
8:20 P.M. UN Secretary-General Ban Ki-moon expressed his "deep disappointment" over the failure to extend this week's 72-hour cease-fire, saying "the extension of the cease-fire is absolutely essential for talks to progress."
Ban additionally condemned the renewed rocket fire towards Israel, saying "more suffering and death of civilians caught up in this conflict is intolerable" while firmly calling on both parties "not to resort to further military action that can only exacerbate the already appalling humanitarian [situation] in Gaza."
8:02 P.M. Two mortar shells explode in Eshkol Regional Council, one explodes in Sha'ar Hanegev Regional Council. (Shirly Seidler)
7:42 P.M. Rocket explodes in open area in Sdot Negev Regional Council. (Shirly Seidler)
7:41 P.M. Hamas spokesman Sami Abu Zuhri said in a statement to the media: "We have not yet received a document with the Israeli answer to our demands. Just yesterday, we received a memorandum of understanding from the Egyptian side, and this document did not respond to any of our requests - the airport, the sea port, the buffer zone, the expansion of the fishing area, etc. There was also no explicit mention of the lifting of the siege....We think Israel is dragging its feet. They did not respond to our demands and has not done a thing to show that there is a reason to extend the cease-fire. Now all options are open....However, the door to continued conversations is not closed. The decision to comply with our requirements is in Israeli hands." (Jack Khoury)
7:35 P.M. Rocket sirens sound in Sha'ar Hanegev and Sdot Negev Reional Council.
7:09 P.M. Palestinian sources say 5 Gazans have been killed, and 31 wounded, in the Strip since Friday morning. (Jack Khoury)
7:06 P.M. Sderot Mayor Alon Davidi says "Hamas and other terrorist organizations' resumed firing clarifies to all those who still had doubt that Hamas does not feel defeated and has no fear and is not deterred by the IDF."
Davidi added that "this is what happens when the defense minister does not deliver the goods and does not bring security to the residents of Israel. Unfortunately, we have a minister with no defense." (Shirly Seidler)
7:04 P.M. Rocket siren alerts in Be'er Sheva and surrounding area in south Israel, northern Negev and areas of Sdot Negev Regional Council and Bnei Shimon Regional Council. Iron Dome intercepted two rockets intercepted and two hit open areas in the northern Negev. (Shirly Seidler and Gili Cohen)
6:27 P.M. Economy Minister Naftali Bennett said in a statement: "This is a test of Israel's power of deterrence in the coming years, the response has to be hard and painful. While the world is busy establishing commissions of inquiry against Israel, our children in the south live under rocket barrages, I will say something simple: We have to determine this campaign alone, whether Ban Ki-moon likes it or not. Protective Edge is not over and Hamas has still not been defeated. Residents of Israel need to be strong, and ready for what comes next."
5:41 P.M. Mortar shell explodes outside of a community in Eshkol Regional Council; no injuries. (Shirly Seidler)
5:12 P.M. Mortar shell explodes outside of a community in Eshkol Regional Council; no injuries. (Shirly Seidler)
5:03 P.M. No one injured in house struck in Sderot, which was under construction. (Shirly Seidler)
4:58 P.M. Rocket sirens sound in Eshkol Regional Council.
4:43 P.M. At least 10 Palestinians injured in clashes with Israeli security forces east of Nablus.
An Egyptian source says there is progress in the Cairo cease-fire talks, but shooting must stop for negotiations to continue. (Jack Khoury)
4:06 P.M. Senior IDF source says Israeli Air Force attacked more than 40 targets in Gaza since this morning, and stresed that residents of southern Israel can return to their homes despite resumed mortar and rocket fire. (Shirly Seidler)
4:01 P.M. Egypt calls for an immediate resumption of the cease-fire in Gaza and a return to the negotiating table, saying that only a few outstanding issues remained in negotiations it was mediating between Israel and the Palestinians.
"The foreign ministry calls on all sides to rise to their responsibilities ... and to return immediately to the ceasefire commitment and exploit the opportunity available to resume negotiations on the very limited sticking points that remain in the fastest possible time," the foreign ministry said in a statement.
Palestinian delegation says Cairo talks will continue despite end of cease-fire, will meet Egyptian mediators on Monday. (Reuters)
3:54 P.M. Rocket strikes house in Sderot. Another rocket explodes in open area in Sdot Negev Regional Council. Rocket sirens sound throughout Hof Ashkelon Regional Council. (Shirly Seidler)
3:52 P.M. Former Shin Bet chief Yuval Diskin criticizes the IDF's announcement that southern Israel's residents could safely return home on his Twitter account.
"Still trying and cannot understand why the Chief of Staff and the major-general of the Southern Command rushed to call for residents to return to their homes in the Gaza envelope before the 72-hour cease-fire ended," Diskin tweeted.
The former Shin Bet head added that Israel mistakenly acted as if the fighting in Gaza has concluded.
"Why do we have to rush to announce and show Hamas that the operation was over, from our perspective, before the cease-fire stabilized? Of course this invited them to embarras us in the morning." (Gili Cohen)
3:35 P.M. Three rockets explode in open areas in Sdot Negev Regional Council, one lands in open area in Hof Ashkelon Regional Council. (Shirly Seidler)
3:30 P.M. Rocket sirens sound in Sderot and Sha'ar Hanegev Regional Council.
3:14 P.M. Rocket sirens sound in Sha'ar Hanegev and Hof Ashkelon Regional Council.
3:11 P.M. Rocket sirens sound in Eshkol Regional Council.
1:03 P.M. The civilian wounded by mortar fire in Shaar Hanegev has been identified as Sapir College head Dr. Nahami Paz. He has been transferred to Soroka Hospital in Beer Sheva for treatment.
12:34 A.M. Building in the Sdot Hanegev region damaged by a rocket. One person lightly injured when running for shelter. (Shirley Seidler)
12:25 A.M. The first Palestinian casualties since the ceasefire broke down have been reported by Palestinian health authorities. A boy was killed and six others were wounded in an Israeli air strike near a mosque in Gaza City,
12:05 A.M. Disruptions reported to flights to and from at Ben-Gurion International Airport, following the resumption of rocket attacks from the Gaza Strip. Israeli airspace was closed for 30 minutes, from 7:30 A.M., leading to 19 flights being delayed. (Zohar Blumenkrantz)
12:00 A.M. Two Israeli, a civilian and a soldier, wounded by mortar shrapnel in Shaar Hanegev. (Shirley Seidler)
11:35 A.M. Sirens sound in the Eshkol region, Sdot Negev and Shaar Hanegev. A mortar lands in open ground in Eshkol. (Shirley Seidler)
11.32 A.M. Cairo cease-fire talks will be frozen so long as Hamas is firing rockets at Israel, senior Israeli official says. (Barak Ravid)
11:05 A.M. Two rockets fall in open areas in the Sdot Negev region. Sirens in Shaar Hanagev and Sdot Negev. (Shirley Seidler)
10:52 A.M. Iron Dome downs a rocket over the Shaar Hanegev region.
10:45 A.M. Palestinian sources report Israeli artillery fire on the north and east of the strip. No casualties reported.
10:40 A.M. The Israel AIr Force is striking targets in Gaza, the IDF spokesman announces.
10:25: A.M. Sirens sound in Sderot and Shaar Hanegev region. Two rockets fall in Sdot Negev region. No casualties or damage reported. (Shirley Seidler)
10:20 A.M. Prime Minister Benjamin Netanyahu and Defense Minister Moshe Ya'alon order the Israel Defense Forces to respond with force to the fire from Gaza.
Israeli delegation to Cairo talks returned home before firing renewed on Friday at 8 A.M. (Barak Ravid)
9:00 A.M. Sirens sound in the Eshkol region.
9:06 A.M. Islamic Jihad claims to have fired three Grad rockets at Ashkelon.
9:05 A.M. Economy Minister Naftali Bennett calls on the government to recall its delegation from Cairo immediately. "Firing on Israeli citizens as a way of exerting pressure is a test of Israeli deterrence for years to come," Bennett says. "The response must be firm."
"I remind the Israeli public that Operation Protective Edge has not yet ended and Hamas has not been defeated. Israelis must be strong and prepared for what is to come."
9:00 A.M. Sirens sound in the Eshkol region. Three rockets explode outside communities in the area. (Shirley Seidler)
8:42 A.M. Rocket barrage fired at communities in the Gaza region.
8:28 A.M. Sirens sound in Eshkol and Hof Ashkelon regions.
8:20 A.M. Hamas spokesman says cease-fire will not be renewed by Cairo talks will continue.
8:08 A.M. Sirens in the Eshkol region. Residents instructed to stay within 15 seconds of shelter. Two rockets land in open areas in the Hof Ashkelon region. (Shirley Seidler)
8:04 A.M. Sirens sound in Ashkelon and Hof Ashkelon. Successful Iron Dome interception.
7:37 A.M. Hamas denies firing mortars into Israel. Two mortar shells were reported to have fallen in the Eshkol region at about 4 A.M. Friday. The IDF did not return fire. (Gili Cohen)
7:20 A.M. Despite the failure to reach agreement in Cairo, Israel and the Palestinians have decided to extend the Gaza cease-fire by an additional three days, Palestinian sources tell Haaretz. (Jack Khoury)
7:00 A.M. Hamas says will not extend Gaza ceasefire, AFP reports. (Haaretz)
4:35 A.M. Twp mortar shells were apparently fired from within the southern Gaza Strip towards Eshkol Regional Council just after 4:00 A.M., several hours before the cease-fire is set to expire. The shells hit open areas, and no injuries were reported. (Shirley Seidler)
4:02 A.M. Rocket alerts sounds in town near Gaza border. (Haaretz)
2:10 A.M. Israel's warnings of the dangers posed by Hamas and other Islamic militants is not a "spin, or a whim," says Netanyahu, speaking on Fox news channel, The threat, he said, is based on "a clinical diagnosis of a pathological movement that is sweeping our area but will soon come to a theater near you and it has to be stopped now.
10:50 P.M. Hamas official Ismail Radwan, in Qatar, says that the Palestinian envoys to the truce talks in Cairo are meeting with Egypt's intelligence chief to discuss the delegations' demands.
If the demands aren't met, he said, the envoys could leave the Egyptian capital. (Jack Khoury)
Click the alert icon to follow topics:
ICYMI
Ken Burns' Brilliant 'The U.S. and the Holocaust' Has Only One Problem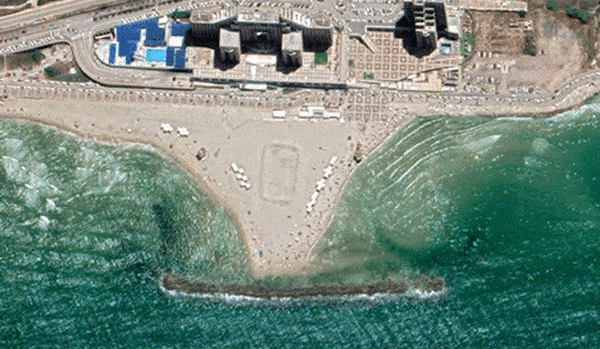 Facing Rapid Rise in Sea Levels, Israel Could Lose Large Parts of Its Coastline by 2050
Lapid to Haaretz: 'I Have Learned to Respect the Left'
The Mossad's Fateful 48 Hours Before the Yom Kippur War
As Israel Reins in Its Cyberarms Industry, an Ex-intel Officer Is Building a New Empire
How the Queen's Death Changes British Jewry's Most Distinctive Prayer