The War Is Over, Like It or Not. We Won, Right?
Operation Protective Edge ended not in a victory parade but in a fizzle, as usual, and the people of Israel are puzzled.
Soldiers sit in a shelter at an army deployment area near the Gaza border, August 4, 2014.
Credit: AFP
Operation Protective Edge in Gaza is winding down. As the 72-hour truce between Israel and Hamas holds and with the last Israeli soldiers out of Gaza, a calm - albeit a very tense one - has taken over. After more than a month in shelters, the residents of Israeli towns surrounding Gaza can breathe a sigh of relief. Children can play outside, their parents can go to work.
After a month of fighting, the end was rather anti-climatic. No victory marches followed Protective Edge. No trumpets sounded. As with any Israeli war, Israelis were summarizing, analyzing, trying to figure out even before the fighting had stopped: "Did we win?"
On the face of it, the answer should be abundantly clear: over the past four weeks Israel launched 4,762 attacks on terror-related targets, destroyed 32 offensive tunnels dug by Hamas, killed 1,865 Palestinians, an unknown number of them civilians. It destroyed thousands of houses, uprooted almost half a million people from their homes and intercepted almost every rocket fired at the center of Israel, thwarting Hamas'most ambitious attacks.
So why do we feel like we lost, or at least, that we didn't win?
Some of it is the heavy price Protective Edge has exacted so far. First and foremost, above all, Israel is a nation in mourning: 64 soldiers died and thousands more were injured. Civilians were injured too. There is the heavy cost of paying for war, the losses to the tourism industry and to companies whose workers stayed home with the kids, and to breadwinners whose pay-slips evaporated, There is Israel's increased diplomatic isolation. For all this, all we have to show are a few collapsed tunnels and a temporary halt to of hostilities?
The first signs of the inexorable disappointment came with the first Egypt-brokered cease-fire proposal. Soldiers at the front and residents in Israel's south reacted with anger. Thousands of Israelis took to Prime Minister Benjamin Netanyahu's Facebook page protesting that the job hadn't been done. They wanted a decisive victory, not a truce.
Then Likud MK Ze'ev Elkin, chairman of the Knesset Foreign Affairs and Defense Committee, told the news site Ynet that his committee would act as a "commission of inquiry"to determine why the army "failed to finish the job". Former deputy of defense minister Danny Danon, who Netanyahu fired two weeks ago, called the cease-fire "a tie with Hamas."
Netanyahu himself, speaking this week after the cease-fire was announced, reminded: "We said at the beginning that there's no guarantee of success." Well, that's not very festive, is it? At the end, the prime minister even broke his promise to never, ever to talk with Hamas.
As Protective Edge winds down, there doesn't seem to be a soul in Israel or in Gaza who doesn't think it's just a break before the next round. "We're glad this one seems to be ending," said an Israeli mother of two in the rocket-peppered town of Sderot two days ago. "But we know there'll be next round soon enough."
Israel cearly gained the upper hand. But there are no celebrations in the city plazas. No one will dive, half-naked and cheerful, into the fountains at Tel Aviv's Rabin Square.
"The problems of victory are more agreeable than those of defeat," Winston Churchill once said, "but they are no less difficult." In the last decade Israel has won the battles but feels like it's losing the war.
This asymmetry between the reality of fighting and the forlorn perception of its outcome go back at least ten years, to the end of the Second Intifada. It dogged the 2012 Pillar of Defense campaign as well, and Cast Lead before it, and the one before that. Each ended with a cease-fire, and the knowledge that fighting would resume once both sides had time to regroup. Each ended with a bitterness, a widespread suspicion that we could have "won better", if we had only "gone all the way".
Victory has a thousand fathers, failure is an orphan, but what about a draw?
They didn't raise a white flag all the way
Polls - like the one conducted by Haaretz this week - found that most Israelis don't feel any side actually won.
In the press, even those who proclaim victory don't seem that eager. "Israel won, and won big", claimed former Member of Knesset Yehuda Ben-Meir in Haaretz this week, but then admitted: "It's hard to tell whether the cease-fire will hold up, but the fact that Hamas agreed to it unconditionally, despite the staunch statements of its leaders in the past three weeks, is a tough defeat for the organization. They didn't raise a white flag all the way up to the top of the flag pole, but it's definitely a white flag being raised, at least at half mast."
Writing in news site NRG, security analyst Amir Rapaport wrote, "Israel accomplished its operational goals, more or less, while Hamas didn't at all." However, he added that the main reason the goals were accomplished - hurting Hamas and demolishing the tunnels is that they were "very humble to begin with"
These, mind you, are the articles trying to convince us of an Israeli victory. Is it a wonder, then, that when former Hamas PM Ismail Haniyeh declares "We won," some Israelis nodded?
Israelis, once again, have discovered this week the inevitability of disappointment built in to the conflict with the Palestinians: every "victory"holds within it the seeds of the next round of fighting.There's a sense of hopelessness to those "victories". Not the hopelessness of defeat, but the hopelessness of a victory that is, in the end, inconsequential. Of knowing that in this boxing match, the number of rounds is infinite.
Iron Dome can't intercept reality. Our rockets and aircrafts can't solve the unsolvable any easier. They can't even guarantee us a quiet winter, because this is not an ordinary military conflict. There is no winning this.
On Wednesday, the army began to release the first of the 80,000 reserves it had called upThey'll go home knowing that they did their best, but that they'll be back in a year, two years, tops.
And, armed with this knowledge, Israelis will try to go back to normal. Or at least, our version of normal, which can never be truly normal, but is what it is.
No sirens, and no surprises, please.
ICYMI
Ken Burns' Brilliant 'The U.S. and the Holocaust' Has Only One Problem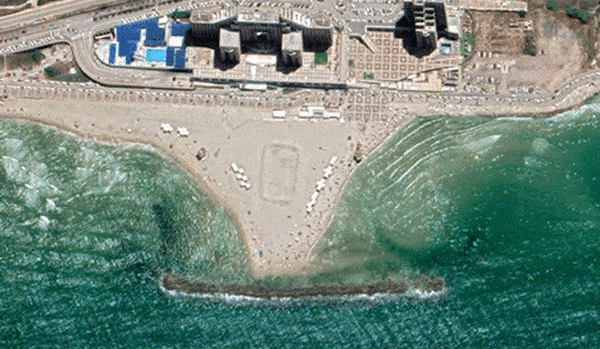 Facing Rapid Rise in Sea Levels, Israel Could Lose Large Parts of Its Coastline by 2050
Lapid to Haaretz: 'I Have Learned to Respect the Left'
The Mossad's Fateful 48 Hours Before the Yom Kippur War
As Israel Reins in Its Cyberarms Industry, an Ex-intel Officer Is Building a New Empire
How the Queen's Death Changes British Jewry's Most Distinctive Prayer