Word of the Day Ekdakh: How a Precious Stone Became a Pistol
The Hebrew word for pistol hadn't always been the name of a means of death: In its single biblical reference, the word refers to the pearly gates.
Ekdakh, or pistol.
Credit: Dreamstime
I'm a peacenik, so I don't much like or want to write about words of violence or war. However, since the end of this bout of violence between Israelis and Palestinians is nowhere in sight, I guess it's my duty to write a few war related words of the day. So here it is: ek-DAKH - the Hebrew word for pistol.
This word hadn't always been the name of a means of death. In its single biblical reference it was a precious stone. ״And I will make thy windows of agates, and thy gates of carbuncles, and all thy borders of pleasant stones.״ (Isaiah 54:12)
Since this is the only ancient Hebrew text in which we can find the word and no equivalent is found in Hebrew's sibling Semitic languages, it is very difficult to ferret out what Isaiah had in mind with this word. It is clear that it is a kind of stone since the Hebrew phrase describes the gates being of "avnei ekdakh," that is, stones of ekdakh.
So how do we find out what an ekdakh is? Well, what we usually do in this case is look to the ancient translations and see if our ancestors, who lived closer to the time the text was written, may have some insight. Well, the most ancient translation we have of this passage is the Septuagint, an ancient translation to Greek, which renders ekdakh krýstallos, which is what you think it is - crystal. Apparently, this rendering inspired the writer of the Book of Revelations' "Pearly Gates," which spawned the belief among Christians that the gates of heaven are made of pearl.
But later translators and commentators wouldn't agree with the translators of the Septuagint. The next extant translation – Targum Jonathan to Aramaic – gives us gemar, meaning red-hot burning coal. St. Jerome translated avnei kedakh – lapides sculptos – in his Latin translation, the Vulgate, which is of no help: That just means carved stones. So it seems that the ancients aren't much help. But that's okay, we have another tool in our linguistic toolbox: the root.
Click here to get 'Word of the Day' sent directly to your inbox.
Hebrew words, as do words of all Semitic languages, have basic roots – (usually) three letters in a word that give the word its basic meaning, which can be adjusted by the vowels used to inflect it or by additional consonants added to it nearly always at the beginning or end. In the case of ekdakh, most scholars agree that the root is K-D-KH, and that the alef at the beginning is what is called a prosthetic alef – but we won't go into that. So what does the root K-D-KH mean?
K-D-KH has two main uses: drilling, as in the word for drill makdekha, and burning, as in the Hebrew word for fever kadakhat. These two meanings may be related as one may start a fire by rubbing kindle in a circular fashion or the fact that the root serves for both may be a coincidence. Anyway, back to ekdakh, out of all the possible translations we have seen up to now, the only one that has anything to do with burning or drilling is the Aramaic translation, which we saw was a burning red coal.
The medieval Hebrew lexicographer Jonah ibn Janah wrote that the stones name comes from the fact that they glow like fire. And the Jewish scholar Rashi, wrote a generation later that "They are a kind of precious stones that burn like torches and they are the carbuncle." A carbuncle used to be a bright red gem. Today it is mostly used for an inflammation on the skin caused staphylococcus bacteria. Most translations since use carbuncle for the translation.
You may be asking yourself: "What does all this have to do with pistols?" Well, during the 19th century, the going term for gun or pistol was kane rove –something like firing tube. But Eliezer Ben-Yehuda, at the time a young newspaper publisher in Jerusalem and avid promoter of Hebrew speech, didn't like this phrase at all. In an article he wrote in his newspaper HaTzvi in 1896, he explained:
"This phrase is so foreign to the Hebrew ear, like a bastard in its form and shape, that every time we come to use it our soul is disgusted by it. And we do not know what to do with it and how to use it in plural, and how to conjugate it."
So Ben-Yehuda followed up with a suggestion: "Another name we can call this tool and truthfully we say that this name is more pleasant. For as the name of this tool in French (Fusil), German (Flinte) and Italian (Fucile), is derived from the stone from which one forages fire[Flint], since in the beginning pistols would be ignited by a pound on the above mentioned stone. It is true that this had already changed and there is no reason to call it after this characteristic. But we in Hebrew have a word for a stone of this type, and also of flames of fire."
He went on to describe the word we had discussed: "The root is K-D-KH. And the name is ekdakh. Up to now linguists have been unable to define well what kind of stone this is. In Arabic kaddakh - a stone from which fire is struck. Anyway, even if we do find out what stone an ekdakh is, or decide on a stone to use it as a name for, this name is uncommon in speech, and its form and meaning of starting fire which it contains in it, is well equipped to designate the tool we are discussing. And thus we think and feel that it would be good to designate it with the name ekdakh."
And so it was that the word ekdakh became the Hebrew word for pistol.
ICYMI
Ken Burns' Brilliant 'The U.S. and the Holocaust' Has Only One Problem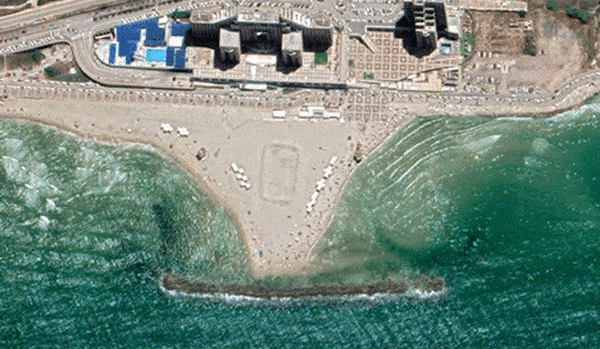 Facing Rapid Rise in Sea Levels, Israel Could Lose Large Parts of Its Coastline by 2050
Lapid to Haaretz: 'I Have Learned to Respect the Left'
The Mossad's Fateful 48 Hours Before the Yom Kippur War
As Israel Reins in Its Cyberarms Industry, an Ex-intel Officer Is Building a New Empire
How the Queen's Death Changes British Jewry's Most Distinctive Prayer