Israel Will Weather This War Perfectly Well
For one thing, if tourists didn't have short memories, they wouldn't have planned an Israel vacation anyway
IDF APCs on the border with Gaza, July 25, 2014.
With Operation Protective Edge marking its 23rd day Wednesday and with little sign of it winding down quickly, it stands a good chance of becoming one of Israel's longest conflicts ever.
In nearly seven decades of on-again, off-again fighting, only the 1967-70 War of Attrition and the 1982-85 first Lebanon war were multiyear affairs. But that was another era. More recently, the Second Lebanon War lasted 33 days, Cast Lead 22 days and Pillar of Defense a mere eight.
Protective Edge has not only lasted longer, but, from Israel's perspective, has exacted a high human cost, with 56 dead so far (53 Israel Defense Forces soldiers and three civilians). The Second Lebanon War was more lethal, with over 160 dead (including 122 soldiers), but Cast Lead's casualties amounted to 13 and Pillar of Defense just six.
Moreover, Protective Edge has had the dubious honor of bringing more of the war to more of the home front – including the Tel Aviv area – than any missile war since the late Saddam Hussein tried to lure us into the first Gulf War more than two decades ago.
Protective Edge has been painful for Israel, but not as painful as a conflict of its size and scale should be. Here are four reasons why it hasn't.
Much hysteria about nothing
The first reason is that we have had the luck of balancing steadily on the precipice. The brief suspension of flights to Ben-Gurion International Airport by a host of foreign airlines created much hysteria but was, in fact, a fictitious crisis: No plane was hit or even threatened by a rocket, and most of the carriers were back flying to Israel within a day or two.
The tourism season was already a shambles before that brief flight ban, but it's only 2% of the economy and, contrary to what a lot of experts are saying, the traveling public will quickly forget. If tourists didn't have short memories, they wouldn't have been planning a trip to Israel this summer to begin with. Remember? We're in the Middle East.
Now, if a rocket had hit a plane or terminal, that would have rewritten the rules. Airlines would have waited until the fighting was over, and then some, and would halt flights the minute the next conflict was on the horizon.
Not just tourists, but business people would think twice about a trip to Tel Aviv. Business confidence, and the notion that we're an island of calm in a stormy region, would suffer perhaps irretrievable damage.
Startup Nation versus the missile threat
The second is that there are technical solutions to our problems, of which Iron Dome is the example par excellence. Without it, Tel Aviv would be shut down now, as most of Israel's north was during the 2006 Lebanon war. In terms of economics and morale, the anti-missile system has brought us a bigger victory than any general has in this round of fighting
The lesson of Iron Dome is not a popular one, because we've been taught to believe that the only solution to our security problem is to reach a comprehensive agreement with the Palestinians. Separation walls won't protect us from terror attacks and nuclear weapons won't keep our enemies at bay. In fact, our experience has been exactly the opposite.
We're just not Scandinavia
The third reason is that we were fiscally prepared. When we compare ourselves to the other countries that belong to the Organization for Economic Co-operation and Development, we almost never look very good. Our government is less generous in spending on health, education and social welfare, and, of course, we'd like to be up there with Sweden or Denmark.
But Protective Edge should serve as a stark reminder that we can't. Denmark didn't have to spend tens of billions developing and maintaining Iron Dome. Sweden's factories aren't bombarded by rockets and their employees aren't called up for reserve duty every couple of years. They can spend so much more on butter because they spend less money and time with their guns. The fact that the economy is weathering this war, like the last few, has a lot to do with Israeli pluck (clap, clap, clap) but also a lot to do with cautious fiscal policy (yawn, look at your watch).
We entered this war with our finances in unusually good order – a budget deficit smaller than planned – so that the treasury won't be scrounging for funds to pay for missiles and overtime for generals. It may sound vulgar to talk about keeping taxes low at a time when young men are dying, but, economically speaking, if the government had been conducting a loose, European-style fiscal policy, it would have had to resort to tax hikes, more borrowing and spending cuts of the sort that could have easily driven the country into a recession.
If Israel hasn't been as generous to the weaker segments of society in terms of allowances and benefits, it has at least given them a dependably low unemployment rate and steady economic growth.
The history of blame
The fourth reason is that our place in the world has grown more important.
Like the conflicts before it, Protective Edge has sparked anti-Israel protests in Europe and America, and unfavorable media coverage – all of which justifiably arouses fears that we will face a more powerful and emboldened movement to boycott and divest from Israel when the war is over. Yes, the carnage in Syria or Iraq is bigger and Israel has a right to defend itself, but the images of suffering Palestinians are more likely to sway public opinion than numerical comparisons or complicated analyses over disproportionate force or the history of blame.
Two trends, however, are working in Israel's favor, and hasbara isn't one of them.
The Arab Spring has made the world more cynical about Arab – including Palestinian – aspirations to live their lives in peace, freedom, democracy and dignity. There was no occupation in Egypt, Syria, Iraq or Libya, yet in all these places the revolt against dictators ended with either a new regime of oppression or deadly chaos. It may be unfair to tar Palestinians with the failing of their Syrian or Egyptian brothers, but it isn't unreasonable.
The second is Israel's growing economic value.
High-tech has not only given Israel a second, friendlier rep as Startup Nation instead of just Nation at War, it has turned it into a critical link in the global economy. Now the country's natural gas resources are creating a second critical asset.
Israel is no energy superpower, but given the situation in the region (Egypt squandering its own gas, Russia bullying its neighbors, Turkey seeking to diversify its source of oil and gas away from such feckless suppliers as Russia, Iraq and Iran), we're going to get more mileage from our gas than we might have. In this context, it will be interesting to see whether Turkish Prime Minister Recep Tayyip Erdogan holds his nose and countenances a gas deal with Israel.
Click the alert icon to follow topics:
ICYMI
Ken Burns' Brilliant 'The U.S. and the Holocaust' Has Only One Problem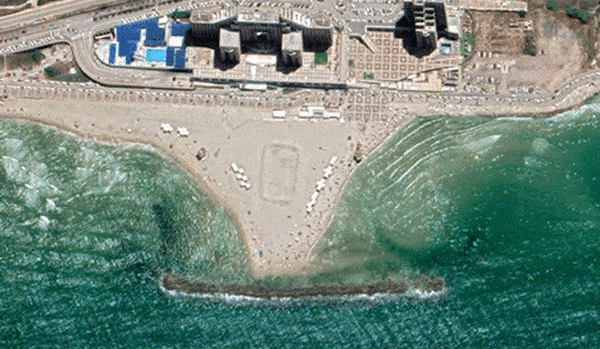 Facing Rapid Rise in Sea Levels, Israel Could Lose Large Parts of Its Coastline by 2050
Lapid to Haaretz: 'I Have Learned to Respect the Left'
The Mossad's Fateful 48 Hours Before the Yom Kippur War
As Israel Reins in Its Cyberarms Industry, an Ex-intel Officer Is Building a New Empire
How the Queen's Death Changes British Jewry's Most Distinctive Prayer