Tunnels Failed to Deliver Victory in World War I and They Failed Hamas in Gaza
Just like the British and Germans in World War I, Hamas wasted precious time and resources on a plan that has ultimately proved unsuccessful.
A smuggling tunnel. The army destroyed some 250 tunnels last month, and flooded another 76 with sewage, after locating them by means of satellite information.
Credit: Reuters
Over the last week, as the full extent of the Hamas tunnel operation became evident to the Israeli public, most commentators compared it to the vast and impenetrable subterranean network excavated by the Vietcong in 1960s in their guerrilla war against the U.S. armed forces. But by far, the most massive use of tunneling in the history of warfare was during World War I – when both the British and the Germans poured huge resources into tunnels that were designed to break through the impasse of the trench war in France and Belgium. At one point, it is estimated that the British had 120,000 troops involved in the digging campaign.
Monday marks the 100th anniversary of the outbreak of the Great War, although some historians prefer different dates. And while there is little to compare between a war that spanned continents and oceans, involved great powers and small nations alike and ended in the deaths of so many millions of soldiers and civilians, to the latest round in the Israel-Hamas conflict in around Gaza, the lessons of tunnel warfare in 1914-1918 are more relevant to the Gaza situation than the American failure to handle the Vietcong tunnels.
True, both in Vietnam and under Gaza the tunnels were dug by guerrilla organizations (or more accurately by poor laborers, including many children, pressed into work by those organizations) facing a well-equipped modern army. But that is where the resemblance ends.
In Vietnam the tunnels shielded, supplied and hid a shadowy army of fighters, allowing it to withstand devastating air attacks. Hamas has tunnels for all that, but the main objective of the tunnels currently being uncovered and destroyed in recent days by the IDF was to try and change in some way the strategic balance between Israel and Hamas and poise a new threat once the rocket fire has largely been neutralized by Iron Dome. And in that it is much more reminiscent of World War I tunneling operations which both the British and the Germans embarked upon in the hope that they would blast massive holes in the enemy trench positions and enable them to break through the stalemated frontlines.
The tunnels had a few successes, most notably at the Battle of Messines in June 1917, where 600 tons of explosives placed by the British in 21 tunnels killed an estimated 10,000 German soldiers and allowed the British a rare advance. But by and large, the tunnels failed to provide either side with a strategic breakthrough.
Tunnels of a length and size capable of blasting large enough holes in enemy lines took around a year and a half to build, were a major drain on manpower and other resources and even though the Western Front was largely static for three years, it was still impossible to foresee whether any given tunnel would be effective once completed; many were abandoned mid-work and many others failed to deliver the expected results once the explosives were activated.
By 1917, most of the tunneling operations ended. The British had moved on to using tanks in an attempt to break through the trenches and barbed wire and creating a more mobile war. Ultimately the war was won by the allies without even having to invade Germany; it was not on the battlefield, however, but through dominance of the sea lanes and superior resources – thanks in part to the belated entrance of the United States to the war – which allowed them to gradually starve Germany into submission.
Hamas has made a similar mistake in investing so much into its tunnels. They took years to build, sucked up so much of Gaza's scarce resources, including the little cement allowed by Israel into the Strip, and though they were designed to hit a target that they knew would not move – Israeli kibbutzim and IDF positions - their chances of success were small. It is impossible underground to get an exact idea of where the exit will be and in the five attempts in recent weeks to use tunnels for cross-border raids, in each case the fighters coming out of the ground were quickly detected by IDF surveillance. They were either killed in fierce firefights, in which also IDF soldiers were killed, or forced to escape back into the tunnel which was speedily destroyed.
Even if a tunnel attack had succeeded, as one did in June 2006 when two IDF soldiers were killed and Gilad Shalit was taken captive, it would hardly have been a "game-changer," as some are now describing it. Soldiers and civilian kibbutzniks would have been killed and prisoners may have been taken live back into Gaza. That would have been a blow to Israel and a short-lived PR coup for Hamas, but no different than the ones suffered so many times before over the decades in incursions from any of Israel's borders. As painful as the casualties would have been, it wouldn't have changed in any way the overwhelming superiority of Israel over Hamas in every parameter.
There are ridiculous myths circulating on the Internet now about a multi-tunnel simultaneous attack planned by Hamas to take place on Rosh Hashanah, in which hundreds of fighters would emerge at once from dozens of tunnels, wreaking havoc and bloodshed over a widespread area and taking many hostages back with them. Hamas is a security-conscious organization and they would be fully aware there was no way such a large operation would not be detected in advance by Israeli intelligence.
Hamas' plan was to use this or that tunnel at the right moment for a combined kidnap/suicide attack at one location and nothing of such a mythological scale is even conceivable. As it is, Israeli intelligence did detect the tunnels program (though there's an argument over whether the full extent was known) and the ground operation in this round of violence has therefore been specifically aimed at destroying those tunnels.
Just like the British and Germans in World War I, Hamas wasted precious time and resources on a plan that has ultimately failed and would never have yielded more than limited tactical gains had it succeeded.
ICYMI
Ken Burns' Brilliant 'The U.S. and the Holocaust' Has Only One Problem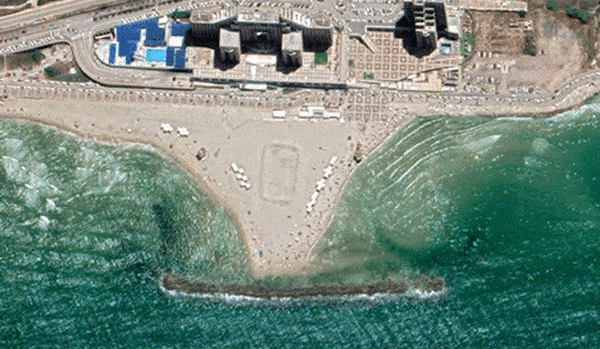 Facing Rapid Rise in Sea Levels, Israel Could Lose Large Parts of Its Coastline by 2050
As Israel Reins in Its Cyberarms Industry, an Ex-intel Officer Is Building a New Empire
How the Queen's Death Changes British Jewry's Most Distinctive Prayer
Chile Community Leaders 'Horrified' by Treatment of Israeli Envoy
Over 120 Countries, but Never Israel: Queen Elizabeth II's Unofficial Boycott