LIVE UPDATES: Operation Protective Edge, Day 17
Iron Dome intercepts rocket over Eilat; Hamas' Meshal: Gaza is a huge prison, truce today if siege lifted; UN chief: Circumstances of Gaza school attack that killed 15 still unclear; Palestinian death toll in Gaza at over 770.
Palestinians hug near a destroyed mosque following an Israeli military strike in the Jabalia district in the northern Gaza Strip, on July 24, 2014.
Credit: AFP
Israel's Operation Protective Edge entered its 17th day on Thursday, marking the 7th day of the IDF's ground incursion into the Gaza Strip.
The Palestinian death toll since Israel launched Operation Protective Edge surpassed the 770 mark, most of them since Israel entered Gaza a week ago.
Israel military fatalities stand at 32 since the operation commenced. 134 soldiers are currently hospitalized due to wounds incurred in the fighting, and one soldier is missing. The IDF has not announced the loss of any soldiers since Wednesday.
Israel asserted Thursday that the hospital it struck the day before was empty of patients and being used for missile attacks, while Palestinians asserted that 15 people were killed when a UNRWA school was hit by artillery fire on Thursday.
While U.S. Secretary of State John Kerry was in Egypt pushing for a cease-fire, and Prime Minister Netanyahu was meeting with the British Foreign Secretary Philip Hammond in Israel, Palestinian President Mahmoud Abbas was meeting with Jordanian King Abdullah to present a list of Hamas and Palestinian Authority truce demands.
SUBSCRIBE TO HAARETZ AND GET FULL COVERAGE
For Wednesday's live updates, click here
Latest updates
11:58 P.M. Cleared for publication: Golani Brigade regiment commander seriously wounded in the Gaza Strip following the collapse of a tunnel wall in Shijayeh. He is the third Golani commander to be seriously wounded.. (Gili Cohen)
11:53 P.M. U.S. Secretary of State John Kerry has drafted a new cease-fire proposal and presented it to both sides.
Kerry, who will leave Cairo Friday afternoon and return to Washington, is awaiting an answer from Qatar and Turkey's foreign ministers as to how Hamas political cheif Khaled Meshal has responded to his proposal. (Barak Ravid and Jack Khoury)
11:38 P.M. Two Palestinians killed , 55 wounded in clashes at Qalandiyah checkpoint in the West Bank. One person is in serious condition, according to Palestinian sources. (Chaim Levinson and Jack Khoury) Read full story here.
11:28 P.M. Coordinator of Government Activities in the Territories Spokesman calls UNRWA claims that Israel prevented the safe evacuation of the UNRWA school in Beit Hanoun "unfounded."
"During recent days," according to the statement, "COGAT has been maintaining close contact with representatives of the UNRWA, the ICRC and Palestinians in Beit Hanoun."
The statement adds that "COGAT made every possible effort to ensure the safety of local residents by evacuating them from the local area," and further emphasizing that "following this contact, the humanitarian window was authorized." (Gili Cohen)
11:21 P.M. 47 rockets have fallen in Israel and 15 rockets were intercepted over the past 24 hours.
IDF attacked over 90 targets today, and have launched more than 3,450 strikes since the beginning of Operation Protective Edge. (Gili Cohen)
11:09 P.M. IDF has discovered 31 tunnels since the ground invasion's beginning, 11 of which were subsequently destroyed, the IDF spokesperson confirmed in a press release.
IDF soldiers additionally detained 2 militants and killed a would-be suicide bomber in two separate events on Thursday.
10:45 P.M. The IDF Spokesman issued a statement that it is investigating the matter of the deadly hit on the UN-run school in Beit Hanoun. Terrorists opened fire at IDF personnel from the area of the school, according to the spokesman, and soldiers returned fire toward the source of the shooting. Likewise, stated the spokesman, Hamas fired at the school, and despite repeated warnings and appeals to international authorities to remove civilians from these areas of fighting, they were not evacuated. (Gili Cohen)
10:43 P.M. Thousands of Palestinians are marching from Ramallah towards Jerusalem. Palestinian ambulances, blaring their horns, are streaming in the opposite direction, carrying protesters wounded by IDF fire at the Kalandia checkpoint. (Amira Hass)
10:10 P.M. Rocket alert sounds in Eilat. A number of loud explosions were heard, and one missile was intercepted. No injuries were reported, and no damage done. (Haaretz, Shirley Seidler)
10:05 P.M. The head of the Eshkol Regional Council, Haim Yalin, informed local residents that stocks of mobile bomb shelters from the Defense Ministry had run out.
"We received an update from the ministry signed a deal with seven companies for manufacturing additional mobile shelters, and they estimate that within ten days we will be able to start providing for the communities." He added that to date about "25 percent of all (rocket) landings in Israel have been in Eshkol." Therefore, he added, "It's important for us there will be understanding about Eshkol's special situation." (Shirly Seidler)
10:02 P.M. The funeral of Staff Sgt. Daniel Pomerantz, killed in the Gaza fighting, took place today. During the service, the soldier's mother - who once headed the IDF division that deals with military casualties and wounded soldiers - played a recording of the last phone conversation she held with him. In it, the soldier is heard telling his mother that he left her a written note in his cellphone, in case he would not make it back from the battlefield. (Haaretz)
9:33 P.M. The IDF says the army fired mortars in the area of the UNRWA school in Gaza after Israeli troops were shot at from the area of the school. However, the army still says it does not know whether it was IDF fire that hit the school. An IDF source said that in the past few days army representatives made contact with UNRWA and the Red Cross to inform them troops were shot at from near the school, and that the IDF would return fire toward the source of the shooting, which was located near the school. (Gili Cohen)
9:26 P.M. Hamas political bureau head Khaled Meshal says Hamas is prepared to sign a ceasefire agreement – on the condition that Israel's siege of Gaza is rescinded.
"We seek full international commitment to the end of the aggression and the siege over Gaza - real commitment," he told several Arabic-language media outlets. "We are not interested in the mechanism, what we are interested in are true guarantees that the siege be lifted. We have gotten such promises before, and nothing came of them."
"We want an international airport, we want a seaport, we want an opening to the outside world, and not the situation where we are controlled by a few border crossings that turn Gaza into a huge prison, where no one can leave even for medical treatment or to work […] When we get a clearly worded drafting that guarantees these things, and the international community gives its backing to this draft - than the fire can be stopped, even today." (Jack Khouri)
8:40 P.M. More brigades are making preparations on the Gaza border. Three rockets exploded in open areas in Eshkol Regional Council in south Israel, one was found in a town, no injuries reported. (Gili Cohen and Shirley Seidler)
8:53 P.M. IDF Spokesperson Moti Almoz tells Israel's Channel 2 that it is not yet known whether the UNRWA school was hit by stray IDF shell or by Hamas fire.
8:52 P.M. Security cabinet will convene tomorrow at 1:30 P.M. in Tel Aviv to discuss continuation of IDF's Gaza operations. (Barak Ravid)
8:37 P.M. Turkish Prime Minister Recep Tayyip Erdogan says Turkey would push for Israel to be tried at an international criminal court if it kept up its operation in Gaza, and accused Israel of "spitting blood."
Turkey, a member of the U.S.-led NATO military alliance, was once Israel's closest regional ally but has become one of its most vitriolic critics, with Erdogan last weekend accusing it of "surpassing Hitler in barbarism" with its Gaza offensive.
"If Israel continues with this attitude, it will definitely be tried at international courts," Erdogan, who is campaigning for a presidential election on Aug. 10, told a rally of supporters in the southern port city of Mersin.
"We will see this happen and Turkey will struggle for this," he told the cheering crowd. (Reuters)
8:15 P.M. The IDF believes that Hamas is now firing fewer rockets because it wants to extend the duration of the fighting. Security officials believe that the reason for the slowdown is both because of the dwindling stocks in the hands of Hamas and Islamic Jihad, and the organizations' desire to hold on to the remaining arsenal. According to Military Intelligence, Hamas had about 9,000 rockets in the Gaza Strip. About 2,300 rockets were fired at communities in Israel since the beginning of the operation, and the IDF believes that it hit about 35 percent of the total number of all the rockets. That leaves about 3,000 rockets that Hamas can still use.
Sources in the IDF also say that about half the facilities that produce the rockets in Gaza have been hit. Security officials say they also believe that even if there is a cease-fire, Hamas will want to launch a final massive rocket attack on the south. However, the army believes that Hamas operatives near the border are beginning to break. Thursday morning, for example, two armed men emerged from a tunnel with their hands up, and surrendered to a paratroop force nearby. The pair were taken into custody and sent for interrogation. (Gili Cohen)
7:43 P.M. UN Secretary-General Ban Ki-moon condemned the attack on the UNRWA school for Palestinian refugees in northern Gaza that killed many Gaza residents who sought refuge there from Israeli shelling.
Ban again demanded that Israel and Hamas abide by international humanitarian law during their conflict and respect "the sanctity of civilian life, the inviolability of UN premises" and protect humanitarian workers.
He said in a statement in Erbil, Iraq, which was released at UN headquarters, that the "circumstances are still unclear."
Ban said UN staff are attempting to arrange "a humanitarian pause in the hostilities so that civilians could be evacuated."
"Today's attack underscores the imperative for the killing to stop — and to stop now," Ban said.
7:40 P.M. 12 Palestinians were arrested for causing disturbances around Jerusalem. Thursday night is Laylat al-Qadr according to Muslim tradition, one of the most important nights in the month of Ramadan. Police and security officials are concerned that the combination of the holiday and the fighting in Gaza will lead to widespread disturbances in the West Bank and East Jerusalem.
Thousands of police officers and border police have spread across the capital. The special deployment will last until the end of Friday prayers. (Nir Hasson)
IDF troops in Gaza have thus far uncovered and destroyed 11 tunnels dug across the Israeli border.
One Israeli lightly wounded by a mortar shell that landed in Eshkol regional Council.
In addition, two rockets struck open areas in the Be'er Sheva region. (Gili Cohen, Shirley Seidler)
7:27 P.M. Rocket alerts sound in Be'er Sheva region (Haaretz)
7:22 P.M. Rocket alerts sound in Gaza-bordering region (Haaretz)
7:05 P.M. Reuven Rivlin sworn in as Israel's 10th president; Outgoing president Shimon Peres gets standing ovation after adressing plenum.
Rivlin started his speech on the topic of the conflict in Gaza. "We are convened today in the Knesset with a clear message to our enemies," he said, "you couldn't overcome us, and you will not overcome us. We are not fighting the Palestinian people, and we are not fighting Islam- we are fighting cruel, murderous terrorism. While we use missiles to protect civilians, they use civilians to protect missiles. Stopping terror is not just a moral act, it is a humane act. Only suppressing terrorism will stop the killing of innocents, on both sides."
6:51 P.M. Hamas must agree to a humanitarian ceasefire without conditions, British Foreign Minister Philip Hammond said at news conference in Cairo on Thursday, as Egypt tries to mediate a truce between Israel and Palestinians in the Gaza Strip. (Reuters)
6:42 P.M. Following reports of five deaths in the Khan Yunis area, the IDF says it struck a group of militants there, killing four.
84 Palestinians have been killed since last night in the Gaza Strip. Six of them were members of the Abu-Itta family. Surviving members of the family say their neighbors' house was the one bombed, but the blast and shrapnel reached their house. The Gaza death toll now stands at 779. (Gili Cohen, Jack Khouri)
6:38 P.M. IDF says it is reviewing reports of deaths at UNRWA school in Beit Hanoun. IDF says rockets launched by Hamas had landed in the Beit Hanoun area during fighting with its forces, and that those rockets may be responsible for the deaths. (AP)
Also being reported there were Hamas rockets falling in Beit Hanoun today RT
6:30 P.M. Swearing-in of Israel's 10th president, Reuven Rivlin, now commencing at the Knesset. MKs of Arab parties not attending ceremony. (Haaretz)
5:25 P.M. Rocket alerts sound in Ashdod, Be'er Sheva, Ashdod areas (Haaretz)
5:21 P.M. Prior to the IDF's attack on the Wafa hospital yesterday, an anti-tank missile was fired at Israeli troops from within one of the hospital's structures, the IDF says. The hospital is empty of patients and doctors since July 17. Two militants were killed in the IAF strike, which also targeted a structure near the hospital which was used by militants as a command center and an ammo storage-room. (Gili Cohen)
4:52 P.M. Palestinian sources in Gaza say 15 people were killed and some 100 wounded by IDF artillery fire directed at an UNRWA school in Beit Hanoun.
According to eyewitness accounts, the "Kaa-Albir'' school was hit by four shells fired by IDF forces. According to one testimony, one of the shells struck the school's court, which at the time was crowded with refugee families, who relocated there after fleeing their homes in the northern Gaza Strip. Reports say the majority of the dead are women and children. Survivors say no early warning was given.
The Hamas spokesman in the Gaza Strip, Fauzi Barhum, called the attack a "war crime" and said it showed that "international facilities, too, are not immune to Israeli aggression." Hamas, he said, "will not allow this incident to go unanswered."
(Jack Khouri)
4:27 P.M. Rocket alerts sound in Ashkelon, Gaza Border regions. (Haaretz)
4:24 P.M. Palestinian President Mahmoud Abbas now meeting with King Abdullah of Jordan, at the palace in Amman.
4:23 P.M. UNRWA Spokesman Chris Gunness says UN refugee agency attempted to coordinate 'a window for civilians' to leave shelter with IDF, but was rejected. (Haaretz)
Confirm multiple dead and injured at designated UNRWA shelter in Beit Hanoun RT
4:20 P.M. State Comptroller Joseph Shapira is conducting an inquiry into the defense establishment's preparations for the threat of Hamas tunnels in the Gaza Strip, according to Globes. For the full article, click here
4:14 P.M. European air traffic security agency has removed its recommendation to avoid flying to Ben Gurion In'tl Airport, EU representative in Israel says. (Haaretz)
3:57 P.M. Meeting with Prime Minister Benjamin Netanyahu this morning, British Foreign Secretary Philip Hammond "stressed the need for a rapid conclusion to [Israel's] ground operation in Gaza," and urged that Israeli forces "do everything they can to avoid civilian casualties." (Barak Ravid)
3:55 P.M. Israeli army tanks fire shells at a UNRWA school in the northern Gaza Strip town of Beit Hanoun, al-Aqsa TV of Hamas reports.
At least 10 people are killed and dozens injured, paramedics say. "A new massacre was committed when Israeli army tanks struck a UNRWA school in Beit Hanoun, where dozens of Palestinians are taking refuge," the channel of the Islamist movement in de facto control of the Gaza Strip says. An Israeli military spokeswoman says the army is in the process of verifying the report. (DPA)
3:35 P.M. Prime Benjamin Minister Netanyahu, in public statement made in the Knesset, offers condolences to bereaved families of fallen IDF soldiers, says Hamas suffering "severe blow." (Haaretz)
3:22 P.M. Starting Friday, residents of Israel's south, center, Sharon, and Jerusalem regions will receive text messages directly to their cellphones alerting them of rocket sirens.
The Home Front Command announced today that the system will be used in case of "severe" alerts, and added that it is possible messages will be sent to areas where rocket sirens were not activated. The cellphone companies that will be supporting the system are Orange, Pelephone, and Cellcom. (Gili Cohen)
3:20 P.M. Foreign ministry spokesman Yigal Palmor says Israel is disappointed in the decision of Brazil's government to recall its ambassador in Tel Aviv for consultations. "This decision does not reflect the level of relations between the countries and ignores Israel's right to defend itself", Palmor says.
"Such steps do not contribute to promote calm and stability in the region. Rather, they provide tailwind to terrorism, and naturally affect Brazil's capacity to wield influence. Israel expects support from its friends in its struggle against Hamas, which is recognized as a terror organization by many countries around the world." (Barak Ravid)
2:53 P.M. The death toll in Gaza rose overnight to 738, after 51 Palestinians were killed since Wednesday night, according to sources in the Gaza Strip. Another 4,620 Gazans have been injured since the start of Operation Protective Edge.
According to sources in Gaza, most of the bombing was along the eastern and northern Strip, especially in the area of Khan Yunis, where at least 23 bodies were found. In Huja'a residents pleaded for immediate help in extricating numerous bodies that were still buried under rubble, noting that the village is surrounded, preventing them from leaving.
Among the dead in Khan Yunis are apparently five Gazans who were killed in an air strike. Two were on a motorcycle and three were in a small pick-up truck in a village east of Khan Yunis when they were hit. During the night the home of the Astel family was bombed and, according to reports, by noon 10 bodies had been removed from the rubble. In the morning there were reports of massive bombing in the al-Bureij and El-Magazi refugee camps. Massive bombing also continued in the Shujaiyeh and A-Tofuah neighborhoods of Gaza City. Throughout the Gaza Strip rescue teams are working practically without any equipment to extricate both bodies and injured people from beneath the rubble. (Jack Khoury)
2:39 P.M. US Airways and United Airlines to resume service to and from Ben-Gurion Int'l Airport. Flights operated by both companies will land in Ben-Gurion airport tomorrow morning. The companies' flights to the U.S. will resume on Saturday morning. Delta Airlines will also resume its Ben-Gurion operations today.
European airlines Air Berlin, Alitalia, Meridian and Air Méditerranée also announced they will resume service. (Zohar Blumenkrantz)
2:04 P.M. Rocket sirens sound in dozens of towns in the Ashdod-Ashkelon region. Two rockets intercepted in Kiryat Gat region, and two others land in open areas.
One rocket hits a dairy barn in Yoav Regional Council. (Shirley Seidler)
2:01 P.M. European Air Safety Agency to lift its recommendation to avoid flying to Tel Aviv, says a spokesman. (Reuters(
1:55 P.M. Twenty Palestinians that have been arrested during Operation Protective Edge are currently being interrogated by the Shin Bet security service.
Hamas and the Palestinian Authority have sent a document to the United States, members of the Arab League and the other parties involved in efforts to reach cease-fire agreement in which they detailed their conditions for a truce.
Among the conditions are: the opening of borders and freedom of movement for Gazan residents; the opening of the Rafah crossing in coordination with Egypt and the Palestinian Authority; the release of prisoners who were re-arrested after they were released in the Gilad Shalit prisoner exchange deal; the carrying out of the fourth prisoner release (that which Israel refused to do amid the failing round of peace talks earlier this year); permitting Gaza fishermen to sail up to 12 nautical miles from shore; enabling freedom of movement for Palestinians in currently restricted corridors, including agricultural areas along the Strip's border. In addition, Hamas and the Palestinian Authority demands that an international committee be set up to guarantee to implementation of the agreement.
The Palestinians have gotten the impression throughout the cease-fire negotiations that Israel opposes most of the demands and is only willing to open borders for humanitarian purposes and other specific exemptions; the payment of salaries of workers in Gaza on behalf of the unity government; to a water desalination project in Gaza and to partially expanding the fishing permit. (Jack Khoury)
1:14 P.M. United States Secretary of State John Kerry returned to Egypt after a one-day visit to Israel and the West Bank. From Cairo, he is continuing to hold talks with world leaders in order to promote a cease-fire agreement between Israel and Hamas.
A senior American official told Haaretz that Kerry spoke with Qatar and Turkey's foreign ministers and asked that they apply pressure on the Hamas to agree to a cease-fire.
Kerry also held a phone conversation with Prime Minister Benjamin Netanyahu on Thursday. (Barak Ravid)
12:30 P.M. Sirens sound in the Netivot area.
12:18 P.M. Israel to bar Palestinians under 50 from entering Al-Aqsa Mosque in Jerusalem during Friday prayers, fearing clashes. (Nir Hasson)
11:42 A.M. Three rockets intercepted over greater-Tel Aviv. Hamas says they fired at Ben-Gurion Airport and Tel Aviv. (Gili Cohen and Jack Khoury)
11:34 A.M. Five rockets intercepted over greater Tel Aviv in two separate barrages fired within 15 minutes of each other. Seven people suffer from shock, two people lightly hurt making their way to shelter.
11:25 A.M. Prime Minister Benjamin Netanyahu and Britain's new foreign secretary Philip Hammond delivered a joint press conference at the Knesset on Thursday morning, as efforts to reach a cease-fire continued.
Hammond told reporters that Britain wanted to see a cease-fire as quickly as possible, declaring: "I came to bring this conflict to an end." He also put the blame on Gaza's rulers for triggering the current round of conflict.
Netanyahu, for his part, blasted "Hamas and the Islamic Jihad's use of civilians is extremely cynical. It's a travesty." (Haaretz)
11:18 A.M. Rocket sirens sound in Tel Aviv and its northern environs for second time in a quarter of an hour.
10:58 A.M. Rocket sirens sound in dozens of towns in the greater Tel Aviv area, the Sharon, north of Tel Aviv, and in communities close to Ben-Gurion Airport. Two rockets were intercepted over Petah Tikva and Bat Yam. (Haaretz)
10:46 A.M. The Brazilian government has decided to recall its ambassador in Tel Aviv to protest what it has called "disproportionate use of force by Israel."
"The Brazilian government considers unacceptable escalation of violence between Israel and Palestine. We strongly condemn the disproportionate use of force by Israel in the Gaza Strip, from which large numbers of civilian casualties, including women and children resulted," the Brazilian government said in its statement. "The Brazilian Government reiterates his call for an immediate ceasefire between the parties."
"Given the seriousness of the situation, the Brazilian government voted for the resolution of the Human Rights Council of the United Nations on the subject In addition, the Ambassador of Brazil in Tel Aviv was called to Brasilia for consultations." (Barak Ravid) Read full article
10:00 A.M. Two more Israeli soldiers hospitalized with wounds from Gaza fighting. Total number now stands at 136. (Ido Efrati)
9:16 A.M. Palestinian sources in Hamas and the Palestinian Authority told A-Sharq Al-Awsat Wednesday night that a wide agreement had been reached for a plan to halt "Israeli aggression" on the Gaza Strip and for an immediate cease-fire under Arab, Egyptian and American mediation.
A source in the Palestinian Authority clarified that the agreement was based on the Egyptian proposal for a cease-fire, and that the demands of each side would be considered in the process. The source also said that the Palestinian Authority's proposal stipulated a five-day halt to hostilities, during with negotiations would be held over the demands of Hamas and the Gaza factions. (Jack Khoury)
9:07 A.M. 134 Israeli soldiers currently hospitalized across country after wounded in Gaza. (Ido Efrati)
8:37 A.M. Mortar shell explodes in Eshkol Regional Council. No damages reported. (Shirly Seidler)
8:24 A.M. Givati soldiers arrested 150 Palestinians in the Rafah area of the Gaza Strip near the Egypt border overnight, and detained them for questioning. A senior officer said that the Palestinians were arrested in their homes and did not resist. Have of the detainees have been released and the rest are undergoing questioning. The Walla website released photos of the detainees being taken in for questioning barefoot and wearing only undergarments. Once in Israeli detentions, they were dressed in prisoner uniforms. (Gili Cohen)
BREAKING PHOTO: More than 150 Palestinians stripped of weapons and arrested today in Gaza by IDF - Walla pic.twitter.com/hSqIw1M4aq
8:02 A.M. Night of quiet in Israel: One rocket was fired overnight at Gaza border towns. A rocket siren sounded this morning in the Sha'ar Hanegev Regional Council.
7:49 A.M. Golani Brigade troops uncovered the opening of a tunnel in the Gaza Strip, an found a number of suspected militants inside. The Israel Air Force attacked the tunnel and identified a direct hit. In a separate incident, Givati Brigade troops clashed with an armed Palestinian in a Hamas-run facility. The militant opened fire on the Israeli troops, who fired back in response. The Palestinian militant was killed. (Gili Cohen)
6:58 A.M. FAA lifts ban on U.S. flights to and from Israel, after receiving security assurances from Israel. (Zohar Blumenkrantz) Read full article
6:00 A.M. The Israel Defense Forces has struck more than 30 targets overnight, Army Radio says. The military reports fighting in Gaza City's Shujaiyeh neighborhood, with "reduced resistance" on the militants' part. The Nahal Brigade has uncovered a weapons cache containing 150 Kalashnikov rifles, bombs and grenades.
5:58 A.M. The IDF Spokesperson's Unit announces that Staff-Sgt. Li Mat, who was killed in Gaza on Wednesday, is to be laid to rest in the cemetery on Mount Herzl at 6 P.M. (Gili Cohen)
4:30 A.M. The Palestinian Ma'an news agency reports that 23 people were killed in Israeli strikes in Gaza overnight, 10 of them members of one family. According to the Gazan health ministry, the death toll in the Israeli operation in Gaza has reached 718.
4:00 A.M. The UN secretary-general says he was "alarmed" to hear that rockets were placed in a UN-run school in Gaza and now "have gone missing," and he demanded a full review of such incidents.
A statement by the spokesman for Ban Ki-moon expressed the UN chief's "outrage and regret" at the placement of weapons at a site run by the global organization. The UN says that has happened at least twice so far in the current fighting.
"Those responsible are turning schools into potential military targets, and endangering the lives of innocent children," U.N. staff and anyone seeking shelter, the statement said.
Once the rockets were found, "in accordance with standard practice, UNRWA handed them over to the local authorities. Since then, they have gone missing," Ban's deputy spokesman, Farhan Haq, said in an email Wednesday evening. (AP)
2:55 A.M. Republican Senator Ted Cruz questions whether President Barack Obama used a federal agency to impose an economic boycott on Israel after the Federal Aviation Administration banned U.S. airline flights to Tel Aviv because of safety concerns amid fighting between Israel and Hamas.
The State Department rejected Cruz's comments as "ridiculous and offensive." (AP) Read full article
2:35 A.M. The Foreign Press Association in Israel has released a statement condemning "deliberate official and unofficial incitement against journalists" reporting on the fighting in Gaza, the New York Times says. That includes "forcible attempts to prevent journalists and TV crews from carrying out their news assignments," the FPA says.
The statement cites an assault on a reporter for BBC Arabic, Firas Khatib, during a live television report from Ashkelon, as well as the Israeli strike on Al Jazeera's offices in Gaza City.
Click the alert icon to follow topics:
ICYMI
Ken Burns' Brilliant 'The U.S. and the Holocaust' Has Only One Problem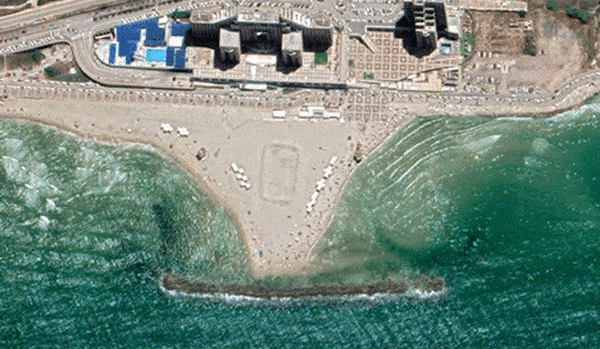 Facing Rapid Rise in Sea Levels, Israel Could Lose Large Parts of Its Coastline by 2050
As Israel Reins in Its Cyberarms Industry, an Ex-intel Officer Is Building a New Empire
How the Queen's Death Changes British Jewry's Most Distinctive Prayer
Chile Community Leaders 'Horrified' by Treatment of Israeli Envoy
Over 120 Countries, but Never Israel: Queen Elizabeth II's Unofficial Boycott