Operation Protective Edge Failed to Shield Netanyahu From His Own Party
The events of the past week underscored the PM's isolation in his political camp. Yet he resisted calls to launch a ground invasion in Gaza, sometimes receiving support from unexpected quarters.
Illustration by Amos Biderman.
As soon as the operation ends, Prime Minister Benjamin Netanyahu will have to rehabilitate and fortify himself politically, while clearing away the rubble of his devastated party and trying to heal the rifts. Operation Protective Edge exposed the ruling party for what it is: shifting sands. Twenty-something individual factions, and only a tiny minority, as negligible as it is marginal, backs the stance of the party leader, who also happens to be the country's leader.
Hardly any Likud cabinet ministers or MKs made media appearances to defend the cease-fire to which the security cabinet, led by Netanyahu, agreed on Tuesday morning. Tzachi Hanegbi, of course, Yuval Steinitz, you can be sure, and Gilad Erdan, sort of. The others were either outright critical or thunderously silent, leaving the prime minister without shelter. His isolation within his political camp was made even more blatant by the praise heaped on him by opposition spokespersons. "Restraint," in Likud and right-wing slang, is a pejorative; "forbearing," an expletive.
To Netanyahu's credit it has to be said, and not for the first time, that he did not cave into the roars of his constituency, who called on him to order the Israel Defense Forces to charge into the lethal heart of darkness that is the Gaza Strip. He stood bravely in front of the cameras and made it clear that as far as he was concerned, those were mere "background noises" and manifestations of "militancy and rashness." He had no intention of falling into that trap, he said. As Justice Minister Tzipi Livni told the premier in a security cabinet meeting, "The people who are shouting 'Charge ahead' will be the first with the catcalls."
Livni was probably thinking to herself that if only Netanyahu had shown the same determination, tenacity and ability to ignore his constituency during the peace talks with the Palestinians, we would now be in a very different place. But she too has come to terms with the fact that on the subject of an agreement with the Palestinians, Netanyahu is in the exact same place as the majority of his voters. He doesn't believe in an accord, doesn't think he has a partner-for-peace on the other side – and all that's happened in our embattled region during the past few weeks has only reinforced his belief that he's right.
Netanyahu has been holding talks with political figures at all levels, not only with cabinet ministers but with MKs from various factions, including the opposition. To some he said this week: "I know that I am paying a price for my conduct. First I will do what I think should be done, and afterward I will deal with the political fallout."
His problem is that he has no other voters. The "big bang" political option that was floated recently isn't viable. The leaders of the center-left parties will not crown him king, for obvious reasons. The popularity and esteem the premier is getting from large segments of the public at present will not be translated into votes. He has no party other than Likud, and it has no leader other than him, unless its members decide otherwise.
The contest that is much talked about in Likud, between Netanyahu and Interior Minister Gideon Sa'ar (who wanted to have the full cabinet – not just the security cabinet – decide on the cease-fire, a proposal some took as yet another sign of his political intentions), is so far only speculation. The second possible contestant, Defense Minister Moshe Ya'alon, is now more than ever perceived as Netanyahu's Siamese twin – and Siamese twins have a hard time competing against one another. Moreover, if Netanyahu is paying a price on the right, Ya'alon, who is keeping mum and fleeing the spotlight, is suffering collateral damage. As things stand now (Thursday morning), this operation will not be considered a success for him.
Loose cannon
At the beginning of Tuesday night's security cabinet meeting, after the cease-fire imploded like a badly made soufflé, Livni said, "I understand Hamas announced its surrender." Netanyahu, who was poring through papers, looked up. "What??" he asked. "Yes," Livni said. "They heard that you just fired Danny Danon and they're totally discombobulated."
The exultation at Netanyahu's dismissal of Danon – the deputy defense minister and a member of the prime minister's faction, who really did not deserve to remain in his post a minute longer after his remarks – was apparent across the political spectrum. In Likud, where Danon has no allies, no one shed a tear, to say the least.
It was interesting to hear what his colleague in the right-wing branch of Likud, Deputy Transportation Minister Tzipi Hotovely, had to say this week. His pool of votes is also her pool, though she espouses a totally different approach. "I don't hold with the militant thrust of some of my friends in the party," she said.
"What they're doing is populism. It's terrible what's happening these days in Likud. The prime minister is isolated in his own party; it's hurting us badly as the ruling party. Instead of uniting over issues," added Hotovely, who plans to hold a conference in the Knesset next week on the subject of "economic disengagement" from Gaza, "we are using militant language, attacking the prime minister internally, and being dragged into dealing with the emotions of the public. No one is talking about strategic goals. It's all personal."
Danon's dismissal touched off a wave of jokes in the political corridors. Example: "Who says there have been no targeted assassinations of senior figures in this operation?" (It was the target himself who bandied that jest about.) Netanyahu absorbed everything, seethed and fumed, and warned Danon personally not to overstep his bounds in an angry phone conversation on the second day of the Gaza operation. But on Tuesday, after the cease-fire decision, when the premier was informed that aggressive, mocking comments made about him by Danon were being quoted in the Hamas media – he'd had enough. He instructed the cabinet secretary to draw up a dismissal letter and pass it around to the ministers. One minister who got home in the evening and found the letter thought at first glance that Foreign Minister Avigdor Lieberman was being fired: The reasons cited in the Danon letter fit him to a T.
Danon, who is also chairman of the Likud central committee, is now a free agent. Not that anyone thought beforehand that national security issues took up all his time. He was excluded from everything significant that was going on in the Defense Ministry. But now, as a regular MK, he will have time for politics. Netanyahu will get a real full-time central committee chief.
"After the operation ends, I will convene the central committee for a political-security discussion," Danon promised Wednesday. "Maybe in Ashkelon – we'll see." I asked if he thought that the party leader would honor the event with his presence. "I assume that he won't show up," Danon replied.
Shadow cabinet
The security cabinet meeting on Tuesday that decided on the cease-fire began at 7 A.M. and concluded at 8:45, 15 minutes before the deadline set by Egypt. Foreign Minister Lieberman was 50 minutes late, though. When he got the floor, he chose to vent his displeasure at the fact that someone had leaked to the media that he of all people, Avigdor the Conqueror, had proposed a unilateral or humanitarian, 48-hour cease-fire the day before. That didn't fit his gung-ho image.
He was late again for the security meeting that same night, a few hours after his own oppositionist press conference – a truly reprehensible act in political terms and unexampled in the history of the State of Israel and the new Zionism. According to one of the participants in the meeting, the verbal sparring and backbiting between him and Netanyahu broke the record, or the nadir, set the week before.
If body language of loathing were a contagious virus, all the decision makers in Israel would be in intensive care today. Maybe that's why Netanyahu didn't convene the security cabinet again on Wednesday. He made do with separate meetings with members of the forum. "Ministerial consultations" was the term used. Apparently the boss needs rehab and purgation from the oppressive presence of the person who, until a couple of months ago, was his political partner and confidant.
While Netanyahu consulted, Lieberman used the time to step up provocations against the prime minister. He toured the south, together with the visiting Norwegian foreign minister, and at every stop made sure to issue a statement to the media calling for the re-occupation of Gaza.
Lieberman is so far conducting a controlled crisis aimed at Netanyahu. He rails against him time after time, raising the ante, knowing the premier will not send him a letter of dismissal for fear his government will fall. But Lieberman has shed the remnants of civil and moral behavior and is exploiting the Gaza operation to accumulate political capital and to relentlessly set himself apart from Netanyahu.
War may be hell, but it also creates new alliances and partnerships, even if ad hoc and of limited duration. The relations between Netanyahu and Tzipi Livni, ministers say, are blossoming. It emerges that they have siphoned off the bad blood between them in the wake of her meeting with Palestinian President Mahmoud Abbas in London, and the subsequent quarrel between them; now during Protective Edge, there is no longer a wedge. Livni was one of the ministers who was seen entering the Prime Minister's Bureau during the Wednesday afternoon consultations.
Something of a tripartite alliance has been formed between Netanyahu, Ya'alon and Livni. When it comes to the question of peace talks with the Palestinians, Livni and Ya'alon are incapable of even agreeing on the time of day. But in the present balance of forces in the security cabinet, in the face of the Naftali Bennett-Avigdor Lieberman-Gilad Erdan front – they have found a common language and belong to a sort of mutual admiration society.
Speaking of Bennett – something happened to him in the past week. He calmed down, matured. Since the cease-fire decision earlier this week, which passed 6-2 (he and Lieberman voted against), the leader of Habayit Hayehudi has decreed radio silence on himself. He is not giving interviews, is not rushing from one TV studio to the next. If he wished, he could easily inflame the territory on the right against Netanyahu. But on top of not issuing a statement condemning the cease-fire, he asked his fellow faction members not to attack Netanyahu personally.
In private conversations, Bennett admits that not only does he see no reason to lambaste Netanyahu, he has only good words for the prime minister. "I didn't like the cease-fire decision, but once it was made I am committed to it," he said. "Netanyahu is working very cleverly, very seriously, very judiciously. With infinite patience he is constantly trying to create a consensus. He listens to everyone and is able to steer the discussions very impressively. There is no reason to attack him. None."
Bennett is one of the ministers who gets to spend quite a bit of quality time with Netanyahu on the margins of the operational discussions. Ministers report a considerable rapprochement between them, stemming from the deterioration of Netanyahu's relations with Lieberman. The economy minister continues to push for a ground operation, not necessarily to reoccupy Gaza, but he is the last who will claim that Netanyahu did not spearhead the agreement to the Egyptian proposal intelligently, fairly and with the most relevant reasons possible.
Bennett even had good things to say about Livni, though in normal times they fight like cats and dogs. This week he described her as "serious, judicious, doesn't think she knows everything, and is open to hearing other viewpoints." Anyone who hears violins in the background will soon hear different tunes. When it's all over and the dust has settled, the usual political ill will between them will resume, and Netanyahu's third coalition will go back to the collision course on which it's been sputtering for the past few months.
By the way, the official security cabinet is not the only one Bennett participates in. Of late, and even before the escalation in the south, he's been running a kind of shadow cabinet, consisting of Middle East experts, senior IDF reserve officers and jurists. He seeks their advice and asks them to come up with ideas and plans that are unorthodox. Armed with those proposals, he comes to the decision-making forum and offers his wares. Some of his ideas are accepted, others rejected, but all are discussed and considered. "We are really focused on substance there," he told someone this week, and sounded surprised at himself.
Click the alert icon to follow topics:
ICYMI
Ken Burns' Brilliant 'The U.S. and the Holocaust' Has Only One Problem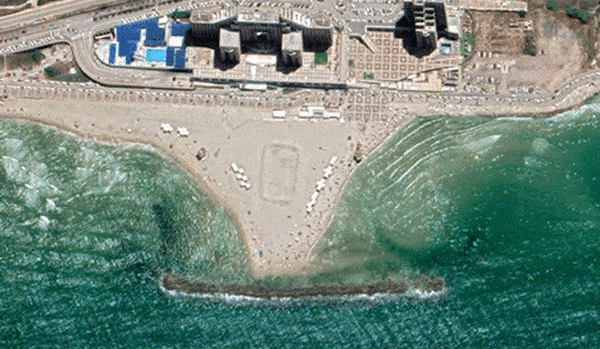 Facing Rapid Rise in Sea Levels, Israel Could Lose Large Parts of Its Coastline by 2050
As Israel Reins in Its Cyberarms Industry, an Ex-intel Officer Is Building a New Empire
How the Queen's Death Changes British Jewry's Most Distinctive Prayer
Chile Community Leaders 'Horrified' by Treatment of Israeli Envoy
Over 120 Countries, but Never Israel: Queen Elizabeth II's Unofficial Boycott