LIVE UPDATES: Operation Protective Edge, Day 7
Egypt sources offer cease-fire deal starting 9 A.M. on Tuesday; two sisters hurt by rocket in southern Israel; soldier and boy lightly wounded by Gaza rockets; IDF downs Gaza drone over southern Israel.
Operation Protective Edge entered its seventh day Monday, as the IDF continued to carry out massive strikes within the Gaza Strip from land and sea, and Hamas continued to fire rockets at Israeli towns.
Since the operation began, 178 Palestinians have been killed and over 1,100 have been wounded. Gaza hospitals are reporting a dire shortage of medicine and equipment, particularly for trauma injuries. Thousands of northern Gaza residents fled their homes on Sunday after Israel issued warnings of forthcoming air strikes. Two children, sisters from the village of Lakiya in southern Israel, were wounded by a rocket explosion on Monday evening. One of them is in critical condition.
SUBSCRIBE TO HAARETZ AND GET FULL COVERAGE
Since the start of the operation, more than 700 rockets have landed within Israel. Only a fraction landed in urban regions. The Iron Dome, which is only meant to intercept rockets that are headed for such areas, has an 87 percent success rate.
The inner cabinet met late on Sunday to discuss a ground operation. As of Sunday noon, 42,000 of the 48,000 reservists authorized by the cabinet had been called up in preparation for a possible ground invasion.
For Sunday's live updates, click here.
Latest updates:
11:54 P.M. Sources in Habayit Hayehudi party say Economy Minister Naftali Bennett will vote against a cease-fire in the cabinet meeting on Tuesday morning. (Barak Ravid)
11:39 P.M. 10-year-old Maram Wakili remains in critical condition after being wounded by a rocket in Lakiya in the Negev.
Her sister Atir is now in light condition. An 83-year-old man seriously injured in Be'er Sheva when falling on his way to a secure area in now in light condition, as well. (Shirly Seidler)
11: 32 P.M. Hamas deputy political chief Ismail Haniyeh said yesterday that contacts for a potential cease-fire exist, yet Hamas is yet to receive a formal proposal.
In the speech aired Monday on Al-Jazeera, Haniyeh clarified Hamas did not seek escalation, blaming Israel for violating the previously-established cease-fire following 2012's Operation Cast Lead. (Zvi Barel)
11:14 P.M. Israel's security cabinet will meet Tuesday morning to discuss the Egyptian cease-fire proposal. A senior Israeli official said that Prime Minister Benjamin Netanyahu accepts the Egyptian offer and will bring it to a vote in the meeting that will take place on Tuesday at 7 A.M.
Another official said Tuesday that the Egyptian cease-fire offer is an accomplishment for Israel since it restores quiet to the area with a weakened Hamas. The official also said that the Egyptian initiative calls for an unconditional cease-fire and does not address Hamas' demands such as paying the salaries of tens of thousands of Gaza civil servants or releasing prisoners arrested in the West Bank after the abduction and murder of three Israeli teens. (Barak Ravid)
10:57 P.M. Rocket fired from Lebanon explodes in an open area in western Galilee; no injuries or damage reported. IDF responds with artiliery fire. (Gili Cohen)
10:29 P.M. Sources in the Egyptian Foreign Ministry say Egypt has proposed a cease-fire outline to Israel and Gaza: The cease-fire will start at 9 A.M., meaning Israel will stop aerial, naval and ground operations against the Gaza Strip and promise not to engage in a ground offensive or harm civilians. At the same time, all the Palestinian factions will hold their fire.
Crossings between Gaza and Israel will be reopened, and restrictions on the passage of commodities and people will be eased, in return for a halt to hostilities.
Within 48 hours after the cease-fire, Israeli and Palestinian delegations will arrive in Cairo for continued indirect talks to discuss the details of the truce and its implementation. Egypt will receive guaranties from both sides, and promises to implement the outline. (Jack Khoury)
10:33 P.M. Sirens sound in Rosh Hanikra and other areas in Israel's northern Galilee region.
10:08 P.M. Death toll from Israeli army strikes in Gaza Strip rises to 178. (Jack Khoury)
9:45 P.M. Hamas hijacks into Israeli TV broadcasts for several seconds, airing a threatening slide instead of channels 2 and 10's primetime news editions. The hijacking only affected the broadcast fed by the Amos satellite, and thus reached only tens of thousands of viewers, and not the majority of Israelis. (Gili Izikovich)
9:38 P.M. Three rockets explode in open areas in Be'er Sheva, and another rocket explodes in the Hof Ashkelon Regional Council, causing damage to a warehouse. Earlier, rocket sirens were sounded in the area of Be'er Sheva and Omer, and in the Bnei Shimon Mount Hebron and Hof Ashkelon regional councils. (Shirly Seidler, Gili Cohen)
9:00 P.M. Israeli army says 100 rockets and mortar shells were fired at Israel on Monday, 85 of which exploded in Israeli territory. Iron Dome intercepted 15 rockets. (Gili Cohen)
8:40 P.M. Maram Wakili, the 10-year-old girl who was wounded by a rocket explosion in Lakiya, is in critical condition in Soroka Medical Center, Be'er Sheva. Her 13-year-old sister Atir is moderately wounded.
"We heard a very faint siren," the sisters' cousin, Omar Wakili, said. "The girls started running but there was no time to hide, the rocket hit our cowshed and shrapnel scattered everywhere.
"There's really nowhere to hide, everything here is made of corrugated iron, there are no cement walls," he said. "We feel forsaken, we're worse than second-class citizens." (Shirly Seidler)
7:48 P.M. A senior IDF officer said Monday that Hamas appears increasingly ready for a cease-fire. "We are seeing more and more that Hamas is ripe for a cease-fire," he said. "We are in a kind of money time, since they (Hamas) want to return with an accomplishment, and the UAV is also a kind of accomplishment." The officer added that he believes there is a high likelihood that both Hamas and Islamic Jihad "will want to shut this business down," as he put it — and end the military operation.
Israeli intelligence officials estimate that roughly 50 percent of the sites in the Gaza Strip where the rockets are manufactured, including rockets with a range of more than 80 kilometers (M-75 for example), have been hit. Intelligence officials also estimate, based on the number of rockets that were launched from the Gaza Strip and the army's attacks during the operation, that only 55 percent of the rocket arsenal that was in the Gaza Strip before the operation began remains in the possession of terror groups in Gaza. (Gili Cohen)
7:08 P.M. Rocket siren sounded in Dimona and Yeruham. Earlier, a rocket exploded in the Hof Ashkelon Regional Council, sparking a fire in a nearby greenhouse. (Shirly Seidler)
7:06 P.M. About 100 right-wingers gather in Jerusalem city center ahead of a march to Damascus Gate in the Old City, intended to "show the Arab's who's boss," according to the protest's event page on Facebook. Police are present in large forces, including elite units and undercover police. About 20 leftist activists are at the scene to stage a counter-protest. Verbal altercations between the sides have developed. (Nir Hasson)
6:48 P.M. Two sisters, aged 10 and 13, sustain moderate to serious wounds from a rocket explosion in the area of Lakiya in southern Israel. Damage was also caused to a cowshed and several cows were hurt. Earlier, a rocket siren sounded in the Hof Ashkelon Regional Council. (Shirly Seidler)
6:30 P.M. Iron Dome intercepts rocket over Be'er Sheva, two other rockets fall in open areas near the city. An 81-year-old man is seriously wounded after falling in the street while running for shelter during the rocket alert. (Shirly Seidler)
6:20 P.M. Israel Air Force strikes six rocket launchers used in fire toward Sderot. Anti-tank rocket fired at IDF force in northern Gaza Strip area; none wounded. (Gili Cohen)
6:04 P.M. Two rockets explode near Golan Heights kibbutz; no one wounded; fire breaks out (Eli Ashkenazi)
5:53 P.M. Rocket sirens sound in the Golan Heights and northern Israel. Sirens also sound in Be'er Sheva.
5:25 P.M. Rocket sirens sounded in Hof Ashkelon and Sha'ar Hanegev regional councils (Haaretz)
5:20 P.M. U.S. Secretary of State John Kerry to arrive in Cairo on Tuesday, Egyptian media reports. An Egyptian source tells Haaretz visit is intended to step the cease-fire efforts up a gear. (Jack Khoury)
5:14 P.M. Eight Israeli casualties have been treated in Barzilai Medical Center, Ashkelon on Monday. Since the operation started, 160 casualties have been treated in Barzilai, including 62 who suffered from shock and 98 who suffered physical trauma. 11 are still hospitalized. In Be'er Sheva, three persons lightly wounded by a mortar shell in Eshkol Regional Council have been rushed to the Soroka Medical Center. Two have already been released. (Shirly Seidler)
4:59 P.M. Rocket siren sounds in greater Tel Aviv area, Petah Tikvah. Iron Dome intercepts two rockets. (Gili Cohen)
4:20 P.M. Rocket explodes in Sderot, causing massive damage to parked vehicles and to a house nearby, but no casualties. Israel Air Force bombs site in central Gaza Strip from which rocket was fired toward Eshkol Regional Council about an hour ago. (Shirly Seidler, Gili Cohen)
3:54 P.M. Rocket sirens sounded in Sha'ar Hanegev, Sdot Negev and Eshkol regional councils.
3:43 P.M. Prime Minister Benjamin Netanyahu tells his Australian counterpart Tony Abbot Israel is acting to protect its citizens from Hamas terrorists firing rockets indiscriminately at Israeli citizens while hiding behind its own population and using civilians as human shields in the Gaza Strip. The goal of the operation is to bring quiet back to the cities of Israel for an extended period and bring significant harm to the terrorist infrastructure, the PM says. (Barak Ravid)
3:18 P.M. A soldier is lightly wounded by a mortar shell which exploded in the Eshkol Regional Council. He is being rushed to a hospital for medical treatment.
About two hours ago, the IDF attempted a targeted killing in Khan Yunis. According to the defense establishment, the target, who was riding a motorcycle when the strike took place, was only wounded, and that a second strike was aborted when civilians were spotted at the scene. According to security sources, the militant targeted was involved in rocket fire toward Israel in recent days. (Gili Cohen)
2:40 P.M. Two rockets explode in the Eshkol Regional Council. (Shirley Seidler)
2:30 P.M. Hamas says it has launched three unmanned aerial vehicles into Israel, one of which reached the Kirya, the Defense Ministry headquarters in Tel Aviv. According to the statement issued by Hamas' military arm, the Izz a-Din al-Qassam Brigades, the group's engineers have developed three different types of drones: one for intelligence gathering, one for bombing missions, and one for suicide missions.
It was also stated that members of the group tried to activate two of the drones, but lost communications with them. This is not the first time drones were used, the group said, claiming they have flown a drone over the Defense Ministry in Tel Aviv in the past. Click here to watch purported footage shot from the drone itself. (Jack Khoury)
1:30 P.M. A rocket explodes at a school parking lot in the Eshkol Regional Council; road damaged. Another rocket was evidently intercepted over Ashkelon. (Gili Cohen and Shirley Seidler)
12:58 P.M. Hamas' military wing says it has sent several drones into Israel on different missions, the Ma'an news agency reports. (Jack Khoury)
12:40 P.M. Six rockets are fired toward Ashdod; four are intercepted, one explodes in an open area and and another in the yard of a home. An 8-year-old boy is lightly wounded by shrapnel. (Gili Cohen)
12:05 P.M. Two rockets are intercepted over Ashkelon. (Gili Cohen)
11:30 A.M. Defense Minister Moshe Ya'alon held a briefing with representatives from the IDF, Shin Bet and the Coordinator of Government Activities in the Territories. After the meeting, Ya'alon said that Israel "is continuing to pound Hamas and its infrastructure. The damage to Hamas and to the other terror organizations in the Gaza Strip is severe… when Hamas leaders come out of their hiding places they will discover the extent of the destruction and damage we have caused to the organization, in a way that will make them regret they embarked on a round of fighting with Israel."
Ya'alon also spoke about the drone that entered Israel from the Gaza Strip on Monday morning, saying that the incident was "an example of the continued attempts to target us in any way possible," as well as an example of "the IDF's readiness."
On the subject of rocket fire from Syria and Lebanon, Ya'alon said that Israel will not tolerate such aggression. "We hold the Lebanese government and Bashar Assad's regime responsible for the [rocket] fire on our territory; this is a situation we will not accept and we will respond aggressively against such attempts, as we did overnight," he said.
11:10 A.M. A rocket was intercepted over Ashkelon. Three others explode in open areas near Ofakim. (Gili Cohen, Shirley Seidler)
10:56 A.M. Balad leader MK Jamal Zahalka was removed from the Knesset Internal Affairs and Environment Committee after yelling at Israel Police Commissioner Yohanan Danino that "his hands are covered in blood." Committee chairwoman MK Miri Regev (Likud) responded to Zahalka, calling him "a terrorist." (Jonathan Lis)
Police arrested 36 people on Sunday on suspicion of disturbing the peace, throwing rocks and hurling firebombs in Jerusalem. 165 people have been arrested so far on similar suspicions, including 44 minors. (Nir Hasson)
10:40 A.M. Meretz leader Zahava Gal-On calls for an immediate unilateral cease-fire, "out of a position of strength and with the understanding that you triumph over terror with aerial attacks or ground entry. The operation in Gaza has taken a toll of hundreds of innocent civilians and hundreds of wounded."
Gal-On added that in addition to announcing a cease-fire, Israel must accept Abbas as a mediator with Hamas and regard him as "the legitimate representative of the Palestinian people." "A solution to Gaza passes through Ramallah, and must address the political and economic situation of some 1.8 million Palestinians living in the Gaza Strip," she said. (Barak Ravid)
10:20 A.M. The Hof Ashkelon Regional Council is declared a closed military zone. Access allowed to residents only.
The death toll in Gaza since the launch of Operation Protective Edge rises to 172 overnight. (Shirley Seidler and Jack Khoury)
9:05 A.M. The IDF has arrested 23 Palestinians in the West Bank overnight. Among the detainees are five Hebron residents linked to Hamas who are investigated in connection with the kidnapping and murder of three Israeli teenagers last month. (Gili Cohen)
The condition of a 16-year-old who was wounded in a rocket explosion in Ashkelon on Sunday improves. His condition is said to be serious but stable. (Shirley Seidler)
8:50 A.M. A Palestinian is killed by IDF gunfire near Hebron. According to the military, the incident occurred while a reserve unit attempted to arrest three masked men who were approaching a road near Samu'a carrying rocks and paint bottles. (Chaim Levinson)
8:30 A.M. The IDF has struck 42 targets in Gaza overnight. A senior officer says that despite the bolstered Israeli air strikes in the Gaza Strip's north, Hamas has instructed residents to stay in the area to "serve as human shields." (Gili Cohen)
A rocket that was fired from Gaza but failed to detonate is found in the yard of an Ashkelon home. Explosives experts are working to neutralize it. Another rocket explodes in an open area in the Sha'ar Hanegev Regional Council. Two others hit the Hof Ashkelon Regional Council; home damaged but no injuries reported. (Shirley Seidler)
8:10 A.M. Fourteen rockets and mortar shells have exploded in the Eshkol Regional Council overnight and on Monday morning. No damage reported. (Shirley Seidler)
8:00 A.M. Palestinians report Israeli military activity in Hebron, evidently in connection to the kidnaping and murder of three Israeli youths last month.
"We're making a great effort to find the kidnappers of the teenagers in the West Bank," the IDF Spokesperson's Unit says. "Everything that is happening in the West Bank in recent nights is connected to this effort." (Gili Cohen)
7:50 A.M. The unmanned aerial vehicle that entered Israel from Gaza earlier was intercepted by a Patriot missile. The IDF is checking whether the aircraft carried explosives. The air force says it has been prepared for the such an incident. (Gili Cohen)
7:30 A.M. The IDF intercepts an unmanned aerial vehicle that entered Israeli territory from Gaza. The interception over Ashdod sets off sirens in the city. (Gili Cohen)
6:34 A.M. Rocket alerts sound across Ashdod region.
6:23 A.M. Three Palestinians are killed by Israeli airstrikes in Khan Yunis, the Ma'an news agency reports. The three are Maher Abu-Mor, 24, Sadam Maumar, 23, and Musa Maumar, 60.
Operation Protective Edge's death count in Gaza has reached 170, according to the Palestinian health ministry.
6:05 A.M. Rocket alerts sound across Gaza-bordering regions and in Sderot.
5:41 A.M. Barrage of rockets fired toward Eshkol Regional Council, alerts sound.
5:26 A.M. Rocket alert sounds in the Eshkol Regional Council.
2:04 A.M. UN Secretary-General Ban Ki-moon expressed alarm on Sunday that hostilities in and around the Gaza Strip appeared to be worsening, warning that an Israeli ground offensive would "undoubtedly increase the death toll and exacerbate civilian suffering in the Gaza Strip."
2:00 A.M. Rocket sirens sound in northern Negev towns.
1:24 A.M. The alerts that were sounded just after midnight in the Western Galilee were due to the launching of several missiles from within Lebanon, the IDF spokesman says, adding that no injuries were caused in the attack. The IDF also said that massive artillery fire was directed at the source of the shooting in response, and that "severe messages" were conveyed to the Lebanese authorities via the UN's UNIFIL forces. (Eli Ashkenazi)
1:16 A.M. Rocket alert sounds in Eshkol Regional Council
00:27 A.M. Rocket alerts sound in Western Galilee.
For the full updates blog of July 13, click here
Click the alert icon to follow topics:
ICYMI
Ken Burns' Brilliant 'The U.S. and the Holocaust' Has Only One Problem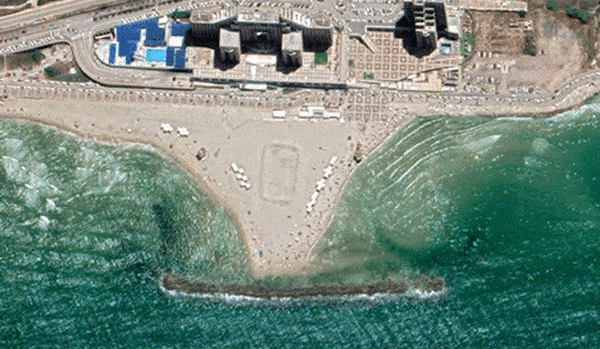 Facing Rapid Rise in Sea Levels, Israel Could Lose Large Parts of Its Coastline by 2050
As Israel Reins in Its Cyberarms Industry, an Ex-intel Officer Is Building a New Empire
How the Queen's Death Changes British Jewry's Most Distinctive Prayer
Chile Community Leaders 'Horrified' by Treatment of Israeli Envoy
Over 120 Countries, but Never Israel: Queen Elizabeth II's Unofficial Boycott