Seven Takeaways From Seven Days of Operation Protective Edge
As Israel's operation in Gaza enters its second week, we have an Egyptian cease-fire proposal on the table and a number of preliminary conclusions.
A Palestinian walks past a damaged Gaza police station after an Israeli air strike in Rafah, July 15, 2014.
Credit: Reuters
A week after Operation Protective Edge began, it looks like an Egyptian-brokered cease-fire offer may be on the cards. The campaign is already as long as Operation Pillar of Defense in 2012, though Israel hopes it will not run as long as Operation Cast Lead in 2008/9 (22 days). On the eighth day of the operation, here are seven takeaways:
1. Israel is very wary of a ground operation in the Gaza Strip
Israel's hesitation is not accidental. Several Israel Defense Forces combat brigades have been deployed in the south since the weekend. The series of nightly security cabinet meetings confirm one thing: Prime Minister Benjamin Netanyahu, Defense Minister Moshe Ya'alon and Chief of General Staff Benny Gantz would prefer to steer clear of a ground incursion into Gaza, and it looks like they are are looking for any alternative that would allow them to avoid it. Still, if no diplomatic route to resolve the crisis presents itself, the ministers are liable to see no choice but to approve a limited operation.
If a decision on a limited operation were taken, it will be based on two factors: The desire to present an achievement to the Israeli public (mixed with leaders' fear of being seen as too scared to send in the troops), and the need to confront concrete threats along the Gaza border.
So far, Hamas' efforts at surprise attacks – divers, via tunnels and, on Monday, the launching of a drone and the firing of anti-tank missiles – have been foiled by the IDF and the Shin Bet security service. But the tunnel threat is of particular concern to the military. If it isn't dealt with thoroughly, it is liable to spark the next round of fighting.
To some extent, the current conflict is linked to Hamas trying to carry out a major terror attack via tunnels under Kerem Shalom. Hamas has dozens of similar attack tunnels. The tunnels that have already been exposed show that these are ambitious projects; huge sums of money and months of work go into making tunnels.
Meanwhile, Israel's military men in the field are starting to get impatient with the security cabinet's foot-dragging. Netanyahu is now in a similar situation to that of his predecessor, Ehud Olmert, at the end of the first week of the Second Lebanon War in 2006.
The public will support one of two steps – a cease-fire or a ground operation. It will have no patience for treading water. If no diplomatic arrangement can be made quickly, if Egypt's cease-fire proposal isn't accepted by both sides, then Netanyahu may reconsider other ideas. He may, for example, consider holding Israeli fire on Gaza for 24 hours, during which it will shoot down any rockets fired at Israel, but won't attack.
If a permanent cease-fire is declared, Israel's strategic problem relates to the next round of violence: How can it prevent Hamas from acquiring increasingly more accurate rockets with longer ranges? Is Hamas really deterred between one round of fighting and the next? Whatever the politicians and generals may say, the fact is that Hamas only improves the range of its rockets and increases their number from round to round.
2. Iron Dome as a tiebreaker
This operation, even more than its predecessor, is marked by the effective defense that the antimissile system has provided the Israeli population. Overall, there has been a considerable improvement in the performance of all home-front systems, but Iron Dome has been a significant success. There's a difference between containing a threat and foiling the threat on the enemy's side.
Iron Dome's performance to date has come close to a total hindrance, and will certainly cause Hamas and other terror groups to rethink things. This is an incredible accomplishment for Iron Dome's developers. Now Israel needs to continue equipping itself with effective defenses such as these, with American financial help.
3. How did this all start?
The accepted Israeli version of events is that Hamas triggered this confrontation, dragging Israel into it, apparently without intending that to be the result. As before Pillar of Defense, the group erred in assessing the initial lack of Israeli response to its aggression, and is now paying the price. This Israel version of events needs to be constantly reassessed.
The speed with which Hamas tried to carry out surprise attacks last week is evidence they were planned in advance. Was this a strategic plan that Israel belatedly uncovered, or just the implementation of contingency plans under pressure? Did Israeli intelligence identify the change of direction in time? These questions are still open.
4. Has Hamas been dealt a severe enough blow?
At times like these, during extensive military operations, there's a problematic space where intelligence, politics and propaganda meet. Intelligence has a tendency to overestimate the damage caused to the enemy, both because of a natural desire for the operation to succeed, but also because of what the public and government leadership expect.
Gaza's response to the death and destruction is different from the Israeli response, however, and it's far from certain that Hamas, while fighting, is particularly attentive to the distress of Gazan residents.
Nevertheless, on Monday the IDF estimated that the scope of the killing (nearly 200 dead) and the destruction in the Strip was likely to spur Hamas to agree to a reasonable cease-fire and rein in some of its more extreme demands. At the same time, we saw Egypt returning to diplomatic maneuverings, with U.S. support, after several days in which Cairo avoided meeting with Hamas leaders. But Egypt is still trying to make sure the Palestinian Authority gets something out of an arrangement, and is making PA representation at the Rafah crossing a condition of easing restrictions there.
5. Who are the casualties?
The IDF estimates that almost half of the Palestinians killed in the operation so far have been terror operatives, while international organizations say they make up only a third of the dead. These statistics are always disputed, since there are people who help support terror operations without being official members of a terror group. Six years on, the parties are still arguing about the casualty statistics of Operation Cast Lead.
Still, we are seeing a pendulum effect in Israel's approach to attacking terror targets that are located in the midst of civilian populations. During Cast Lead, the approach was aggressive (and was one of the reasons for the Goldstone Report). During Pillar of Defense, the IDF took a step back and was proud of its "surgical" strikes, which led to a relatively small number of losses among Gaza civilians.
This time, the aggressive tactics are returning, seen primarily in the extensive bombing of the homes of senior operatives, though these are generally preceded by the "knock on the roof" warning – a small rocket fired at a home to warn the family to evacuate the house quickly.
The army says it avoided attacks on hundreds of targets last week because of their proximity to residential homes. The civilian toll will rise substantially, however, if there's a ground operation.
6. Regional consequences
Along with rocket fire from Gaza, we have also seen a few incidents of fire from Lebanon in the north, from Syrian territory toward the Golan Heights and from the Sinai Peninsula in the south. Small Palestinian factions are responsible for fire from Lebanon – apparently this is mainly the camp that is against Syria and Hezbollah.
It looks like the instability at the borders, as a result of unrest in the Arab world, has become integrated with the Israeli-Palestinian conflict, creating new headaches for the IDF at a time of escalation with Hamas. On the other hand, it is significant that Hezbollah hasn't been interested in joining the campaign so far. This is because it is sunk in the Syrian civil war and the internal struggles in Lebanon.
So far, Hamas' efforts to ignite the West Bank have failed, and the Palestinian Authority is doing everything it can to calm the mood there and prevent clashes with Israeli soldiers.
7. A Lebanon war would be on another scale
It would be a mistake to make assumptions, based on Hamas' failures so far, about what the next campaign in Lebanon will look like – if and when it breaks out. The Home Front Command's performance in general, particularly the Iron Dome system, in the face of Hamas' rocket fire, certainly worries Iran and Hezbollah. The Lebanese militant group, however, has rockets and missiles with a range of 500-600 kilometers, with warheads weighing more than half a ton. Hezbollah can aim these precisely from a distance.
An army operation against this threat would look completely different to what we have seen this week. There would involve much more damage to the home front, meaning that Israel would operate much more forcefully inside Lebanon. The effort to prevent civilian casualties would decrease in the face of the pressure faced by Israeli civilians, and no one would allow themselves the luxury of hesitating about ground maneuvers for a whole week. If a third Lebanon war breaks out, it will cost many human lives on both sides – much more than what we saw this past week in Gaza.
Click the alert icon to follow topics:
ICYMI
Ken Burns' Brilliant 'The U.S. and the Holocaust' Has Only One Problem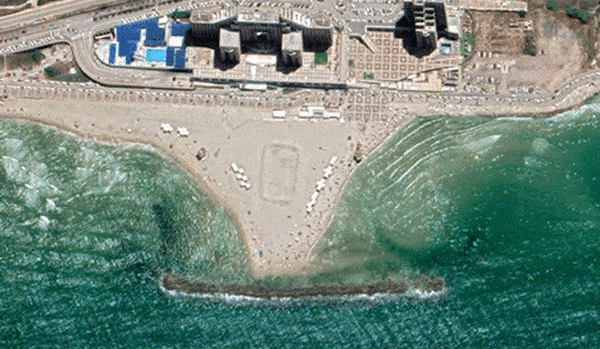 Facing Rapid Rise in Sea Levels, Israel Could Lose Large Parts of Its Coastline by 2050
As Israel Reins in Its Cyberarms Industry, an Ex-intel Officer Is Building a New Empire
How the Queen's Death Changes British Jewry's Most Distinctive Prayer
Chile Community Leaders 'Horrified' by Treatment of Israeli Envoy
Over 120 Countries, but Never Israel: Queen Elizabeth II's Unofficial Boycott