LIVE UPDATES: Operation Protective Edge, Day 4
Abbas: Only solution to current crisis is a diplomatic one, but I don't have a partner; Netanyahu: World pressure won't halt Israel's Gaza operation.
Israel's Operation Protective Edge entered its fourth day on Friday as Hamas continued to fire rockets into Israel and the Palestinian death toll caused by Israeli airstrikes in Gaza reached 107.
Ten Israelis were wounded, one of them seriously, by rockets that struck in Be'er Sheva and Ashdod. An elderly woman died after suffering a heart attack while seeking shelter in Haifa, which was targeted for the first time during the current round of fire.
Israeli jets have bombed over 1,100 targets across the Gaza Strip since the operation began. Reports from Gaza indicated widespread damage to houses, infrastructure and public buildings, with large numbers of civilian casualties.
Speaking with paratroopers preparing for a possible ground offensive into Gaza, IDF chief Benny Gantz said the military "remembers there are citizens there," and accused Hamas of "turning them into hostages."
SUBSCRIBE TO HAARETZ AND GET FULL COVERAGE
For a summary of Wednesday's events, click here
Live updates:
12:17 A.M. Sirens sound in two Eshkol Regional Council kibbutzim.
11:27 P.M. Hamas's armed wing has warned airlines that it intends to target Israel's Ben Gurion International Airport with its rockets from Gaza and has told them not to fly there, a statement by the group said on Friday.
"In the light of Israel's ... attacks on the residents of Gaza Strip ... The armed wing of Hamas movement has decided to respond to the Israeli aggression and we warn you against carrying out flights to Ben Gurion airport, which will be one of our targets today because it also hosts a military air base," the statement said. (Reuters)
11:13 P.M. IDF reports that over 90 rockets were fired from Gaza on Friday, 25 of them were intercepted by Iron Dome interceptor rockets. During the day 230 sites in the Gaza Strip were attacked by the Israel Air Force. Since the operation began over 500 rockets were fired from Gaza out of which some 140 were intercepted and 1,100 sites in Gaza were attacked by the IAF. (Gili Cohen)
10:57 P.M. Palestinians report Israeli airstrikes on Sajaia and Rafah over the past hour. According to the reports, houses belonging to operatives in the Hamas military wing are among targets. (Jack Khoury)
10:25 P.M. IAF strikes launcher used to fire rockets at Tel Aviv area earlier in the evening. (Gili Cohen)
10:05 P.M. Defense Minister Moshe Yaalon with U.S. Defense Secretary Chuck Hagel on Friday morning about the events unfolding in Israel and Gaza.
Hagel expressed concern about the risk of further escalation, and emphasized the need for all sides to do everything they can to protect the lives of civilians and restore calm, a statment issued by his office said. (Gili Cohen)
9:56 P.M. Palestinian President Mahmoud Abbas says that he was not interested in placing blame, but rather in stopping the exchange of fire. "What is important now is to stop the strikes so that no more blood is spilled," Abbas said.
"The only solution to the current crisis is a diplomatic one, but I don't have a partner for a two-state solution," Abbas said. (Jack Khoury)
9:50 P.M. Two Palestinians, aged 47 and 80, were killed by Israeli airstrikes in the last hour, the Palestinian Health ministry says, raising the death toll since the start of the IDF operation to 107. (Jack Khoury)
9:20 P.M. 80-year-old woman moderately wounded and two people lighty wounded as rocket hits house in Be'er Sheva. Three houses damaged in strike. (Haaretz)
9:12 P.M. Rocket alert sounds in Holon, Bat Yam. (Haaretz)
9:10 P.M. In London and Paris, thousands of pro-Palestinian demonstrators call for end to Israeli military strikes on Gaza. (Haaretz)
8:48 P.M. Rocket alert sounds in Tel Aviv, Holon, Bat Yam, Azor. Iron Dome intercepts two rockets above greater Tel Aviv area. One missile lands in open area. (Gili Cohen)
8:42 P.M. Siren sounds in Tel Aviv, Bat Yam, and Holon area.
8:07 P.M. Iron Dome intercepts two rockets above Ashdod. (Shirly Seidler)
7:56 P.M. Rocket alerts sound across Ashdod, Ashkelon, and Gaza border regions. (Haaretz)
7:30 P.M. Rocket barrage hits southern Israel - sirens sound in Be'er Sheva, Ashkelon, and communities near Gaza border.
7:18 P.M. Death toll in Gaza rises to 100 as IDF strikes kill 70-year-old and 10-year-old, Gaza's Health Ministry says. (Jack Khoury)
6:51 P.M. Two IDF soldiers lightly injured by anti-tank missile near Gaza border. IDF jeep damaged. (Gili Cohen)
6:33 P.M. Iron Dome intercepts rocket above Rishon Letzion, part of greater Tel Aviv area. Another rocket lands in open area.
6:18 P.M. Netanyahu at a press conference in the Defense Ministry's Kirya compound in Tel Aviv: "We have struck over 1,000 targets in Gaza that belong to Hamas and Islamic Jihad," he said. "The leaders of Hamas are hiding behind the citizens of Gaza, and they are responsible for all casualties."
Netanyahu said that Israel's strikes in Gaza will continue until quiet is restored to the citizens of Israel. "No international pressure will prevent Israel from continuing its operation in Gaza," he added. (Barak Ravid)
6:08 P.M. One of the Israeli soldiers wounded on Thursday by mortar shrapnel remains in serious condition, says director of Soroka Medical Center's emergency unit. "The patient is suffering severe injuries to several different parts of his body, and has been operated on a number of times. His condition is now stable."
Since the start of the IDF operation, 78 people have been brought to the hospital, which is the largest in Israel's south. Of them 21 were suffering from shock, and the remainder from light injuries caused when running to shelters.
5:35 P.M. Some 300 Jewish and Arab protesters calling for co-existence at Kfar Kara junction. In the Galilee village of Kfar Manda, hundreds of demonstrators call for an end to Israeli strikes. (Eli Ashkenzai, Jack Khouri)
3:40 P.M. Rocket explodes in open area near Be'er Sheva; since the morning, 15 brushfires have erupted in the Negev due to rocket strikes. (Shirley Seidler)
2:56 P.M. UN rights chief Navi Pillay says high number of civilians killed by Israel's military operations in Gaza raises concerns the country is committing human rights violations. (DPA)
2:36 P.M. Palestinian media reports that Egypt closed the Rafah Border crossing, one day after re-opening it for injured Palestinians to seek medical treatment. (Haaretz)
2:02 P.M. IDF Spokesperson confirms that an IDF soldier was killed and two others were wounded after their military vehicle overturned while on routine duty in the Shavei Shomron region of the northern West Bank. One soldier was moderately wounded, and the other suffered minor injuries. (Haaretz)
1:48 P.M. Since midnight, 44 rockets have been fired into Israel, 11 of which were intercepted by Iron Dome. IDF has bombed 160 targets in Gaza. (Gili Cohen)
1:40 P.M. The IDF need not await "the straw that broke the
camel's back" to conduct maneuvers, Chief of Staff Benny Gantz said.
"The IDF needs political guidance and a strategic point to take
measures. When we make a decision, it will be done," he said. Gantz
was speaking with paratroopers preparing for a possible ground
offensive into Gaza on Day 4 of Operation Protective Edge.
Later, Gantz said in a press conference that he thought Hamas made a
mistake in using force against Israel, and that they "understand that
it is a big mistake."
The chief of staff explained that for four days Israel has been using
all its offensive tools, taking into consideration that there are
civilians in Gaza. "We remember there are citizens there. Hamas has
turned them into hostages," he said.
According to Gantz, the security apparatus will continue carrying out
offensive operations, and that the IDF is "prepared to widen them when
needed, with whatever force required and for as long as it takes."
Gantz said the people of the Gaza Strip have to choose which direction
it is going – toward absolute quiet or a security catastrophe that
will only get worse. "They made this mistake," he added. "Now they
will discover that it is a big mistake."
1:32 P.M. Iron Dome intercepts two rockets over Ashdod. One rocket lands in open area. (Gili Cohen)
1:23 P.M. Hamas military wing Izz al-Din al-Qassam claim they fired four rockets at Ben-Gurion airport and five rockets at Be'er Sheva.
Hamas says they intend to fire rockets from the Gaza Strip at Tel Aviv's Ben-Gurion international airport and warn airlines not to fly to Israel's main gateway to the world.
The airport has been fully operational since Israel began an aerial offensive on Tuesday in the Gaza Strip and Palestinian militants intensified their cross-border rocket fire.
International airlines have continued to fly in, despite now-daily rocket salvoes at Tel Aviv that either have been intercepted by Israel's Iron Dome missile defence system or hit areas where they caused no casualties.
"The armed wing of the Hamas movement has decided to respond to the Israeli aggression, and we warn you against carrying out flights to Ben-Gurion airport, which will be one of our targets today because it also hosts a military air base," said a statement by the Islamist group's Izz el-Deen al-Qassam Brigades.
The group, which said it had issued the warning to airlines so that injury to their passengers could be avoided, announced earlier that it had already fired at least one rocket towards the airport on Friday.
A spokesman for Israel's Airports Authority said a siren had sounded at Ben-Gurion and that all activity had stopped for about 10 minutes, but that it was part of a general alert in the Tel Aviv area and not a direct threat to the airport.
Projectiles launched by Gaza militants are largely inaccurate and there have been no reports of any landing in or close to the airport, located in an area covered by the Iron Dome system.
But the rockets have been striking deeper into Israel, reaching areas more than 100 km (60 miles) north of the Gaza Strip.
At the start of the Israeli offensive on Tuesday, takeoffs and landings at Ben-Gurion were re-routed to more northerly flight paths. (Jack Khoury and Reuters)
1:18 P.M. Alarms sound throughout Eshkol Regional Council in southwest Israel.
Earlier, alarms heard throughout Hof Ashkelon, Sdot Negev and Sha'ar Hanegev Regional Councils. (Shirley Seidler)
1:04 P.M. Several rockets explode in open areas of Hof Ashkelon and Sha'ar Hanegev. (Shirly Seidler)
12:35 P.M. Rocket lands on house in Eshkol Regional Council, no injuries. Fragments of an intercepted rocket over Tel Aviv fell in several areas in the city, no injuries. (Shirly Seidler and Gili Cohen)
11:45 A.M. Turkish Prime Minister Recep Tayyip Erdogan says there can be no normalizing of Turkish-Israeli ties as long as Israel continues its offensive in Gaza.
Turkey and Israel have been working toward improving ties that were soured after Israeli commandos stormed a pro-Palestinian ship in 2010, killing eight Turks and one Turkish-American.
Israel apologized to Turkey for the deaths and agreed to pay compensation under a U.S.-brokered arrangement in 2013. Turkish officials said in March the sides were close to reaching a deal to restore ties.
Erdogan told Israel late Thursday, "You have to end this oppression. As long as it does not end, a normalizing of ties between Turkey and Israel is not possible."
Erdogan was speaking during his campaign for presidential elections in August. (AP)
11:16 A.M. Two rockets explode in open area in Sha'ar Hanegev, no damage was done. (Shirly Seidler)
10:57 A.M. Iron Dome intercepts three rockets over Tel Aviv metropolitan area. (Gili Cohen)
10:51 A.M. Rocket alarms sound throughout central Israel and the Judean foothills. A rocket exploded in a kibbutz in Sdot Negev, damaging property. (Shirly Seidler)
10:43 A.M. Rocket sirens in Tel Aviv, Herziliya, Ashdod, Kfar Chabad, Ramle, Hod Hasharon, Rehovot, Mishmar Hashiva, Ben Shemen, Lod, Bnei Brak, Givatayim, Ramat Gan.
10:07 A.M. Palestinians reportedly identify three bodies from IDF attack east of Rafah. One of the casualties was 10 years old, the other two were 27. (Jack Khoury)
09:34 A.M. Israel Air Force bombs the rocket launch site in north Gaza that sent the most recent barrage to Ashdod. (Gili Cohen)
09:24 A.M. Two rockets intercepted, one lands in an open area in Eshkol Regional Council.
Last night, IDF attacked weapons caches hidden in a school building in central Gaza. According to security officials, a terrorist tunnel was located under the building.(Shirly Seidler and Gili Cohen)
09:17 A.M. Avi Amar, a paramedic from the Hatzalah Medical Services organization on the scene, said that the rocket made "a direct hit on a gas station next to a nursing home."
"At this time, heavy smoke is still rising from the area, and fire crows are working to control the fire."
According to Amar, the severely-wounded individual's hand was amputated, and a number of trauma victims were additionally treated.
Amar added that he fears people are still trapped in the gas station. (Shirly Seidler)
08:41 A.M. Iron Dome intercepts two rockets over Sdot Negev. Three rockets exploded in an open area in Sha'ar Hanegev and two in Eshkol. (Shirly Seidler)
08:27 A.M. A 50-year-old man is severely wounded after rocket strikes gas station in Ashdod, and six were slightly wounded. The rocket caused massive damage to the gas station, and a fire has broken out.
This was precedeed by rocket sirens in the Judean foothills, Ness Tziona and Rishon Letzion, as well as in the Ashkelon area, Netivot, Kiryat Malakhi and Hof Ashkelon.
Yesterday, two soldiers were wounded, one severely, by shrapnel from a mortar shell, and was evacuated by helicopter from the Lachish region in southern Israel. The one wounded soldier was operated on during the night, and is currently sedated in a general intensive care unit.
The other wounded soldier is in good condition in the hospital's orthopedic ward. (Shirly Seidler)
07:55 A.M. A rocket was fired from Lebanon into northern Israel, landing in an open area near Kibbutz Kfar Yuval in the Galilee panhandle. The Lebanese army reports the shooting came from the town of Almari in the Hasbaya region of Lebanon.
The IDF has since responded with artiliery fire towards the area where the rocket was sent from.
The Lebanese army is on high alert with UNIFIL and has begun searching the area. An early assessment is that a global jihad movement or a Palestinian organization is responsible for the rocket, not Hezbollah. (Gili Cohen, Jack Khoury, Eli Ashkenazi, Reuters)
07:43 A.M. At least six Palestinians were killed overnight by the IDF in the Gaza Strip, according to Palestinian reports.
The Israeli Air Force reportedly attacked a four-story house in the southern city of Rafah. Initial reports indicate that five members of the Ghaneem family were killed and others were wounded, some in critical condition.
The building, home to around 30 people, collapsed completely – it is estimated that the number of fatalities and casualties will rise.
Meanwhile in central Gaza, a Palestinian doctor was reportedly killed.
In a telephone interview on Hamas' Al-Aqsa TV, Hamas leader Mahmoud al-Zahar said this war differed from its predecessors in that Israel imposed it on the Palestinians, and the war would not end until circumstances were beneficial for Hamas.
"We need to put an end to the crimes of the occupation, even if this campaign lasts for months."
Al-Zahar added that Israel's re-arrest of the prisoners previously freed in the Gilad Shalit deal crossed a red line, and the campaign would continue until this issue was resolved. (Jack Khoury)
06:39 A.M. Residents in Metulla in the far north of the country report hearing explosions. The IDF is looking into whether any rockets fell in the area. (Gili Cohen)
06:30 A.M. Sirens sound in several communities in the south of the country.
06:26 A.M.The Israel Defense forces says that 50 targets in Gaza were struck overnight. (Gili Cohen)
06:15 A.M Sirens sound in Sderot and Shaar HaNegev.
05:50 A.M. Hamas military wing takes credit for firing R-160 missile at Haifa.
04:30 A.M. A 70-year-old woman has collapsed and died in Haifa while rushing to take shelter after the siren sounded.
03:29 A.M. Sirens sound in the north of the country and the Carmel, including Haifa, Zichron Ya'akov and Hadera.
02:04 A.M. Siren sounds in the area of the Shaar Hanegev regional council.
01:38 A.M. Iron Dome intercepts rocket above Ashkelon. (Gili Cohen)
01:26 A.M. Following a telephone conversation between U.S. President Barack Obama and Prime Minister Netanyahu, the White House issued a statement that the United States "remains prepared to facilitate a cessation of hostilities, including a return to the November 2012 ceasefire agreement."
01:11 A.M. IDF announces that the reports of a sea incursion in Eilate was a false alarm (Gili Cohen)
00:42 A.M. The Eilat beachfront has been evacuated due to a suspected incursion.
Israel Navy vessels stationed offshore from the Princess Hotel in Eilat spotted what they sus[ected was an attempted incursion from the sea just before midnight on Thursday, only a few hundred meters from the beach.
Security forces fired warning shots and flares. Police boats and rubber dinghies from the Eilat naval base arrived at the scene to support the missile boats that are stationed there.
The entire Eilat beach-front has been evacuated and Highway 90, leading from Eilat to Taba, is closed.
Management of the Princess Hotel and other southern hotels have been instructed to prevent people from leaving the hotels and to reinforce their security. (Revital Levy-Stein)
11:40 P.M. The spokesman of the military wing of Islamic Jihad, Abu Ahmad, said that "what is happening right now is a war of nerves."
"The factions in Gaza are not going to surrender but to carry on fighting. Netanyahu is talking, but we aren't impressed by his words. We aren't worried. We are working quietly and calmly, according to the strategy we set for ourselves. I am not revealing secrets here. We will escalate our responses if Israel escalates its aggression. We will escalate both by rocket fire and other means."
He added that "the factions fired 300 rockets so far, but we have many more. There is total cooperation between the military wings, exchange of opinions, and joint strategy. The ball is currently in Israel's court. We won't agree to less than a cessation of all Israeli aggression in Gaza, and a complete removal of the blockade of the Gaza Strip." (Jack Khoury).
Click the alert icon to follow topics:
ICYMI
Ken Burns' Brilliant 'The U.S. and the Holocaust' Has Only One Problem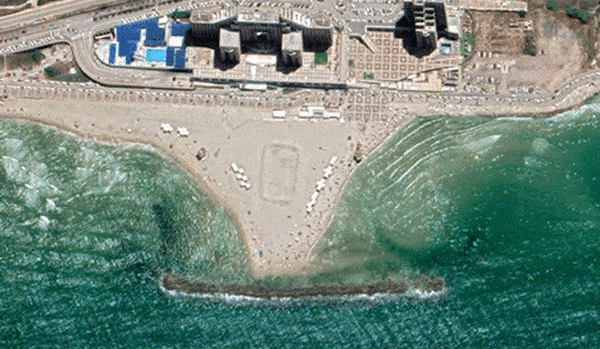 Facing Rapid Rise in Sea Levels, Israel Could Lose Large Parts of Its Coastline by 2050
As Israel Reins in Its Cyberarms Industry, an Ex-intel Officer Is Building a New Empire
How the Queen's Death Changes British Jewry's Most Distinctive Prayer
Chile Community Leaders 'Horrified' by Treatment of Israeli Envoy
Over 120 Countries, but Never Israel: Queen Elizabeth II's Unofficial Boycott