LIVE UPDATES: Violent Clashes Resume Across Israel; IDF Strikes Gaza
Six suspects arrested in connection with Palestinian teen's death, Palestinian arrested apparently over Israeli teens' kidnap and murder.
Car damaged by rocket that exploded in Eshkol Regional Council.
Credit: Eli Hershkovitz
Dramatic developments were revealed Sunday, four days after the murder of a Palestinian teenager and six days after the bodies of three kidnapped Israelis were found:
Six people have been arrested in connection to 16-year-old Mohammed Abu Khdeir's death, and police increasingly believe it to have been carried out by Jewish extremists in revenge for the abduction and murder of the three Israeli teens. Meanwhile, a Palestinian resident of Hebron has been arrested in what believes to be connection to the three teens' deaths.
Riots sparked by Abu Khdeir's murder spread over the weekend from Jerusalem to Arab towns in Israel's north. Dozens of protesters, many with their faces masked, set fire to tires and blocked main roads as they clashed with police. The clashes subsided Sunday morning and resumed in full force in the evening, as some 200 protesters blocked Route 70, hurling rocks.
On the Gaza front, militants in the coastal territory continued to fire barrages of rockets at Israel, and the IDF attacked the central and northern strip with air strikes. A soldier suffered light shrapnel wounds from a mortar shell in the Eshkol area over the weekend.
One rocket fired Saturday was intercepted by an Iron Dome defense missile over Be'er Sheva. The rocket was the first intercepted en route to the major southern city since Operation Pillar of Defense in 2012.
Click here for Saturday's live updates.
Latest updates:
11:50 P.M. Hundreds of Israeli protesters, most of them Orthodox, continuing to clash with Israel Police and Border Police at Bar-Ilan Junction. The protesters are attempting to block the intersection by burning tires, but police scatter them with batons and horses. (Nir Hasson)
11:45 P.M. IAF planes strike a Gaza rocket-launching cell. The IDF has identified a direct hit. (Gili Cohen)
11:34 P.M. A rocket launched from Gaza explodes in an open area in the Eshkol Regional Council. In Tel Sheva, near the southern city of Be'er Sheva, Israel Police arrest eight people suspected of rioting and stone-throwing. (Shirly Seidler)
11:30 P.M. Israel's Route 60 has been closed to traffic between Shocket Junction and Be'er Sheva, according to the police. Likewise, Route 80 is closed to traffic between Tel Arad and Arara Junction in the Negev.
Police have asked drivers to take alternative routes, after some 200 Bedouin rioters began hurling stones and firebombs in several locations in the south. There are no reports yet of injuries or damage. At one of the sites, masked rioters were firebombs and stones at vehicles entering the Jewish town of Omer from Tel Sheva Junction. (Shirly Seidler)
11:12 P.M. About 50 youths are throwing stones and firing flares at the fires station in Nazareth. About 100 demonstrators, some of them masked, are waving flags in Kafr Nahaf, which is next to Carmiel. A police force
is on location, preventing them from descending to the highway. About 70 people were arrested on suspicion of involvement in disturbing the peace, throwing stones and setting tires on fire.
In clashes at I'bilin Junction, demonstrators lit tires aflame, causing a fire to break out, endangering the local gas station. Firefighters are on their way to the scene. (Eli Ashkenazi)
11:05 P.M. Clashes have flared again in East Jerusalem. About 100 youths are throwing stones at police forces in Shoafat, and a similar number of masked rioters are throwing stones at police in the A-Tor neighborhood.
In Hizmeh, dozens of Palestinian youths are throwing stones and firebombs at security forces.
Two demonstrations on opposite sides of the political spectrum were held at Zahal Square in Jerusalem. A right-wing demonstrator has been arrested for attacking a left-wing demonstrator.
In addition, dozens of right wingers are demonstrating at Bar-Ilan Junction, calling on the government to avenge the murder of the three Israeli yeshiva boys. They are chanting racist slogans. The demonstrators temporarily closed the junction. (Nir Hasson)
10:42 P.M. Some 50 protesters are hurling rocks and firecrackers at Nazareth's fire station. A police force is on the scene. 67 protesters were arrested in the last two days. (Eli Ashkenazi)
10:13 P.M. A Rocket fired from Gaza explodes in an open area near southern city of Sderot. (Shirley Seidler)
9:37 P.M. Rocket sirens sound in Sderot and Sha'ar Hanegev Regional Council. (Shirley Seidler)
9:06 P.M. 14 protesters were arrested during clashed with police in the northern village of Tamra; in the past 24 hours, police arrested 54 people suspected of assaulting a police officer and disorderly conduct. (Eli Ashkenazi)
7:46 P.M. Contact was established Sunday between the Israeli and Palestinian bereaved families formed on Sunday, during a condolence visit by Jerusalem Mayor Nir Barkat at the Nof Ayalon home of Naftali Fraenkel, one of the three Israeli teens kidnaped and murdered in the West Bank.
During the visit, Barkat called Hussein Abu Khdeir, the father of Mohammed Abu Khdeir, a 16-year-old Palestinian whose body was found in the Jerusalem Forest last week. Barkat offered his condolences, and at the end of the call asked Hussein Abu Khdeir and Yishai Fraenkel, Naftali Fraenkel's uncle, if they wish to speak. Fraenkel Expressed his condolence, and added that he was horrified to learn that Khdeir's murderers were Jews.
The two agreed that the families of the three Jewish victims would soon pay a condolences visit to Abu Khdeir's family over the death of their son. (Nir Hasson)
6:48 P.M. Prime Minister Benjamin Netanyahu issues statement to media denouncing Jewish extremism, following news that six suspects have been arrested over the kidnap and murder of a Palestinian teen last week. "We do not distinguish terror from terror," Netanyahu says. (Haaretz)
6:44 P.M. Three Palestinian workers attacked in Hadera, one of them lightly wounded. (Eli Ashkenazi)
6:40 P.M. A mortar shell falls in open area outside a community in Eshkol Regional Council. (Shirley Seidler)
6:00 P.M. Some 200 Arabs are protesting on Route 70 in the north, hurling rocks and trying to block traffic. (Eli Ashkenazi)
5:45 P.M. Two rockets fired from Gaza explode in an open area near a town in the Eshkol Regional Council. No injuries reported. (Shirley Seidler)
2:40 P.M. A rocket explodes in an open area in the Hof Ashkelon Regional Council. (Haaretz)
2:26 P.M. Four rockets explode in the Eshkol Regional Council.
The police arrest two residents of Bir Hadaj on suspicion of torching tires and throwing rocks in the Ramat Hanegev Regional Council on Saturday evening. (Shirley Seidler)
1:34 P.M. Suspects arrested in murder of Palestinian teen; police surmise a revenge killing. (Haaretz)
1:16 P.M. Eight rockets explode in open areas in the Shaar Hanegev Regional Council; no injuries immediately reported. (Shirley Seidler)
1:02 P.M. A Jerusalem court sentences a Palestinian-American teen who was beaten by the police to house arrest. (AP)
12:52 P.M. Israel decides to limit the Gaza Strip's fishing zone from 6 nautical miles to 3. (Gili Cohen)
12:30 P.M. A Qassam rocket explodes in open area in the Shaar Hanegev Regional Council. (Shirley Seidler) 
11:05 A.M. Firing back at criticism voiced by Economy Minister Naftali Bennett and Foreign Minister Avigdor Lieberman over his government's policies in Gaza, Prime Minister Benjamin Netanyahu vows to "restore calm" to the south.
"But we must act with restraint," he adds. (Barak Ravid)
10:26 A.M. Palestinians throw rocks at Jewish visitors on Temple Mount. Police push rioters back toward the mosque. None wounded. (Nir Hasson)
9:29 A.M. Vandals spray-paint swastikas at the entrance to Kibbutz Revivim in the Negev. Rioters burned tires and used rocks to block roads in nearby towns on Saturday evening. (Shirley Seidler)
8:26 A.M. The IDF arrested Hebron resident Hassam Dopash overnight. According to the Palestinian news agency Maan, Dopash is accused of kidnapping three Israeli teenagers alongside Marwan Qawasameh and Amer Abu Aisheh. According to the report, the IDF demolished Dopash's home in recent days.
The Shin Bet says it is investigating Dopash's involvement in the kidnapping. (Gili Cohen)
8:07 A.M. Environmental Protection Minister Amir Peretz slams Foreign Minister Avigdor Lieberman and Economy Minister Naftali Bennett for criticizing the government's policy toward the rocket fire from Gaza.
"The government's primary goal is to stop the rocket fire on southern towns, but the argument cannot leave the cabinet," Peretz says. "Some ministers generate frustration, undermine faith in the defense establishment and act irresponsibly."
7:32 A.M. Seventeen arrested overnight on suspicion of rioting in Israel's north. (Eli Ashkenazi)
4:09 A.M. The IDF Spokespersons' Unit confirmed that the Israel Air Force carried out air raids on the Gaza Strip. A statement says that it targeted ten sites in central and northern Gaza, including underground rocket launchers and a weapons manufacturing site. It added that Israel sees Hamas responsible for any fire from Gaza. (Haaretz)
3:55 A.M. Israeli planes attack several targets in the Gaza Strip, according to Palestinian reports. No injuries are reported in the attack. (Haaretz)
2:00 A.M. Two children lightly wounded by rock throwers on Route 90, north of Jericho. (Chaim Levinson)
1:30 A.M. Dozens of right-wing extremists attack Arabs in central Jerusalem. Police block routes to the Old City. (Nir Hasson)
Click the alert icon to follow topics:
ICYMI
Ken Burns' Brilliant 'The U.S. and the Holocaust' Has Only One Problem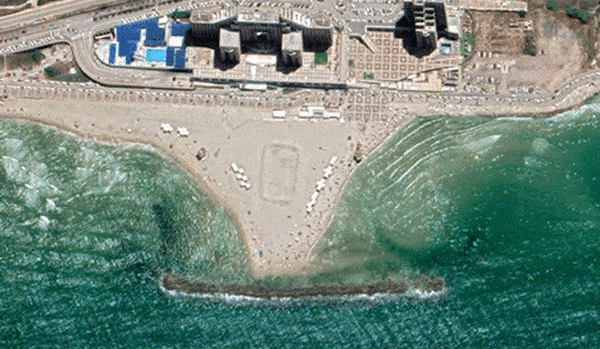 Facing Rapid Rise in Sea Levels, Israel Could Lose Large Parts of Its Coastline by 2050
Lapid to Haaretz: 'I Have Learned to Respect the Left'
The Mossad's Fateful 48 Hours Before the Yom Kippur War
As Israel Reins in Its Cyberarms Industry, an Ex-intel Officer Is Building a New Empire
How the Queen's Death Changes British Jewry's Most Distinctive Prayer